Odia Chakuli Pitha Recipe
Breakfast on Split Black Gram Lentil And Rice Pancake, Ghuguni, Aloo Bhaja from Odisha.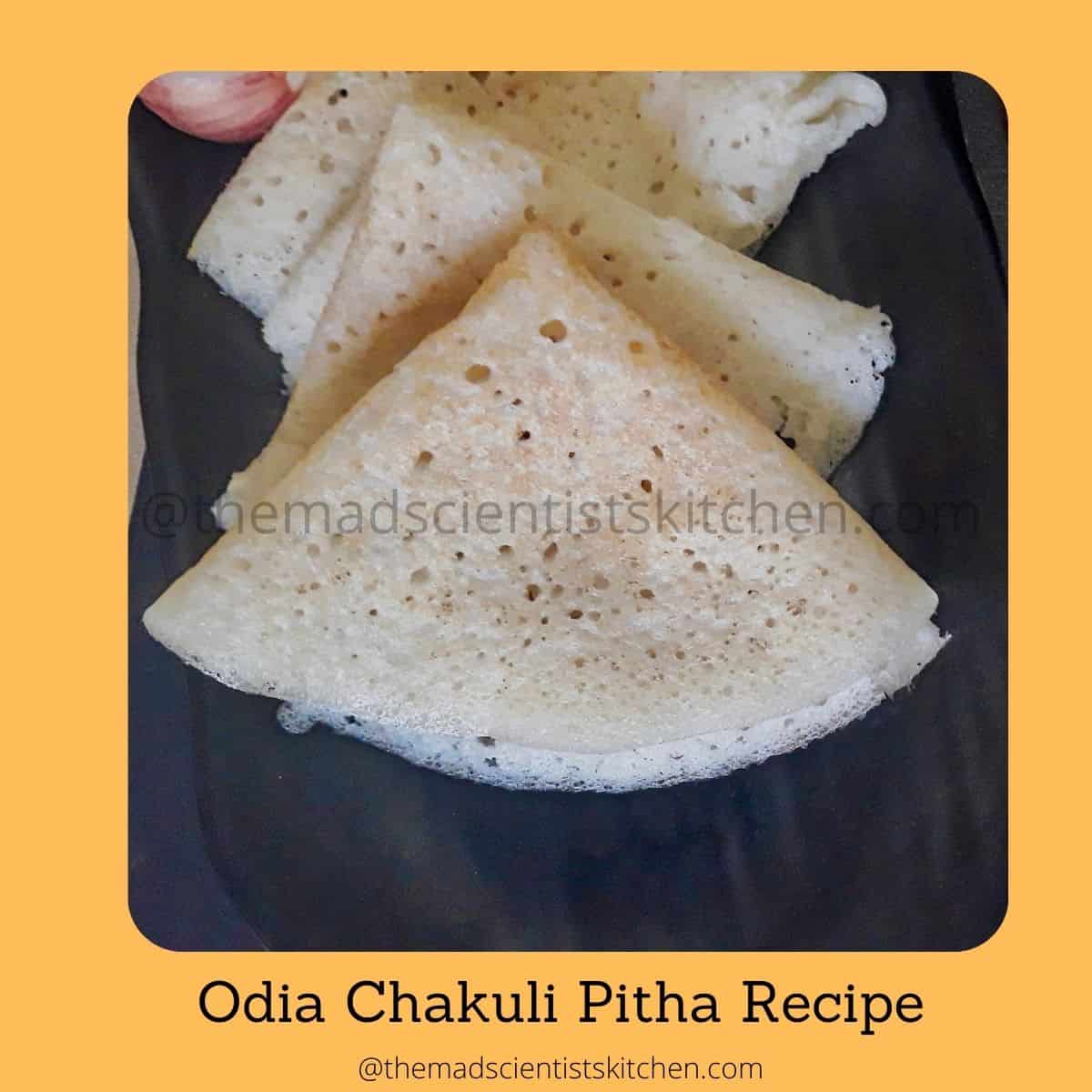 Like me do you wonder how to make breakfast interesting? Make something new that will be enjoyed by all. Then you are in the right place as today's breakfast is delicious and easy vegan and gluten-free too.
Hello, and welcome to The Mad Scientist's Kitchen, Reinventing the Foodie in you! Looking for delicious and easy recipes, that are simple and filling. I urge you to subscribe to our newsletter so that you get all our posts. We will not spam you, promise and the subscribe link is below or on the sidebar too!
Contents:
I have very fond memories of Odisha as my maternal uncle was posted to Bhubaneswar as a teen I spent my holidays there. One day we visited the stalls and ate Chaat. That is the first time I ate Ghoogni and I wish I can eat it again, visit the Nandankanan Zoological Park and the Sun Temple, the Jagannath Temple. Lol, my order of priority is perfect getting my hubby to come to the temple will take some working on.
Pithas are part and parcel of Odia cuisine. No festival is complete without a pitha of some kind. We start with Arasi pitha, Manda Pitha, Poda Pitha to name a few.
I chose Chakuli Pitha is a vegan and gluten-free Odia breakfast option not only on a regular day but also during festivals and celebrations. I made The pancakes, the Ghughni and Aloo Bhaja and will link to Ghughni and Aloo Bhaja separately.
One of my favourite desserts will be Sakar Bhat.
Why am I talking about Pithas?
As a part of the group Shhhhh Secretly cooking we take turns to suggest themes. This time Sasmita is our hostess and she suggested we make Odisha Pithas. Now, anything new I sign up.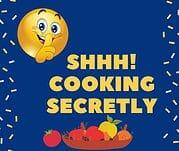 I have been paired with Renu, do check Renu's Sun-Dried Potato Chips and Kesar Badam Kulfi they are amazing and yum. I want to grab some off the screen.
For the theme, I requested Renu to give me secret ingredients for a savoury pitha. Now Renu too wanted ingredients for a savoury pitha. So we decide to take the same ingredients and make our pitha. Did I pray that we both do not end up making the same dish?? yes and luckily she made . So you will find how versatile the 2 ingredients and Rice and Black Gram lentil are.
I already had a Pitha from Sasmita's blog under the crosshairs. But then we had lockdown and I was designated The Cook, The Maid and The General. I decided that I did not want to experiment too much and stuck to the easiest of the Pithas, Chakuli Pitha. I used this recipe as my guide.
Mind you most Odia sites say that it is different from the south Indian dosa let us see how different and similar they are 
Both South Indian dosa batter and Odia dosa batter use black gram lentil and rice.

While for dosa the proportion is lentil to rice 1:3 the ratio for Chakuli Pitha lentil to rice ratio is 1:1 or 1:¾.

Your dosa can be crisp or soft, you can also make them thick or thin.

  Chakuli Pitha is neither too thin nor too thick.

Not all dosas have a filling, think Saada Dosa. Even Chakuli Pitha there is no filling added.
The only difference I see is that Chakuli Pitha you use mustard oil, but dosa has no preferences. You can also use a ghee and oil mixture to make a dosa. Try it tastes amazing!
Then unlike dosa, you can use the batter made for Chakuli Pitha after resting it for just half an hour.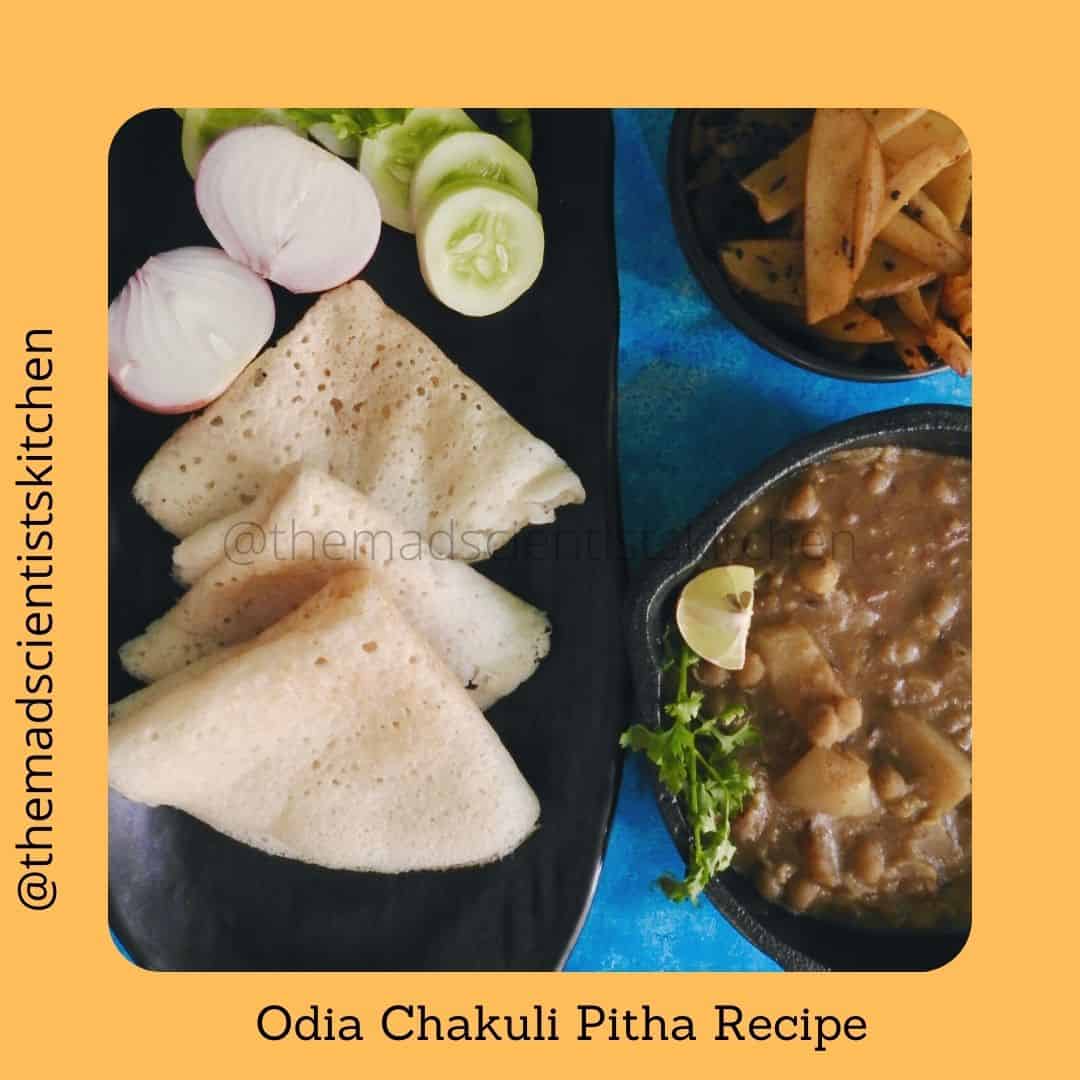 Ingredients for Chakuli Pitha:
With that let us see what you need to make the Chakuli Pitha. 
Black gram Lentil or urid dal
Rice 
Mustard oil
Salt 
Substitutes and alternatives:
Use homemade ghee in place of oil to make Chakuli Pitha.
Soak the black gram lentil and rice in the proportion 1:1 or 1:¾ (the choice is yours) overnight. Now you can use both the lentil with skin or the skinned kind.

The skinned kind may give you a darker shade of Chakuli Pitha if you do not sit and remove all the skin after it soaks.

I have already mentioned that there are variations in fermenting time. There are recipes that omit the fermentation but I will prefer to ferment for 6-8 hours. 
To grease the skillet traditionally mustard oil is used. In case you plan on using a cast iron skillet you will need to grease it. But if like me you get lazy and use the non-stick one you need not grease but drizzle a little oil on top. It tastes good!
Now to serve you can make curries like in Odisha you can serve with Dalma but I am serving with Ghuguni and Aloo Bhaja. But traditionally sweet chutney or jaggery are accompaniments.
The proportion of 1:1 or 1:¾ of lentil to rice will give you the perfect Chakuli Pitha. Do not play with it.
The consistency of the batter is what matters check the video I have included.
Storage of Chakuli Pitha:
Make as many as you need as these Pithas taste best when hot. The batter can kept in an airtight container and stored in the fridge for upto 3 days. After that it tastes sour.
If you need to save the ready Chakuli Pithas? I have not tried it in case you try please let me know.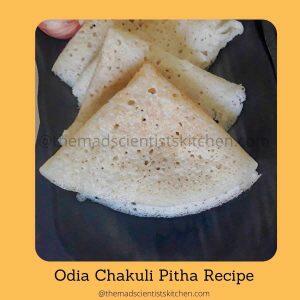 Odia Chakuli Pitha Recipe
Breakfast on Split Black Gram Lentil And Rice Pancake, Ghuguni, Aloo Bhaja a delicious and healthy,vegan and gluten-free meal from Odisha.
Print
Pin
Rate
Equipment
Bowls

Mixer/Grinder

Non-stick tava/skillet

Ladles, spoons and spatula
Ingredients
1

cup

black gram lentils

1

cup

rice

Salt as per taste

Water as needed

1-2

tablespoon

mustard oil
Instructions
Wash and soak black gram lentil and rice in water overnight.

Drain the water and grind to a fine paste using the water that you used to soak the lentils and rice.

Mix well cover and let the batter ferment for 6-8 hours.

Before you plan to make the Chakuli Pitha mix in the salt and if the batter is too thick add water. The batter should be like what I have shown in the video.

Heat your skillet on the stovetop. If using non stick grease lightly but if you are using a cast iron skillet grease liberally.

Once the pan is hot spread out the batter in circular motion and let it cook.

In a 2-3 minutes the side on the stove will get brownish flip and cook the other side.

Once the side is cooked ( under 1 minute) remove the pitha and make the next pitha till all the batter is used up.

Serve hot with Aloo Bhaja, Ghuguni and Jaggery on sides.
Notes
Use homemade

ghee in place of oil to make Chakuli Pitha.
Nutrition Facts
Odia Chakuli Pitha Recipe
Amount Per Serving (1 piece)
Calories 62
* Percent Daily Values are based on a 2000 calorie diet.
Nutritional Disclaimer: I am not a certified nutritionist and make no claims to the contrary. Please check with your nutritionist for your dietary needs and restrictions. Ultimately you are responsible for your decisions.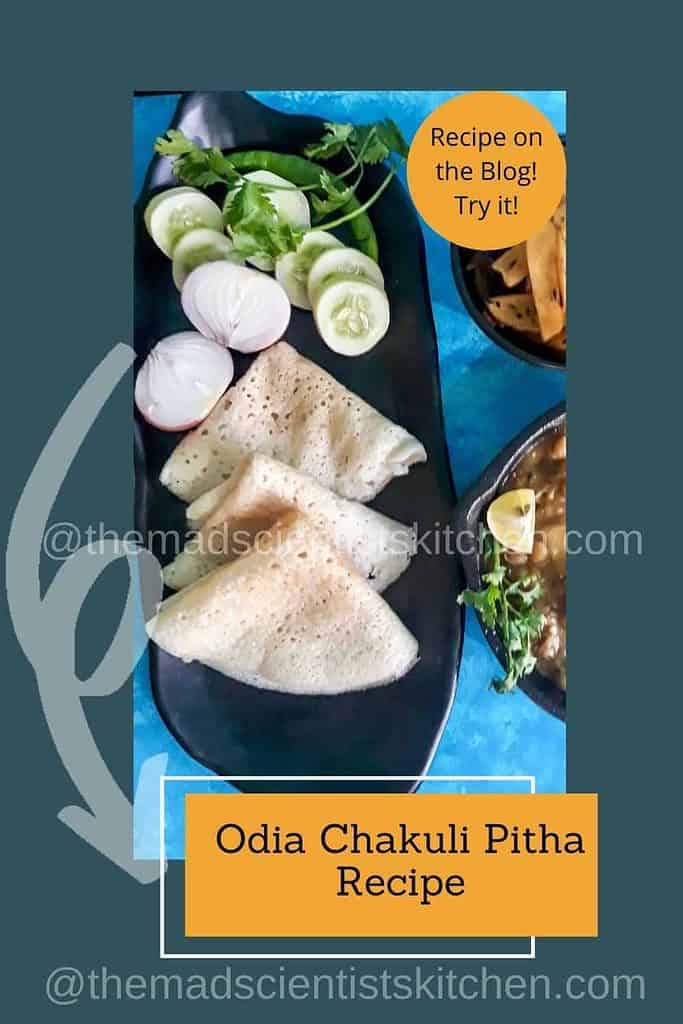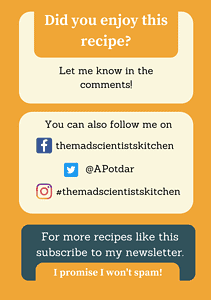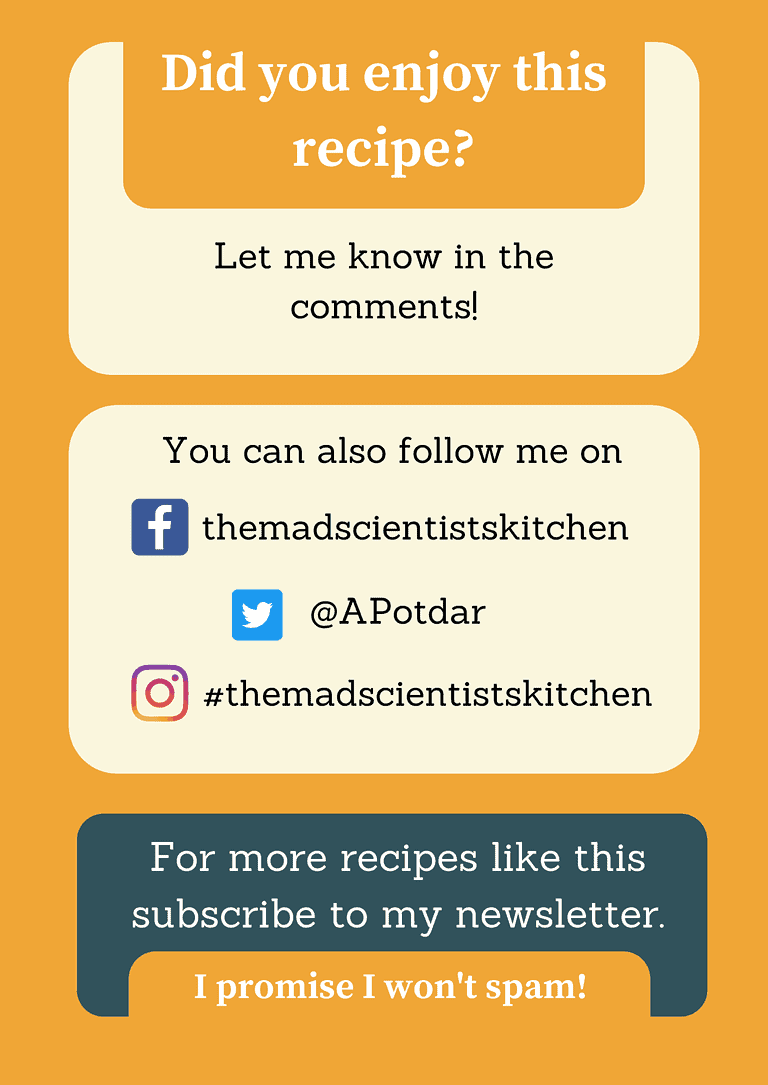 Reader Interactions