Ivy Gourd Chutney is one delicious chutney, spread for sandwiches, wraps. Mix it with your rice or even with chapatti as a sidedish.
Ivy Gourd Chutney also Dondakaya Chutney pairs well with just about anything. try it with this yummyEasy Fara Recipe.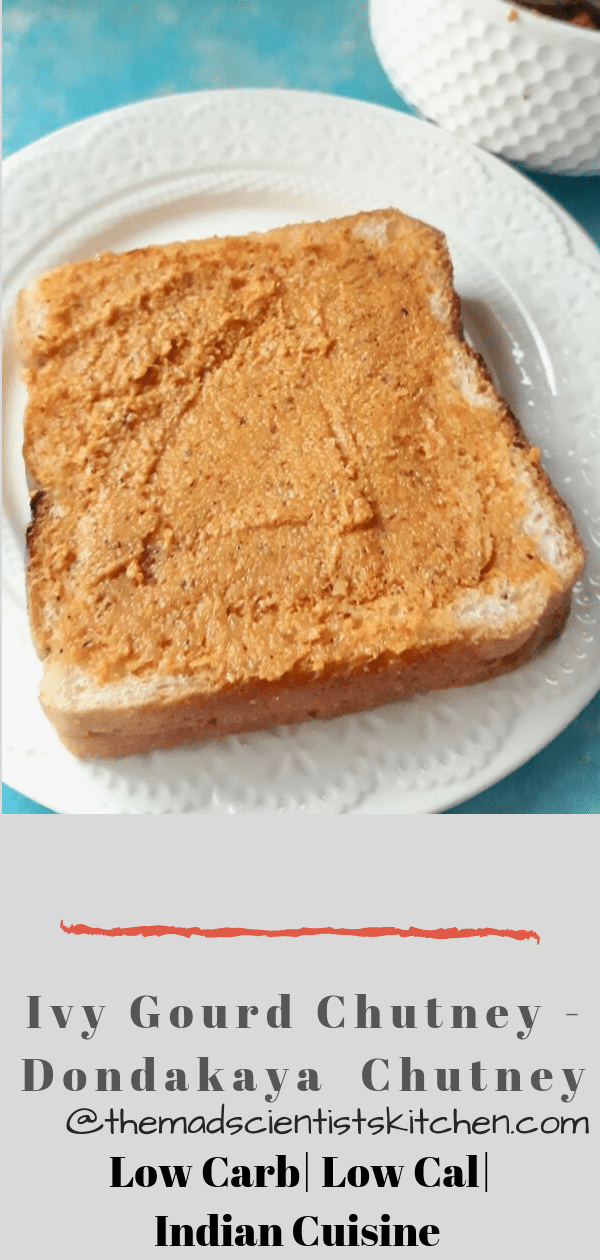 In my place, I knew only of the vegetable, and masala bhat, occasionally if it missed my mother's eagle eye the ivy gourd ended up in sambhar. I used to pick the gourd out and eat I guess Amma used to ignore me doing it.
However, my love for tondli started after my marriage and my mother-in-law made delicious vegetable, stuffed them too. she used to buy them from the local ladies who used to grow the ivy gourd and they used to be so tender.
This July'19 when we went to Hyderabad for the #100 BM meet it was a revelation to me that ivy gourd can be used to make chutney!! Thanks to Usha's cousin Shailaja she has such an amazing Andhra spread. Take a look, girls.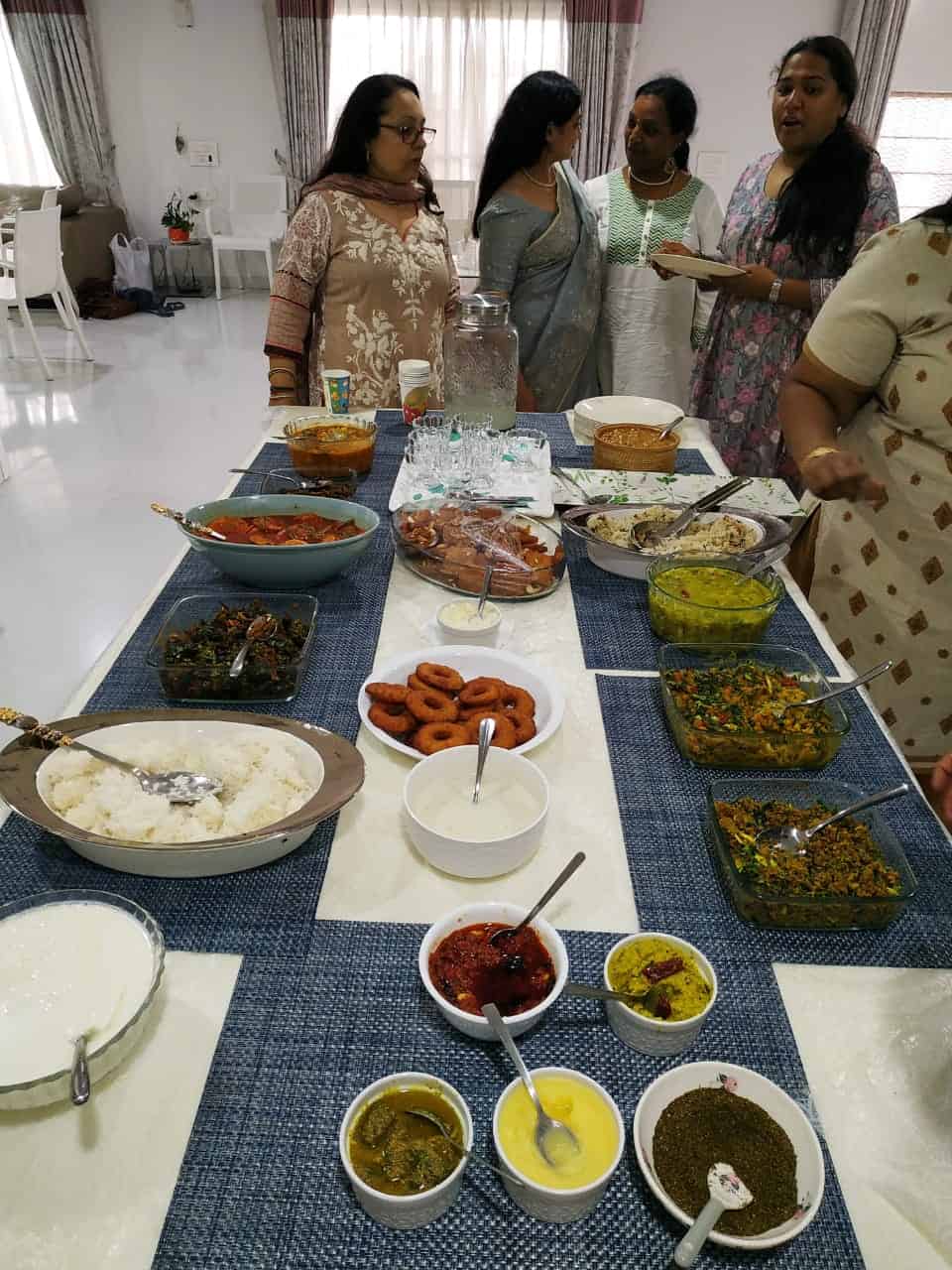 There was nothing that I did not try and nothing I did not go in for seconds...
but the ivy gourd chutney!!! I would have swiped the entire bowl off the table and carried it with me home.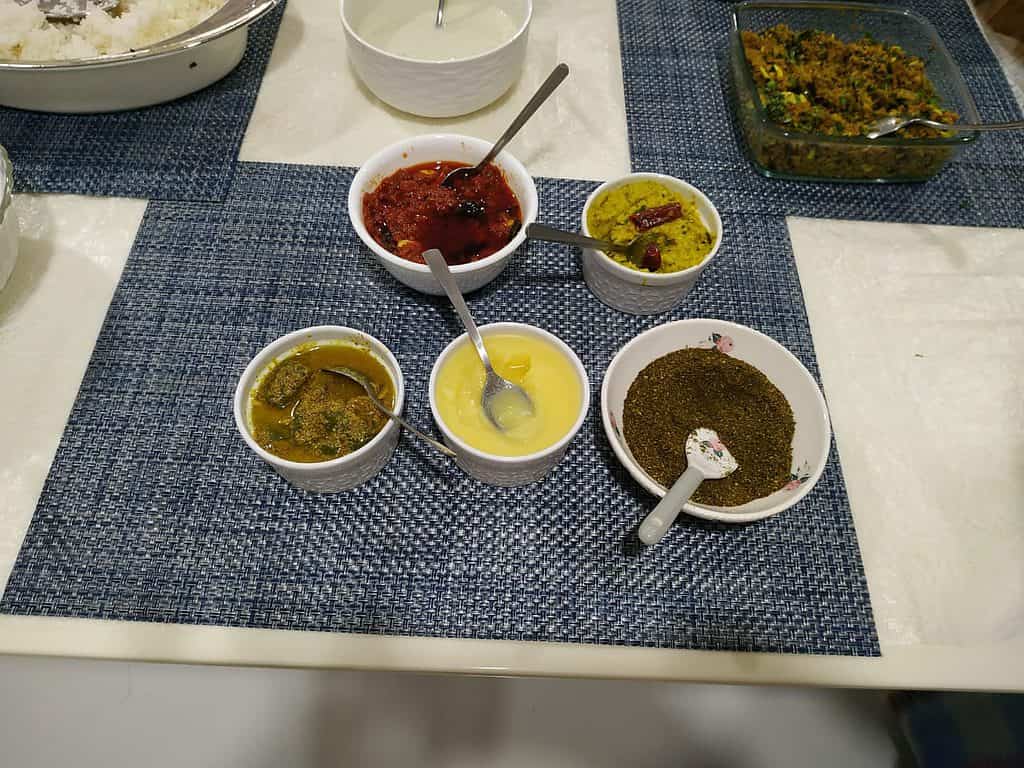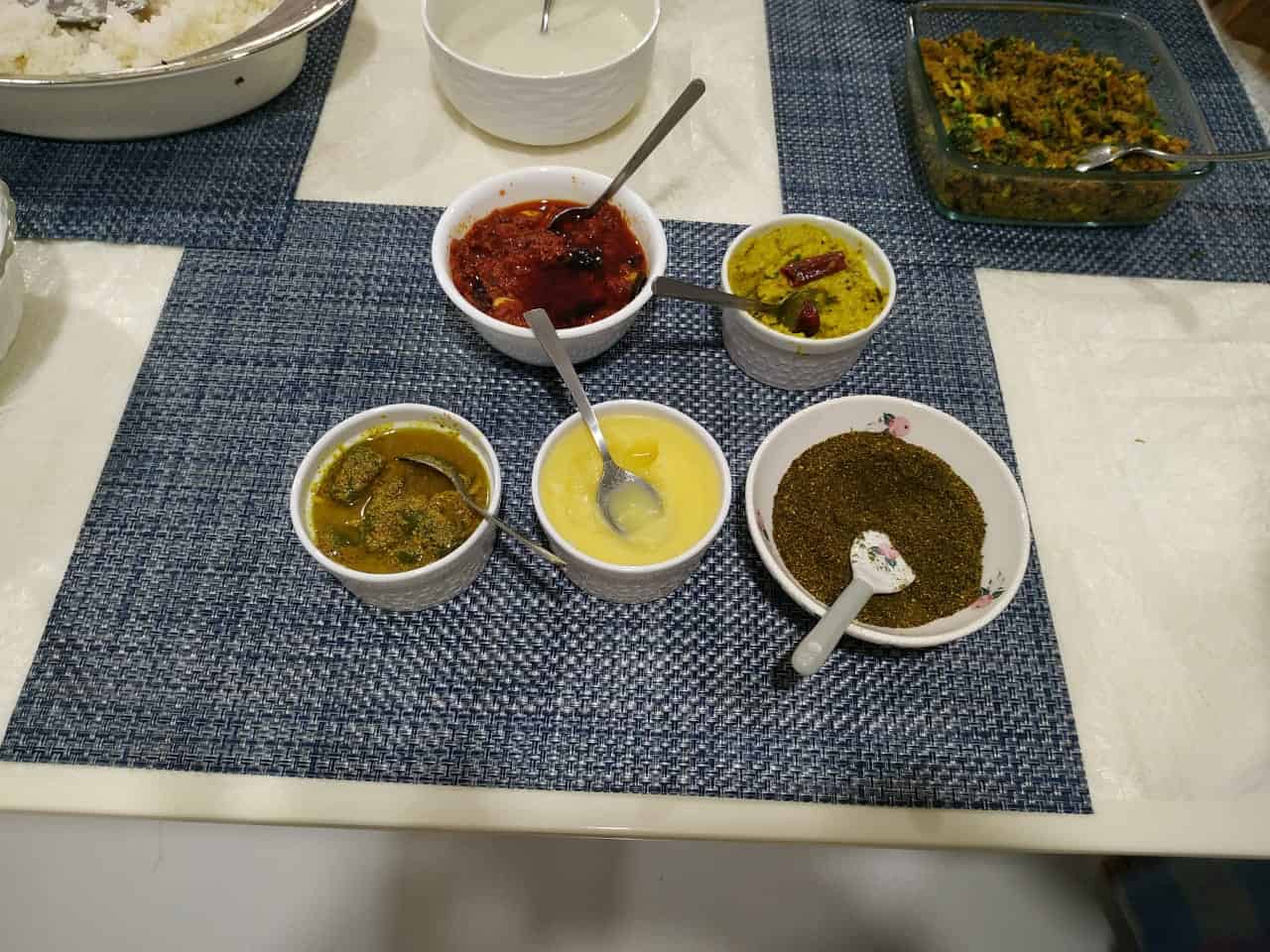 Needless to say, I gorged on the chutney like crazy.
Before coming home I had decided that in the month of September for the alphabet "I" I am making the Ivy Gourd Chutney - Dondakaya Chutney.
 The most commonly used alphabet gave us a lot of grief as we discussed the ingredients we could use.
In case you do not know A to Z Challenge we use ingredients in the English language and blog bi-monthly. It is quite exciting. You can join us too the next one will happen in the month of November.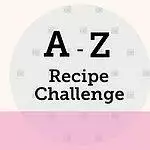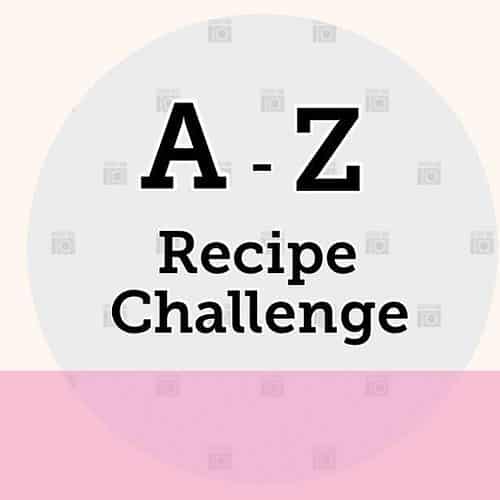 So here goes…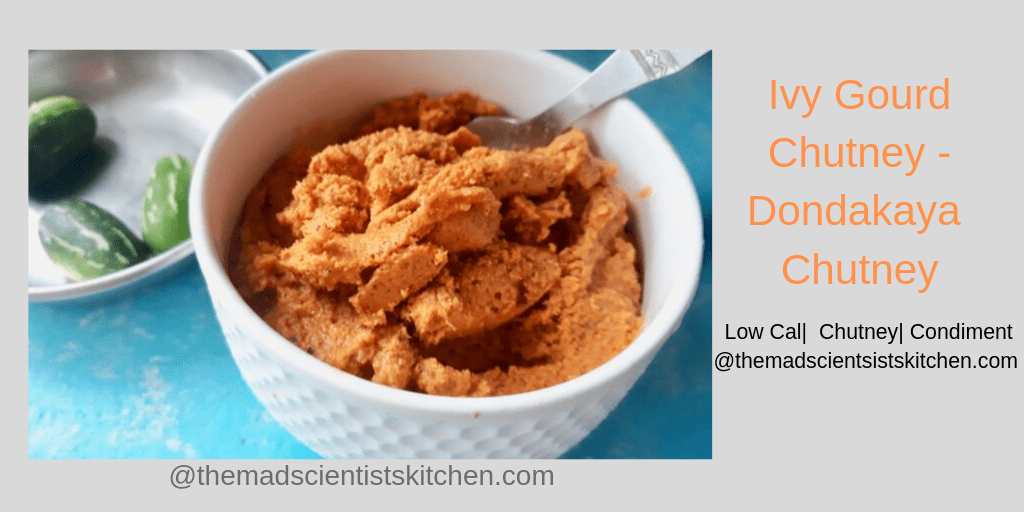 Let us see a little about Ivy Gourd.
What are

 

Ivy gourd other names?
Scientifically ivy gourd is Coccinia grandis,  but is also known as a scarlet gourd, baby watermelon, little gourd, gentleman's toes or even gherkin, tindora in Hindi, Kovakkai in Tamil. It is called Tondli in Marathi, tondikai in Kannada and tendli in Konkani.
Ivy gourd is also called telakucha in Bangladesh,  Gourde Écarlate De L´Inde Tindola in French and Gol Kankri in Nepali.
Can ivy gourd be eaten raw? What does it taste like?
And yes ivy gourd can be eaten raw,  they are juicy and crunchy when young. 
Tondikai or tendli as we call them crunchier than cucumbers.
Tondli in my place is generally consumed cooked as tondli bhaji, masala bhat, it can be stuffed too. Then people do make pickle with them too. You can also add ivy gourd to make sambhar.
In Thai cuisine, apparently ivy gourd is used to make a clear soup dish and some curries.
Let me stop talking about this vegetable and dive into making the chutney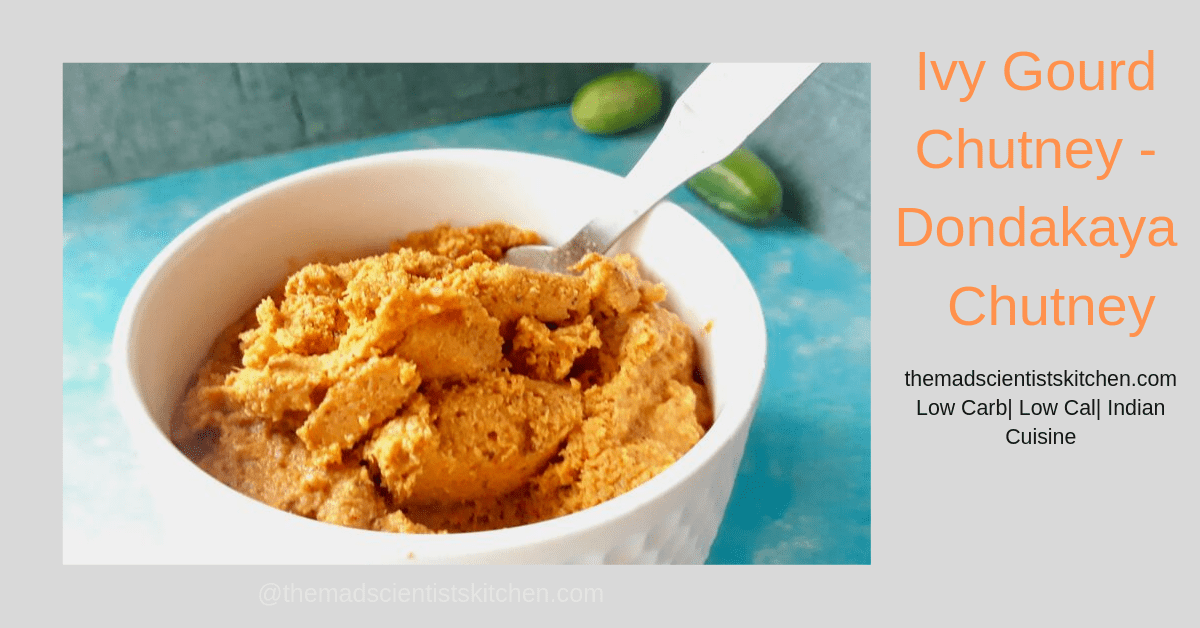 To make this chutney you will need a kadhai/wok
mixer jar
spoons and ladles
Disclaimer: We are a participant in the Amazon Services LLC Associates Program, an affiliate advertising program designed to provide a means for us to earn fees by linking to Amazon.in and affiliated sites. When you click and buy through this site, it helps us earn to keep this site running at no extra cost to you.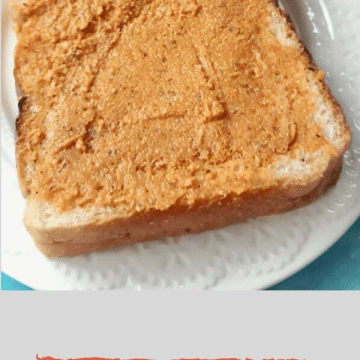 Equipment
Kadhai/wok

chutney jar of mixer/blender

Spoons and Ladles
Ingredients
10

ivy gourd

1

onion

medium-sized

6

garlic cloves

1

teaspoon

red chilli powder

2

green chillies

1

tamarind

pea-sized ball

2

tablespoon

coconut

fresh

2

tablespoon

oil

1

teaspoon

Mustard seeds

Salt as needed
Instructions
Wash and cut the ivy gourd into thin strips or slices.

In a kadhai/wok heat oil and add the mustard seeds.

Add the free chillies, then garlic.

Once the raw smell of garlic goes away add the onion and ivy gourd.

Stir fry till the ivy gourd is soft. Cover and cook but do not add water.

Once the ivy gourd is soft add salt, coconut, tamarind and switch off the gas.

Mix occasionally and allow the mixture to cool.

Once the mixture is cool transfer to the chutney jar of the mixer and grind to a paste. I did not add any water.

Serve it with hot rice and chapatti, idli, dosa, bread.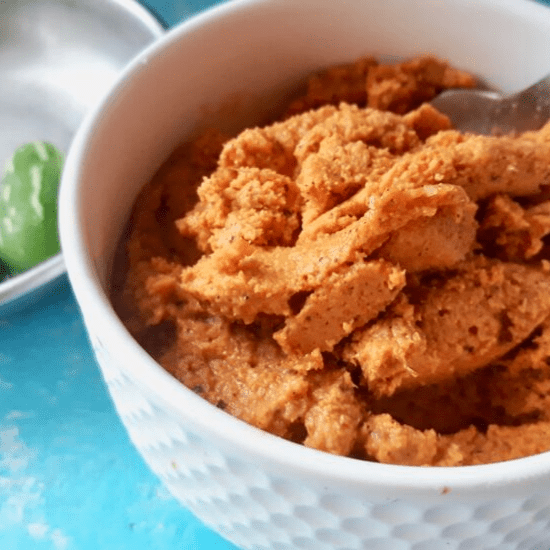 Do you like this recipe? Have you tried it? In case you do and whenever you do please tag me on Facebook. My Instagram handle is #themadscientistskitchen. You can also use my Twitter handle, Then you are always welcome at my Pinterest page too. I will love to see you there.
Please also subscribe to my mailing list and join me in my journey of Food! Will enjoy seeing what you make so that I too can learn from you!!!
Reader Interactions