Coconut Coriander Chutney Recipe
Today we will talk chutney the quintessential dhaniya nariyal ki chutney and its variations.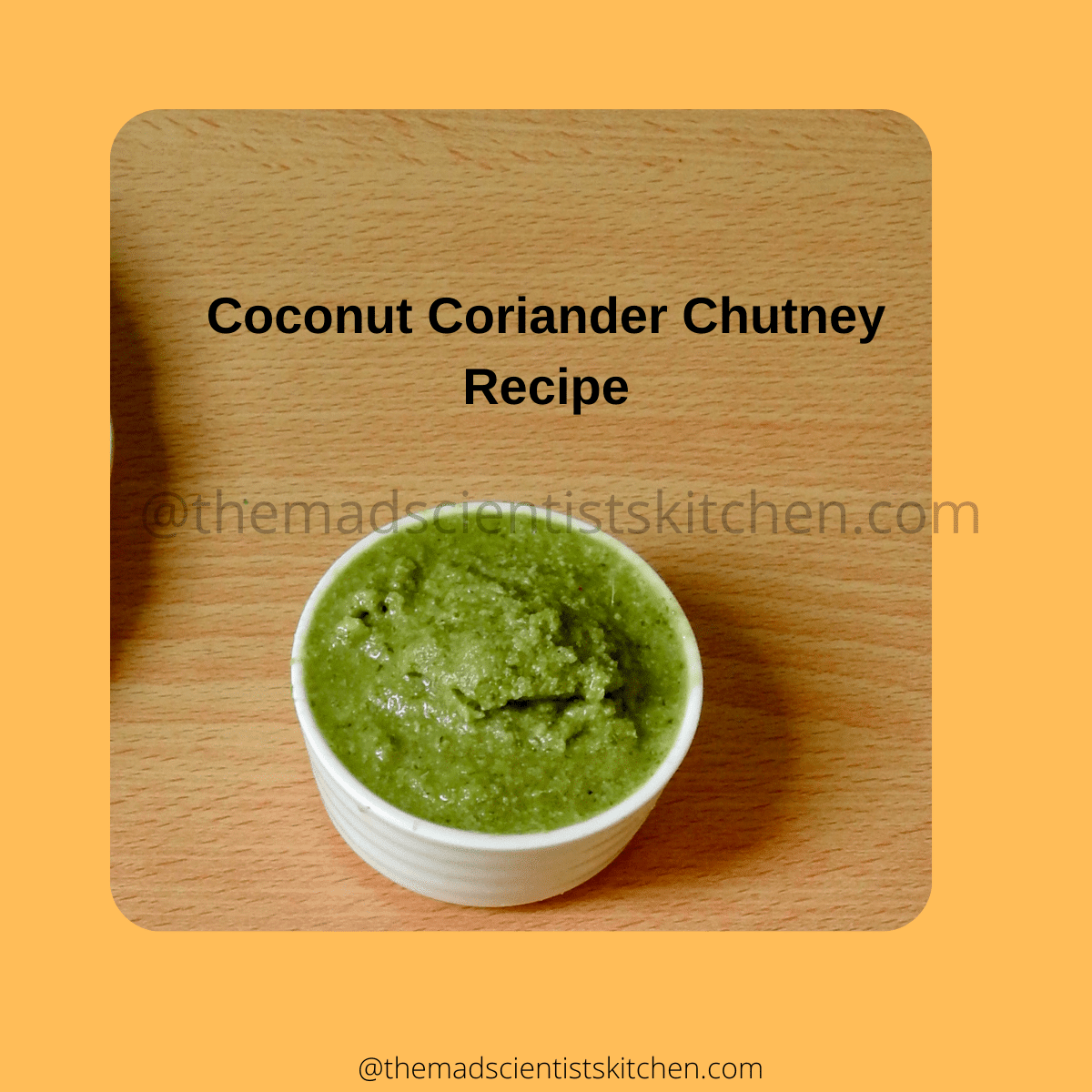 Any chutney is a simple basic condiment that is mostly spicy can be adapted for a Gluten-free and/or Vegan diet. Hello, Welcome to The Mad Scientist's Kitchen, Reinventing the Foodie in you! If you are looking to make more different chutney the read on. I urge you to subscribe to our newsletter so that you get all our posts. We will not spam you, promise and the subscribe link is below or on the side-bar too.
In college, I used to get mad at the waiter. They always dunked batata wada in the coconut chutney! So when the waiter saw me he went back and came with the batata and the chutney separate. But, he knew I will not touch the chutney. He would tell me, "eat the khobri chutney? You will remember it later" Now, I wish I can eat in the canteen khobri chutney dunked batata wada. Life's full circle! 😀 Khobri is coconut in Kannada!
Any chutney is one basic condiment a sauce that is very popular in the Indian subcontinent. There are many kinds of chutney that are made depending upon the region and most of the veggies/fruits are made in some kind of chutney. The variety that can be made is mind-boggling as the same coconut can be used to get a variety of different flavours, textures and tastes.
Then chutney has crossed the Indian borders and the Anglo- Indian cuisine uses fruits like apples to make their chutney. These chutney use vinegar and sugar to give them a longer shelf life.
Easy to make and the homemade chutney definitely tastes the best. Customise the chutney to suit your tastes and ingredient. Coconut chutney is definitely what I look forward to with my idli, dosa, vada.
So what is coconut coriander chutney? 
My favourite chutney, I believe as in any household is Coconut Chutney or the Nariyal ki Chutney. My coconut chutney recipe is super simple and I have used just the basic pantry ingredients.
Dhaniya Nariyal Chutney is a vegan condiment made by blending coconut with green coriander leaves and stalks, green chilli, ginger, garlic, salt and lemon. The chutney is generally tempered with oil, mustard, hing, urid dal and curry leaves. To make gluten-free by skip adding powdered hing to the tempering.
If you wish you can skip adding the tempering totally. Most of the times I avoid adding temperings and we are fine with it.
Now if you leave out the coriander stalks and leaves you get the plain coconut chutney. Even this chutney tastes great!
I recommend using freshly grated coconut or frozen coconut. Desiccated coconut in my books is a no-no unless I am making onion chutney. But even with onion chutney, we prefer fresh coconut now.
The second chutney I will like to share is served in the Temple.
In the temple or the Matha where we are served food on either banana leaves or tambul leaves. Food is served in a sequence prescribed. So to the left of the leaf is salt with a piece of lemon. Then chutney pronounced as "CHAAtni". There is absolutely no garlic used and yet it is extremely delicious and pungent that complements the other dishes.  
We call it Matha Chutney and is one of the best chutney that the Cook, also called Achar(short of Acharya) makes. He just eyeballs the ingredients in swift succession and the blitzes it in the mixer, now, earlier it used to be in the mortar pestle.
Ingredients for 2 different Coconut Chutney:
I am listing below for the exact measures please refer to the recipe card.
1. Coconut Coriander Chutney Ingredients:
Coconut: fresh or frozen coconut is fine if your coconut is frozen then leave out the coconut for about 30 minutes or else microwave it for 2-3 minutes on high. My neighbour adds boiling water to the coconut. The choice is yours.
Coriander: more than the leaves I use stalks, tender ones roughly chopped they are more healthy.
Chillies: green chillies use as many or as few as you like but use them if you want a greenish chutney.
Ginger and garlic: use both of these to make a delicious chutney. Generally, my garlic is more than ginger.
Roasted gram: Chickpea is roasted and this roasted gram is used in many of our dishes. They are locally called puthana/puthne. These can be eaten raw and adding the roasted gram to the dish has 2 reasons a) your chutney is not runny the water you use to grind does not separate out and run around the plate. b) I like to believe it increases the nutritive value.
Cumin seeds: I add some to the chutney. The flavour is delicious.
Salt and sugar: adjust to your taste.
Lemon: for a lovely green hue add lemon juice.
Water: as needed.
Tempering: is optional through tempering gives a lovely flavour. Here is what you will need oil, mustard, asafoetida, split black dal, broken red chillies and curry leaves.
2. Temple/Matha Chutney ingredients:
Coconut: freshly grated coconut, food ingredients in the temple are always fresh and used immediately.
Green chillies: again fresh green chillies that are pungent are used. You can adjust the number as per your taste.
Ginger: Fresh ginger is accepted in traditional temple cooking so be sure to add some to the chutney.
Lemon: juice of lemon makes the chutney delicious adjust the amount to suit your tastes.
Salt: as per taste, I use table salt.
Water: this is a dry chutney so use water sparingly.
1. How to make Coconut Coriander Chutney with tempering:
Cut the coriander stalks, chilli, ginger and add to the mixer.
If your coconut is frozen thaw it, you can leave it out for 30 minutes, microwave it or pour boiling water on it. Add to a mixer jar.
Add the cumin seeds, garlic, salt, sugar, lemon juice, roasted gram.
Blitz in the mixer, add water as needed and grind the chutney. You can grind as fine as you wish. Transfer to a bowl.
To make the tempering: In a small wok heat oil add the mustard and let it splutter. Add the split black gram/urid dal and let it become reddish, asafoetida, red chillies and curry leaves. The red chillies and curry leaves will splutter and splash so be careful. Add this sizzling tempering to the chutney bowl. Enjoy the sound that it makes! It is my favourite sound!
One word adding the tempering is optional. These days I generally avoid adding tempering. The chutney tastes just as good.
2. To make Temple Chutney:
Add all the ingredients to the mixer jar and blitz it up. (Tip: cut the chillies and ginger).
You will need to add a little water.
Transfer to a bowl and serve.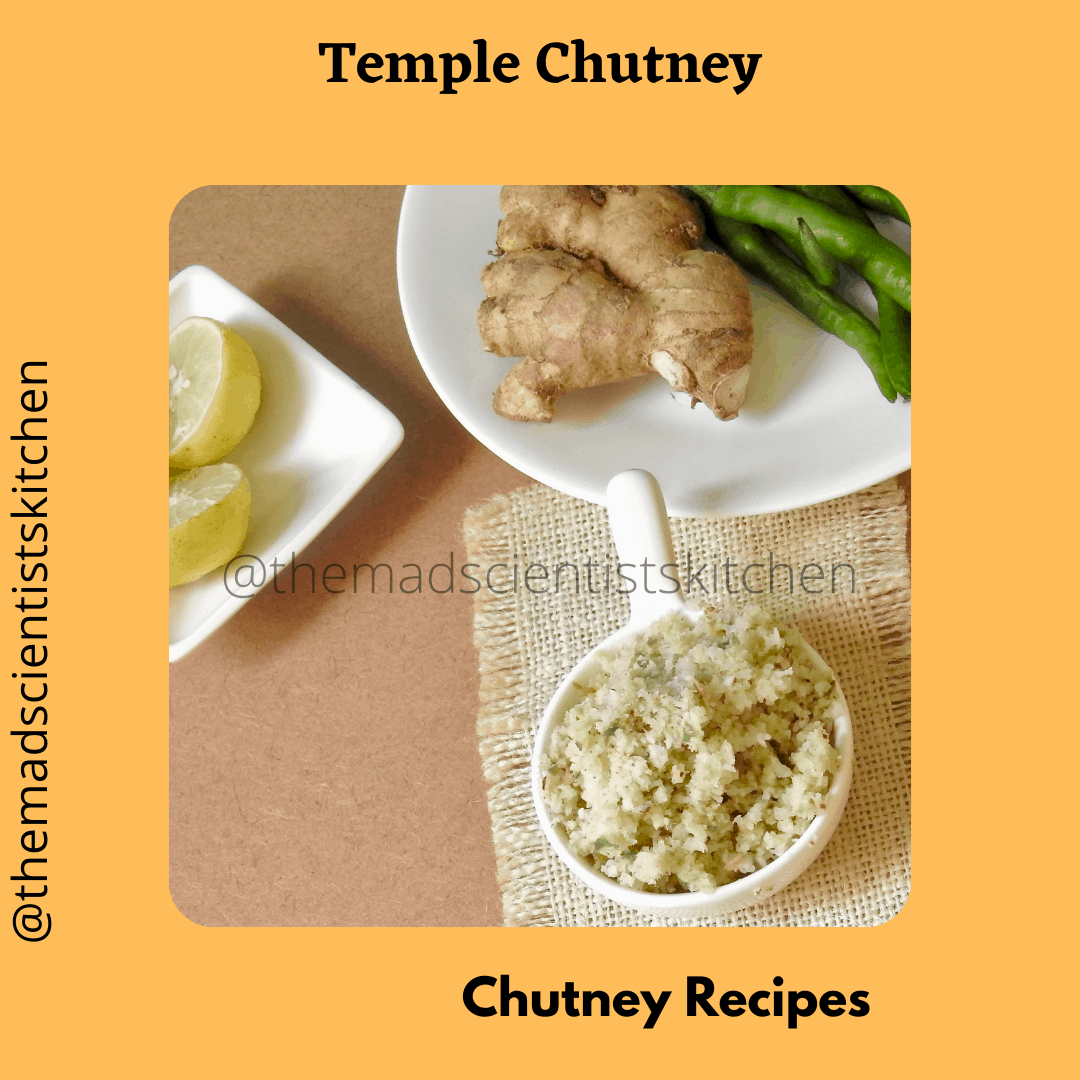 Now, if you want the white chutney like what is served in the Udupi Hotel do not add any coriander, mint or curry leaves to grind.
A mixture of coriander and mint in your chutney. The flavours are delicious. I generally use 1 mint to 2 coriander as my ratio.
In place of coriander use just mint.
Try adding just curry leaves. Since curry leaves are healthy and everyone eats chutney I add curry leaves in place of coriander. There is hardly any difference in the chutney.
Then in Delhi, I have made chutney using fried onion for sandwiches. The kids loved the chutney sandwich and finished them all. Linking that chutney here.
Have you used capsicum in a chutney, the green bell pepper? I use cashew nuts in the chutney, now before you start saying in Goa…. use groundnuts or peanuts they will also give the same flavours.
Use sesame seeds and green tomato. Here is the link.
Have you tried this til ki chutney? It's delicious but does not use any coconut.
The general additions to a chutney are roasted gram, also called puthana, bhuna chana. This prevents the chutney from being runny. In case you do not have access to puthna or roasted gram
use chana dal. Dry roast it on low flame till it gets a reddish ting. Cool the dal then grind it to a fine powder. Now add the rest of the chutney ingredients and grind.
you can stir-fry split black dal and chana dal in a little oil. Add it to the coconut mixture.
For a souring agent generally, lemon or tamarind or curds/yogurt is used too. 

Keep in mind if you want the colour to be retained add lemon tamarind generally gives a blacker shade to your chutney.
Storing Coconut Chutney:
If you ask me I rather not store the chutney, but there are times when I end up with extra chutney. You can refrigerate the coconut chutney for 1 day. More than that put it in the freezer. But, my tastebuds bo not appreciate it.
How do I make my chutney thicker? 
Okay so you added too much water and your chutney is runny. Your options are 
You can add more coconut to the blender and blend it.
You can also add more of the roasted gram and grind. 
I rather not heat the chutney to evaporate the water. It is not a gravy or curry!
Shopping needs: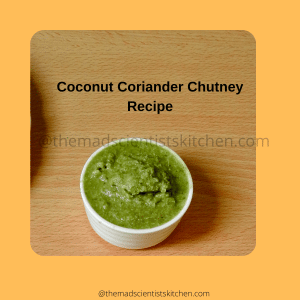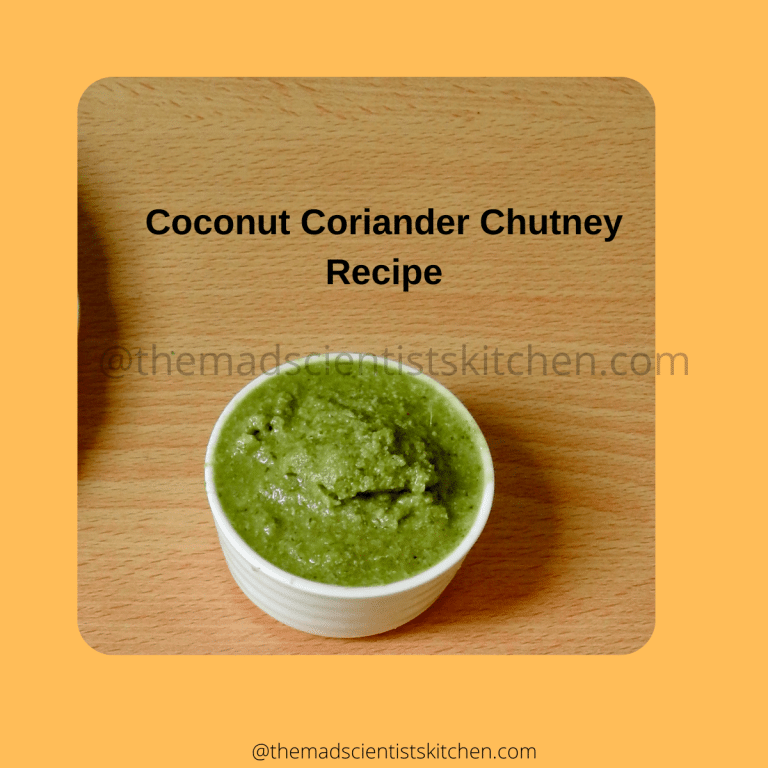 Coconut Coriander Chutney Recipe
Coconut coriander chutney is a vegan condiment made by blending coconut. This Indian condiment that doubles up as a sauce also is simple and easy to make.
Print
Pin
Rate
Ingredients
To grind:
1-½

cups

fresh coconut

grated

3

green chillies

roughly chopped, adjust to taste

1

inch

ginger

roughly chopped

4-5

garlic cloves

½

cup

coriander with the stalks

roughly chopped

¼

cup

roasted gram

½

teaspoon

salt or to taste

½

teaspoon

lemon

A pinch of sugar

¾

cup

water

as needed
For Tempering:
1

tablespoon

oil

½

teaspoon

Mustard seeds

¼

teaspoon

hing/asafoetida

½

teaspoon

black lentil gram/urad dal

2

dried red chillies broken

10-12

curry leaves
Instructions
To grind the chutney:
Add all the coconut, chillies, ginger, garlic, coriander, roasted gram, salt, lemon and sugar to the chutney pot and blitz the mixture.

Add water as needed and check your seasoning.

Once the chutney is well-blended transfer to a bowl.
Let us make the tempering:
Heat oil in a small pan and splutter the mustard.

Add the urid dal and hing. Let the urid dal become reddish.

Add the broken chillies and curry leaves.

Pour over the bowl of chutney.
Notes
Temple Chutney
1 cup coconut
5-6 green chillies
1-inch knob of ginger
½ teaspoon salt or to taste
1 lemon
1-2 tablespoon water

Add to the chutney bowl and blend it. Since this is a bit on the dry side add 1 tablespoon water if needed.

Substitutions you can use:

In place or roasted gram, you can use Bengal gram also called split chickpea gram, chana dal. Dry roast it on low flame till it gets a reddish ting. Cool the dal then grind it to a fine powder. Now add the rest of the chutney ingredients and grind.
You can also fry in oil split chickpea and split black lentils till they are light golden in colour and grind it with the rest of the chutney.
For a souring agent generally lemon or tamarind, in Maharashtra curds/yogurt is used too. 

Keep in mind if you want the colour to be retained add lemon tamarind generally gives a blacker shade to your chutney.
Nutrition Facts
Coconut Coriander Chutney Recipe
Amount Per Serving (1 tbsp)
Calories 22
* Percent Daily Values are based on a 2000 calorie diet.
Nutritional Disclaimer: I am not a certified nutritionist and make no claims to the contrary. Please check with your nutritionist for your dietary needs and restrictions. Ultimately you are responsible for your decisions.
 If you try this recipe then please either
add a comment below,
 tag me as #themadscientistskitchen on Instagram,
or tag me on Twitter as @APotdar,
For more delicious, healthy and easy recipes like this subscribe now to the newsletter. I promise I will not spam you!
Reader Interactions