Drumstick Leaves Chutney Powder
Drumstick Leaves Chutney Powder is a lentil based spice powder made from the superfood Moringa Leaves.
The Drumstick Leaves Chutney Powder can be consumed with hot white rice and homemade ghee.
 Moringa also called as Nuggekai in Kannada, Shevga in Marathi, Mosing in Konkani. In Konkani, they are also referred to as Shango.
Moringa or Drumstick is grown in almost every household in Goa and you have the healthy vegetable growing in your backyard. In the past I knew of only the fruits being eaten but once I saw our neighbouring Kaki picking up an entire branch that had fallen. 
Curiosity is my middle name and I asked Kaki just why she wanted it.
She generously invited me over for lunch and she served me the bhaji. She had stir-fried the leaves with onion, added small prawns, lots of coconut and green chilli. Then on I have tried it at my place but I still cannot make it as the bhaji Kaki makes basically because there are no prawns in my place.
It was Kaki who introduced me to Shango Che fula or the flowers of Moringa as a yummy vegetable too. But the flower vegetable is rarer. It is only in the rains if the branched laden with flower break that we have the flower enough to make a vegetable.
Having said this at my place no one likes the vegetable made from the drumstick leaves or the flowers.
Hubby finds it bitter, Kiddo wants only Muddi Palya as her traditional greens, even Father-in-law too is not too fond of it.
Mind you we are all fond of the pods they can be eaten plain boiled in salt water. My mother-in-law used to add these boiled pods to her kadhi.
I knew of  sambhar only made from the drumsticks or nuggekai but in Goa we have 
So what do I do?
Find ways to sneak Moringa leaves in our food.
This Drumstick leaves chutney powder goes in as a spice powder to flavour our food.
 Why am I so adamant about eating Drumstick leaves, flowers? 
Moringa is a highly nutritious and medically beneficial tree.
In India, the entire tree from fruits to the roots is prized for its anti-inflammatory properties.
There are studies that show that there is a slight reduction in blood sugar levels and cholesterol.
The leaves of moving are great in making up for essential nutrients that a body may lack.
The tree is also believed to have anti-cancer properties, protects the liver and stomach disorders among many other benefits.
This month for recipe swap I have been paired with Veena and since I have some recipes from her yummilicious collection bookmarked it was easy.
This Murungai Keerai Podi / Moringa leaves spice powder just climbed up the bookmarks ladder. 
This simple spice powder or chutney pudi as we call it in Kannada is a simple dish where we use a lot of curry leaves but the nutrition-packed drumstick leaves is much better.
Mind you Drumstick Leaves Chutney Powder is definitely so aromatic.
Kiddo came to check just what exactly I was cooking. I can smell it in my room behind the closed doors she told me. 
Drumstick leaves tend to spoil and rot fast so use them immediately. The other alternative is that you can dry roast them on the stove top in a Kadhai or the microwave. I used a combination of both to make this Drumstick Leaves Chutney Powder.
Veena has said to dry and powder the leaves. This to have a teaspoon every day sounds like I am going to have a new additive to our vegetable. 
The other chutney powders that I have tried in the past are
Sunflower Seed and Garlic Chutney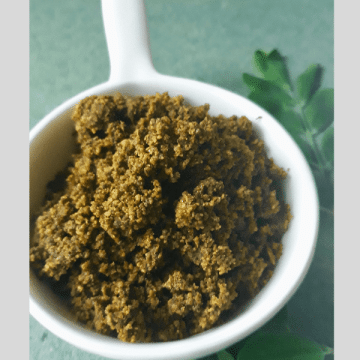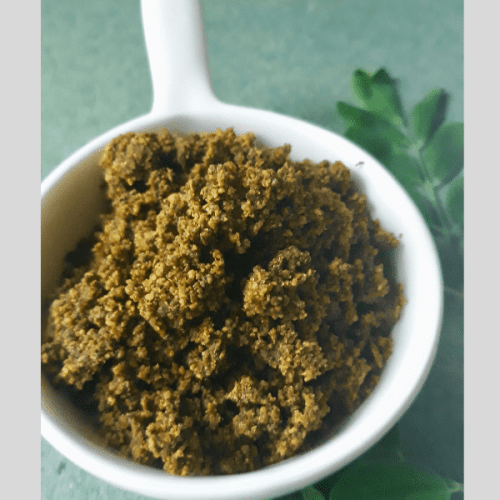 Drumstick Leaves Chutney Powder
Superfood drumstick leaves|Moringa Leaves made in this lentil based spice powder
Print
Pin
Rate
Ingredients
1

cup

drumstick|moringa leaves

1

tablespoon

urad dal

2

tablespoon

chana dal

2

teaspoon

coriander seeds

2

teaspoon

red chilli powder

½

teaspoon

fenugreek seeds

1

tablespoon

sesame seeds

1

tablespoon

desiccated coconut

½

teaspoon

asafoetida

3

tablespoon

groundnuts

optional

1

teaspoon

amchur powder

optional

1

teaspoon

oil

salt to taste
Instructions
Wash and air dry the Moringa leaves for some time on a tissue paper. I washed them in the morning and made my powder in the evening.

Separate the leaves from the bigger stalk and in a thick Kadhai/wok add a teaspoon of oil roast the leaves on low flame. Once the leaves are dry transfer them to the microwave on a tissue paper and microwave for 20 seconds. Repeat as needed. The leaves should crumble once you touch them. I need to do the microwaving 3 times.set aside.

In the kadhai/wok meanwhile, add the chana dal and dry roast it till you get an aroma. Add the urid daal, coriander seeds, methi seeds and dry roast till the days are brown. Set aside in a plate on which you have added the red chilli powder too cool.

In the same kadhai/wok add the sesame seeds and roast till the seed start spluttering. Add to the same plate as the days.

Dry roast the groundnuts till nice and golden brown. You may remove the skins once the ground nuts cool down I don't.

Dry roast the desiccated coconut till light golden in colour. Add to the cooling dal plate.

Once cool transfer the plate contents to the mixer jar. Add hing and salt and run the mixer till the ingredients become a coarse powder.

Now add the dried moringa leaves and powder it well.

Store in an ​air-tight container.
Linking up to MLLA #130 hosted by Kalyani of Sizzling Tastebuds, MLLA is currently run by  Lisa.  MLLA is the brainchild of Susan.
Do you like this recipe? Have you tried it? In case you do and whenever you do please tag me on Facebook. My Instagram handle is #themadscientistskitchen. You can also use my Twitter handle, Then you are always welcome at my Pinterest page too. I will love to see you there.
Please also subscribe to my mailing list and join me in my journey of Food! Will enjoy seeing what you make so that I too can learn from you!!!
Reader Interactions