Eggless Ragi Pancakes Recipe
Eggless Ragi Pancakes is a recipe for a healthy breakfast or snack option.
These Finger Millet Pancakes are made using simple ingredients. Your toppings can be honey or maple syrup and fruits.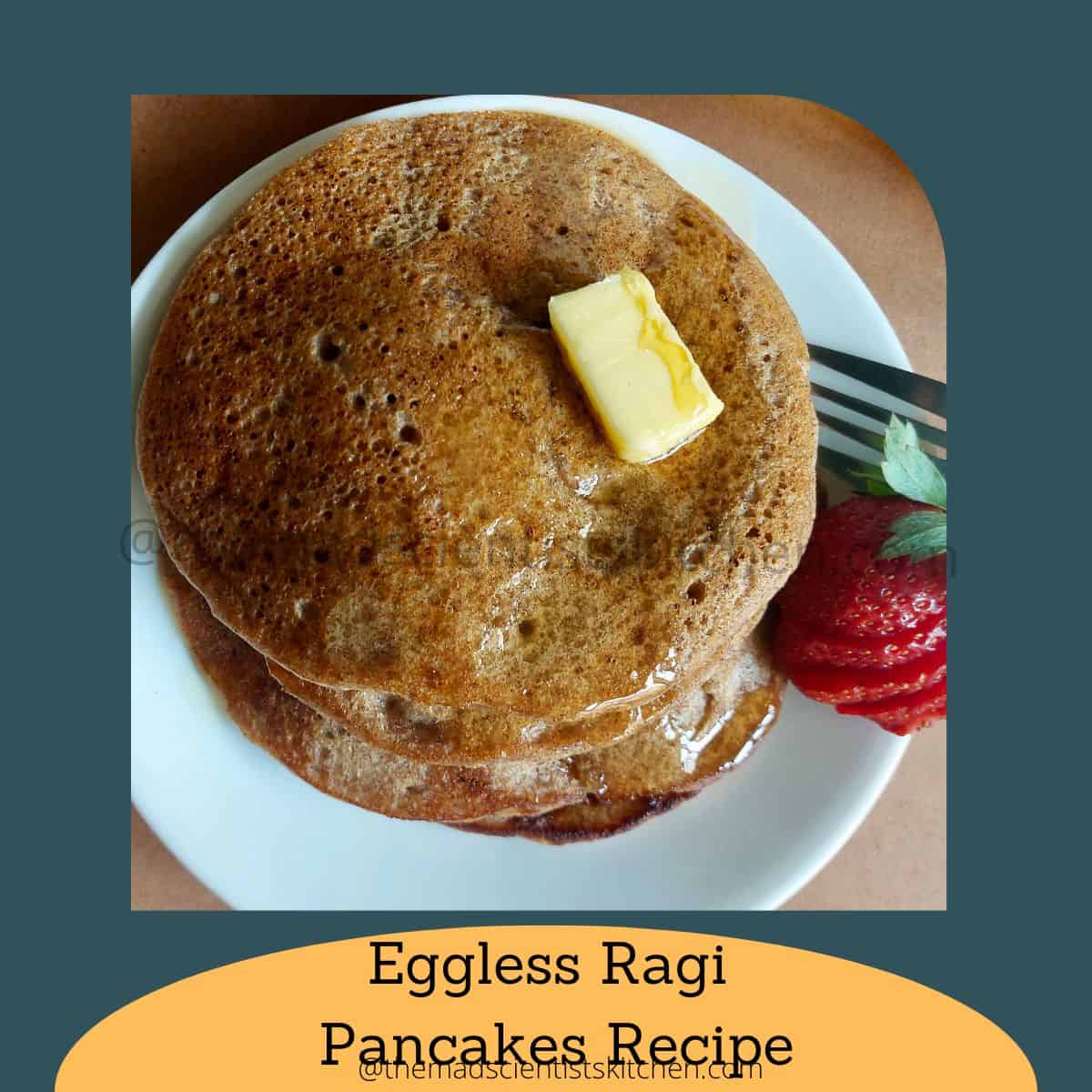 These delicious Ragi (Nachni) Pancakes is a made using finger millet flour and whole wheat flour. Mashed bananas too taste great in the pancakes if you wish to add them. Simple and delicious healthy pancakes are ready in 20 minutes.
Since nachni or ragi is nutrient rich it is perfect for young and old alike. These finger millet pancakes are the perfect option for breakfast. Serve some as after school snack to your kids. Make some as weaning food for your baby only avoid the use of sweeteners.
Here are some more pancake recipes we love like these soft and fluffy Japanese Soufflé Pancakes, these cheesy Syrniki recipes, Cheesy Blintzes Recipe, the Goan Alle Balle Recipe, savoury Spring Onion Pancakes, Xi'an stuffed pancakes, and Potato Pancakes.
Then these delicious Indian pancakes that we love are Odia Chakuli Pitha Recipe, Mixed Millets And Dal Dosa Recipe and Davangere Benne Dosa.
Contents:
Hello, and welcome! I am known as The Mad Scientist's Kitchen, reinventing the foodie in you!
Tired of choosing between tasty or healthy meals? No more! Here at the Mad Scientist's Kitchen, I experiment with flavours and cuisines that are as nutritional as they are delicious.
Join me in my lab as we cook up some treats! You can stay up-to-date with my latest culinary adventures by subscribing to my newsletter. No scam, no spam, just the clink of my pots and pans!
I will love you to follow me on:
This post I published on 5th Sept 2013 from then on I have since changed the way I make these pancakes now. So updating the picture and SEO here.
I have included ragi in our diet as we are diabetic. Nachni is rich in dietary fibre, hence we feel full for a longer time. This helps control our blood sugar and helps us lose weight. Ragi is rich in calcium and iron hence improving bone strength and fighting anaemia. Sharing it with blogging marathon friends a group that is more family than friends.
Make this recipe since as usual, it is
Simple
Delicious
Filling
Healthy
Nutritious
Versatile
Quick
Perfect weaning food
Can be doubled or halved as needed
These are the ingredients you will need. For quantities please check the recipe card.
Ingredients:
Ragi flour
Whole wheat flour/ atta
Milk
Yoghurt/dahi
Sugar
Salt
Oil/ butter
Baking powder
Vanilla essence
To garnish:
Optional ingredients:
Method:
Mix the dry ingredients in a large bowl.
In a smaller bowl whisk together the sugar and wet ingredients.
Mix together the dry and wet ingredients. Do not over-mix. Set aside for 10 minutes.
If the batter is too thick add liquids( I used water) about 1 tablespoon at a time. You should have a spreadable batter.
Grease and cook on medium heat a ladleful (I used the ¼ cup measure) of the batter.
Flip when the top is set and cook on the other side
Transfer to a plate. Repeat for the rest of the batter.
Substitutes:
Banana – Use ripe bananas, The best way to get rid of overripe bananas is by using them in pancakes. They make the pancakes soft and sweet.
Milk – I have used 6% fat skimmed milk. You can use plant-based milk to make pancakes dairy free. Try it out with homemade almond milk at home.
Yogurt or dahi - replace with 2 eggs.

You can also use 2 tablespoon raw ground flax seeds and 6 tablespoon water. Mix and set aside for 15 minutes. Add to the wet ingredients. This recipe replaces 2 eggs.

Oil- I use oil to cook and butter as a topping to serve. You can cook the pancakes in butter too.
Baking Powder- Substitute baking powder with baking soda.

If using baking soda use buttermilk in place of milk. Make some "sour milk" and stir in 1 tablespoon lemon juice or vinegar in 1 cup of milk. Let this mix stand for 10 minutes before you use it. This sour milk is acidic and will enable the baking powder to work.

Honey- I used honey on the top while serving but you can use maple syrup too.
Variations:
I use ragi to add millet to our meals. You can avoid it totally use only whole wheat flour. And of course, you can use only all-purpose flour to make these pancakes.
Add 2-3 tablespoons of unsweetened cocoa and then top it with the whole wheat flour. Chocolatey pancakes are a treat and kids do know not there is ragi in the batter.
There are times when I use semolina, ragi flour and whole wheat flour with buttermilk. I make these savoury pancakes. Add chillies, ginger, and coriander to the batter. How about a nice tempering of chillies, curry leaves, mustard, oil and asafoetida in the batter? These savoury pancakes with chutney are our favourites.
Equipment:
You will need
Bowls
Whisk
Non-stick pan
Ladles and spoons
Kitchen turner
How to serve:
Serve Ragi Pancakes for breakfast or brunch. Served with a drizzle of honey with some seasonal fruits like kiwi, and berries.
How about some nuts like pistachios, walnuts or honey chilli nuts on the side?
My kids love it with Nutella, chocolate sauce or pancake topping. I prefer crunchy muesli, Granola, Seeds and Nuts Loaded Energy Bars.
Have you tried pancakes with scrambled eggs? Try it.
How to store:
Ragi Pancakes are best warm. I prefer to store the batter in the fridge for a day only.
But in case you need to store the pancakes. Freeze them all cool fully in the freezer first. After about 20 minutes when the pancakes are hard transfer them to freezer bags. I will like to keep some butter paper or parchment between the pancakes so that they do not stick.
To consume microwave them for 20-30 seconds depending on your MW settings. To reheat in the oven remove from the plastic freezer bags. Transfer the pancakes to foil and place in the oven for 8-10 minutes.
If you make all the pancakes in one go then pre-heat the oven to its lowest setting. Keep the pancakes in the warm oven till needed.
Protips:
Use fresh ragi flour, older flour tastes bitter. I suggest you store the flour in the fridge.
Do not skip using the baking powder. (Check FAQ for substitutes)
For fluffy pancakes Mix dry and wet ingredients separately as much as you want. But when you mix the wet and dry ingredients mix lightly and do not over-mix.
Over-mixing the batter makes pancakes flat and heavy.
Rest the batter for 10-15 minutes this helps in making the pancakes fluffy.
Adjust the liquids needed. The amount of water differed from flour to flour. You need a spreadable batter.
Only after the holes in the cooking pancake have popped flip the pancake.
You can also use a well-seasoned cast iron pan for beautiful evenly browned pancakes.
Frequently Asked Questions:
Can we make pancakes without baking powder? 

Sure swap the baking powder with baking soda and in place of milk use buttermilk or sour milk. For every cup of milk use 1 tablespoon lemon juice or vinegar.

I need gluten-free pancakes how do I make them?

These are not gluten-free since I have added whole wheat flour. I have used only finger millet flour in the past they were good too. Try using oats flour, besan never tried it so please let me know how it goes. . Better still for gluten-free pancakes I will make Methi che Polle.


Why eat Millets?

Millets are rich in fibre, calcium, iron magnesium, and vitamin B and are gluten-free and have a low glycemic index. 
-Low glycemic foods help with weight loss and blood sugar. Hence they lower the risk of conditions like type 2 diabetes and heart disease.
-Being rich in magnesium millets help in controlling asthma.
-Potassium-rich millets help regulate blood pressure.
- Being rich in iron helps beat anaemia.
-In my case being generally vegetarian the protein in millets help as a good source of plant protein.
-As millets are rich in fibre people with constipation and bloating disorders should include them in their diet.
-Antitoxins in millets help flush out toxins.

Summary
Nachni or ragi as it is called is healthy millet you may be familiar with its other name Finger Millet. Include this grain in your diet as it is rich in iron, calcium, magnesium, potassium and fibre. Since it is easy to digest use we use it as a weaning food, for patients and during postpartum. Why not use it on a regular basis to get rid of health issues?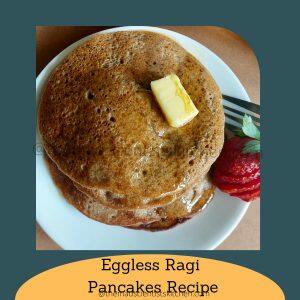 Eggless Ragi Pancakes Recipe
Eggless Ragi Pancakes is a healthy breakfast or snack option. You can make these Finger Millet Pancakes using simple ingredients. 
Print
Pin
Rate
Equipment
2 Bowls

1 whisk

1 Non-stick pan

2 Ladles and spoons

1 Kitchen turner
Ingredients
¼

cup

ragi or nachi flour

½

cup

atta

or whole wheat flour

1

cup

milk

1

tablespoon

yogurt

or dahi

2

tablespoon

sugar

½

teaspoon

salt

1

tablespoon

baking powder

1

tablespoon

butter

1.5

teaspoon

oil

to fry
To serve:
1

tablespoon

butter

2

tablespoon

honey

fruits
Instructions
Mix the ragi flour, whole wheat flour and baking powder in a large bowl.

In a smaller bowl whisk together the yoghurt, vanilla, sugar and milk.

Mix the wet ingredients with the dry ingredients and mix until just mixed. Avoid overmixing. Set aside for 10 minutes.

Brush a non-stick pan with oil and heat it over medium heat.

Pour ¼ cup full of batter into the center of the pan.

Cover the pan with a lid and cook.

The pancake will bubble and set slightly from the top.

Flip the pancake using a spatula and cook from the other sides as well.

Remove on a plate.

Make all the pancakes in the same manner.
To Serve:
Serve for breakfast or brunch drizzled with honey Nutella, chocolate sauce or pancake topping.

I prefer crunchy muesli, Granola or scrambled eggs, seasonal fruits and nuts.
Notes
 Protips:
Use fresh ragi flour as older flour tastes bitter. Also, store the flour in the fridge.

For fluffy pancakes mix dry and wet ingredients separately as much as you want.  But when both the dry and wet ingredients come together you mix lightly.
For fluffy and soft pancakes do not over-mixing the batter.
To make the pancakes fluffy rest the batter for 10-15 minutes.
Flip the pancake only after the holes in the cooking pancake have popped.
Use baking powder or the substitutes like baking soda, flax seed mix or eggs. 
Nutrition Facts
Eggless Ragi Pancakes Recipe
Amount Per Serving (6 pancakes)
Calories 754
% Daily Value*
* Percent Daily Values are based on a 2000 calorie diet.
Nutritional Disclaimer: I am not a certified nutritionist and make no claims to the contrary. Please check with your nutritionist for your dietary needs and restrictions. Ultimately you are responsible for your decisions.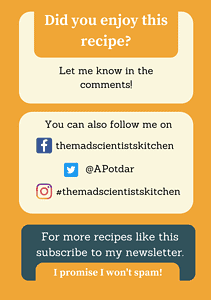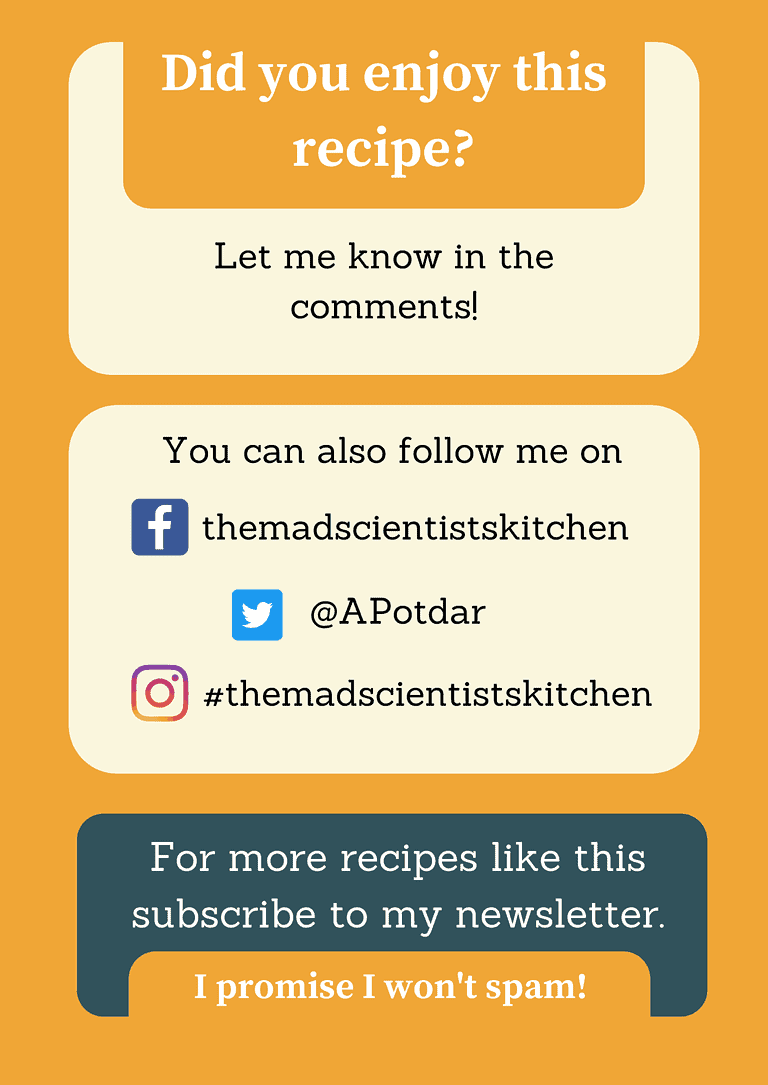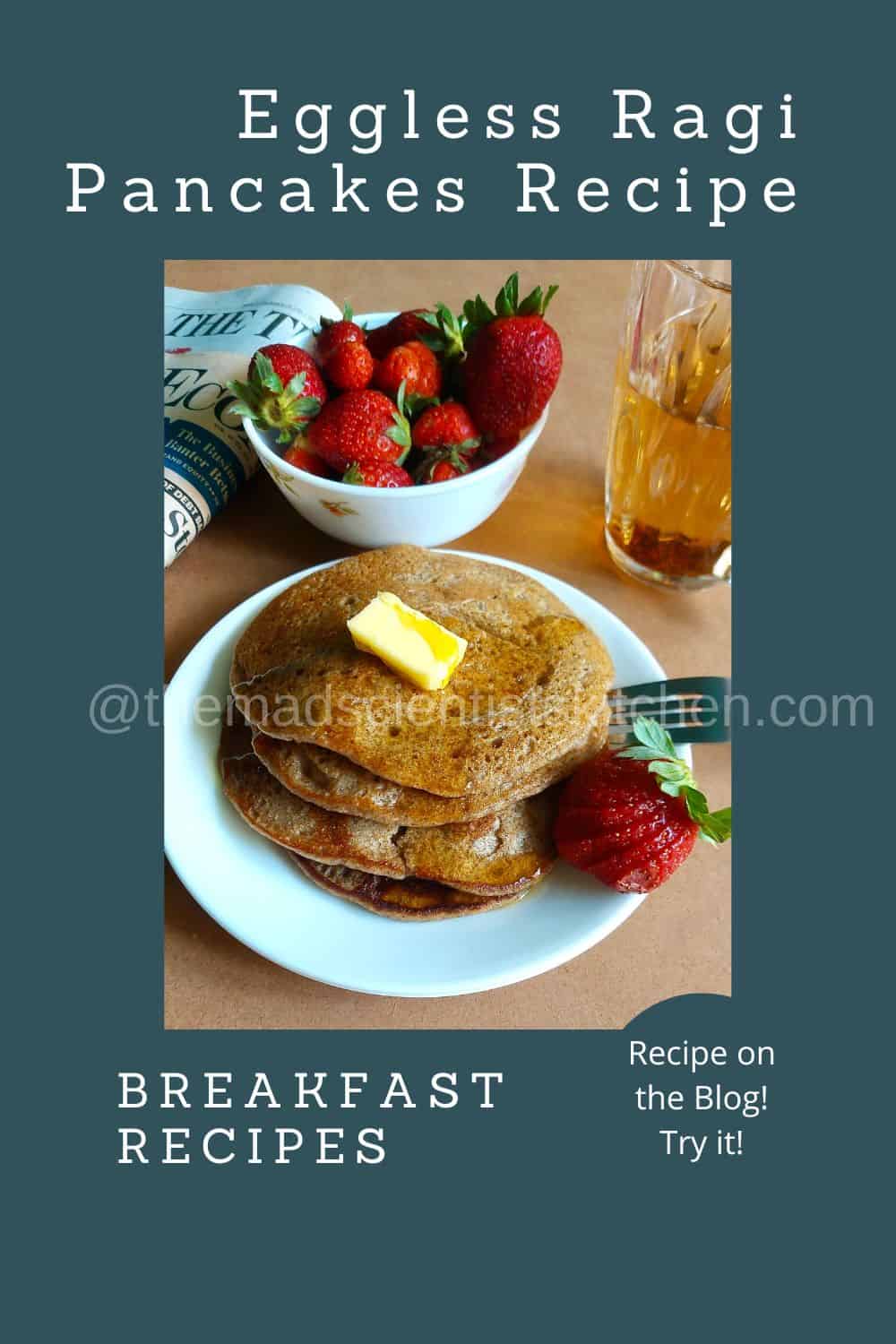 Reader Interactions