Last Updated on
Scrambled eggs are a protein-rich breakfast dish made from eggs.
The eggs are heated gently all the while they are stirred or beaten together in a pan. To season scrambled eggs use salt or sugar as a child I always ate with sugar it is only now that I have started using salt and pepper.
Eggs are the easiest to cook and they are healthy too. Eggs can meet your protein needs especially if you are on a budget. This week I am cooking up some eggs, my daughter has shifted out to Bangalore and she is going to cook. Since she does not enjoy cooking eggs will be her mainstay.
Main ingredients to make scrambled eggs you need only eggs, salt, use one or all of the following milk, and butter, cream, grated cheese. Use ground pepper to season the eggs they taste better. 
There is a shortcut or a lesser vessel for you to wash Apeksha,  if you crack the eggs directly in the pan you want to scramble the egg add butter, salt, pepper. Mix or stir the eggs then transfer to heat and cook stirring continuously.  Turn down the heat as they cook this gives this creates small, soft curds of egg.
Remember scrambled egg is never browned.
Let the liquid almost finish add the other ingredients herbs, cheese or cream and yes Apeksha you may add ham too here. Fold over low heat until incorporated. Remove from heat.
It is better that the scrambled eggs are cooked a bit less yes they are better a bit undercooked as the egg will continue to set.
If any liquid is seeping from the eggs (syneresis), this is a sign of undercooking, overcooking or adding undercooked high-moisture vegetables.
The other Egg Recipes simple enough for you to make are Bhuna Masala Egg Curry, Devilled Eggs/Deviled Eggs/Eggs Mimosa, Anda Bhurji Wraps/ Scrambled Eggs Wrap ~Indian style, F for Fried Eggs, Egg Chat.
The recipe below is the basic one you can add ingredients as you want. Also, I know Apeksha that you have puckered your nose at the thought of milk but use it you need the calcium milk provides.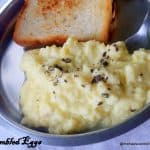 Print Recipe
Scrambled Eggs
Protein-Rich Scrambled eggs a great start of the day!
Ingredients
2

eggs

1/4

cup

Milk

Salt to Taste

black pepper

1

tsp

butter/oil

cheese or cream

herbs like parsley
Instructions
In a bowl, crack open the eggs, add the milk, salt and pepper.

Use a fork or a spring whisk to beat the eggs. The longer you beat them the softer and lighter they become.

Grease the pan before you heat it. Simpler and less painful.

Add the beaten egg mixture and transfer to low heat.

Cook stirring constantly.

Let the liquid almost finish add the other ingredients herbs, cheese or cream and ham too here.

Fold over low heat until incorporated. Remove from heat.

The eggs will be underdone but they will continue to cook and set.

Eat hot with toast.
Check out the Blogging Marathon page for the other Blogging Marathoners doing BM# 80
Loading InLinkz ...