Blintzes are crepe pancakes filled with creamy cheese. These are then pan-fried crisp and served with a berry compote.
Fresh fruits taste great with these Blintzes recipes.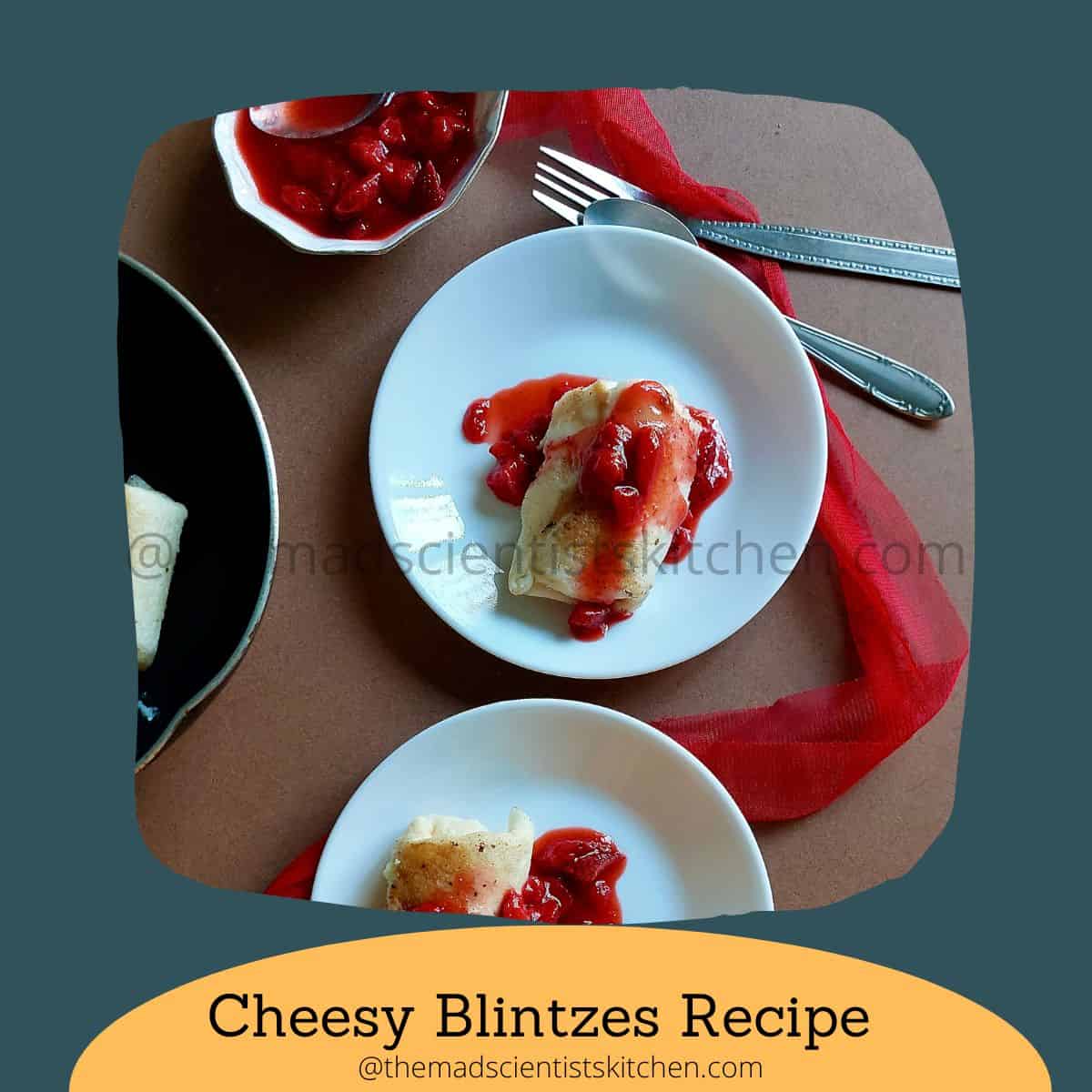 Served at Shavuot these crepe-like pancakes from the traditional Jewish cuisine are easy to make and are delicious. Serve them for breakfast, brunch, or even dessert! You can customise them for your family.
Want to try more breakfast recipes? Try my Syrniki recipe, Eggless Ragi Pancakes Recipe, Eggless Pumpkin Bread Recipe, Idli(Steamed Rice Cakes) and Teezan- Finger Millet Porridge Recipe!
Contents
Hello, and welcome! I am known as The Mad Scientist's Kitchen, reinventing the foodie in you!
Tired of choosing between tasty or healthy meals? No more! Here at the Mad Scientist's Kitchen, I experiment with flavours and cuisines that are as nutritional as they are delicious.
Join me in my lab as we cook up some treats! You can stay up-to-date with my latest culinary adventures by subscribing to my newsletter. No scam, no spam, just the clink of my pots and pans!
I will love you to follow me on:
We love savoury breakfasts but enjoy sweet breakfast foods occasionally.
This Blintiz was something I had made as a part of the BM Mega Marathon in 19-Sep-2014.
When I made these we had a lot of guests and so the pictures and flavours we could not enjoy to our heart's content. So I made them yet again as a dessert. But you can serve them for breakfast, after-school snacks or late-night snacks.
I have adapted this recipe to suit my requirements from Spruce Eats Cheese Blintzes Recipe, Tory Avey's Sikasa Blintzes and Taste of Home's How to Make Blintzes That Are Absolutely Perfect.
Make these Cheesy Blintzes Recipe as they are
Delicious
Festive
Easy to make
Serves as a breakfast, snack, dessert
Can be made-ahead
Can be doubled or halved as needed
A blintz is a thin pancake and is also called blin (pl. blini), blintchik (pl. blintchiki) or blintz.
Blintzes are usually made without a leavening agent and are thin pancakes. Blini are typically thicker and use a leavening agent. Though the blini are pan-fried the cooking of blini is still referred to as baking in Russian.
Blintzes are a part of Jewish holidays such as Chanukah cuisine and Shavuot. These blintzes are stuffed with a cheese filling and then fried in oil.
The filling range from chocolate, mushrooms, meat, rice mashed potatoes, and cheese.
These are the ingredients you will need. For quantities please check the recipe card.
Ingredients:
For the Pancakes:
Milk
All-purpose flour
Sugar
Salt
Eggs
Vanilla essence
Butter
For the Cheese filling:
Ricotta cheese
Cream cheese
Sugar
Egg yolk
Lemon juice
Vanilla essence
Salt
For frying :
Topping Ideas:
Strawberry sauce
Strawberries
Method:
For the strawberry sauce
Cook the strawberries and sugar with ⅓ cup water and cook on medium until it boils.
Add cornstarch slurry and cook till it becomes thick and syrupy.
Remove from heat and add vanilla essence.
For the Cheese filling:
Mix all ingredients filling in a bowl and keep this bowl in the fridge till needed.
For the batter:
In the blender blend milk, flour, sugar, eggs, butter, vanilla and salt and blend until smooth. You can blend with a fork too but the batter must be lump-free.
First, cook the pancakes in a pan over low to medium heat.
Make a thin crepe by swirling the batter in the pan till the batter is thin. These pancakes will become thick and fluffy due to the baking powder.
Cook on both sides I avoid the pancakes from browning at this stage. Once done transfer to a tea towel. Let them cool before transferring them to a plate.

The reason being the hot blintz may stick to one another. If you need to stack them when hot separate them with butter paper or parchment paper
To Assemble Blintzes:
On the flat pancake add a tablespoon of the chilled filling a little 1 inch above the bottom.
The edges or sides fold them and bring them to the centre. Roll up like a burrito. Repeat with remaining blintzes. These pancakes you can freeze.
But let us now fry them up today.
Add 2 tablespoon butter and ¼ cup oil to a pan.
Once hot add a few blintzes to the oil. Take care to place the seam side down.
Your pancake will cook up and turn golden brown in 1-2 minutes. Flip and cook the other side till golden brown.
Serve warm with toppings.
Substitutes:
Substitute the ricotta cheese and cream cheese with cottage cheese or paneer.
I added the egg yolk this time to the cheese filling but you can avoid it.
These pancakes will become thick and fluffy. If you want thinner pancakes use an egg in place of baking powder like I have used to make my Alle Balle Recipe.
Variations:
These blintzes taste pretty good without the filling too. Again we love them both with topping and without. Try it.
Try adding this potato filling for that peel and dice potatoes. Stir fry onions, garlic, onions, salt and chillies (this is my addition the original used only onions, salt, pepper and a little olive oil (link)). Fill blintzes with this potato mixture and pan-fry according to the recipe.
Similarly, I will use next time mushrooms, a combo of cauliflower, carrots and beans to fill and then fry my blintz.
You can also try making this Syrniki Recipe for a change.
Equipment:
You will need
Mixing Bowls
Blender
Skillet
Frypan
Turner
How to serve:
Serve warm with the fruit compote, and/or whipped cream.
How to store:
You can make ahead these delicious blintzes. Fill and roll the blintzes transfer to a cookie sheet and freeze for one hour. Transfer them to a freezer bag or air-tight container for up to 2 months and leave them in the freezer. Remove from the freezer and store in the fridge overnight. Pan fry and serve.
Make your berry sauce ahead too. I make and store some in the freezer for about a month.
Protips:
My pancakes were thick and fluffy due to the baking powder. For thin pancakes use an egg.
Make the berry topping in advance.
Cool the pancakes fully before you start adding the stuffing.
Make the blintzes in advance and freeze them. When you need them fry them up.
Use a mixture of oil and butter to fry the blintzes. Add 2 tablespoon butter to the ¼ cup measure. Top it up with oil.
Remember to fry first with the flap down.
Do not crowd the pan.
Frequently Asked Questions:
What is the difference between Blintzes and Crepes?

The difference between  Blintzes and Crepes is that 
1. Crepes can be served plain, without filings. 
2. Blintzes are pan-fried after filling.
Summary:
A delicious treat that can be served as breakfast or dessert. Serve as a side dish that looks and tastes festive. In Jewish cuisine, Cheesy Blintz is a part of the breaking fast on Yom Kippur.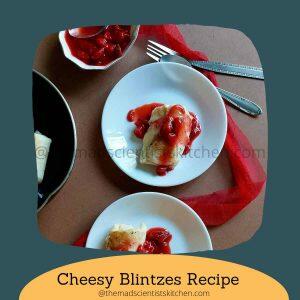 Cheesy Blintzes Recipe
Cheesy Blintzes Recipe are delicious cheese-filled Crepes fried golden and served with fruit compote. Perfect as celebratory breakfast or a dessert. Try it!
Print
Pin
Rate
Equipment
Mixing bowl

Blender

Non-stick tava/skillet

Frypan

turner
Ingredients
For The Blintzes:
2

cup

maida/ all purpose flour

2

cup

milk

2

tablespoon

sugar

1

teaspoon

salt

2

tablespoon

oil

2

tablespoon

baking powder
Ingredients for the Filling:
1

cup

ricotta cheese

crumbled

1

cup

cream cream

¼

cup

sugar

1

egg yolk

optional

2

teaspoon

fresh lemon juice

1

teaspoon

vanilla

Pinch

of salt
Instructions
For the Blintz:
Blend all of the blintz ingredients together using a blender or electric hand mixer or a fork the batter should be lumpfree.

Grease the tava/skillet generously with cooking oil.

Heat up a non-stick tava/skillet until hot.

Pour the pancake batter using a ¼ cup into the pan.

Coat the base of the pan for this lift the pan off the flame. Tilt the pan in a circular motion quickly. Till the entire bottom of the pan is covered with teh batter.

Let the pancake cook. Will need about 1 minute. Once the edges of the blintz done flip the pancake and cook for 30 seconds.

Remove the pancake with a spatula and place it on a tea towel to cool.

Once cool you can stack them up on a plate.

Similarly cook all the blintzes.
Now make the filling:
Put all of the filling ingredients into a chutney bowl of the blender and pulse it. The filling should be well blended.
Let's assemble the blintzes:
About 1 inch from theedge of the blintz add 1 tablespoon of filling.

Now fold the lower edge of the blintz covering up the filling, say about till the centre.

Now fold the sides of the blintz inward and make a long envelope.

Roll the blintz like you will roll up a burrito. Take care to fold the edges well.

Finish making all the rolls.
Fry:
Heat about ¼ cup of oil in a non-stick pan over medium until hot.

Fry the blintzes in batches. Take care and keep enough space to turn them easily in the pan. Gently lay the flapside down in the oil (take care the oil is hot).

The oil will sizzle after 1 ½ to 2 minutes flip carefully the blintzes. They will be brown and crispy.

Fry the flipped side again for a 1 ½ – 2 minutes till they are browned evenly.

Serve blintzes warm topped with fruit compote or whipped cream.
Nutrition Facts
Cheesy Blintzes Recipe
Amount Per Serving (1 servings)
Calories 0.456
Calories from Fat 269
% Daily Value*
Fat 29.9g46%
Carbohydrates 30.7g10%
Protein 17.1g34%
* Percent Daily Values are based on a 2000 calorie diet.
Nutritional Disclaimer: I am not a certified nutritionist and make no claims to the contrary. Please check with your nutritionist for your dietary needs and restrictions. Ultimately you are responsible for your decisions.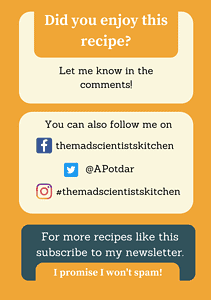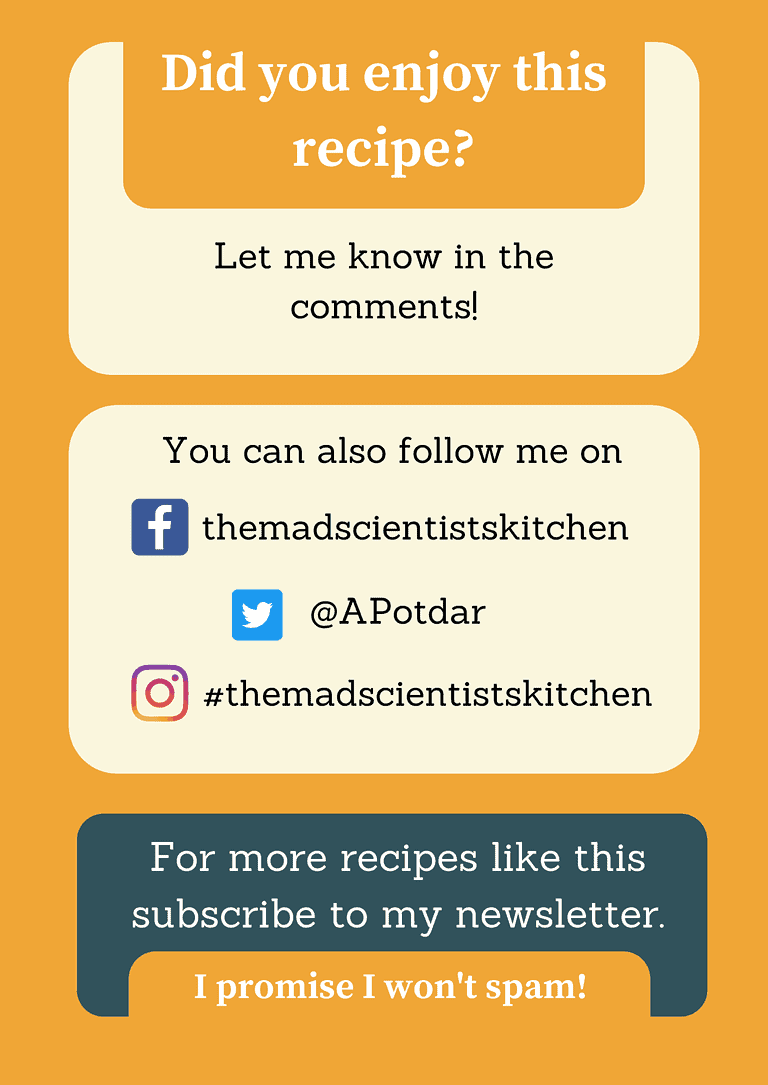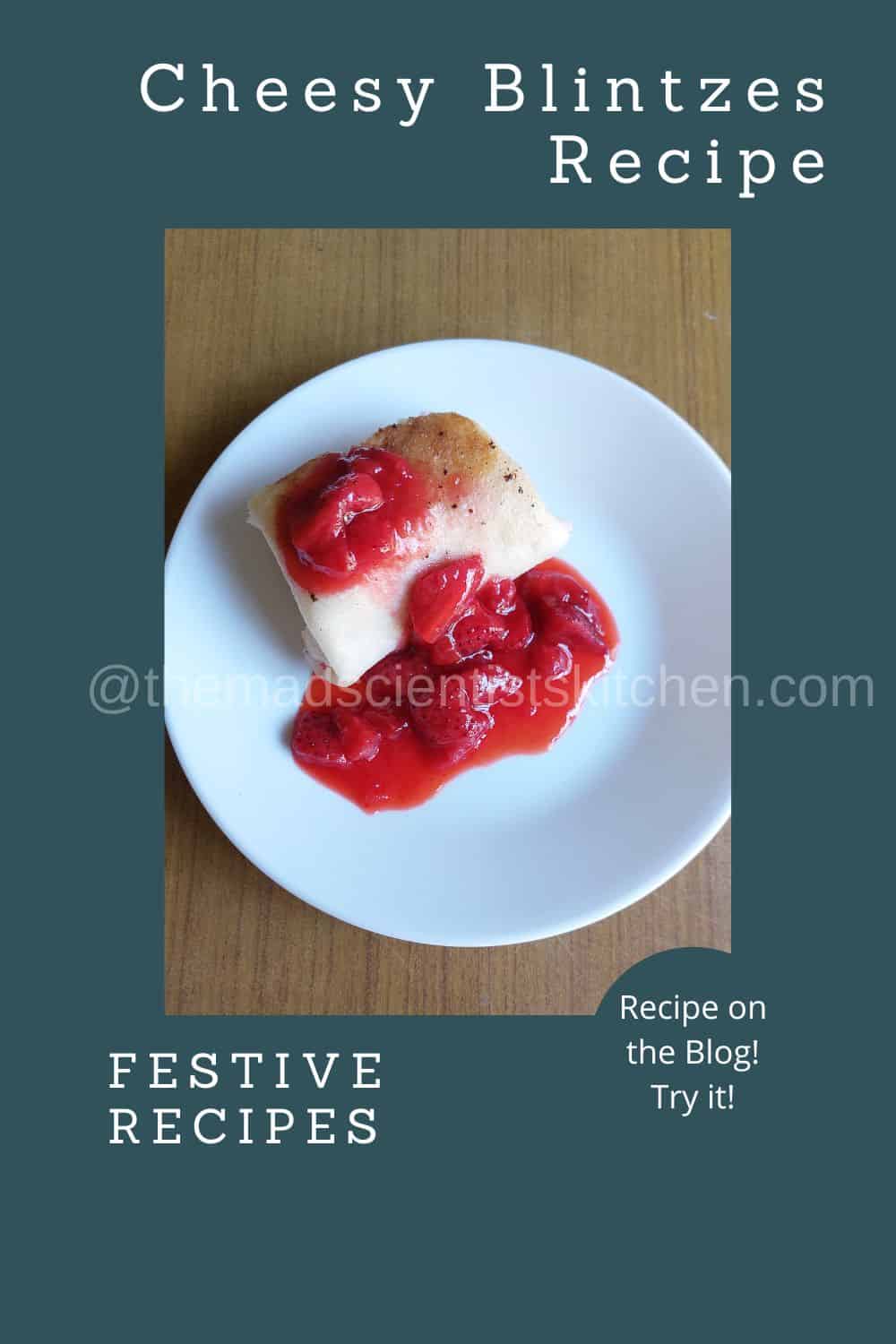 More Breakfast, the healthy ways to begin your Day
Reader Interactions