Davangere
Benne Dosa also
Benne Dosa literarily translates
 to Butter Dosa and true to its name a conspicuous amount of butter is used in preparing this Dosa.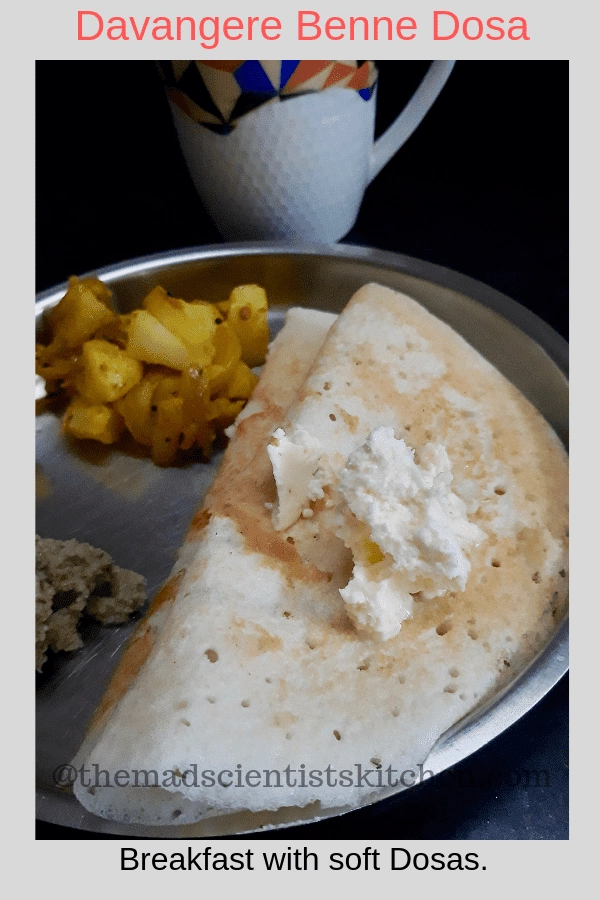 Benne Dosa or Benne doosee as it is called in Kannada is credited to the city of Davengere, Karnataka.  Hence Benne Dosa is also called Davangere Dosa.
The batter to make Davangere Benne Dosa is a little different from the regular Masala Dosa batter. Benne Dosa is smaller but softer through crisp.
Confused? Do not worry try the recipe and you will understand.
I have read that there are 3 variants to Benne Dosa since I have not eaten them I am assuming the meaning of the Dosa as
Benne Khali Dosa where there is no filling in the Dosa

Benne Open Dosa I assume the filling is out open

Benne Masala Dosa regular masala Dosa with loads of butter
But I am putting the cart before the horse. Let us start from the beginning.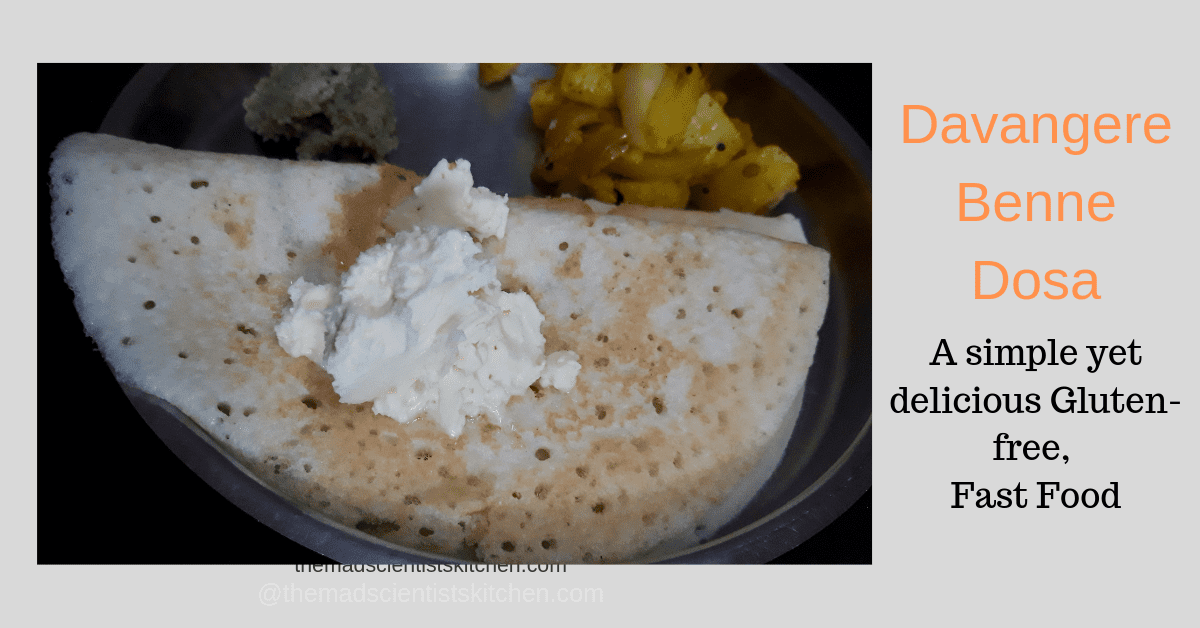 Dosas are crepes from  South Indian in fact they are the staple food in South India. Dosa is made generally from a batter of rice and lentils that have been fermented.
There are instant varieties too of Dosa but they are generally I feel later versions of the original Dosa.
Is Dosa junk food? Is Dosa fast food?
No, Dosa is not junk food. Dosa is a crepe made from the batter of rice and urid dal that is fermented batter. Fermented food is good for health.
Dosa is Indian fast food however unlike the Western concept of fast food the Dosa batter is made fresh, the Dosa is customised to the taste of the person eating it. Like with the same batter I will make a thin or thick Dosa, add a filling or chutney powder, else add onions and tomatoes to make it an uttapam.
Where did Dosa originate from? Where are they popular now?
Dosas are generally believed to have originated in South India either in Udupi or in Tamil Nadu. The Tamil Nadu ones were softer and thicker and the thinner and crispier version of Dosa was home to Karnataka.
Although Dosas are popular all over India and the world however they were Dosas are a typical part of the Southern Indian and Sri Lankan Tamil diets.
What are the main ingredients of a Dosa?
Generally, Dosas are from rice and black gram ground together to a smooth batter with a dash of salt.
There are many variants to this the lentils that are used may be chana dal/Bengal gram, moong dal/green gram or a mixture of all the three dals. Toor dal is also used many times in soaking the days.
To make a Dosa generally a mixture of rice and urid dal/black gram in the proportion of 3:1, (some people use 4:1 and 5:1 too) is soaked overnight or for 5-6 hours. Generally, methi/fenugreek seeds are soaked too with the dal. The mixture is ground together to a fine batter and fermented overnight.

In the morning the batter is ladled on a hot tava/skillet that is greased with oil/ghee.
Using a circular motion spread the Dosa to the thickness you want. Remember spreading it thin gives crisp Dosa and a thick one will give a spongy and soft Dosa.
Once the Dosa is cooked on one side if it is thin you can serve it immediately but if the thick Dosa it is flipped to cook on the other side.
Dosa is served hot you can either serve it rolled up with a filling in the centre or folded in half.
The accompaniments with Dosa are regional and personal preferences, generally vegetarian but there are some non-vegetarians accompaniments too that are served with a Dosa.
Dosa are commonly served with
A

 

filling of potato vegetable.

Chutney the commonest one being coconut chutney, there can be tomato chutney, onion chutney, ridge gourd chutney… the options are endless.

Sambar a lentil-based vegetable stew, there can be many variants to sambhar too.

In Tamil Nadu, you are served Dosa with Idli podi or milagaipodi a spiced powder of chilli and desiccated coconut, mixed with sesame oil or groundnut oil or ghee. In Karnataka, we serve it with the omnipresent Chatnipudi.
Some dosa like Neer Dosa is served with chicken gravy.
What are the variants of a Dosa?
Popular Masala Dosa, which is served with a filling of the potato masala.

The spicer version of masala Dosa is Mysore Masala.

Then there is Sada Dosa is a Dosa made without any filling.

Serve paper Dosa which is a crisp and thin Dosa.

Rava Dosa is made using rava/semolina.

Set Dosa, a soft spongy Dosa served as a 3 in a plate.
You can also add onions, tomatoes etc. to make Uttapam.
Adai is a mixture of lentils, ginger and chillies. This Dosa does not need any fermentation.
Pesarattu is made from green bean or moong, again this needs no fermentation.
Ghavane is a soft rice flour crepes.

Schezwan Dosa, cheese Dosa are two of the innumerable new fusion Dosas.
There are more Dosas like Neer dosa, but I have not listed them here as I need to try them before I add them to my list.
What are the benefits of eating Dosa?
First and foremost a Dosa is appetising but then all fast foods are appetising so what?

Unlike other fast foods a Dosa has very low on calories, there are hardly any saturated fats in it.

A Dosa is also made from the fermented batter which is good for health, full of minerals, iron, calcium too.

A Dosa is easy to digest too.

A Dosa is gluten-free, it is also dairy-free avoid the use of ghee and you have a vegan dish too.
I have summarised the benefit of eating Dosa in this graphic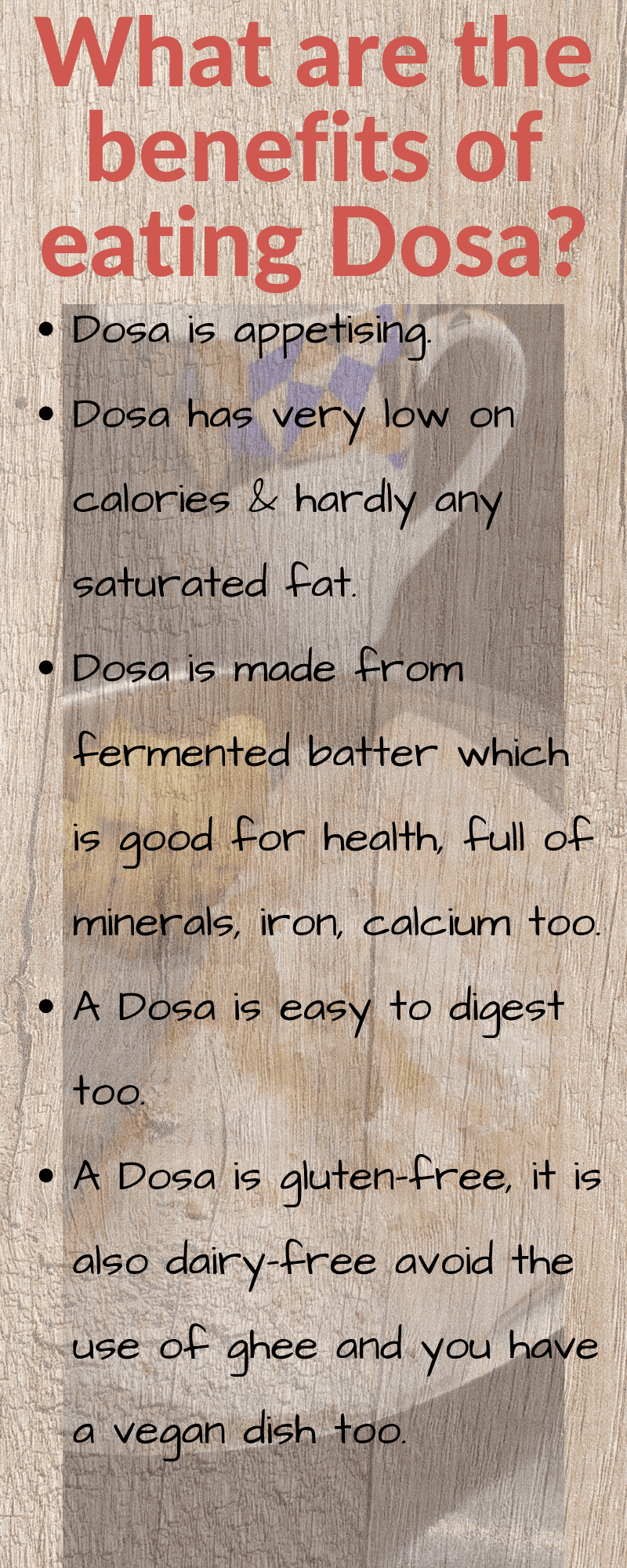 Then there are instant dosas too that need hardly any preparation but then if I sit talking about them we will never get going with the Davangere Benne Dosa.
This week as always for Foodie Monday Bloghop we the members have come up with a different theme to blog on. This week #209Tindi Yenu was suggested by Aruna. Aruna blogs at Vasusvegkitchen, Aruna 's recipes are simple and doable recipes with step by step pictures. I have already tried from her blog Methi Masala Khakhra there are some more I need to try like her Oats and Nuts Ladoos there are also some dal recipes that I need to check out.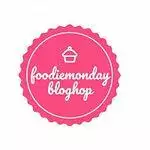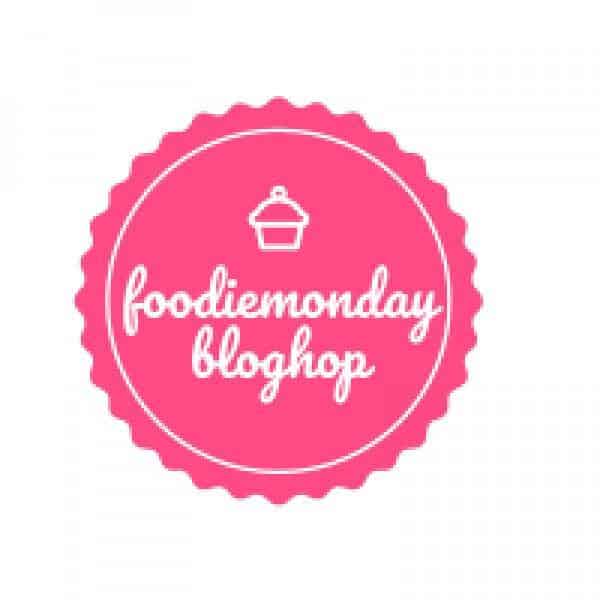 Karnataka is my birthplace but the number of days I have spent there you can count on your fingertips thanks to my father's transferrable job. However, Amma always made food that was mostly Karnataka style so we had rasam, sambhar, bisi bele bhat, gojju, akki rotti, idlis, dosas. Being a  resident of Uttar Karnataka most of our food is similar to Maharashtrian food the only difference to my mind is Maharashtrians use a lot of jaggery and hence their food is sweetish. This is something I do not like even now.
The options to make were plenty but the simplest was Davangere Benne Dosa. In the way the rains have been pouring in Goa these were the easiest ingredients to source. The pictures, well I have taken better ones but with on gloomy days, this was the best I could do. Will replace them asap.
Equipment
Bowls

Mixer/Grinder

Tawa/Skillet/Griddle

Ladle

Pancake turner

Small bowl

Teaspoon
Ingredients
1

cup

rice

¼

cups

urid dal

¼

teaspoon

methi/fenugreek seeds

1 ½

cups

poha

¼

teaspoon

maida

¼

teaspoon

sugar

Salt-to taste

¼

teaspoon

baking powder

Butter as needed

Oil as needed
Instructions
Rinse the rice, and urid dal with the methi seeds for about 6-8 hours.

Just before grinding wash the poha in running water.

Meanwhile, strain the rice and urid dal add the poha, sugar, maida and grind to a fine batter in either the mixer/grinder or the Dosa/idli grinder machine. Use water sparingly but as needed.

Once the batter is ground, in case like me, you are using the mixer then mix your batter and set aside to ferment for 8 hours.

After 8-12 hours your batter will be nice and bubbly. Add salt and mix well.

Take some oil in a small bowl take a teaspoon to drizzle oil as needed. That means when your dosa sticks to the tawa.

Apply oil and then heat a tawa/skillet, these days I prefer to use a cast-iron skillet originally I used to use a non-stick one. ( I have provided links for both the skillets you may choose any one of them). The flame can be on a high flame.

Lower the flame and take a ladle of the batter pour it on the tawa, and spread out using the back of the ladle to a thin crepe. Go as thin as you can.

Increase the flame to medium-high. Once the Dosa is golden and crisp it can be served with potato vegetable as a filing and chutney.

Top the Dosa with butter and serve hot immediately.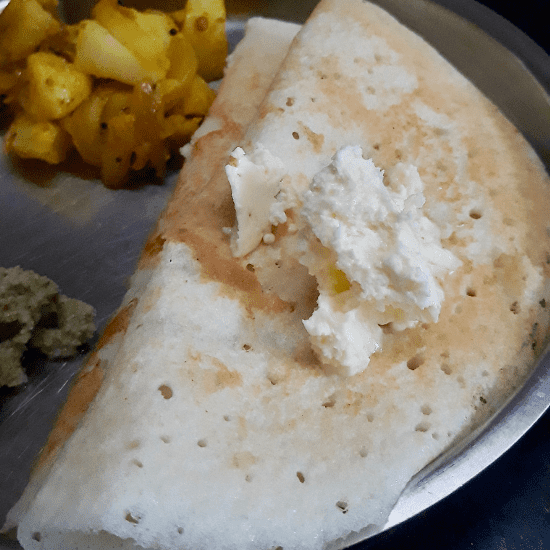 Do you like this recipe? Have you tried it? In case you do and whenever you do please tag me on Facebook. My Instagram handle is #themadscientistskitchen. You can also use my Twitter handle, Then you are always welcome at my Pinterest page too. I will love to see you there.
Please also subscribe to my mailing list and join me in my journey of Food! Will enjoy seeing what you make so that I too can learn from you!!!
Reader Interactions