Pears Poached in Sugar Syrup Recipe
Poire à la Beaujolaise, pear poached in wine is a classic dessert. My favourite of all the traditional desserts in French Cuisine.
Poached Pears a simple dessert is a flavorful balance of the fruit, spices and sugar. Pears are delicious but best when poached. A simple yet elegant and quick dessert is my favourite kind of food. 
Poaching fruits like pears is a great way to eat fruit that has not ripened on the tree. As it starts raining here we get some nice pears. In my place, we enjoy all kinds of fruits, some more than others. Pears fall in others category and I am the only one who loves them fresh! The others love them poached!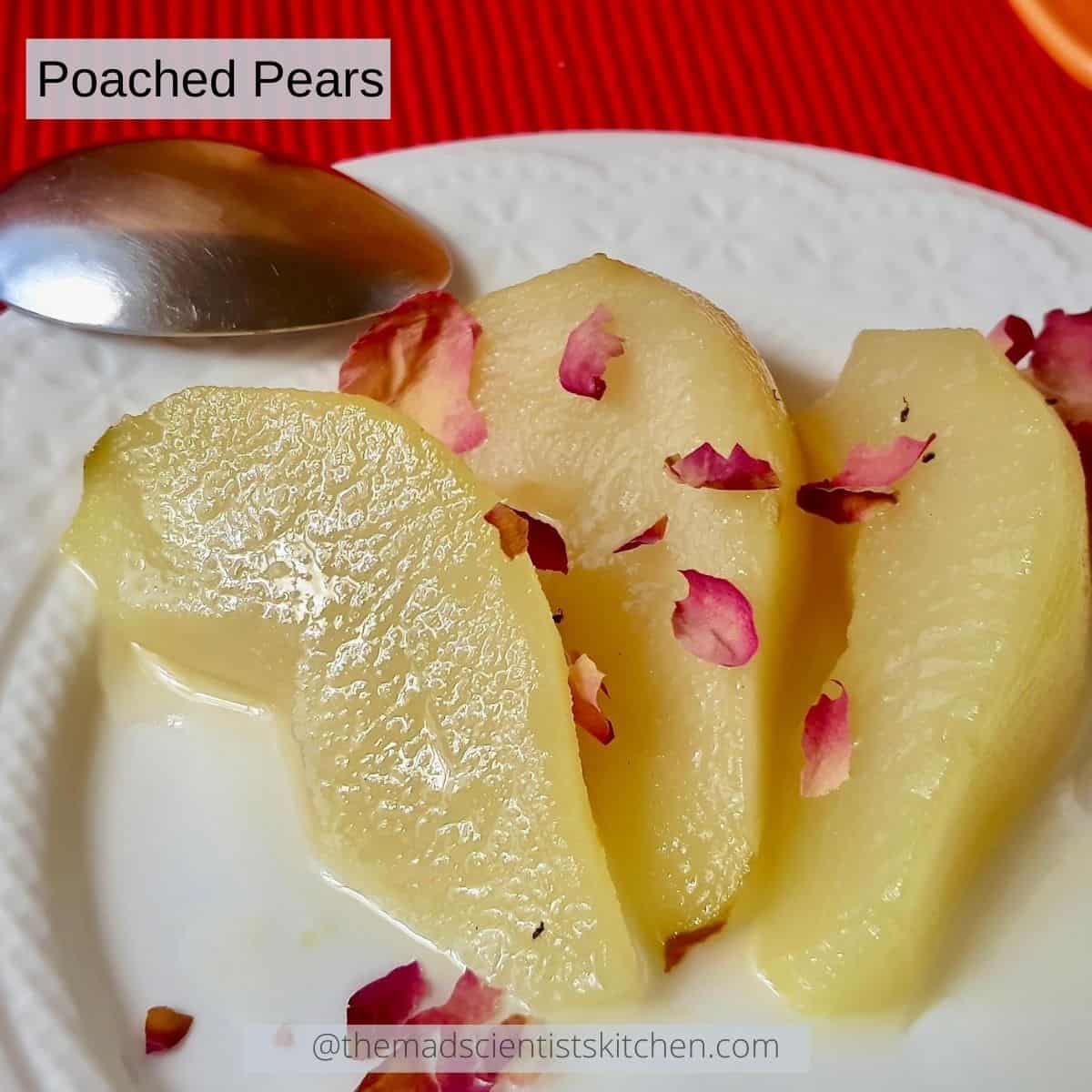 This week I am the default hostess for Foodie Monday Blog Hop. Many of us have got some difficulties. We have voted for using fruits in any dessert form under #259 Fruity Bites. Do join us and enjoy the delicious desserts we have in store for you.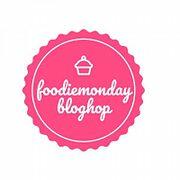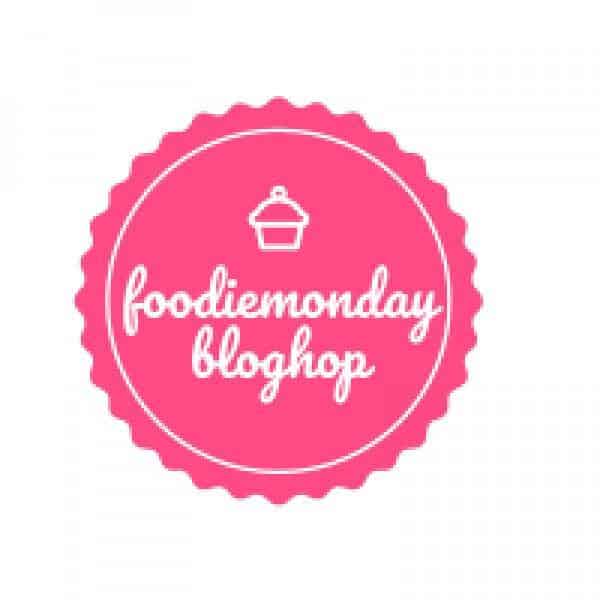 Poaching has many meanings but in cooking, poaching is cooking in a small amount of liquid. The liquid can be water or wine.
Poach any fruit that is naturally juicy like pears, apples, peaches.
Look for hard and firm fruits to poach.
Avoid poaching overripe fruit. They are already soft, of course, you will need a shorter time to poach them but they do not absorb the flavours. ( I tried it and will definitely not try it again).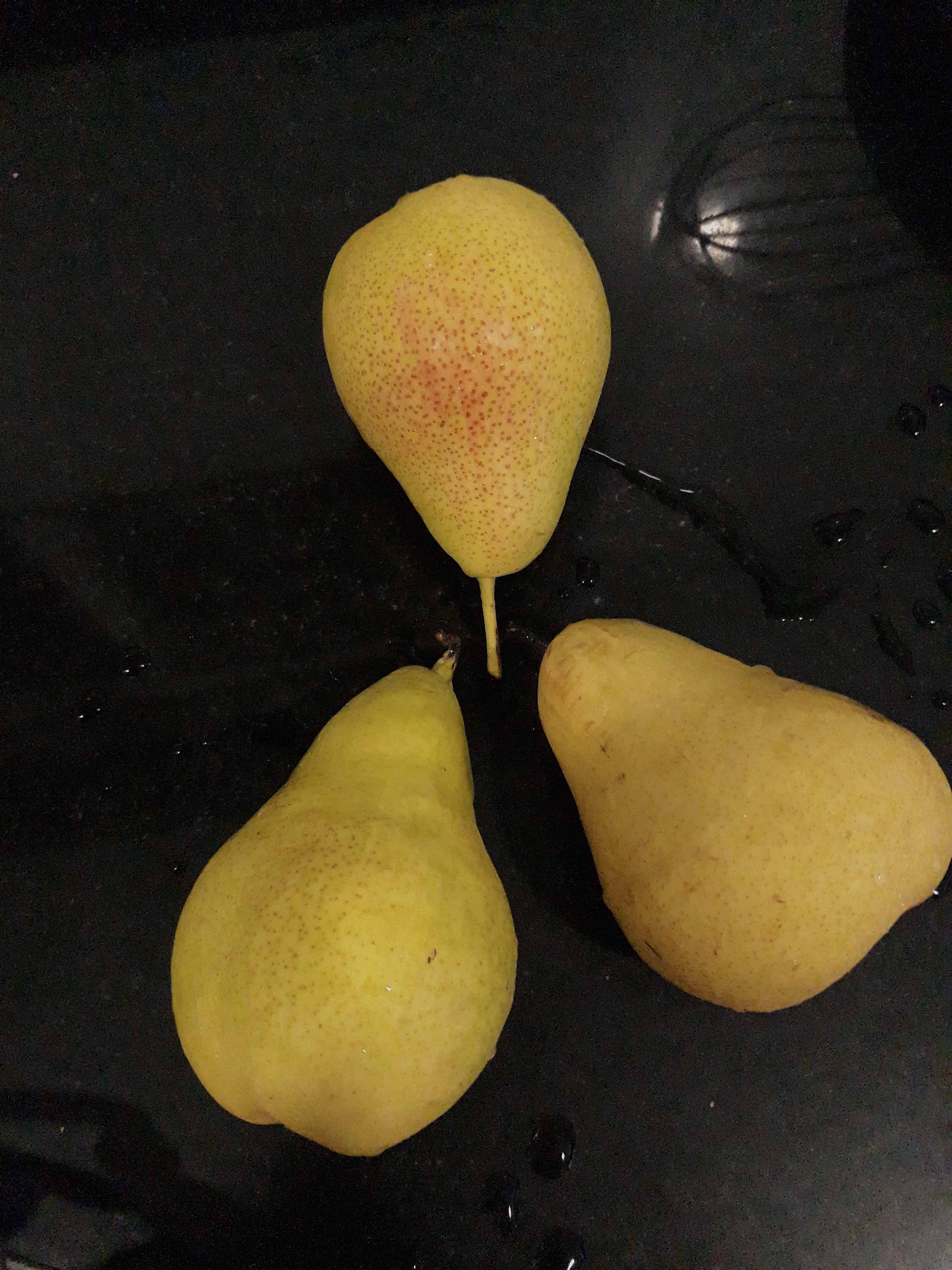 Poached pears are comforting, look fabulous and are quick and adjustable. Though the classic dessert uses red wine, you can use white wine,  fruit juice or even water to poach pears. Try using brandy, honey, maple syrup.
The spices and herbs recommended are anise, black pepper, allspice, cardamom, cloves, cinnamon, ginger, chives, mint, nutmeg, rosemary, tarragon, and thyme. You can also pair pears with nuts like almonds, pecans, pistachios, hazelnuts, walnuts. Then, of course, chocolate caramel, chocolate, vanilla, sour cherries, cranberries raisins, blackcurrants.
Spoilt for choice Huh? Let me add the first time I tried I used only rose petals! Was it amazing! However today I am using these…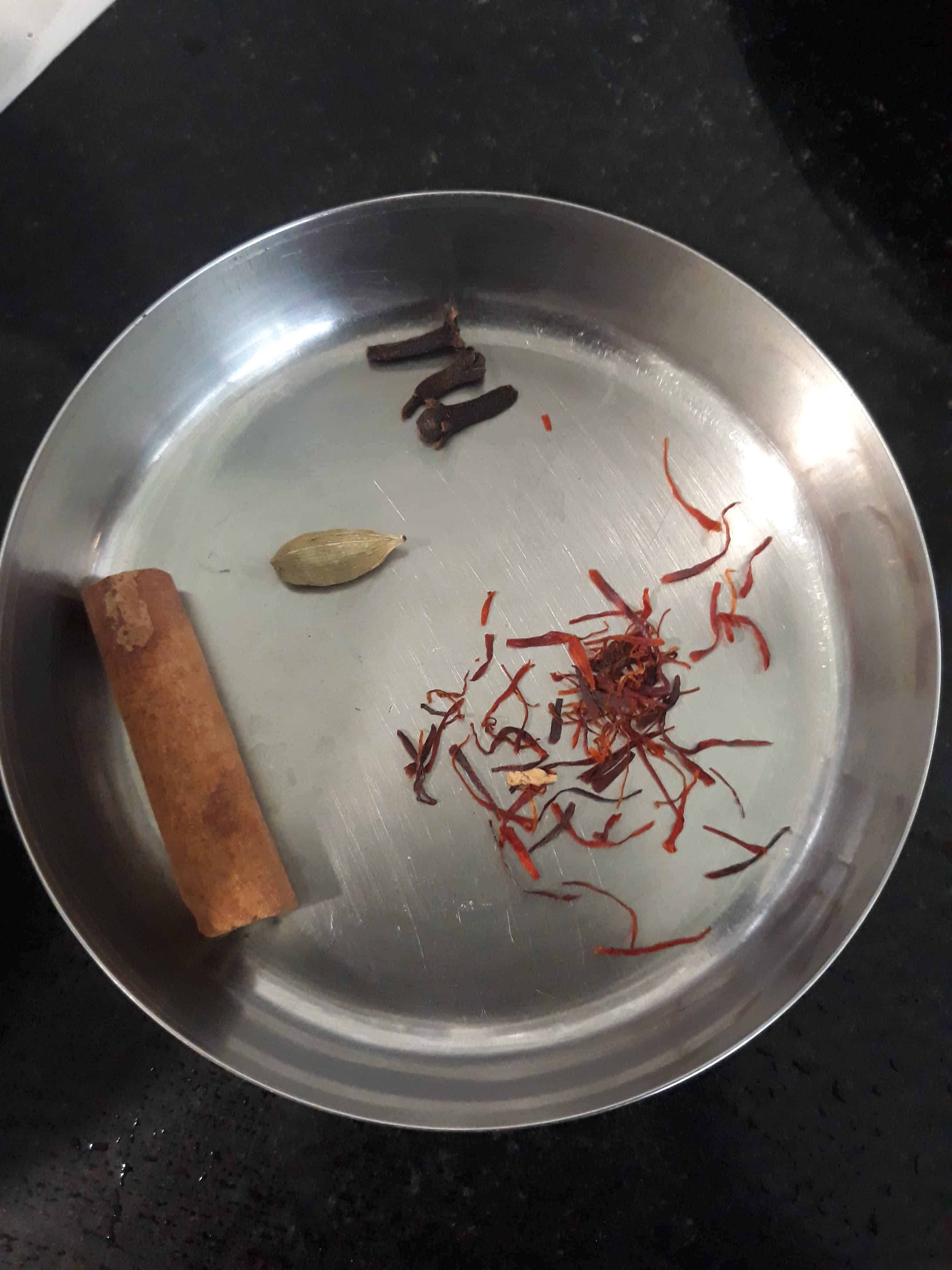 Sugar: I have used white sugar, feel free to use brown sugar, coconut sugar, honey.
Liquid: Water is what I prefer to use you can use red wine, white wine, fruit juice, brandy, honey, maple syrup. 
Spices: Cinnamon, cardamom, saffron, cloves are my spices today. Try using rose petals if you can get them.
Optional ingredients:  Feel free to use raisins, cherries, apricots. I have once used rose petals too.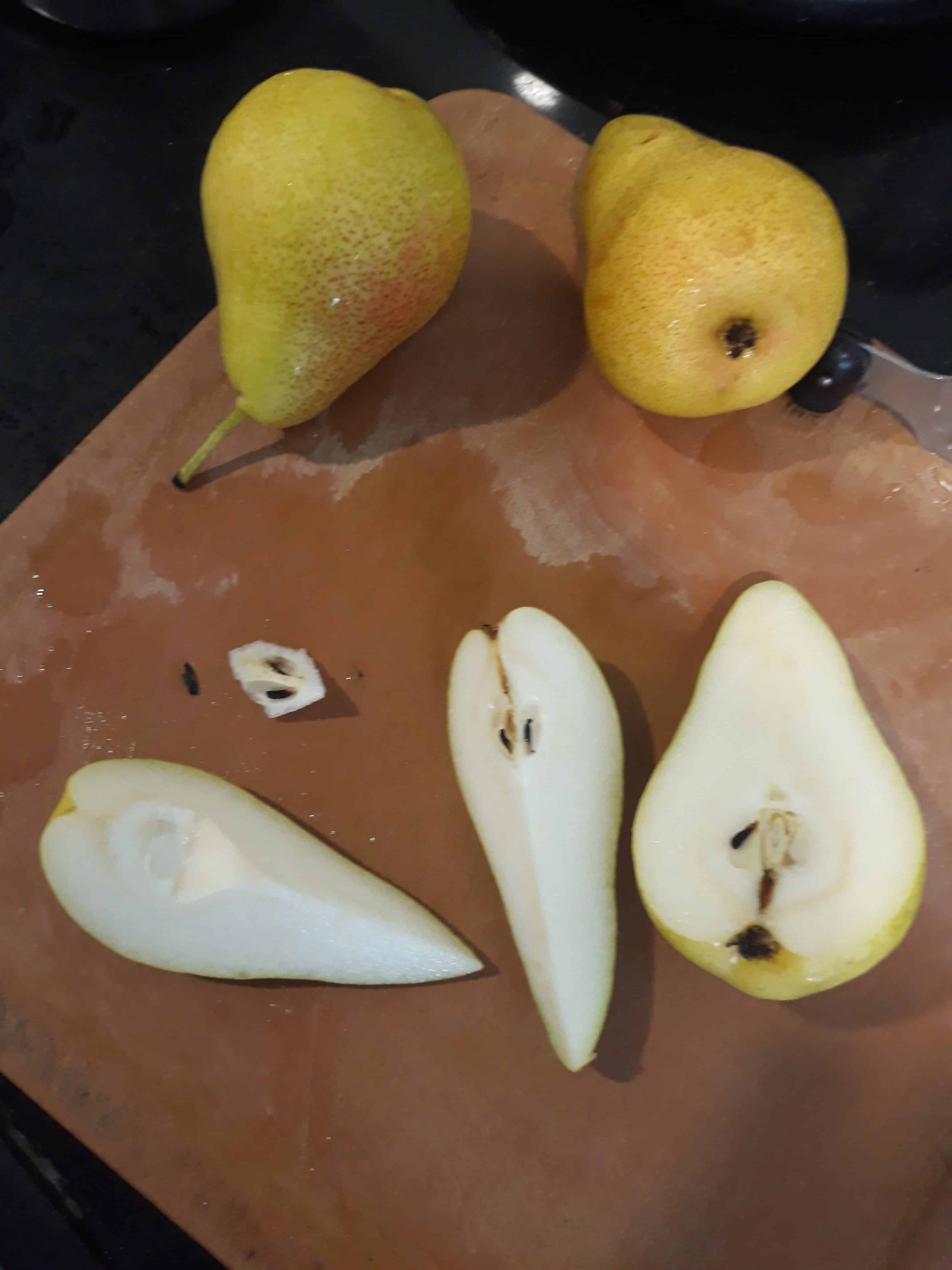 Nothing can be easier than poaching fruit, today it is pears. Lazy me loves it! On the stove on the backburner in a gently bubbling liquid add the fruits. The kitchen becomes so fragrant. I can continue doing whatever I'm doing and these pears need hardly any supervision.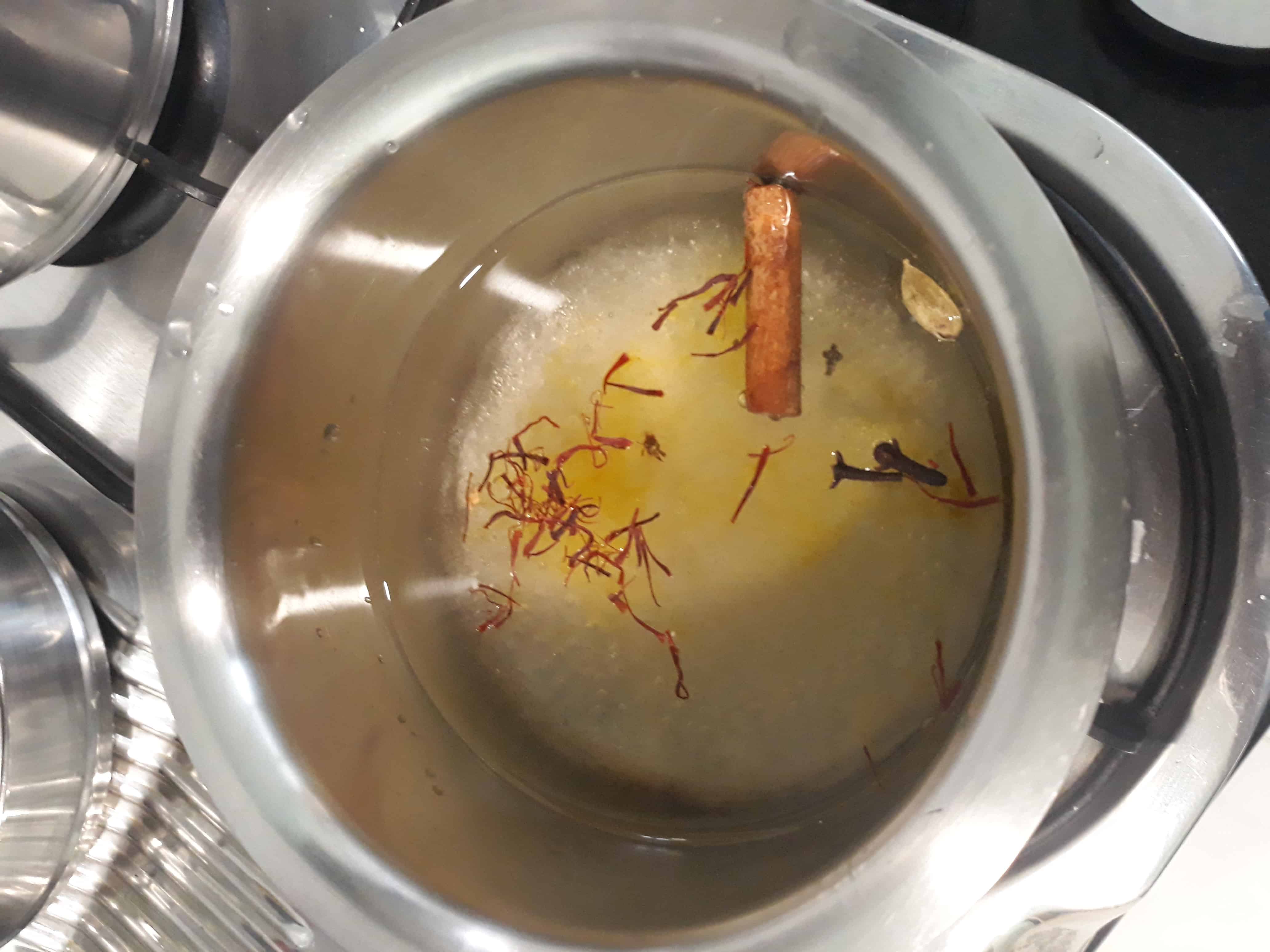 The recipe is so simple: add 2 parts liquid and one part sugar with all the spices/flavourings you desire.
Peel the pears before poaching.
Pears become brown when exposed to air. Transfer them to a bowl of water.
You can poach the full pears or halve them but I prefer to quarter them. This way coring is easy. The time needed to poach the pear also reduces. For these 3 pears, I needed a mere ½ hour. Reducing the liquid takes some time but that is again once in a while I check.
The pears have to be in the liquid fully at all times.
Cook the pears fully and evenly but they have to stay firm.
Undercooking pears ruins the taste.
The pears have a tendency to poke out of the poaching liquid this will discolour them. Keep pushing them in.
The test for doneness of a pear is poking a knife in the fruit. No resistance? Go ahead and remove the fruit while you continue to reduce the liquid.
Once the pears are cooked remove them from the liquid and continue boiling the liquid. The technical word is to "reduce the liquid." The question is how much? You can make the liquid half or make it a thick syrup. Pour this liquid over the pears before serving.
One more thing since I do not enjoy cinnamon much I fished that out too before I continued heating the syrup. This is my choice you can leave it in.
In case you have a lot of leftover syrup do not throw it out. Here is an article where you can check-up.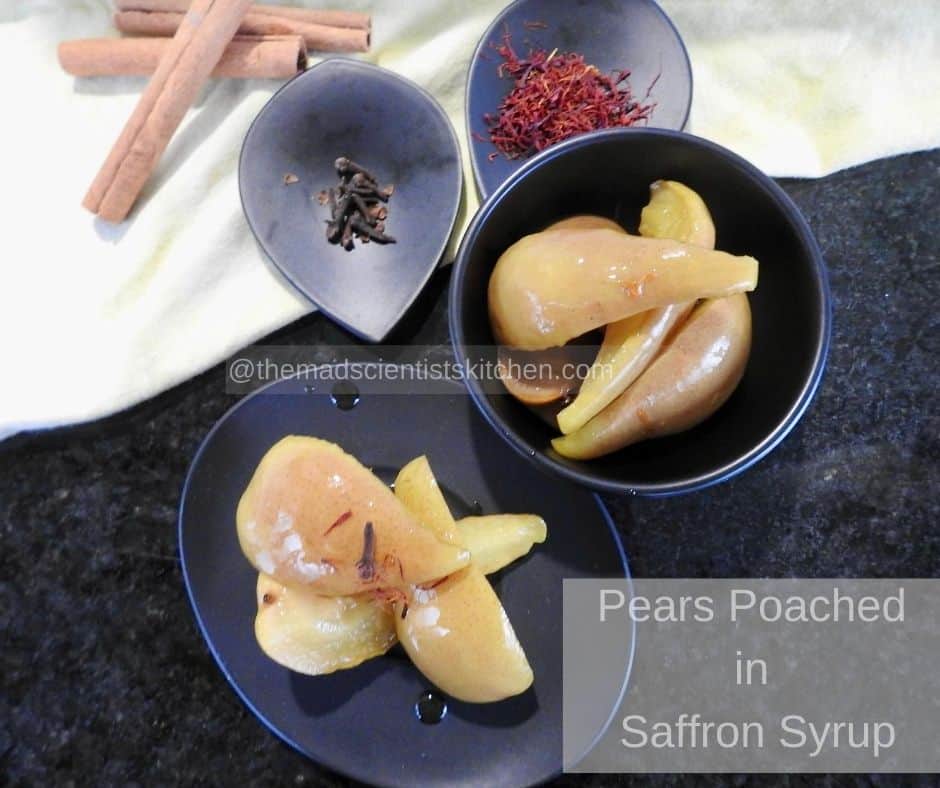 I cannot resist the pears once cooked. There is something about the fruit that bewitches me. I need to have at least one piece right away.
I want it in my fruit bowl, hot out of the pot as soon as it is done and then later when I warm it up to serve with ice cream.
A dish of Poached Pears is an impressive and beautiful dessert. becomes more flavourful and delicious as the pears steep in the syrup.
Serve this ridiculously easy dessert on vanilla ice cream, or whipped cream. In case you like cheese, consider mascarpone cheese. Cream, custard, then there are options of serving them chopped on pancakes, yogurt.
My kiddo made bread stuffed with poached pears. It needs improvement but here it is.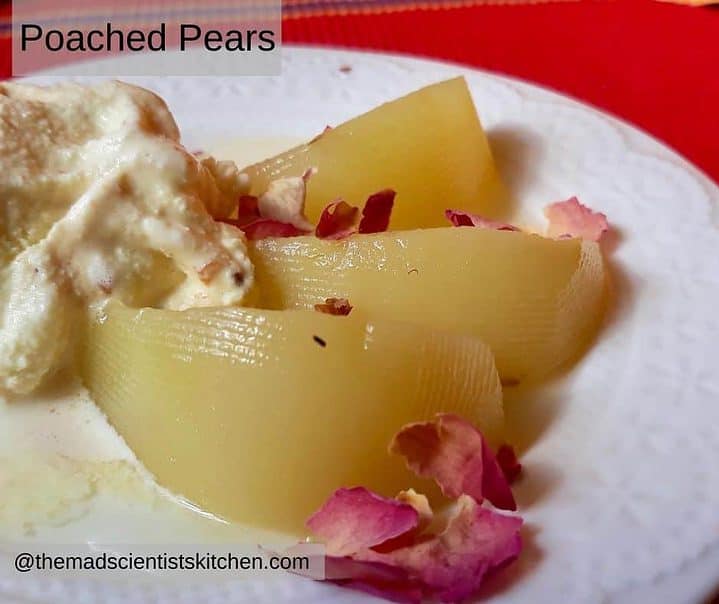 I have used David Lebovitz's recipe last time. This time I was inspired by spices that James Oliver recommended.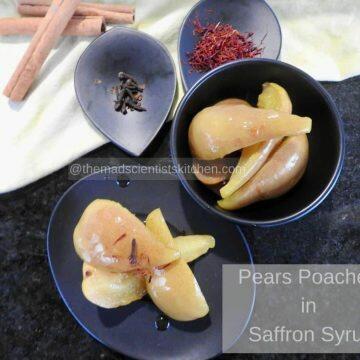 Pears Poached Sugar Syrup Recipe
Need a simple but elegant dessert for dinner party?Try Poached pears with ice cream, whipped cream or even with a cake.
Print
Pin
Rate
Equipment
Equipment

Pan

Slotted Spoon

Parchment paper

Scissors
Ingredients
½

cup

sugar

4

cups

water

3

pears peeled

quartered and cored
Spices:
1

cinnamon stick

4

cloves

1

teaspoon

saffron strands

1

elichi/green cardamom
Instructions
In a pan add sugar and water and warm the water. Add the spices and let the liquid come to a boil.

Meanwhile, fold the parchment paper in quarters. Measure the size of your pan and cut the paper at an angle. So that you have a circle. Snip off the centre.

Lower the flame Add the pears and then cover it with the parchment paper.

On low flame let the pears simmer until cooked. Depending on the pears This will need about 20-25 minutes.

Get the pan off the stove and discard the paper. Remove the pears to a bowl and let continue to heat the liquid on low flame till you get a thick syrup you like. Easily another 15 minutes.

Once the syrup is done add the pears to the syrup.

You can at this point add raisins, cranberries etc to the liquid as it is still warm. I did not as I have used saffron and cardamom.

Serve the pears warm or at room temperature with vanilla ice cream, chocolate sauce, whipped cream, Cake.
Nutrition Facts
Pears Poached Sugar Syrup Recipe
Amount Per Serving (1 quarter)
Calories 87
% Daily Value*
Carbohydrates 22.4g7%
* Percent Daily Values are based on a 2000 calorie diet.
Disclaimer: We are a participant in the Amazon Services LLC Associates Program, an affiliate advertising program designed to provide a means for us to earn fees by linking to Amazon.in and affiliated sites. When you click and buy through this site, it helps us earn to keep this site running.
Here are some uses of pears shared by my friends.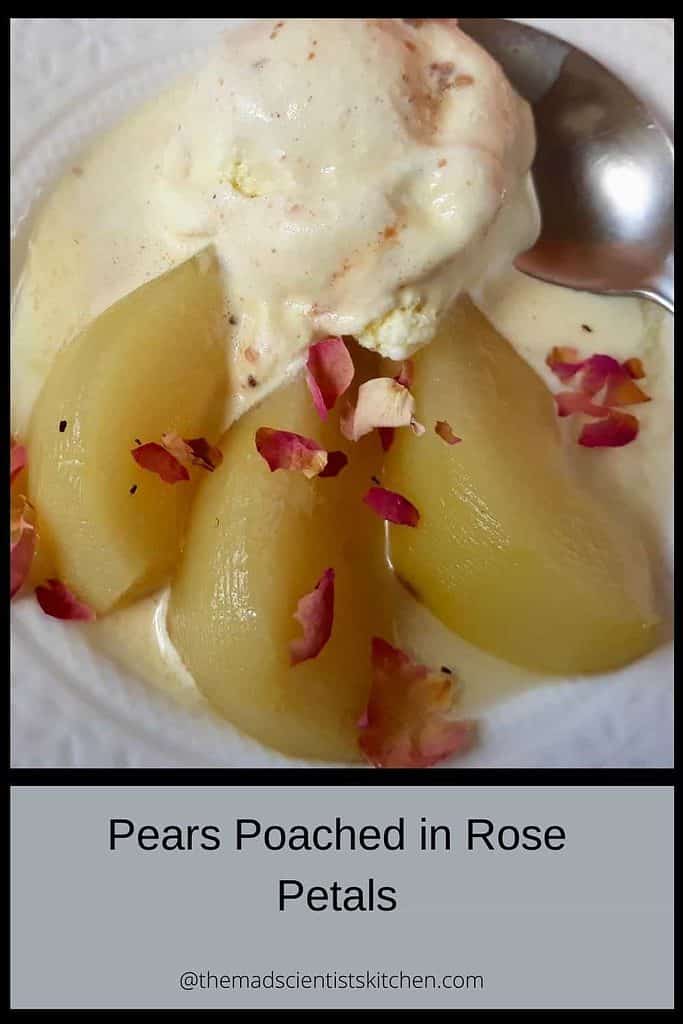 More recipes you may enjoy
Reader Interactions