Gun Powder Chutney Recipe
One famous south Indian chutney powder that is spicy and pairs well with idli or dosa is the Molgai Podi.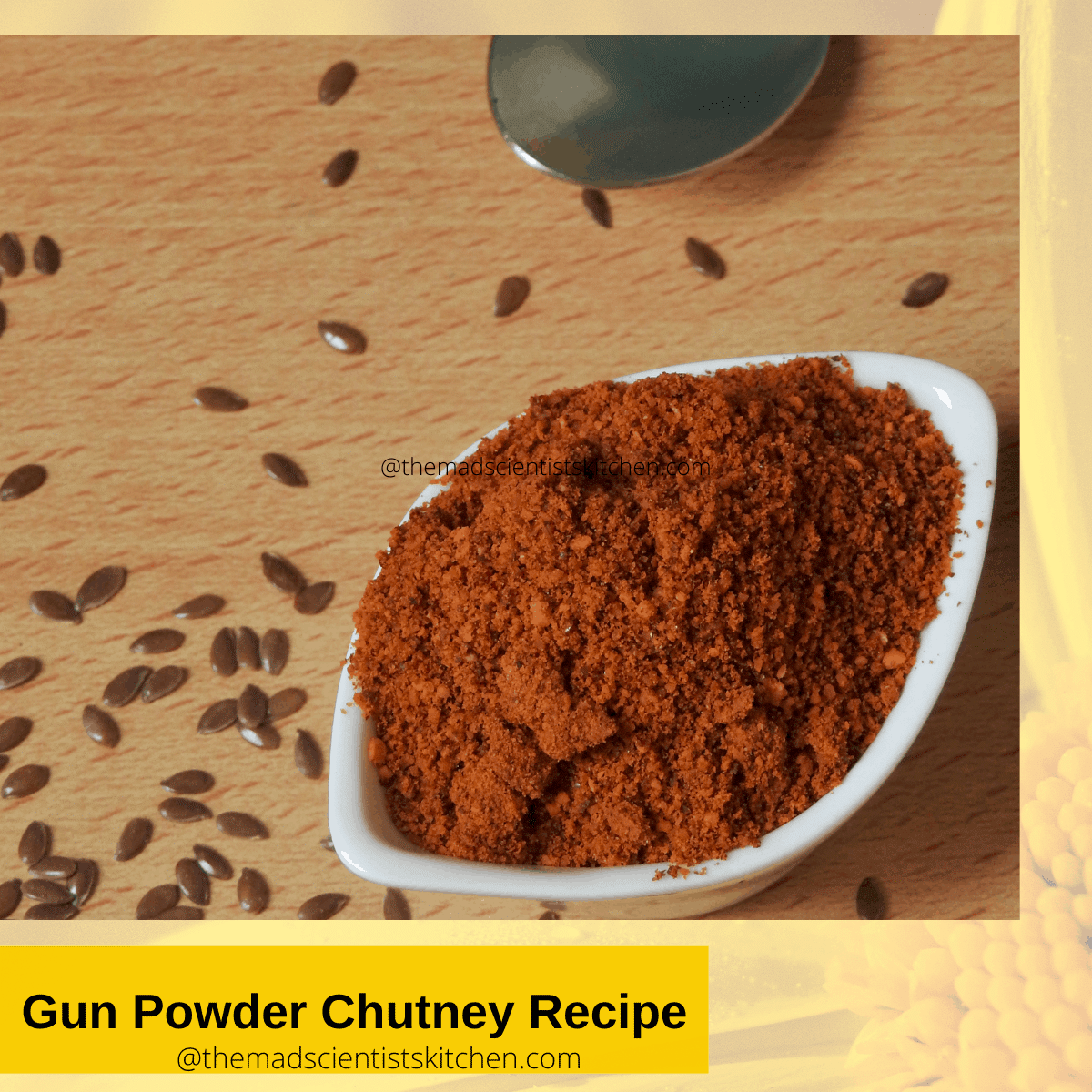 Condiments make a meal interesting! This famous very pungent spice powder is made with lots of red chillies and hence it is also called gunpowder chutney. You can enjoy this Idly Milagai podi with of course idli and dosa but try it with uttapams hot steamed rice homemade ghee and Khara podi as it also called. Read on for this easy way to vary your food with your pantry ingredients. Spread the love, like and share my post. Sign up for my newsletter! (link below).
Khara Podi is what I enjoyed at Chennai and Hyderabad and I had a small packet of it which seems to have disappeared. Now I wanted to make some and since Sowmya mentioned that she uses flaxseeds in hers I asked her for the recipe. How else do I feed Flaxseeds to the reluctant family? Now I can use it as a masala too! 😀
My recipe comes from Sowmya's place. Sowmya is an awesome bread baker check her place and you may hear her bread singing away.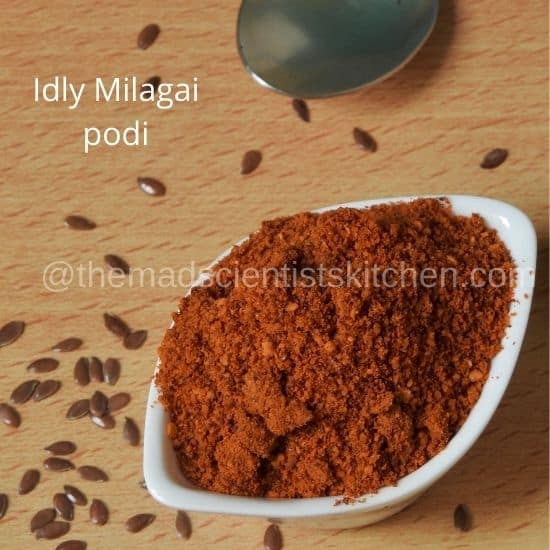 How do you eat these podis or pudis?
Most of these pudi or podis are what I grew up with. I did not like them then but now I love them. In fact, I make it a point to make them. 
My earliest memory is eating these pudis as we call them on a piece of bread liberally smeared with ghee. 
Else add it to your everyday flatbread like chapati, jowar rotti or sajji rotti, with groundnut oil these taste amazing.
Then when adding to rice it was again something very common. Have you tried mixing chutney pudi with curds or making thin poha with it? We call it hachid avalakki.
Well eating with dosa, idli or rice is too tame? Try sprinkling on Upma or even the bread upit. Try tossing idlis in the podi makes a great snack too.
Travelling? Make some Podi! This was the scene when we were kids. Store in an airtight container that is not plastic. Use a dry spoon and you need not refrigerate it. 
Ingredients make a difference between this famous Khara Podi from Andra Pradesh and Tamil Nadu and the Karnataka Style Chutney pudi.  Mind you both are tasty and both can be carried when travelling.
In the Karnataka Style Chutney pudi we use urad dal, chana dal, grated coconut, groundnuts, til, dried red chillies (Byadgi), curry leaves, tamarind, jaggery, and salt. Some recipes also call for a tempering mustard seed, turmeric, asafoetida (hing) in oil. The dals are roasted without oil and the rest to fry you use oil but the quantity is very little. You can check the recipe here.
To make this batch of Khara Podi I have used chana dal, urid dal, flax seeds, chillies and til. There are variations where you can leave out the flax seeds and also there are some recipes that use peanuts, and some Chopra (dried coconut), curry leaves, tamarind and a pinch of asafoetida. The dry roasted ingredients are powdered together. 
Dals: Chana Dal also split Bengal gram and Urid dal also split black gram lentils that are dehusked are the used to make the Gun Powder Podi.
Flax seeds:  Agshi these teardrop-shaped seeds are also called Jawas. Now, these seeds are the talk of the town for their health benefits.
Chillies: now the number of chillies you add is as per your taste. If you want an orangeish use then use Badgi or Guntur. Remember to reduce the numbers these two are pungent.
Sesame seeds: you need a little til to make this podi. Please do not skip it.
Oil: use any oil that does not have a strong smell. I have used rice barn oil today. 
Salt: use as needed table salt is fine.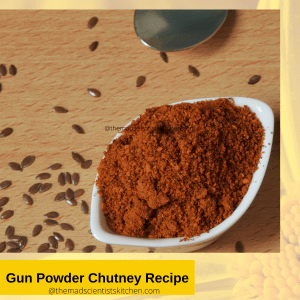 Gun Powder Chutney Recipe
This Non-traditional Idly Milagai podi is made using flaxseeds. This condiment will double up as masala in everyday cooking.
Print
Rate
Equipment
2 plates

1 kadhai

Spoon/ladles

Mixer

Airtight Container
Ingredients
30

dried red chillies

⅓

cup

chana dal/bengal gram

⅓

cup

urad dal/split black gram

⅓

cup

flaxseeds

1

tablespoon

white sesame seeds

2

teaspoon

oil

Salt
Instructions
Add the sesame seeds to a kadhai/wok and roast them till you get a popping sound. pop. Transfer to a big plate to cool. (Check notes 1)

In the same kadhai/wok add ½ teaspoon oil and the red chillies. Stir-fry them for 2-3 minutes on low flame till it begins to get a darker colour. Take care not to burn them.

And again add to another plate the plate and let them cool.

In the same kadhai/wok add ½ teaspoon of oil and fry the Chana dal. Let the dal turn golden brown. Transfer to the plate in which you have added the sesame seeds and let it cool.

Similarly, add ½ teaspoon oil and fry the urid dal till golden in colour. Let it cool on the same plate with the chana dal.

Add oil and roast the flax speed till you get a popping sound. Let them cool too.

Meanwhile, your chillies will have cooled. Transfer the chillies to a mixer and blend to a very coarse powder.

Add the sesame seeds, dals, salt and flaxseeds and blend to a coarse powder.

Transfer to an air-tight container.

Enjoy with idli, dosa, etc!
Notes
If you like me store your sesame seeds after roasting them then you can avoid roasting the sesame seeds or til.
Nutrition Facts
Gun Powder Chutney Recipe
Amount Per Serving (1 cup)
Calories 30
* Percent Daily Values are based on a 2000 calorie diet.
Nutritional Disclaimer: I am not a certified nutritionist and make no claims to the contrary. Please check with your nutritionist for your dietary needs and restrictions. Ultimately you are responsible for your decisions.
Your Shopping List:
Disclaimer: We are a participant in the Amazon Services LLC Associates Program, an affiliate advertising program designed to provide a means for us to earn fees by linking to Amazon.in and affiliated sites. When you click and buy through this site, it helps us earn to keep this site running.
To make this delicious Milgai Pudi remember to keep he gas is on low flame throughout the roasting. Do not lose patience and increase the flame.
I have used 30 red chillies and mine happened to be Kashmiri chillies so I got a reddish hue. I was quite disappointed. The podi was nothing like the orangeish colour I had pictured in my mind. So will keep that in mind and use Badgi about 20 chillies should be enough.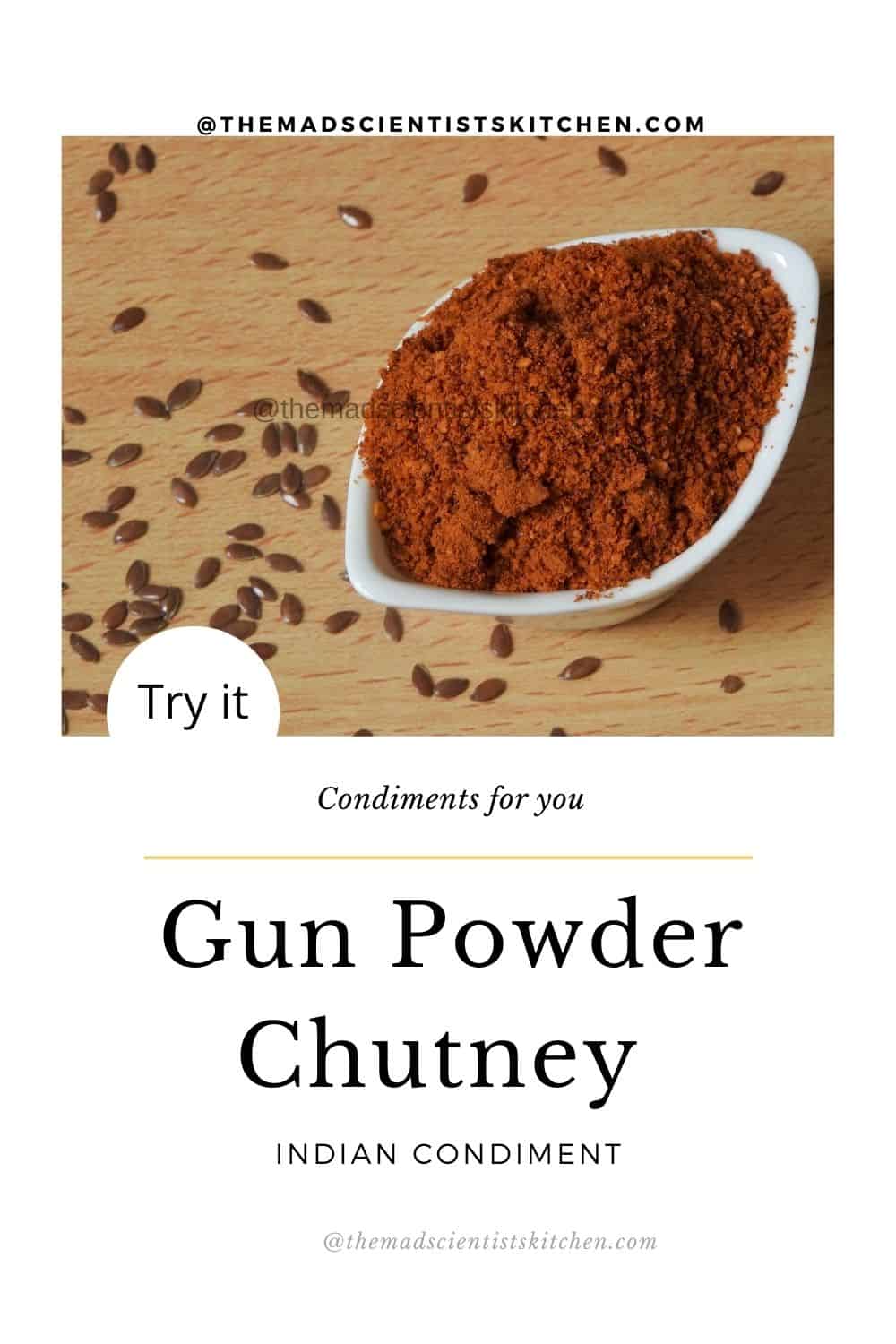 More Condiments Recipes
Reader Interactions