Curry Leaves Chutney is an aromatic and healthy way to feed the goodness of curry leaves to your family.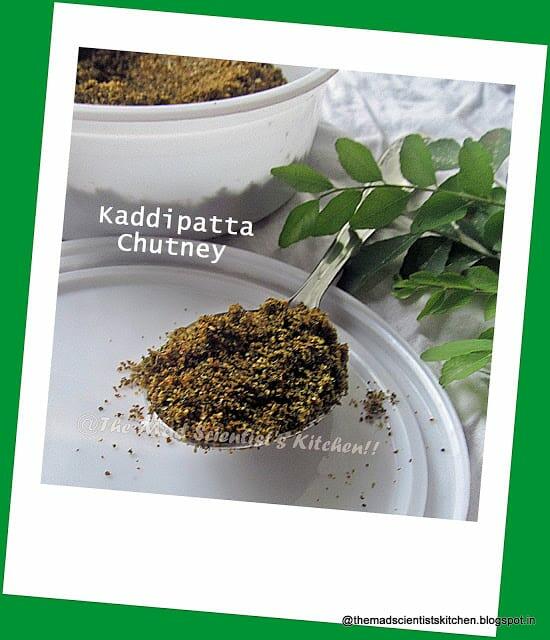 The other day my best friend Sheetal called on me.
She came bearing gifts……. a big plastic bag full of curry leaves, lovely green and delightfully aromatic just for me.
Apparently, her neighbour had pruned her tree and was distributing the leaves. "Tu kide tari kar bare sha" she told me which translates to make something delicious. There was one bigger bag for Office distribution.
A houseful of guests was not the best time to take pictures but making this delicious chatni pudi was easy under hubs Maushi'sguidance.
 Ingredients:
1 cup Curry leaves, powdered
100 grams til/sesame seeds, roasted
25 grams flax/agashi/jawas powder
Tamarind goose berry size
Salt
1 tblsp Red chilli powder
 Method:
1.  Now to make your powdered curry leaves, wash and air dry the leaves. On the microwave-proof plate spread the leaves in a single layer. Microwave them for 30 secs once or twice till the leaves are dried. Stir in between each microwave. I needed to do this for 1.30 secs. The timing will differ as per your microwave.
2.  Remove and let them cool. Transfer the leaves in the mixer and grind them. Take one cup for the chutney.  The rest can be stored in an airtight bottle. I use this powder in dals, veggies etc as my family does not like to see the curry leaves. Also, the curry leaves
are decorating the edge of their plate. This powder, the sorry healthy powder is in
the stomach.
3.  Put all the ingredients in the mixer jar and grind it to a fine powder. Your delicious chutnipudi is ready.
Have this aromatic chutnipudi with anything dal rice, chapatti but I loved it best with bread, homemade ghee just like Ajji served.
&
Celebrate Olympics
  By
Priya
'Only' Microwave Cooking
 hosted by Pari
Reader Interactions