Upit|Upma is one of the most common breakfast items in my place.
Simple to make and liked by us Upit is one fast food but healthier. You can jack up the veggies quotient to suit your tastes.
Upit Upma, Uppittu, Sajjige, Uppuma, Uppumavu, Uppindi, Uppittu, Kharabath, Upeet are the numerous names of the simple dish.
Upit |Upma can be fancied up enough to win a contest or kept simple to suit the tastes of your in-laws.
In case you are wondering about the contest I am referring to the Top Chef Masters Season 3 where Floyd Cardoz made Upma from Sooji and mushrooms to the theme Food Memories.
Upma originated in the Indian subcontinent and is nothing but a thick porridge of semolina/suji or coarse rice flour. The root of Upma is Uppa|salt and mavva|flour. Since Upma is customisable it is most popular in various parts of India. 
Basically, the only Upit popular in my place is the rava/sooji/semolina one but you can make Upma from Dalia, Rice Rava or coarse rice flour, vermicelli, corn.
What are the veggies I can add to Upma?
The veggies you add are your choice like onions, cauliflower, potatoes, peas, corn, capsicum, tomatoes.
But In Dharwad, my hometown where the only snack or breakfast item that is offered to guests we make a no onion version too where the chef may add cabbage, cucumber, ginger in addition to the other veggies I mentioned above.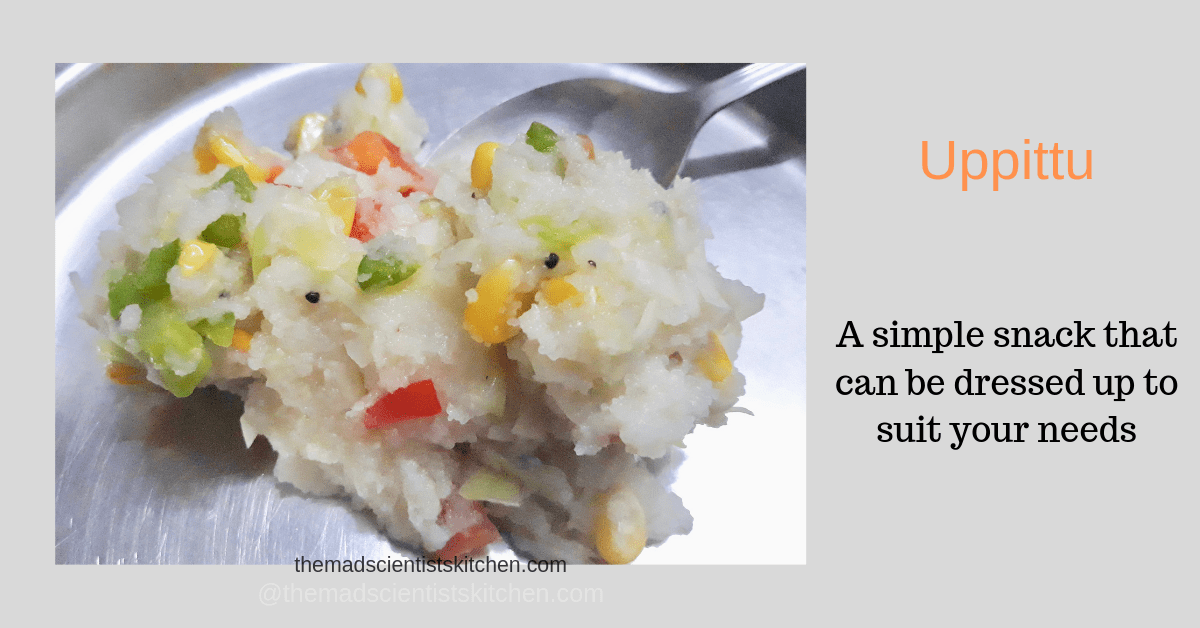 Like I have said earlier Uppittu as it is called in my hometown Dharwad is the staple snack. But in Dharwad Uppitu is never made from the finer rava called Bombay Rava we use the coarser Kesari Rava.
The beauty of Kesari Rava is you roast it but with homemade ghee the smell and taste of the Uppitu is delicious. Also, the rava needs more water to cook however the Upma that you get from it is dry and the grains separate not like the one I have shown here.
I will definitely prefer my Upma grains separate but the rest of the family(read Husband) does not like it. They are used to the softer paste-like Upma. Rather than rock the boat early in the morning I make what everyone eats.
Upma|Upit
A simple breakfast item that doubles up as a snack made Semolina and Veggies.
Print
Pin
Rate
Equipment
Kadhai|wok

Microwave-safe bowl

Ladles
Ingredients
1

cup

rava

2

teaspoon

ghee +1 tsp

1-2

teaspoon

oil

½

teaspoon

mustard

¼

teaspoon

hing/asafoetida

1

teaspoon

urid dal

2-3

green chillies

adjust as per taste

curry leaves

1

cup

cabbage

chopped fine

½

cup

corn

1

capsicum I have used green and red ones

see notes 1

Salt

2

cups

water

Lemon juice

adjust as per taste

Coriander
Instructions
You can roast the rava|sooji in the traditional method in a kadhai|wok.
For this add the rava and 2 teaspoon ghee.

Mix well and stir fry on the gas on low flame till you get a nice aroma.

It is important that you keep the flame low and do not skip this step.
You can also use the microwave
For this add the rava in a microwave-safe bowl add the ghee and mix well.

Microwave in spurts of 1 minute roast the rava. Do this 2 more times. But basically, your MW will be guide. Follow your experience. It is better to do the roasting in shorter spurts till you get the hang of it.

If you have used the traditional method of using the kadhai|wok then transfer the rava on a plate and let it cool.

Let us get the tempering for the upma ready.

Return the kadhai|wok to the flame. Add oil add the mustard seeds.

Once they splutter add the urid dal stir till reddish, hing, green chillies, curry leaves follow next. Take care as the chillies and curry leaves splutter.

In case you are using onions add diced onions now and fry until translucent.

Add the veggies the hard ones like corn. Stir-fry till done.

Next, add 2 cups of water to the kadhai|wok, season with salt raise the flame and let the water come to a boil.

Since I am using cabbage and capsicum also I will add them with the rava.

Once the water comes to a boil, lower the flame and add the cabbage, capsicum and the roasted rava.

Stir well immediately as the rava in the Upma starts cooking and lumping up.

Cover and let it cook for about 4-5 minutes.

Switch off the gas and let it rest under the cover for about 5 minutes.

After this time add another teaspoon of ghee on the sides of the kadhai add coriander and mix well. Add the lime too if using. Generally, I serve lime separately.

Serve hot. (check the serving options 2 in notes)
Notes
1. Vegetables like cauliflower florets, carrots and peas can also be used. For a more exotic Upma use mushrooms, broccoli.
2. Many people serve it with sambhar, chutney.
In Dharwad, we have it with curds and chatni pudi.
3. You can also add boiling water to the rava and make this dish, as my MIL used to make, but I find it difficult as the rava clumps up immediately.
The other Upit|Upma you can make are
I have tried to copy my older post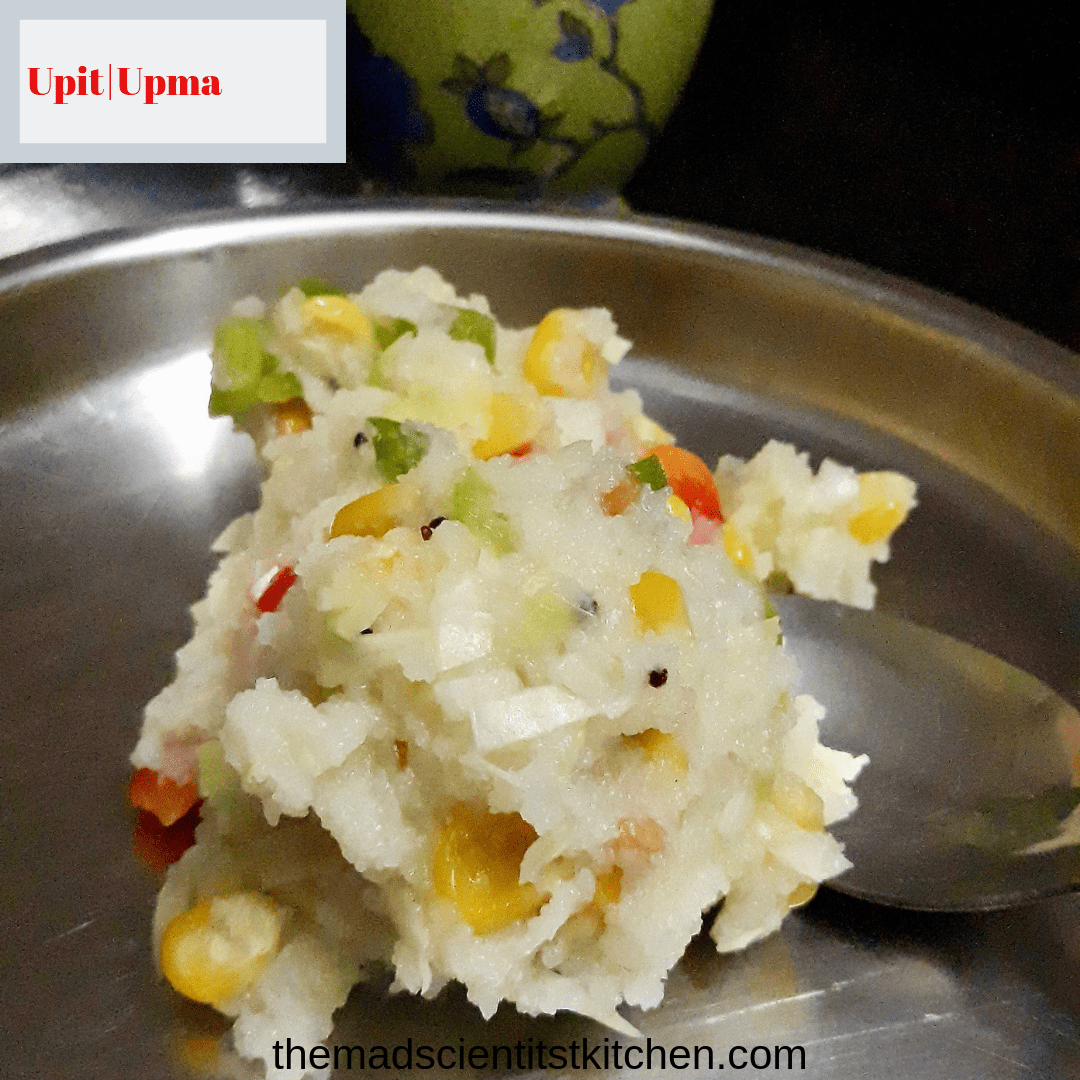 This week I have participated in Foodies Redoing old posts and changed my old post.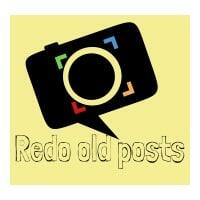 Do you like this recipe? Have you tried it? In case you do and whenever you do please tag me on Facebook. My Instagram handle is #themadscientistskitchen. You can also use my Twitter handle, Then you are always welcome at my Pinterest page too. I will love to see you there.
Please also subscribe to my mailing list and join me in my journey of Food! Will enjoy seeing what you make so that I too can learn from you!!!
Reader Interactions