When I made this Feta cheese I have used no expensive resources. All I have used is a packet cow milk and absolutely no rennet.
The reason being buying a packet of feta is expensive, what if we do not like it?
Similarly, I did not want to buy rennet what if I forget it's there in my pantry? And frankly, do I have the time and patience to attend to the different procedures that cheesemaking calls for?
Researching for Greek recipes I kept ending on feta, feta, and feta. So I decided to search for a simple recipe that is adapted to Indian taste.
But first, let us see what feta is…
Feta is a soft but tangy and salty cheese that has no skin and few cuts.  Feta is made from sheep's milk or a sheep and goat milk mixture. In Europe what is called feta is made partly or wholly of cow's milk.
 High-quality feta should have a creamy texture when sampled, and aromas of ewe's milk, butter, and yoghurt. Te taste is tangy, slightly salty, and mildly sour, with a spicy finish that recalls pepper and ginger, as well as a hint of sweetness.
Feta has multiple uses as a table cheese, in salads, pastries. If these options are not enough, serve it cooked or grilled with a sandwich or an omelette.
The main ingredients used are curds/yoghurt, herbs and extra virgin olive oil. 
Okay, we say Cheeses are not good especially in Old Age but isn't moderation the keyword at all ages. Granted that Cheeses are salty so not too got for people with hypertension and heart issues. But still, it is a good source of calcium, protein. Like I said moderation is the key and consult your doctor.
The other cheeses I have tried making are Mascarpone Cheese, Quark Cheese, Ricotta Cheese.
My Feta is from here.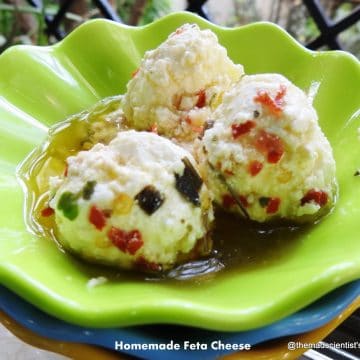 Homemade Feta Cheese
Make Feta at home with everyday ingredients.
Print
Pin
Rate
Ingredients
400

grams

of Curds made from skimmed milk

4-5

tablespoons

of extra virgin oil

Herbs

like garlicoregano, chilli flakes , sage

Coarse salt to taste
Instructions
Hang the curds in a muslin cloth for over 2 days.

Now transfer the cheese in a jar and leave it for another 2 days. (I put it in fridge when I left to work and got it out in the night).

Make small balls of the hung curds and transfer to a jar in which you have added the oil, and herbs of your choice.

Add salt to the jar. It is better to add a little less salt.

Use after one day in sandwiches or in salads.
Hi! First time here?
You are Most Welcome! I hope you keep coming back for more here. If you are my regular visitor then Thanks, for you encourage me to experiment more!! I would like you to please click on my link below and like my Facebook Page. I will be happy if you can follow me on on Twitter too!
Reader Interactions