Fluffy Mashed Potatoes Recipe
 A simple mashed taters recipe that you will love for it has a fluffy texture and you can scale up or down as you need.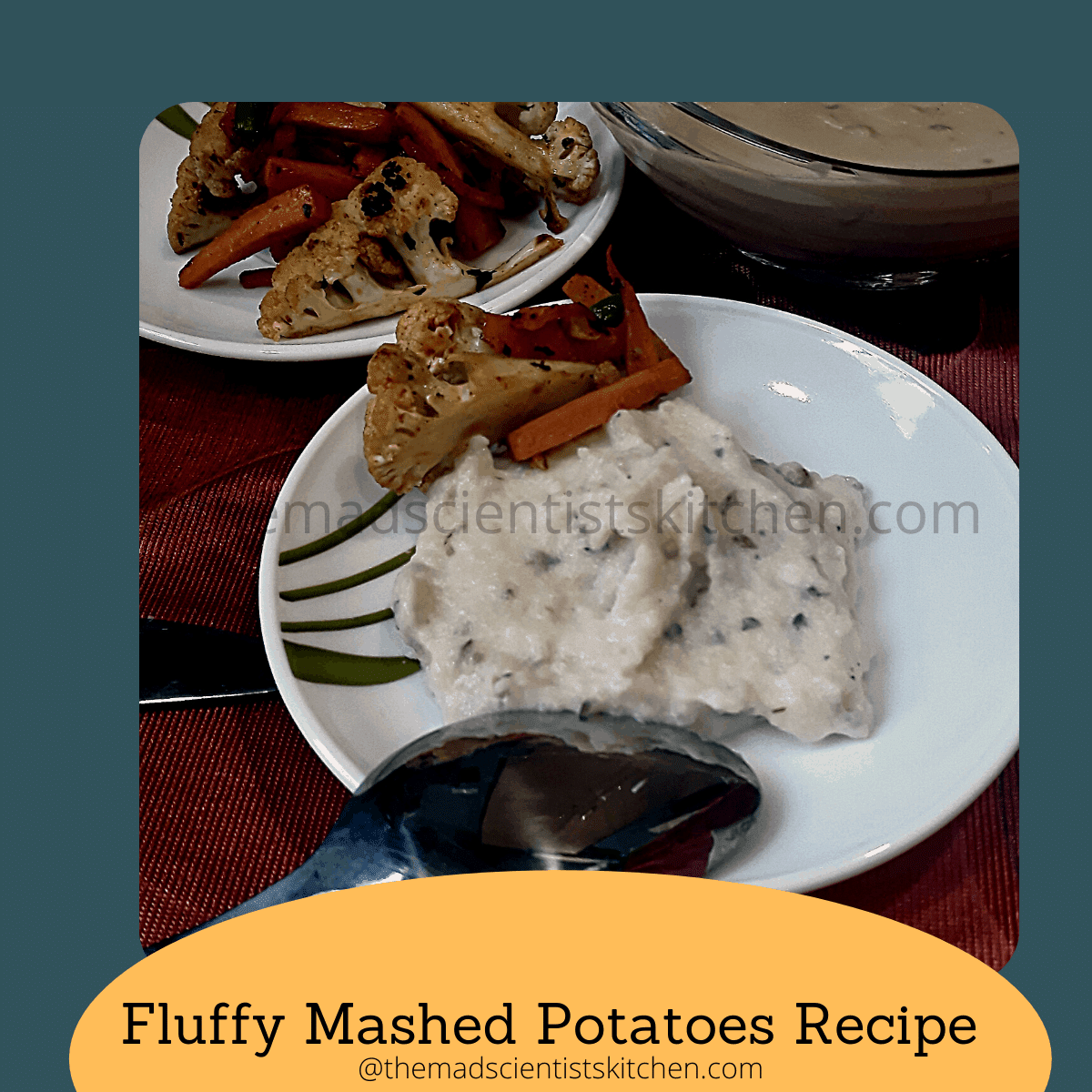 Serve this delicious mashed potatoes recipe with Vegetarian Gravy Recipe for Thanksgiving and Christmas and you will have people asking you the recipe to make it.  The Mashed Potatoes can also be used to make dishes like shepherds pie, pies etc.
Hello, and welcome to The Mad Scientist's Kitchen, Reinventing the Foodie in you! Looking for a delicious and easy no-fuss party recipe join me as I explore food! I urge you to subscribe to our newsletter so that you get all our posts. We will not spam you, promise and the subscribe link is below or on the sidebar too!
Contents:
Mashed taters or mash as it is colloquially called is a side dish that served with meat or vegetables. It is only recently I discovered the vegetable half and so I made Mash.
With Akanksha not here the onus of making some for hubby falls on me, you see he loves anything potato! He can make it but the amount of butter that will go in when he does the job will be mind-boggling so I rather make it.
I had last posted this on 27th July, 2014 the pictures and the method both have to be updated .
I have listed the ingredients and the procedure for detailed measures please check the recipe card.
Potatoes
Milk
Butter
Salt
Pepper
Garlic (optional but recommended)
Herbs, use dried if fresh is not available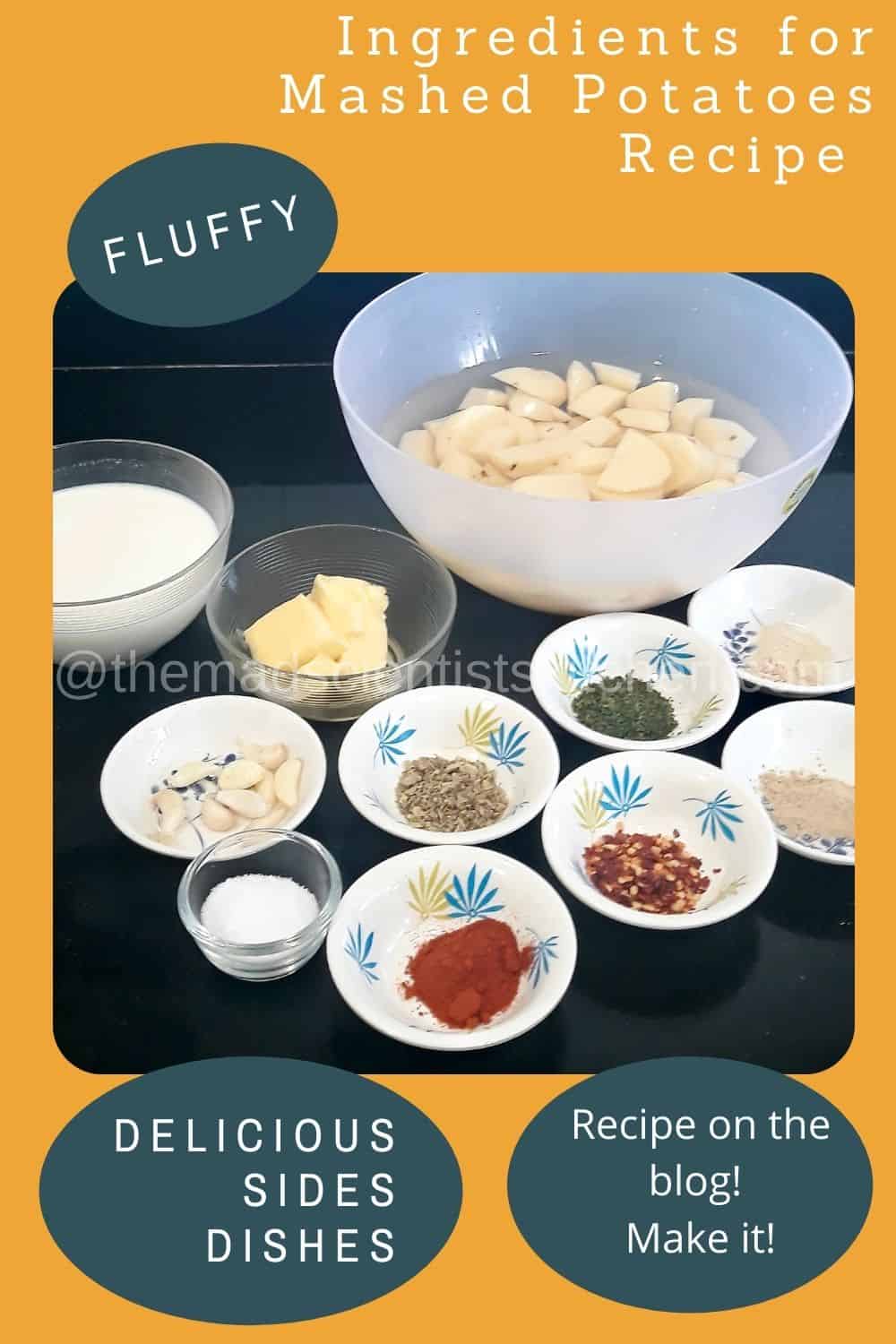 Substitutes and alternatives:
Butter: If you want Vegan Mashed Potatoes consider using EVOO and Vegan milk like almond milk, coconut milk. Only coconut milk will give your mashed potatoes a coconut flavour.
Cream Cheese: Now there are proponents of using cream cheese and I can imagine how very creamy and yum the mashed potatoes will be. Only use the cream cheese at room temperature and cut it into small 1 inch cubes.
Cream: Consider using a mixture of milk and cream in place of just milk.
So the method for basic mashed potatoes is simple to peel, chop and cook the potatoes in an open pan are cooked till fork tender.

As whole potatoes do not cook evenly

chop your potatoes into even-sized pieces.

Since I will not like to bite into peels I prefer to peel the potatoes.
Over-cooking potatoes may cause waterlogging and gooey textured mashed potatoes.

You strain and mash potatoes why? Because water is disastrous to the health of mashed potatoes. 😀  who wants watery consistency and taste in their mashed potatoes?
Add warm milk, butter salt and pepper. to the boiled and drained potatoes.
 Mash the potatoes with a vegetable masher and your good old hand. I have used the mixer in the past and since you cannot totally regulate the mashing it becomes a gooey sticky mess. Definitely what we are not is looking for.   

Add some herbs fresh or dried of your choice. Seasoning and spices are anyway personal choices. 
The potatoes you need for mashed potatoes are starchy ones. The ones popular abroad are russet potatoes and Idaho which will give you a fluffy texture.  Yukon gold will give you a creamy and dense texture.

  I buy my Indian potatoes are good enough for the job but I will not touch the new potatoes with a barge pole. 

If you want to pressure cook them, my guess will be cooking them without water in the potato container maximum of 2 whistles. Ad let the pressure drop naturally. 
Why use butter or EVOO? For a light smooth and creamy mash use them.

Add cream and cream cheese too for a rich-tasting haute cuisine mash.  

If you plan on using cream cheese using the cream cheese at room temperature cut it into an inch sized pieces.  This way the cheese will melt into the potatoes.
You can always add more butter!

If you plan to serve Mashed potatoes for Thanksgiving, Christmas or any party then make it ahead and keep the bowl warm. This way you need not scramble when guests arrive.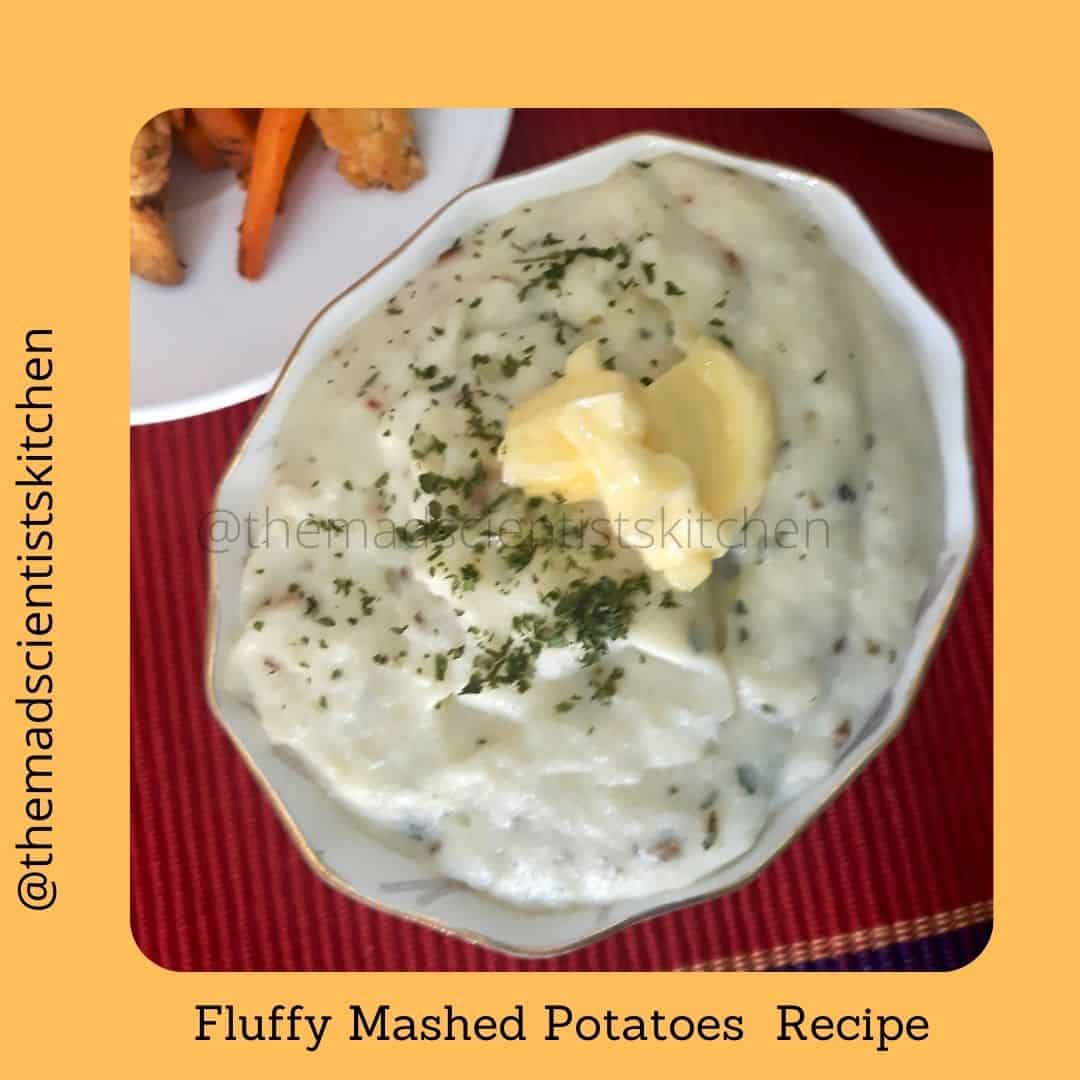 What do you serve with Mashed Taters?
Mash can be served with meats and fish but for a vegetarian serve with
Storage:
Save the leftover Mashed Potatoes in a container in the refrigerator. Warm it in the oven before serving.
Why add Milk to Mashed Potatoes?

Adding milk to the mashed potatoes makes it creamy and smooth. Adding water is not the answer it will tasted like overboiled potatoes. Add warm milk as cold milk will cool down the potatoes.

Help I over-cook the potatoes for mashed potatoes?

First, take a deep breath and drain all the potatoes, fully.
Next, add them back to the pan and heat on low flame. ( I do this anyway always even if they are not overcooked). Toss occasionally.
The other option is to add them to a tray and pop them in the oven till they dry out.

What are the substitutes for milk?

If you are okay with using dairy then milk and cream is good. Since half-half is not available here in India I will use Fresh cream. Sour cream, buttermilk are also alternatives. If you are looking for non-dairy alternatives then tray any plant-based milk like coconut milk, soy milk or almond milk. Be sure you like the flavours as these milk have their own piaquint flavours. You should like them.
Shopping needs:
Disclaimer: We are a participant in the Amazon Services LLC Associates Program, an affiliate advertising program designed to provide a means for us to earn fees by linking to Amazon.in and affiliated sites. When you click and buy through this site, it helps us earn to keep this site running.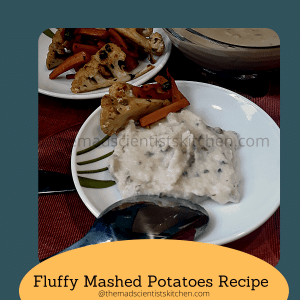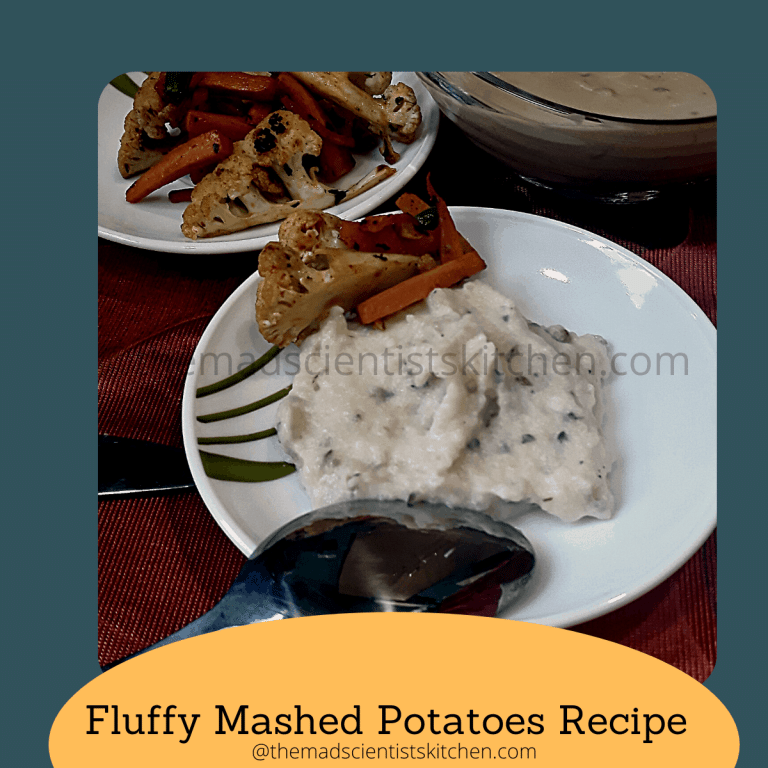 Mashed Potatoes Recipe
A simple mashed taters recipe that you will love for it has a fluffy texture and you can scale up or down as you need.
Print
Pin
Rate
Equipment
Pan

Peeler

Knife and board

Bowls
Ingredients
500

grams

potatoes

2

cups

water

½

cup

milk + 2 tablespoons milk

2

tablespoon

butter

I am using salted you can use unsalted

4-5

garlic cloves

finely chopped

salt as needed

1

teaspoon

of dried mixed herbs

black pepper freshly crushed as needed
Instructions
Before I start I like to soak my potatoes in water so that all the mud falls off them. Then peel the potatoes keep the peeled potatoes in water so that they do not darken.

In a pan add water and ½ teaspoon salt. Chop the potatoes into cubes about 2 inches and add them to the pan.

Add more water to cover the potatoes, add some garlic, if using mix.

Cook the potatoes on medium flame is fine. I keep a gap between the edge of the pan and lid and let the potatoes come to a boil.

As the potatoes cook chop the garlic and fresh herbs if you are using them.

Keep checking the potatoes in regular intervals. You will need about 20-25 minutes for the potatoes to be fork tender. Or when you pierce with the knife there should be no resistance.

Drain the potatoes fully. Toss the potatoes back in the pan in which you boiled them. Keep the pan back on low flame for minutes. This will ensure that there is absolutely no water in the potatoes. Transfer the potatoes to a plate to cool.

In the same pan add milk, butter and minced garlic if using. Heat the mixture till it comes to a boil.

Switch off the flame and get the pan off the gas. Add the potatoes into the pan. Begin mashing the potatoes with a vegetable masher. Use a ricer if you have one.

Mash till the mashed potatoes become smooth, fluffy and light. Add more warm milk or butter. Take care as too much mashing will make the mixture gooey.

Sprinkle pepper check salt before you add more salt. Add the herbs that you had chopped. Now fold the mixture well.

When the mixture is warm transfer to mashed potatoes to your serving bowl.

Garnish with herbs of your choice or with butter.
Notes
Starchy potatoes give the best results, avoid the new potatoes.

6 to 7 medium-sized high starch content potatoes all that you need.

Remember to drain the potatoes really well.
Use a masher to mash the potatoes. You can use the handheld mixer but then you will get creamy mashed potatoes not the light fluffy ones here.
Herbs and spices are your choices. I love to use parsley and sage.
You can leave out garlic if you prefer.
You can use unsalted or salted butter.
Use any neutral flavoured oil like sunflower oil in place of butter or olive oil.
Nutrition Facts
Mashed Potatoes Recipe
Amount Per Serving (4 servings)
Calories 220
* Percent Daily Values are based on a 2000 calorie diet.
Nutritional Disclaimer: I am not a certified nutritionist and make no claims to the contrary. Please check with your nutritionist for your dietary needs and restrictions. Ultimately you are responsible for your decisions.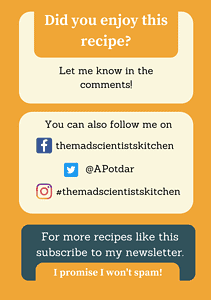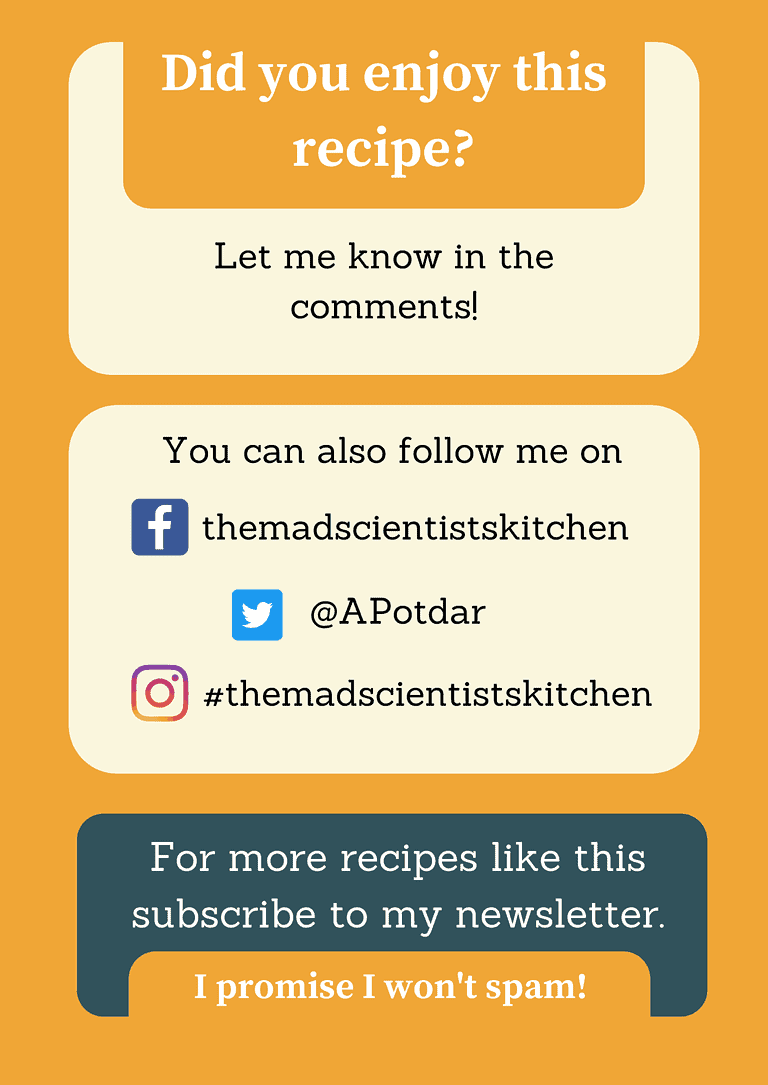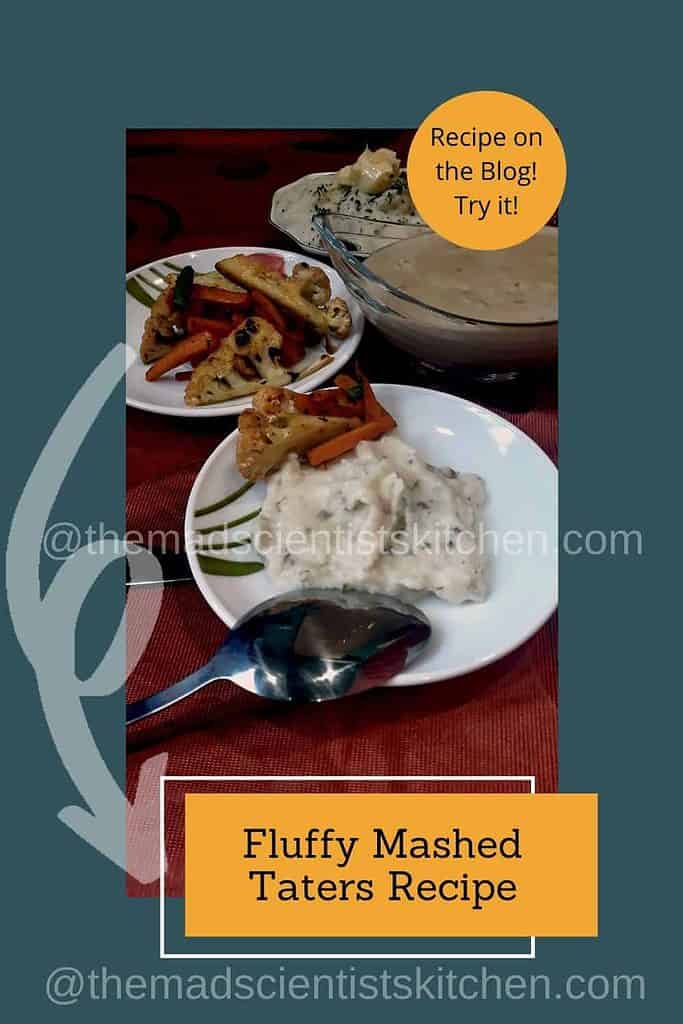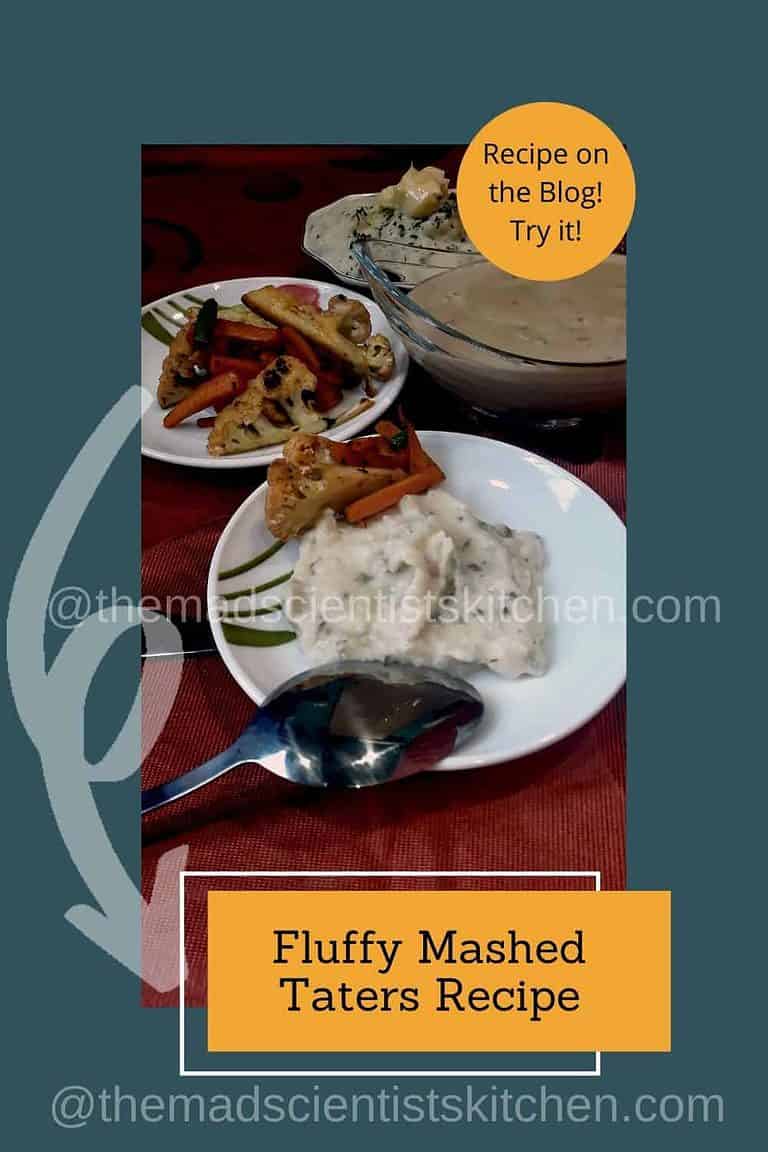 Reader Interactions