Qubani ka Meetha is a delicious and popular dessert from Hyderabad! 
Follow my simple recipe to make this Apricot Compote. Impress your guests with one yum dessert. The Royals enjoyed Khubani ka Meetha a simple but heavenly dessert. A must for the Shahi Dastarkhwans or the royal ceremonial feast!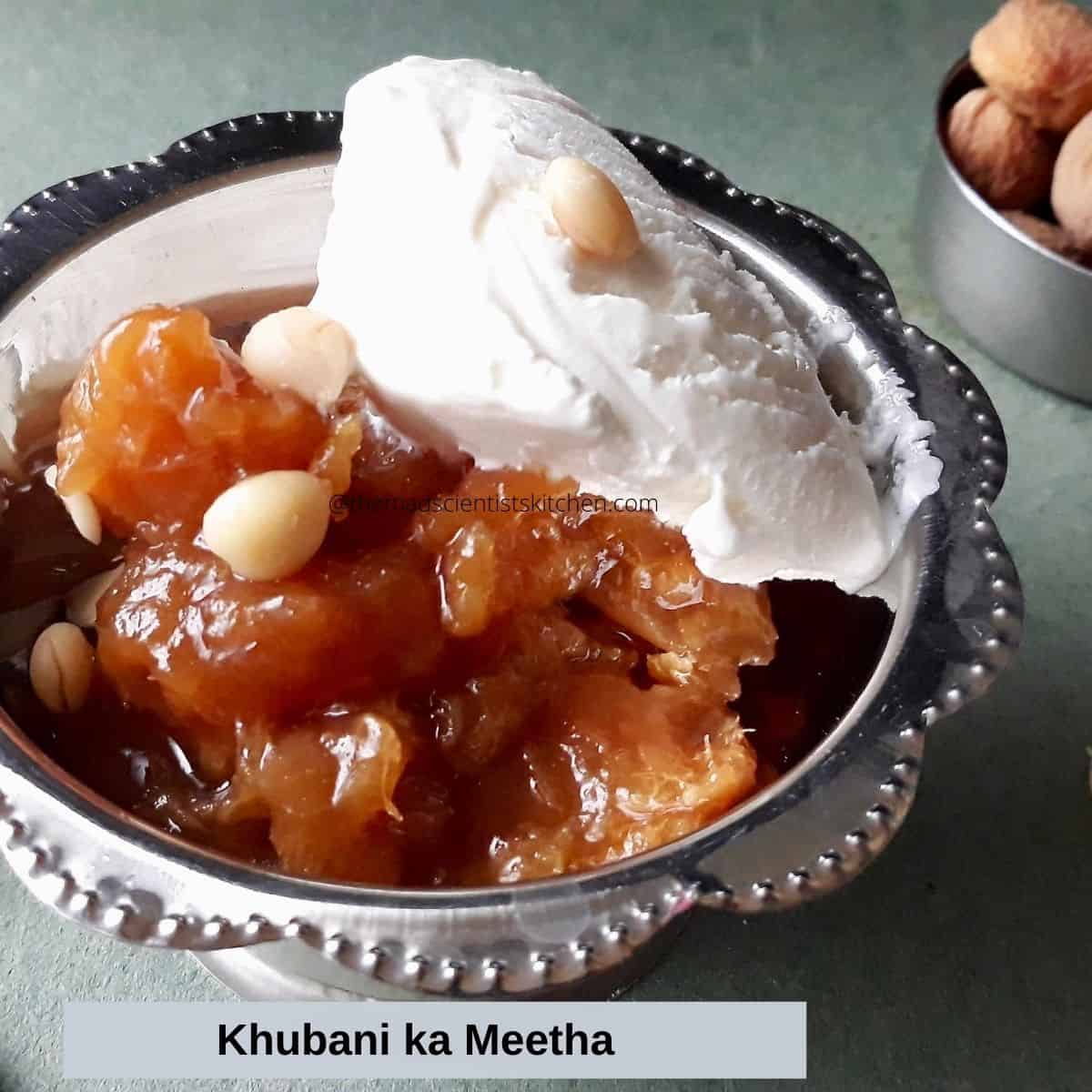 I first tasted Qubani ka Meetha during the Blogging Marathon #100th Meet. Shailaja, Usha's cousin had organised lunch for us at her place. The spread was amazing!! The table groaned with the variety of vegetarian cuisine of the region. The food so lovingly cooked and served was lip-smacking delicious. I had been my greedy best here. One of the desserts was Khubani ka Meetha!
Now there were many recipes on the table that I wanted to make. But if you know me, you know I latch on to sweets very fast. So the second thing I tried was Qubani ka meetha the first way Ivy Gourd Chutney!! 
With memories of what I ate with ice cream, prodded me to this luscious Apricots Compote.
With memories of what I ate with ice cream, prodded me to this luscious Apricots Compote. The occasion is Foodie Monday BlogHop where our hostess today suggested some #260Meethe Pal. Sujata blogs at Batter up with Sujata and makes amazing food. Ones that I keep promising to make are her amazing variety of rasugullas to name a few Komola Bhog, Chilli Rasgulla. Then her bakes to are amazing!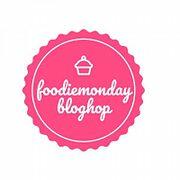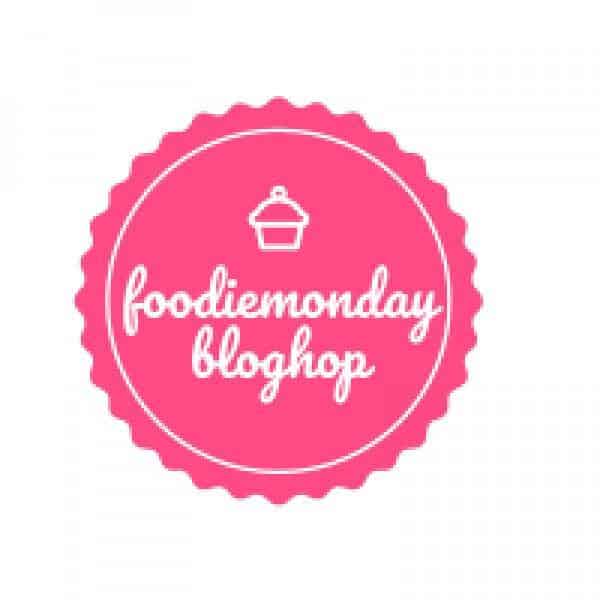 You will need only 4 ingredients to make the delectable dessert. Dried apricots (also jardaloo), water, lemon juice and sugar. Apricot Delight is a part of a festive celebration, weddings in Hyderabad even today. Apricot Fool has a fruity taste. A yummy palate-cleanser and a perfect way to end a heavy meal that could be a heavy Mughlai meal!
Make Khubani ka Meetha for the coming festive season like Ganesh, Diwali! Serve it in your kitty party or even for birthday parties. Whether you serve it warm or chilled it tastes just as delicious!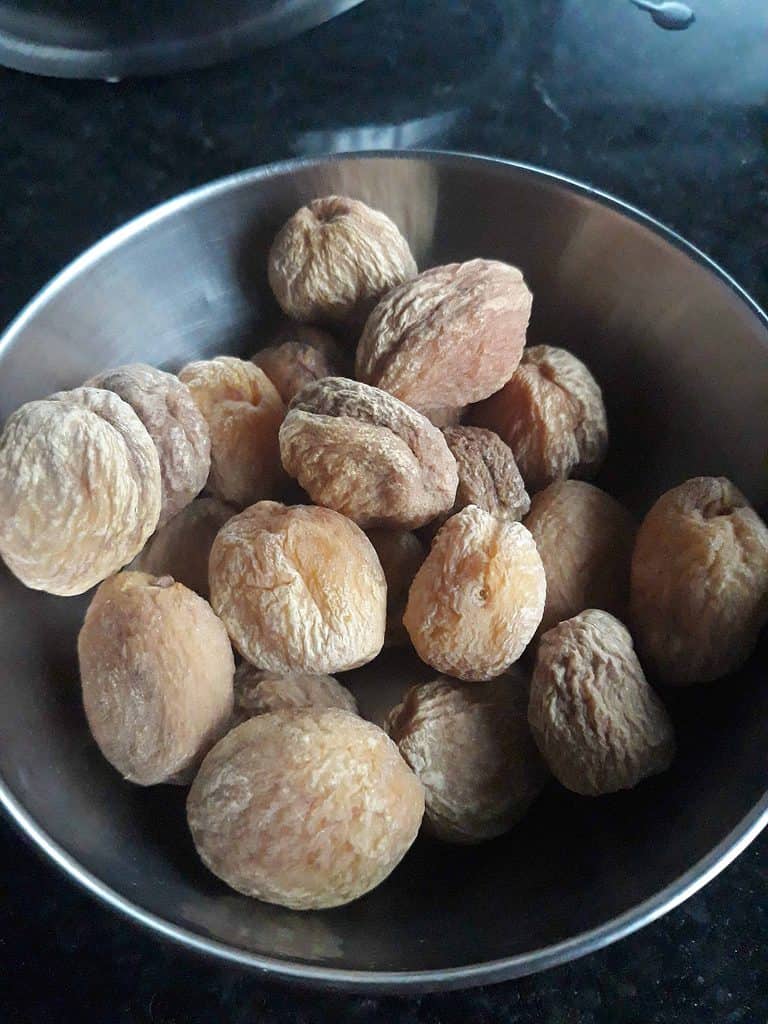 Dried Apricots: Also Jardaloo the main ingredient. Use whole apricots, the dried ones. The best ones are the ones from Turkey but I buy local so Kashmiri or Afghanistan ones are good too. Especially if you are keen on reducing your carbon footprint. You can use the bright orange coloured ones from Turkey. I prefer these.
Sugar: Use regular white sugar.
Lemon juice: There are some recipes that skip adding lemon juice but use it gives a nice tang to the compote.
Dry fruits: I prefer using the kernels of the dried apricots. Zero Waste plus they are a little on the bitter side so that balances out all the tastes. You can use other dry fruits like pistachios, almonds.
Ice Cream: Serve with ice cream I prefer vanilla ice cream. Feel free to serve with cream, custard to are popular options.
Soak the dried apricots in water overnight. In case you forget, soak them in warm water for 4-5 hours.
I soaked mine overnight and look how soft, plump and soft they have become.
Strain and reserve the water. Now with remove the seeds from the apricots.
I prefer my wok/ kadhai or a saucepan add the apricots and reserved water from the soaked apricot. Cook on low flame.
Now get the old mortar pestle or nutcracker if you have one and break the hard kernel. The nuts inside look like almonds, mini ones.
Discard the hard covering kernel and if you wish to chop the nuts. I prefer to use them whole. You can also soak the seeds in warm water for 15-20 minutes and peel the skin off.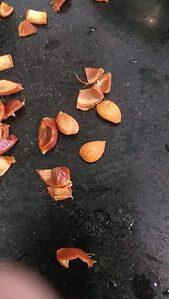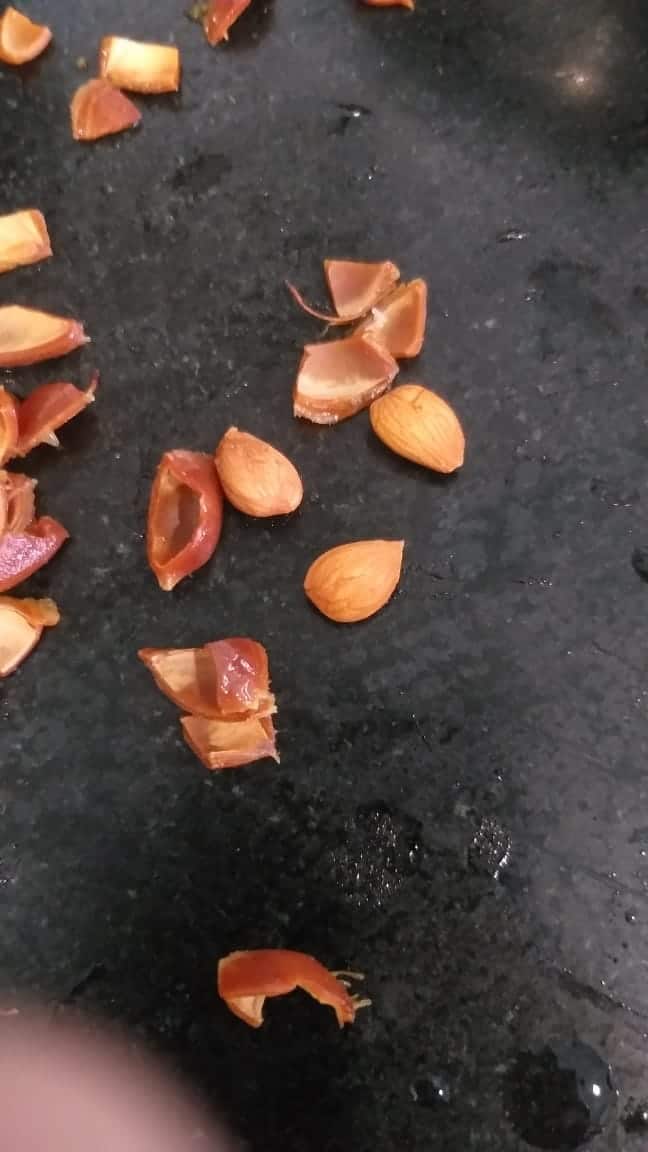 Keep an eye on the cooking apricots. Since the water in the apricots is little in my case I am adding some plain water. Stir the apricots and keep an eye on them. Slow cooking is the key here.
As the apricots cook mash them up with your ladle.
Add sugar after 20 to 25 minutes. The mixture will become runny but do not panic. Continue cooking on low flame after about 5 minutes the mixture will thicken.
Stir and continue to cook till the mixture thickens a bit, approx 5-6 minutes on a low flame.
The Khubani ka Meetha is ready now. The consistency is neither too dry nor too liquid.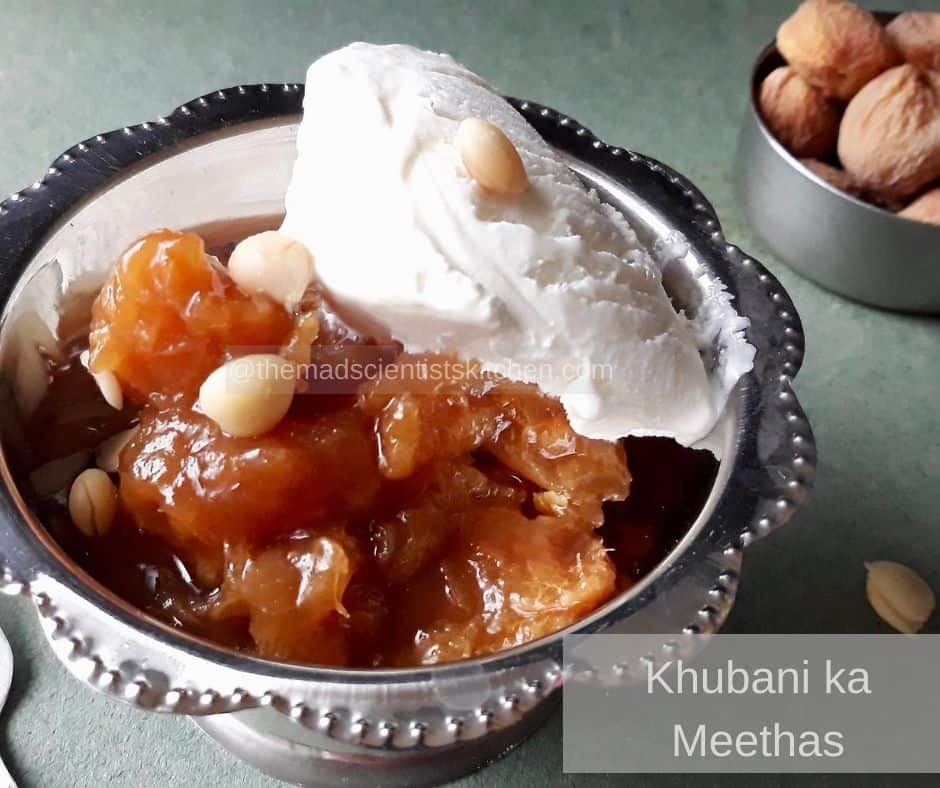 Kids too will appreciate delicious, scrumptious dessert Qubani ka Meetha. Your guests and family will love this Compote.
A refreshing and delicately flavoured delicacy you can serve it warm or hot.
A sweet yet tangy and moist compote pairs well with ice cream or malai, custard.
Garnish with seeds of the apricot or dry fruits of your choice.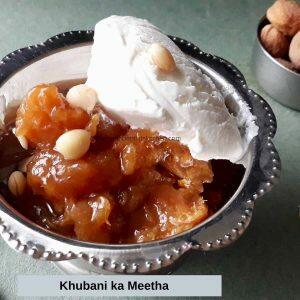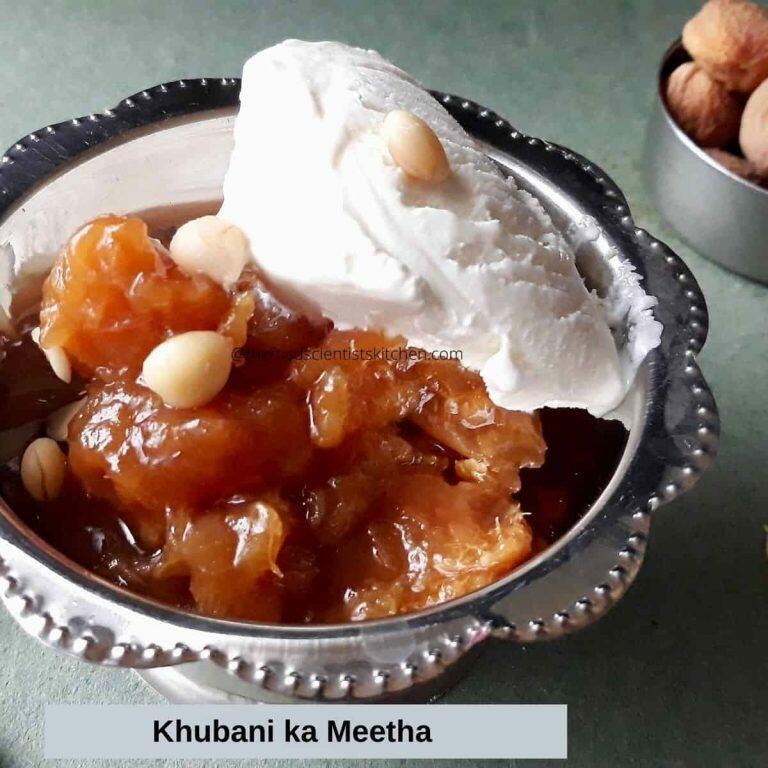 Khubani ka Meetha Recipe
Impress your guests with one yum dessert. The Royals enjoyed Khubani ka Meetha a simple but heavenly dessert. A must for the Shahi dastarkhwans or the royal ceremonial feast!
Print
Pin
Rate
Equipment
Kadhai/wok

Spoons and Ladles

Mortar and Pestle
Ingredients
For the Qubani ka Meetha:
500

grams

dried apricots

3

cups

water

for soaking

1

cup

sugar

1

tablespoon

lemon juice
Instructions
Soak the apricots in water overnight.

In the morning strain and reserve the water.

Deseed the apricots.

In a kadhai/wok or saucepan add the reserved water and deseed apricots and cook on low flame. Add more water if needed.

As the apricots cook break the kernel of the apricot and collect the seeds. Discard the kernels.

As the apricots cook stir occasionally and mash the apricots with your spoon.

Add the sugar once the apricots are mushy about 20 to 25 minutes approx. Stir to dissolve and cook till the khubani ka meetha thickens.

Switch off the gas and add the lemon juice.

Transfer to a serving bowl.

Serve garnished as per taste with ice cream, custard, cream, and the apricot seeds.
Notes
The apricot seeds can be blanch. Soak the seeds in warm water and peel them.
You can enjoy the Meetha without any toppings too.
Add some saffron in the boiling water to enhance the flavours and colours.
Soak the apricots in the plenty of water. I reduced the water as I was making a smaller quantity. I added more water later.
Nutrition Facts
Khubani ka Meetha Recipe
Amount Per Serving
Calories 400
% Daily Value*
Carbohydrates -22g-7%
* Percent Daily Values are based on a 2000 calorie diet.
Disclaimer: We are a participant in the Amazon Services LLC Associates Program, an affiliate advertising program designed to provide a means for us to earn fees by linking to Amazon.in and affiliated sites. When you click and buy through this site, it helps us earn to keep this site running.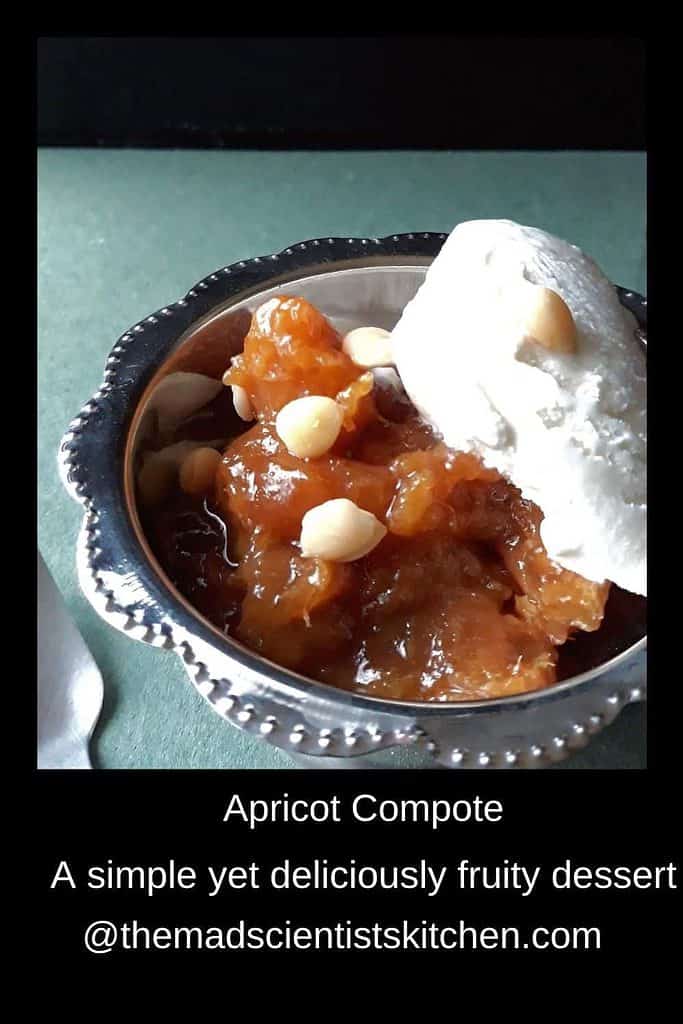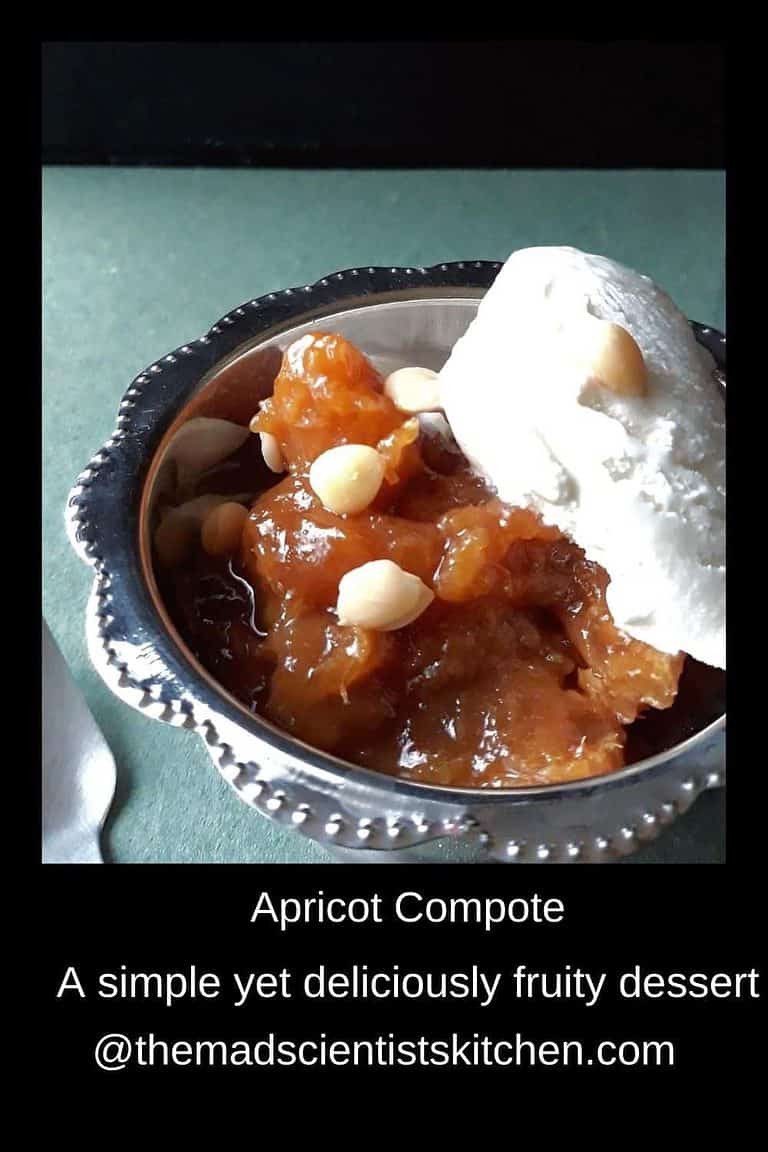 Reader Interactions