Velvety Smooth Tomato Soup Recipe
One favourite and easy soup you can make at home is this creamy soup with Tomatoes.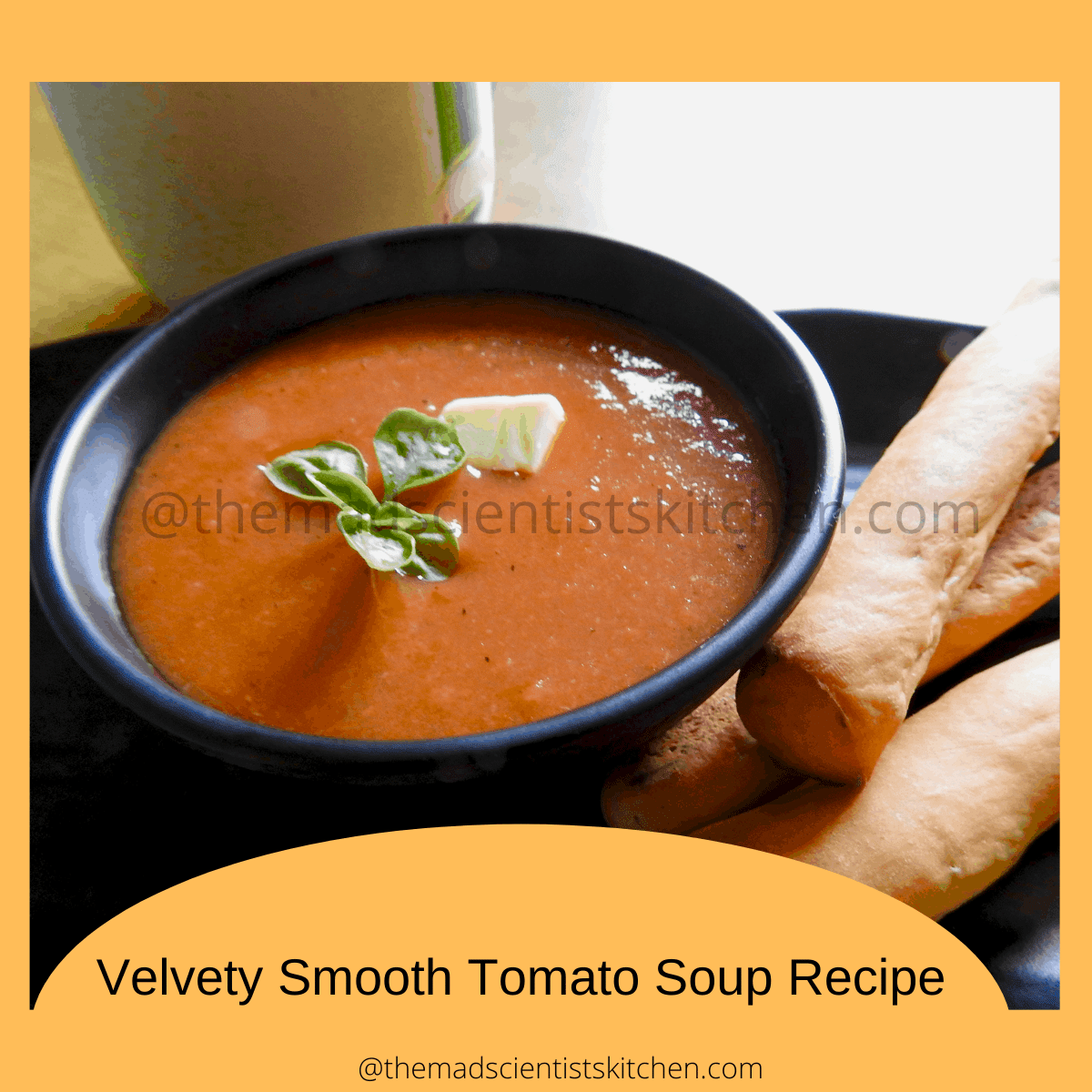 Quick and delicious food is what I love and so making this Tomato Soup from the scratch is as easy as easy can get. With the market now flooded with fresh red juicy tomatoes, I cannot resist making this soup regularly. You can also make it Vegan! Interested? So do read on this easy healthy recipe that I am sharing with options to make it vegan. But to get all my posts do subscribe and join my newsletter. You will not miss a single post and I promise not to spam you.
The word Soup evokes a picture of a cold breezy day and you sitting in a warm corner and drinking hot soup!  With or without bread! Soup is liquid food, generally served warm but then you can also have it cold!
A soup is made by combining ingredients such as meat and vegetables with stock, juice, water, or another liquid the soup is generally boiled in a pot till the flavours are extracted, forming a broth.
Soups traditionally are classified into two main groups' clear soups (my favourite ones) and thick soups. Thick soups depending on what is used for thickening are called different names:
purées are vegetable soups thickened with starch,
while bisques are made from puréed shellfish or vegetables thickened with cream,
 Like creamy soups? They may be thickened with béchamel sauce white sauce,
while veloutés are thickened with eggs, butter, and cream.
You can also thicken soups and broths with egg, rice, lentils, flour, and grains carrots and potatoes.
There is not much of a difference between a stew and a soup. In fact, I am at a loss many a time whether to call the end product a soup or a stew. But Wikipedia the place where I have gleaned this information says," in some cases, there may not be a clear distinction between the two; however, soups generally have more liquid than stews."
Tomatoes: of course the main ingredient you cannot have a tomato soup without tomatoes. Choose ripe, red and juicy once as they will be less acidic.
Onions: I love to add onions to the soup I get the red ones so that is what I use, you can try the white or yellow ones if you can source them.
Garlic: soup needs fresh garlic, the quantity of garlic is, of course, debatable and is always the source of debate in my place. Hubby cannot get enough and I do not agree with him.
Basil: again this is a newer ingredient in my place which ends up only in the girls and my portion of the soup. It tastes awesome do try using it.
Other herbs: I use pepper, ginger and chilli flakes as my herbs.
Sugar: use as per taste to balance the sour taste. Recently I heard that you can use baking powder to reduce the acidity of the soup. Being a base or alkali wit will work I will definitely try it.
Thickeners: corn flour, potatoes flour for arrowroot can work but I prefer to add boiled potatoes in m soup.
Cream and milk: these are generally a passé with me as the girls and the man in my life do not like it. But you can add them as they give such a rich and creamy soup.
Other veggies: there are times when I add carrots. Beetroots have generally given me a shocker of colour I have been avoiding it.
You can choose from
Roasting the tomatoes
The second and easiest way and my preferred way is pressure cooking the ingredients.
Whatever method you choose the end is blending the ingredients and simmering them.
Let us see I generally use tomatoes, carrots as my veggies you can add potatoes too. Onions, ginger, garlic, pepper are my basic ingredients.
If baking then sprinkle oil, salt and pepper on the cut tomatoes, garlic and onions, and bake at 180C/350F till golden brown.

On the stovetop, too I will cook them on a skillet till the ingredients are brown on one side. Flip and cook them again.

Cool and puree them.
Add a butter/ olive oil if you want vegan and then add and fry 2 cloves garlic. (this is totally optional).
Add the tomato puree, pepper, salt and herbs you wish to add. Generally, my soup thickners too get pureed if it is grated potato, carrot. But today I have not used any as I have used many tomatoes (about 1-½ kg) and used very little liquids.
If using cornflour add a tablespoon of cornflour to a bowl and make a thick slurry. Mix this slurry stirring constantly. The quantity of cornflour you need will depend on how thick you want the soup. If using cornflour I will prefer to go 1 tablespoon then ½ tablespoon at a time.
Simmer, switch off the gas before you add cream or milk.
Serve.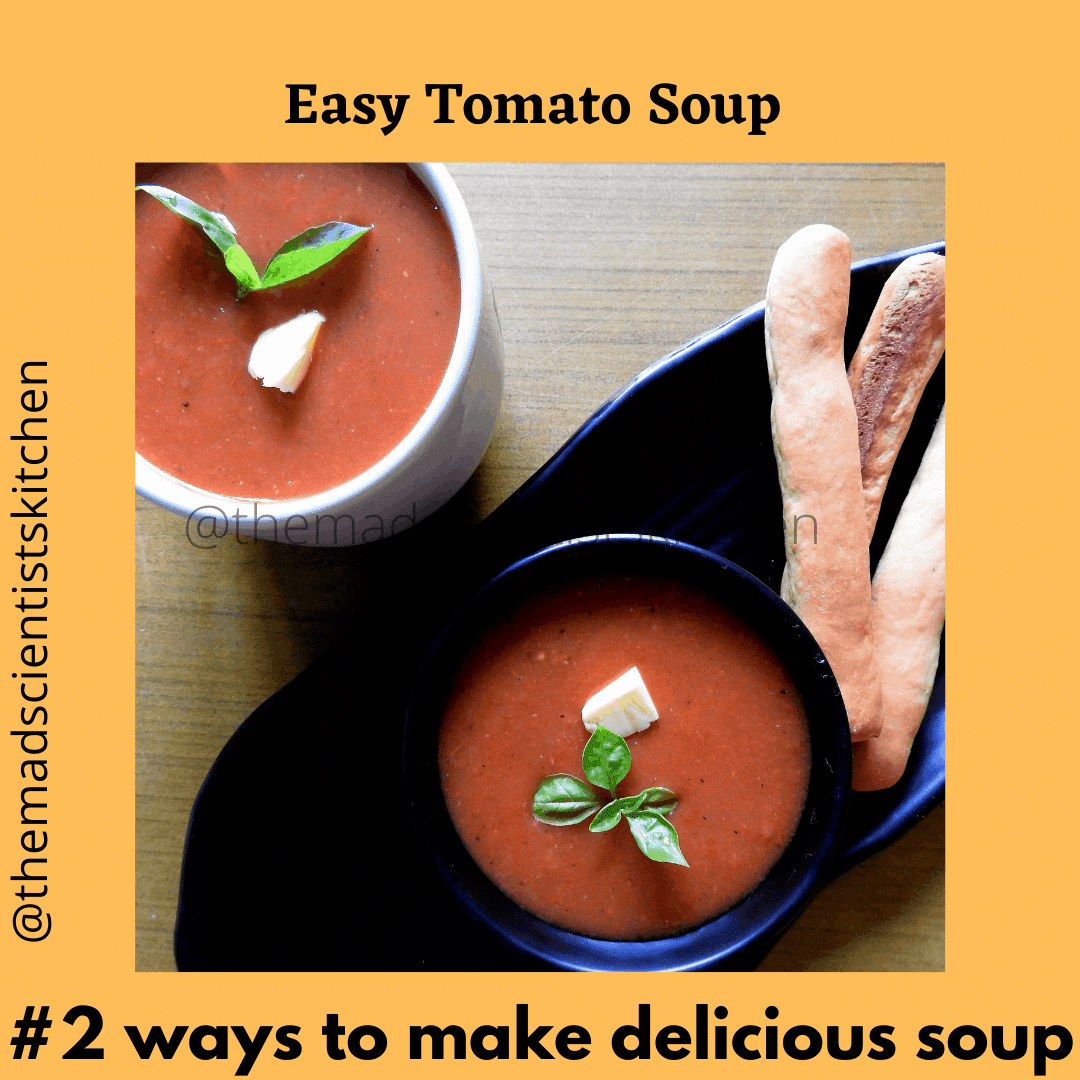 Help! The milk I added to the tomato soup curdled? Why?

Tomatoes are acidic so adding milk to the soup will curdle the milk.

Can the curdled Tomato soup be eaten?

Yes, there is nothing wrong with the soup only texture will be off.

How do I fix the Curdled Tomato Soup?

Make some white sauce and then mix in the soup slowly.
To make the white sauce melt 2 tablespoon of butter add 2 tablespoons of flour  cook for 2 minutes without browning, stir throughout.Remove from heat and gradually add the milk. Mix well until blended.Return to heat and cook slowly, stirring throughout until the sauce thickens.

How do you add cream or milk to Tomato Soup?

To avoid the curdling warm the milk in a small vessel, add some hot soup to the milk, little at a time, stir well between each addition. When the milk and soup mixture is warm add it to the whole soup.

Instead of milk add cream, fresh cream or heavy cream. I use the malai I get on my milk after I switch off the flame.

There is another tip that I want to try it says add baking powder to the soup. Baking powder is base and will help in reducing the sour taste of the soup and prevent curdling of milk.

So you want a creamy soup without milk and cream? Vegan soup? 

No issues you can use any one of the below:
Corn flour
Potato starch 
Arrowroot
Coconut milk
Add bread
Cashew nut 

Soup too watery? No problem you can save it. 

Add 1 tablespoon of cornflour make a thick slurry with water in a small bowl. Simmer the soup and stir and add the cornflour slurry. Simmer for a minute or 2. If it is not thick enough try adding ½ the amount of cornflour slurry in a similar way. 
The other methods are of course try adding potato puree, a white sauce.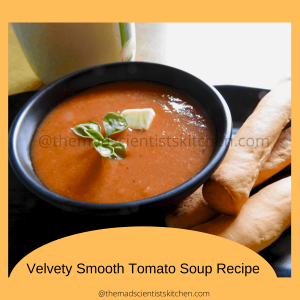 Velvety Smooth Tomato Soup Recipe
Homemade tomato soup that can be made in 2 different ways( and with vegan options too). Both are creamy and delicious comfort food that we rather not miss.
Print
Pin
Rate
Equipment
Oven

Pans

Skillet

Pressure cooker

Mixer/Grinder

Saucepan

Spoons and Ladles

Small bowl
Ingredients
5

ripe tomatoes

2

onions

sliced

1

small carrot

optional

6

garlic cloves

2

teaspoon

olive oil

3

peppers corns

½

teaspoon

ginger paste

2

clove

garlic

(optional but recommended)

2

teaspoon

butter

1

teaspoon

sugar

1

teaspoon

pepper powder

½

teaspoon

mixed herbs

Salt

1

teaspoon

butter/oil

Bread sticks

1

tablespoon

cream

optional

¼

cup

milk

optional
Instructions
Use only the the tomatoes, onions, carrots if using and 6 garlic cloves and chop them up. If you make smaller bits you will need lesser time. I made big pieces of the tomato and smaller ones of the rest of carrots and onions.
Roasting in OTG:
Arrange in a pan and sprinkle 2 teaspoon oil, a pinch of salt and pepper.

Roast at 180C/350F for 25-30 minutes or till golden in an oven.

Cool and grind.
Stovetop Roasting
To roast in a skillet on the stovetop keep an eye on the ingredients.

After about 7-8 minutes on medium flame flip the ingredients and roast on the other side too. This time you will need say about 5-6 minutes.

Cool and grind.
In the pressure cooker 
Cook the tomatoes, onions, carrots, ginger 6 cloves garlic and 3 pepper corns for 2 whistles. Let the pressure drop naturally.

Cool and grind.

There was a time I strained the and discard the fibre because kiddo wanted it so. You can do it too I rather use entire puree as it is.

Add 2 teaspoon butte/oil in a thick pan add the garlic and till light golden brown. Mash them up.

Add the tomato puree, add 2 cups of water, sugar, salt, pepper, herbs. Bring to a boil.

Rather than use any thickner I prefer to adjust the amount of water I use. You can use cornflour, pureed potatoes either individually or together.

Switch off the flame and mix a little cream, milk in a bowl, gently add the hot soup and stir well. Add some more soup slowly and mix.

When the mixture in the bowl is warmer mix the contents of the bowl in the soup. Mix well.

Serve hot garnished with butter.

You can also add bread fried in oil but I prefer to toast them in the grill.

To make a vegan soup grind the cashew nuts with the tomato.
Notes
The other thickness you can use are
Potato starch,
arrowroot,
cashew nuts,
boiled and grated potato.
My mothers favourite was coconut milk.
To make the soup vegan avoid the butter and cream and milk. Use Potato or cashew nuts The potatoes I will grate and cashew nuts grind with the tomatoes.
Nutrition Facts
Velvety Smooth Tomato Soup Recipe
Amount Per Serving (1 bowl)
Calories 100
* Percent Daily Values are based on a 2000 calorie diet.
Mock Asian Hot Pot Soup Recipe
Do not have a hot pot or a portable stove? No issues make this delicious hot pot in one go.
Check out this recipe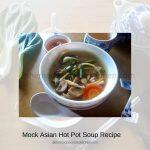 Creamy French Potage de Crécy Recipe
A homemade carrot soup recipe that tastes fabulous and is simply flavourful and delicious. A thick creamy soup but needs absolutely no cream to enhance the flavours. ! It's the best carrot soup with slight basil undertones you will enjoy.
Check out this recipe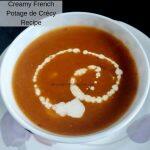 Fresh Green Pea Soup
A delicious creamy comfort soup that is high on proteins thanks to fresh green peas!
Check out this recipe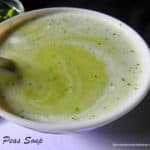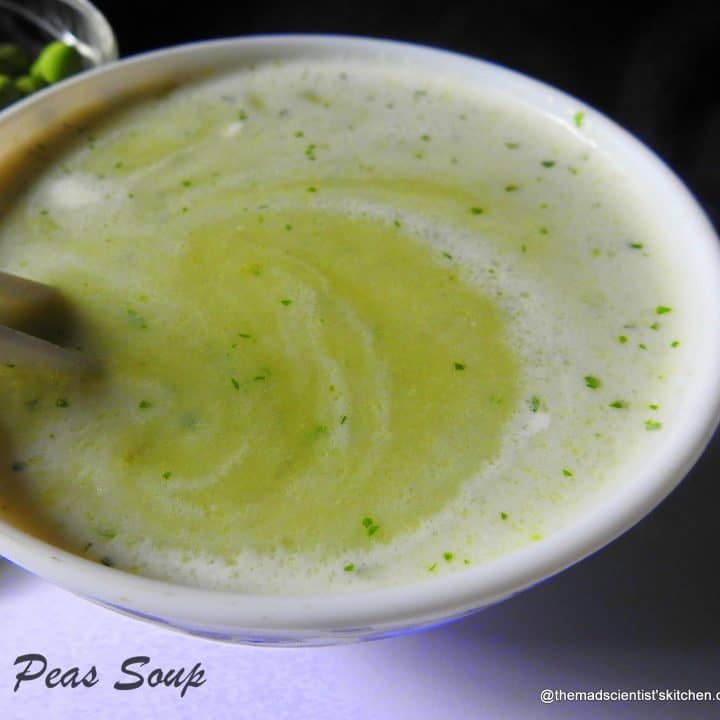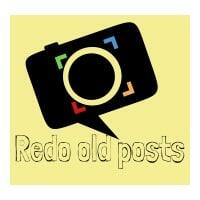 This is an old post that I am updating with newer pictures and a write-up as a part of the group Foodies_RedoingOld Post.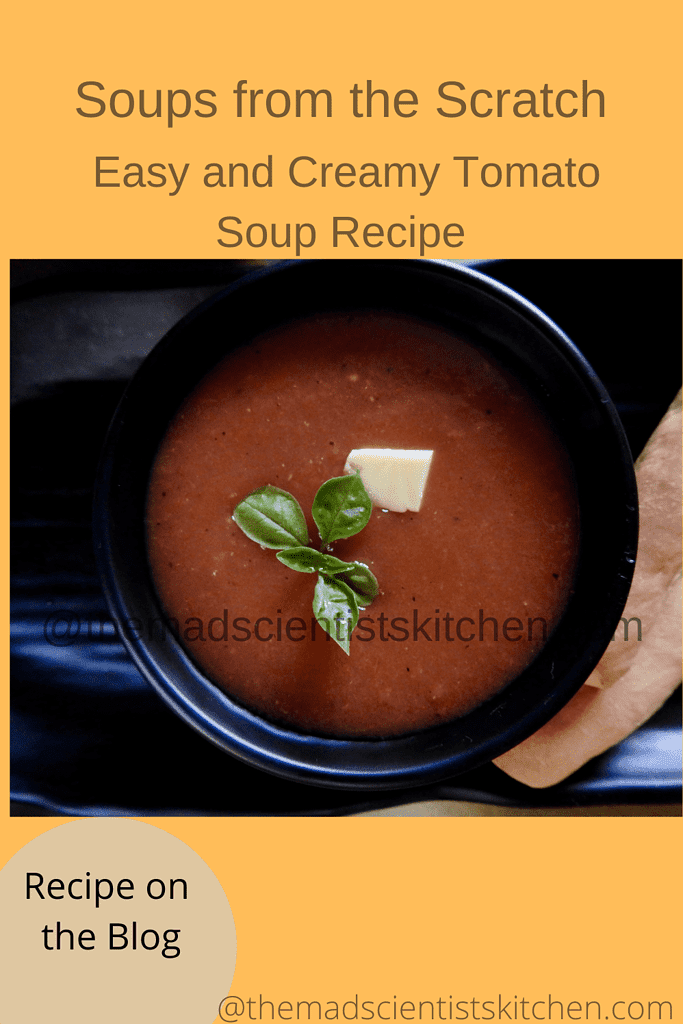 More Serve these for those want something to eat moments.
Reader Interactions