Easy Vegetarian Casserole Recipe
A delicious and easy complete meal in a baking dish you serve from is this Vegetarian Bread Lasagna.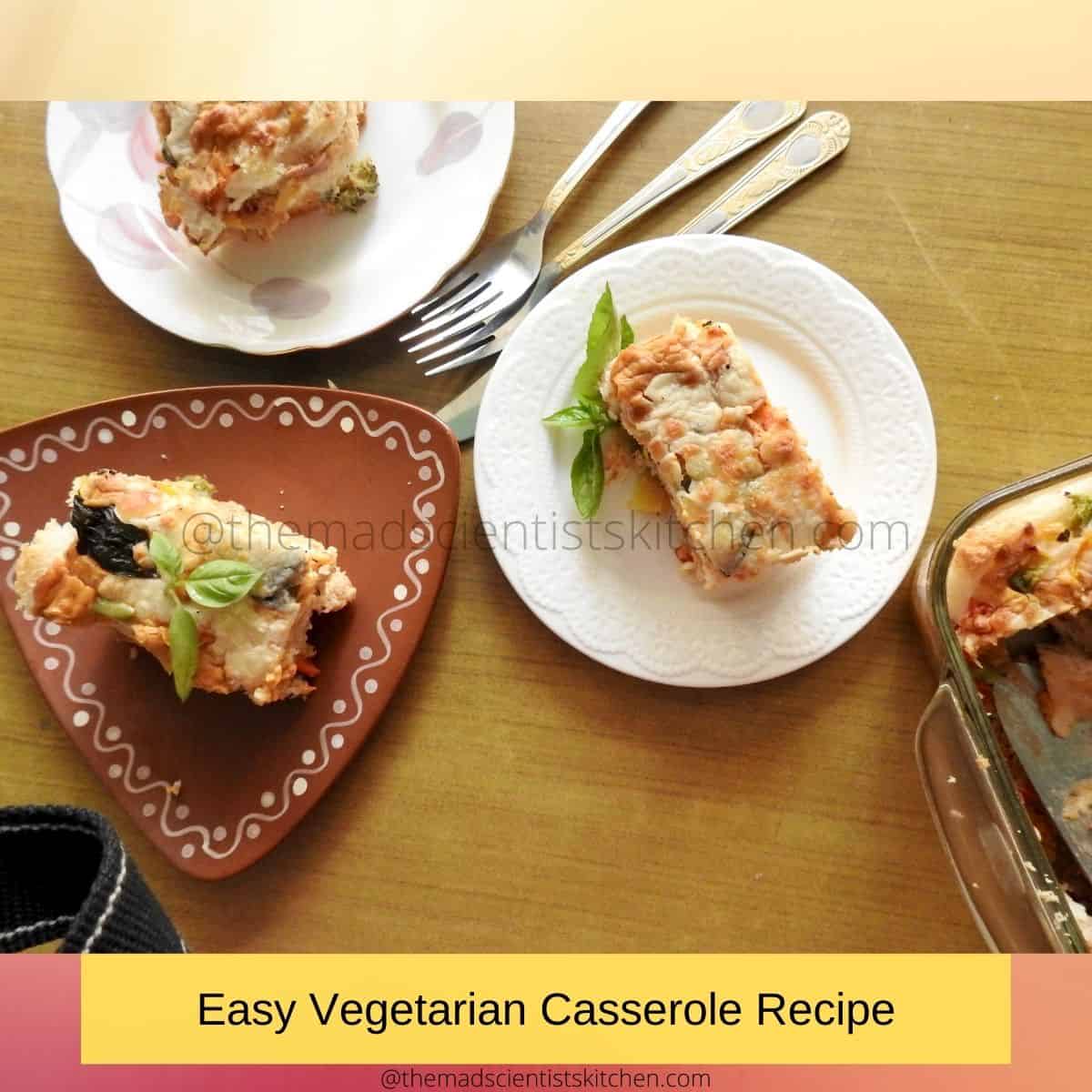 As I went about setting up this Easy Vegetarian Casserole the beauty of the dish stuck me. A casserole is a one-pot meal from oven to table! A simple dish that needs no fussing around something you pop in the oven and forget about till its time to get it out. Make it in advance for those busy weeknights or for lazy weekends. The best part is its a clean up the pantry and fridge operation with everyone enjoys. Honestly, my father-in-law set aside hs chapati and rice and ate this vegetarian casserole. I will not call this dish as healthy thanks to the amount of cheese in it. What is the use of winter if you cannot indulge in some rich dishes? If you to want to try some recipes different, tasty and generally nutritious do follow me. I do slip up occasionally and make indulgent food that is much appreciated too. Sign up for my newsletter for regular updates so that you do not miss any post. I will not spam you I promise!
The event for which I am posting this recipe is Shhh Secretly Cooking. The theme for the challenge is HotPots and our hostess is Priya Iyer do check her One-Pot Kale Khicidi is our hostess has set us to hunt for hotpot dishes. 
Following the theme challenge, I am paired with Kalyani of Sizzling Tastebuds. Now Kalyani gave me chilli flakes and garlic as my secret ingredients. I gave her coconut milk and ginger and she surprised me with an amazingly delicious soup here.
Asian cooking has lots of hot pots and I made one too. However, I wanted to try something out of my comfort zone. Kalyani who is my partner was kind enough to guide me with different options, not just Asian. Hence I made 2 dishes with my ingredients one of them is this Casserole but I did not want to post. However, my Bhabhi who tried the recipe insisted I post it. So here goes…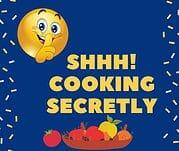 Let's get to basics:
For me, a casserole meant till the last few years something in which I store food to keep it warm. So imagine my surprise when in a forum someone shared his casserole pictures.
So a Casserole is also a deep dish or bowl generally has a glass lid and is used to bake in the oven. The food cooked in this pan is also referred to as a casserole. The advantage of this is you can cook and serve from the same pan. 
People have baked for ages the current form of casserole is since light metals containers and glassware started being used in cooking. If you do not have a casserole dish or a baking dish use a pan that can be used in the oven, a mould in which you bake. If you have an oven-proof dutch oven go ahead and make the casserole.
Casseroles are popular in other cuisines, not just the American cuisine examples are Moussaka, shepherd's pie. Do you know that lasagna is an example of casserole? The other names for Casserole are goulash, hash, pottage, stew, covered dish, meat pie, pot pie, stroganoff.
A casserole is not just about lunch or dinner you have baked French Toasts as breakfast and crumbles and bread pudding as desserts.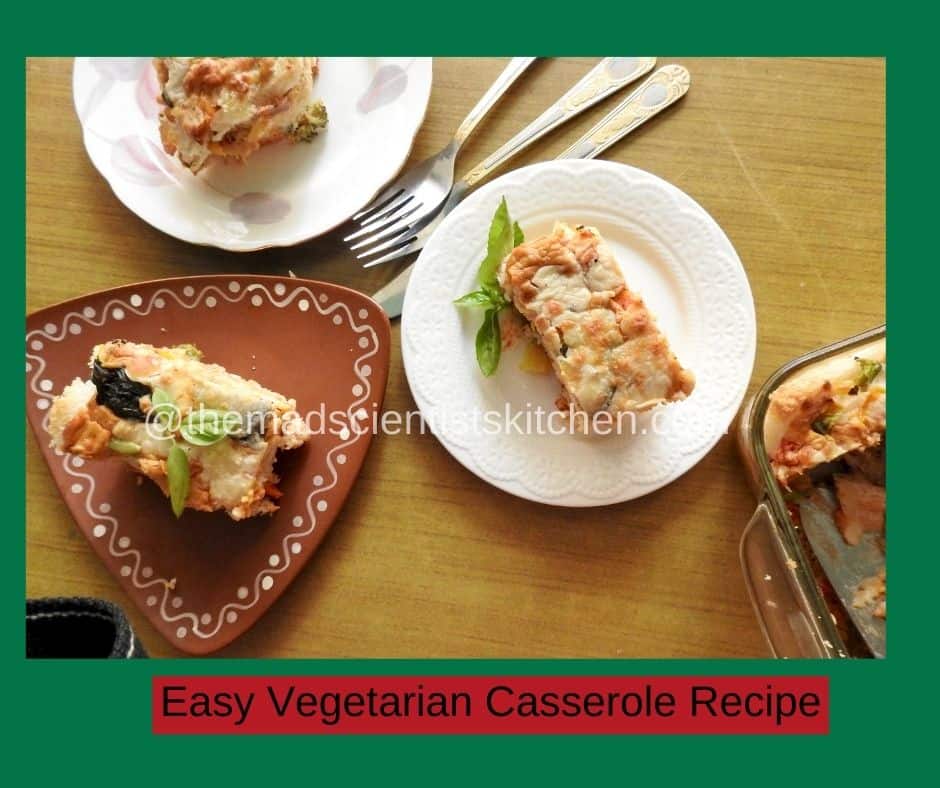 Let's be very honest making a casserole is new to me. Even if I have made bread puddings, lasagna, stews I have blindly followed the recipe with a few normal tweaks. Understanding the logic behind why I should do something is what I love to know. So, be ready for long-winded whys and wherefore… Of course, you can skip it all and just jump to the recipe.
The baking dish: You can choose any oven-proof dish is fine to make a casserole. Use glass, ceramic, foil or glass. However to get a crunchy topping and for fast cooking use, a shallow dish and a lid or cover is a big no-no.
The components: Most casseroles are layered here are the components

The starch: Casseroles have a base of starch that are precooked or parboiled like

Potatoes: you precook potatoes at least make them fork-tender before adding to the casserole.
Bread: Use bread to make great layers you need no pre-preparation too.
Pasta: If using pasta in your casserole as starch undercook it about 3 minutes lesser than the package instructions.
Whole grains: Rice, quinoa, barley, oats make a great base. Example Egyptian Koshari where you have rice, Kabuli chana, pasta and a medley of spices 

Veggies and Proteins: You can add veggies and protein to the casserole

Proteins: If using meats they need to be cooked and drained. Use paneer or tofu as protein, if you eat eggs use eggs too. Use legumes and lentils again par-cooked before adding to a casserole.
Veggies: especially root vegetables are great in a casserole. Vegetables like cauliflower and broccoli can be added raw however stir-frying them gives your casserole a delicious flavour. Blanch veggies like beans, mushrooms, carrots, spinach. You can use frozen veggies to only thaw them and remove the water.

A binder: you need something to bind the casserole it can be a white sauce, curry, eggs or soups like in the mushroom soup used in Midwestern cuisine.
Cheese: Cheese is the star ingredient of most casseroles. You need to know your cheese before you add them to the casserole like feta will not melt but has a great flavour. Consider combining feta with cheddar as cheddar melts. The low-fat versions of cheese will not work if you want a healthy casserole use lesser amount of cheese and consider portion control. I have used pre-shredded mozzarella for I forgot that I have both feta and cheddar in my fridge. 

Topping your Casserole: A crisp casserole is what we will enjoy. You can use panko to top the casserole. I will rather use leftover bread crumbs that I blitz in the mixer. I loved the idea of flavouring the breadcrumbs with herbs, spices, fried onions, chips. Now if you plan to make the casserole and bake it later the I will add the topping just before baking.
How much: How much is too much? Most casseroles bubble up (I am lucky this one did not) so fill the casserole dish till ¾ full. If like me you forgot about it keep a baking try below and I added a foil on the baking tray. 
Covering the casserole with a lid: Let's see what we want a crisp and brown dish or a soft one?

Think back when we are cooking on the stove we cover the ingredients if we want the moisture trapped. Why should it be any different here? Though there is no set rule if you are using raw veggies then using a cover especially with an aluminium foil will ensure even cooking. If you are using cooked veggies you may avoid the covering especially the tight-fitting ceramic cover. If you are using rice, pasta or something that absorbs liquids do not cover. 

Casserole browning too fast: Unlike a cake, you can open the oven get the casserole out and add a lid or foil on your casserole if it is baking to fast. However, remember covering a casserole means retaining moisture inside the dish.
Make now and bake later: Many will say make the casserole now bake later I will not do that for

I am not so busy, 
my freezer space is limited 
if there is power outrage I will have to throw everything out.  

If you plan however making the casserole ahead and then baking it wrap the casserole in foil not cling film and defrost the casserole in the fridge for 24 hours.
Lastly experiment a casserole is a very very forgiving dish.
Okay let's check the recipe now…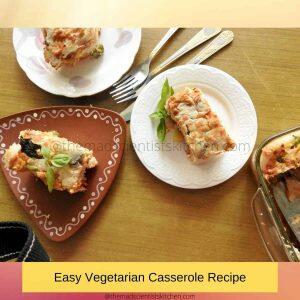 Easy Vegetarian Casserole Recipe
A simple and easy filling dish that goes from the oven to the table. A forgiving dish in which you can use any ingredient and in any proportion.
Print
Pin
Rate
Equipment
Kadhai/wok

Casserole dish

Knife and board

Bowls

Rolling Pin

Spoons and Ladles
Ingredients
For the White Sauce :
4

tablespoon

butter

4

tablespoon

whole wheat flour

2

cups

milk

about 650 ml

½

teaspoon

pepper powder

½

teaspoon

mixed dried herbs

Salt to taste
For the Arrabbiata Sauce:
3

tablespoon

olive oil

4

teaspoon

chilli flakes

2

tablespoon

garlic paste

1

cup

onions

chopped

2

tablespoon

tomato paste

3

cups

tomato puree

1

cup

water

½

cup

basil

chopped

1

teaspoon

sugar

Salt to taste

½

teaspoon

peppercorns

freshly crushed

½

teaspoon

oregano

optional

½

teaspoon

sage

optional

½

teaspoon

thyme

optional

A pinch of rosemary

optional
For the Vegetables:
1

teaspoon

butter

1

teaspoon

olive oil

3

tablespoon

garlic

minced

1

cup

onions

finely chopped

1

cup

mushrooms

finely chopped

1

cup

broccoli

small florets parboiled

1

cup

bell peppers

I used red, yellow and green

½

cup

paneer/tofu

shredded

Salt to taste

1

teaspoon

mixed herbs

1

tablespoon

chilli flakes

½

teaspoon

pepper powder
For the topping:
2

cups

mozzarella cheese

2

teaspoon

chilli flakes

2

tablespoon

bell pepper/capsicum

1

teaspoon

mixed dried herbs

A few basil leaves

optional
Instructions
How to make White Sauce:
To make the white sauce in a thick pan add the butter and the whole wheat flour. Add the herbs and the pepper along with salt.

Stir continuously and cook on medium heat

Keep stirring well till the mixture bubbles. Get the pan off the gas.

Stir in the milk gradually whisking constantly incorporate all the milk.

Return to the flame and stirring constantly bring to boil and stir for about 1 minute.
How to make Arrabbiata Sauce:
Heat oil in a large kadhai/wok over medium heat.

Sauté garlic and the red chilli flakes for say 1 minute.

Stir in the onions and fry for 2-3 minutes till they are translucent.

Add the tomato paste, and tomatoes puree.

Add the water as needed so that the sauce does not stick or burn.

Cook on low flame for 30 minutes or till you get the consistency you want.

Add the basil, salt, pepper, sugar. Add oregano, sage, thyme, rosemary if using.

Adjust the seasonings use red chilli flakes if you wish.

Set aside.
Getting the Bread ready:
Remove the sides of the bread and roll it out.

Keep covered under a towel.
Getting the veggies ready:
Heat a kadhai/wok with oil and butter.

Add the garlic and sauté till the raw smell goes away.

Add and saute' the onions till translucent.

Add the mushrooms and sauté till all the liquid evaporates. Add the shredded paneer or tofu and mix well.

Add the par-boiled broccoli, salt, mixed herbs, chilli flakes, and pepper.

Reserve some capsicum for topping and add the rest of the peppers/capsicum.

Get it off the flame and cool.
How to assemble:
In the oven-proof baking dish spread Arrabbiata Sauce in a thin layer.

Add some white sauce and spread it a bit to mix with the Arrabbiata.

Arrange the bread slices to cover the base of the dish, cut some of the slices if needed.

Spread the Arrabbiata Sauce on the bread, spread some white sauce on top so that the 2 sauces mix a bit.

Add a layer of sautéed vegetables, some grated mozzarella cheese.

Repeat the layers again with bread, sauces, veggies, cheese.

The last layer add the bread and spread the arrabbiata and the white sauce.

Add the reserved capsicum, and the cheese sprinkle some herbs and chilli flakes.

I also added some fresh basil to the top layer.

Transfer to a pre-heated oven and bake at 180C/ 350F for about 15-20 minutes or till the cheese melts.

Cool it a little before you serve.
Zucchini Au Gratin from Julia Child's Recipe
Delicious Zucchini au gratin – Green zucchini grated and tossed in a buttery creamy veloute sauce and baked with Parmesan cheese.
Check out this recipe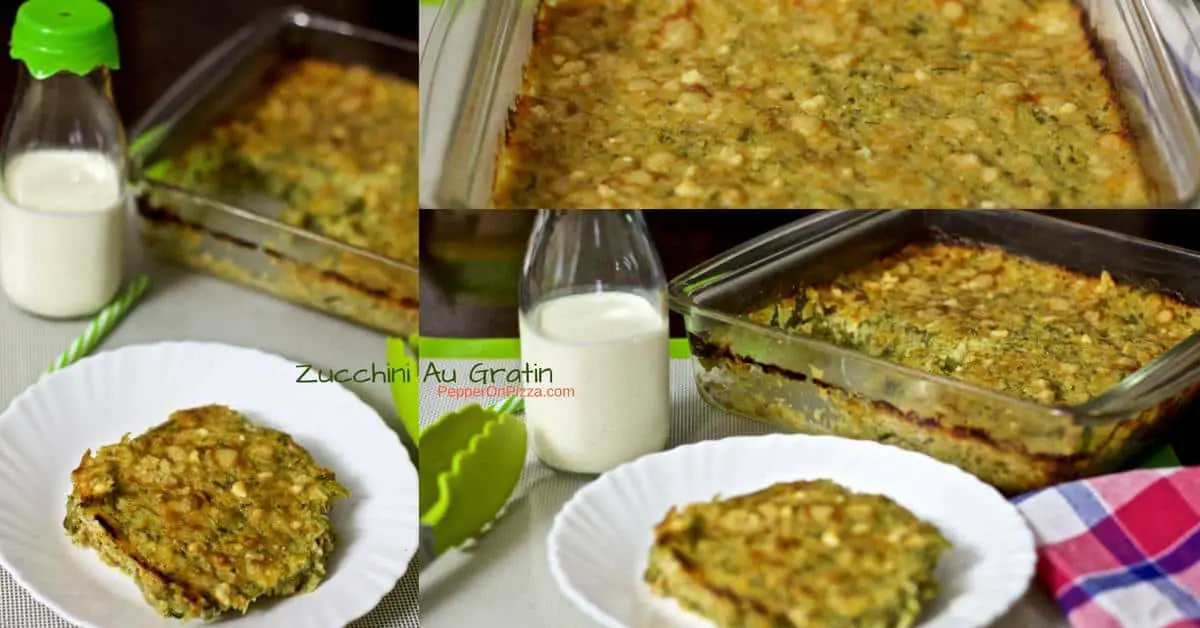 686. Veggie Shepherd's Pie
MEGA BLOGGING MARATHON -SEPT 2017 #80TH BLOGGING MARATHON THEME: PROTEIN RICH DISHES DAY:5 For this protein rich dish I nearly drove my husband up the walls! I wanted to bake individual portions fo…
Check out this recipe
Baked Pasta in Creamy White Sauce – food-trails
Baked Pasta with veggies in creamy white sauce Favourite among kids and adults alike, a very filling meal paired with garlic bread.Learn how make Baked Pasta in creamy white sauce.Stepwise method with pics.
Check out this recipe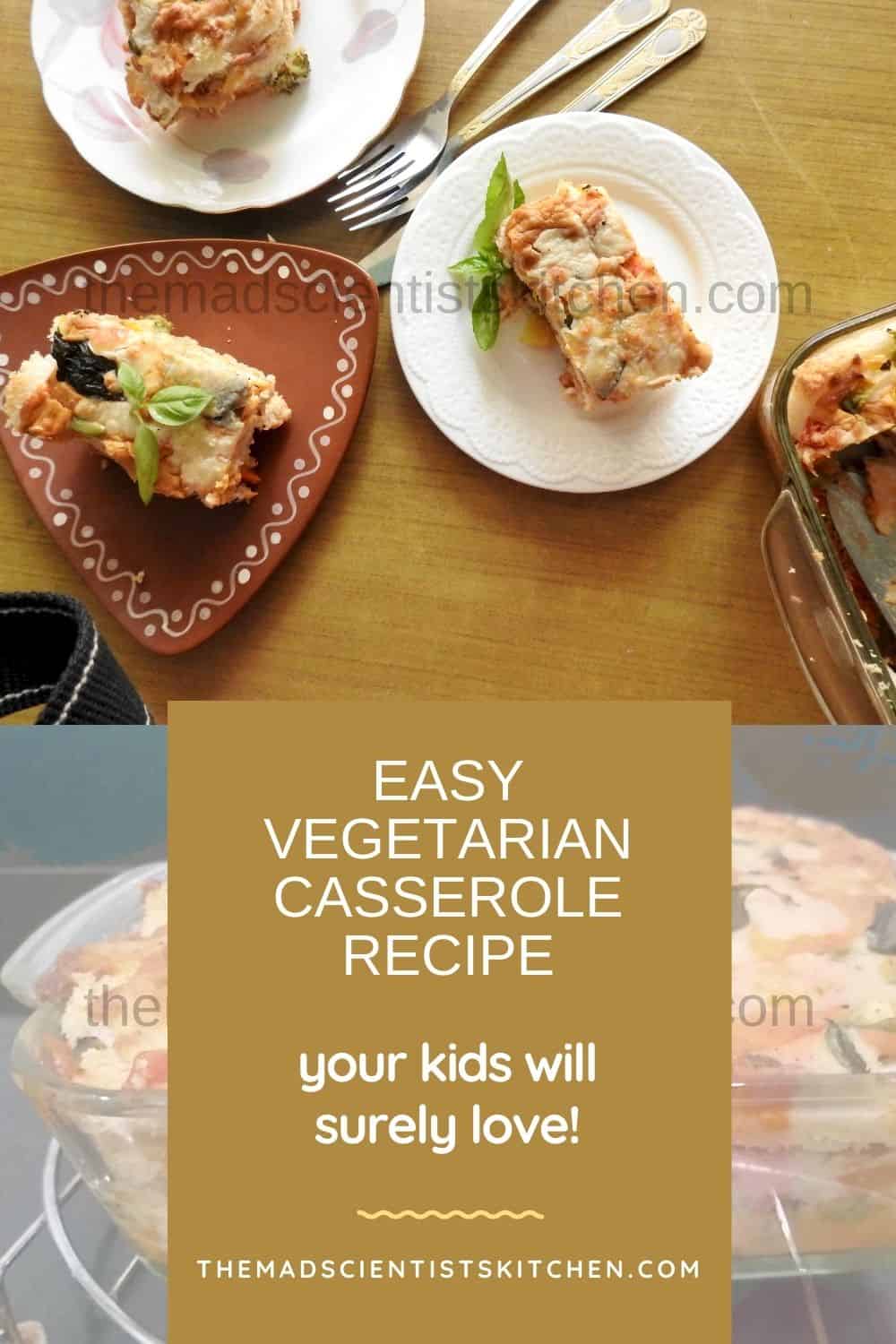 Reader Interactions