Langarwali Aloo Gobhi| Potato and Cauliflower Langar Style
If you enjoy Aloo Gobhi a common enough recipe then you will love simple yet delicious Langarwali Aloo Gobhi cooked with the common pantry ingredients.
Aloo is potato and gobhi is cauliflower so basically, this is a cauliflower and potato vegetable.
This is a simple vegetable served in the Sikh Gurudwaras, yes it is a Punjabi style vegetable.
In case you are wondering what Langar is then let me tell you it is a communal food kitchen that is run in Gurudwara the Sikhs place of worship.
The food at a Gurudhwars is a vegetarian meal and is free for all. There is no distinction for religion, caste, creed, gender, economic status even your ethnicity. In Langar, you eat your food sitting on the ground and the food is cooked by volunteers the kitchen is also maintained by the volunteers.
Gurudwara food is delicious, I have had Khada Prasad once and will definitely want to try out the famous and delicious food made in Gurudwaras.
The ingredients that go in the Langarwali Aloo Godhi are few but since they are fresh the taste is amazing.
Cauliflower is one vegetable that hubby worships so we have a continuous supply of cauliflower and it is my challenge to see that we do not get bored with the blessed thing!
So I have used cauliflower to make
There will be more but I think these are the current favourites.
This February In Food Bloggers Recipe Swap and Social media where we are paired with different bloggers to cook from. This month I have been paired with Jagruti of   Jagruti's Cooking Odyssey.
Jagruti is one amazing blogger whose repertoire of recipes is extensive and I have quite a few bookmarked from her space. if you need delicious fusion recipes even vegan recipes then do head to Jagrutis space.
Since  I am still not sure I can post it on the 15th as I have issues at my place. Hence I have chosen the simplest but the yummiest food from Jagruti 's.
This is one amazing vegetable that goes well with Roti and rice and Dal too! Since were few spices are used it is delicious and yet not as heavy and rich as the restaurant kind of vegetable.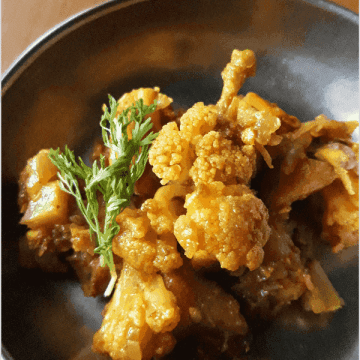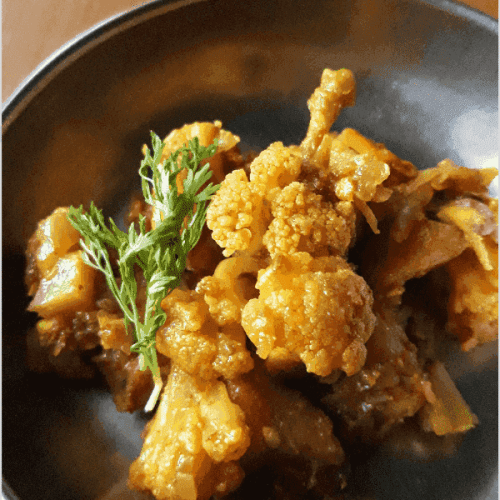 Langarwalei Aloo Ghobi
Make this delicious Langarwali aloo gobi easily and with the ingredients in your kitchen.
Print
Pin
Rate
Ingredients
1

cauliflower florets

washed

3

Potatoes

peeled and cubed

1

Onion

finely chopped

4-5

garlic

minced

1

tablespoon

ginger grated

3-4

Green chillies

slit

1

teaspoon

Red Chilli powder

1

teaspoon

haldi/turmeric powder

2

teaspoon

dhania powder

2

teaspoon

Jeera/ cumin powder

1

teaspoon

garam masala

3

tablespoon

Oil

½

teaspoon

jeera/cumin seeds

Salt to Taste

Freshly chopped coriander to garnish

2

teaspoon

dhania powder

2

teaspoon

Jeera/ cumin powder

1

teaspoon

garam masala

3

tablespoon

Oil

½

teaspoon

jeera/cumin seeds

Salt to Taste

Freshly chopped coriander to garnish
Instructions
Heat oil in a heavy bottomed kadhai/wok and sauté the onions till light pink.

Add finely chopped onion and fry until it turns light pink.

Next add ginger, garlic and cumin seeds. Stir fry until nice and brown take care not to burn it.

Now add green chillies, red chilli and turmeric powder and cumin powder and coriander powder. 

Stir again and mix well let the mixture cook for a few seconds now add the potatoes and the cauliflower. (See notes)

 Stir well and cover and cook on low heat for say 5 minutes.

Add salt and mix well but gently.  Continue cooking on low heat covered on in its own steam. But if need be add a tablespoon or 2 of water.

Cook for some 10 minutes stir occasionally so that it does not burn.

Once the vegetables are cooked to your satisfaction add garam masala.

Turn off the heat and stir well.

Garnish with coriander leaves and serve with roti.
Notes
I add the potatoes first and semi-cook them as I find that the potatoes we get in the market now do not cook in the centre.
Apparently, they are new potatoes and when I get old potatoes I will add the cauliflower and potatoes together.
Reader Interactions