Traditional Whole Wheat Flour Halva
Traditional Whole Wheat Flour Halva is an easy sweet pudding made from whole wheat flour, yes your atta.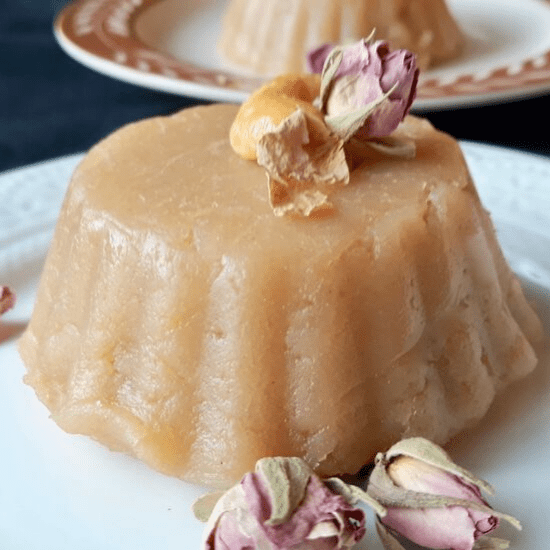 Whole Wheat Flour Halva is also called Atte ka Halwa it is soft and exquisite, flavourful and finger-licking delicious that can be made with ingredients in your pantry.
Traditional Whole Wheat Flour Halva is so easy to make that from start to finish it takes 15 minutes. Make it and surprise unexpected guests and family.
In case you have a strong craving for Kada Prashad from a Gurudwara Atte ka Halwa is a good substitute.
Did you know Halva is known worldwide by different names?
Halva or Halwa according to Wikipedia is also spelt halvah, Halawa, haleweh, halava, halvaa, helava, xalwa, helva, halwa, aluva, chalva, chałwa, alva, halvah, khalva depending on where you live.
If you think that Halva is a sweet confectionery made generally in the Middle East, Central and South Asia.  You like me are wrong my friend, as Halva is also made in the Balkans, the Caucasus, Eastern Europe, Malta, North Africa, the Horn of Africa, and in the Jewish diaspora. 
How long is Halwa around? Who invented Halwa?
The word Halva is believed to have entered the English language in 1840. However, in the early 13th century Arabic Kitab al-Tabikh (The Book of Dishes)  records the first known written halvah recipe.
The thought is that Muslims introduced halwa to Indians but written records of sweets indicate that semolina halva called shali-anna today's Kesari Bath was popular a long time ago.
So your guess is as good as mine.
What is the shelf life of halwa?
Halwa is better kept refrigerated as it spoils easily especially in the hot climates like India.
What are the different kinds of Halva?
Basically halva can be made in 2 kinds
| | | | |
| --- | --- | --- | --- |
| Kinds of Halva | Basic ingredients | Texture | Example |
| Flour Based | Ghee or clarified butter, flour, sugar | Slightly gelatinous | Suji halwa, Besan ka halwa, Atta ka halwa |
| Nut Butter Based | Nut butter, suagr | Crumbly | Tahini |
| Based on other ingredients |  beans, lentils, and vegetables such as carrots, pumpkins, yams and squashes. | | Moong dal halwa, Gaia ka halwa, etc. |
| | | | |
Is sugar the only sweetener for halwa?
No of course not you can use honey, jaggery too.
What are the various famous  Halwa around the world?
Some of the different types of halwa that are common around the world are
Name of the Halwa

Country

Main Ingredient

Notes

Chana Dal Halva, also Doce

India

Legumes based

Dodol

India, Zanzibar

Flour based

Doodi halwa

India

Vegetable based

Gajar halwa

India

Vegetable based

Halva Ardeh

Iran

Nut based

Halvas Farsalon

Greece

Flour based

Kashi halva

India

Vegetable based

Kesari

India

Flour based

Moong dal halwa

India

Legumes based

ölü helvası

Turkey

Flour based

Pişmaniye or floss halva

Turkey

Flour based

Called patisa or sohan papdi in India,

dragon beard candy in China

Satyanarayan halwa

India

Flour based

Sesame crumble candy

China

Nut based

Şəki halvası halva

Azerbaijan

Layered bakhlava style pastry filled with spiced-nut mix

Tahini Based with pistachios

the Mediterranean, the Balkans, Middle East, Central Asia, and Eastern Europe.

Nut based

Tirunelveli

India

Flour based

Turkish un helvası,

Turkey

Flour based
Now that we are so diet-conscious is it healthy to eat halwa?
The sugar in halwa does not make it a very healthy option but the rest of the ingredients are good for you like a nuts halwa is an excellent source of protein. Remember moderation is the key.
Depending on the texture of the halwa you can spoon, scrape or cut Halva. Most Indian Halva with the exception of Agra Petha are spoonable.  The hard and semisoft ones can be cut and eaten. Ideally cut them into bite-sized pieces.
How does Halva taste like?
Delicious!!!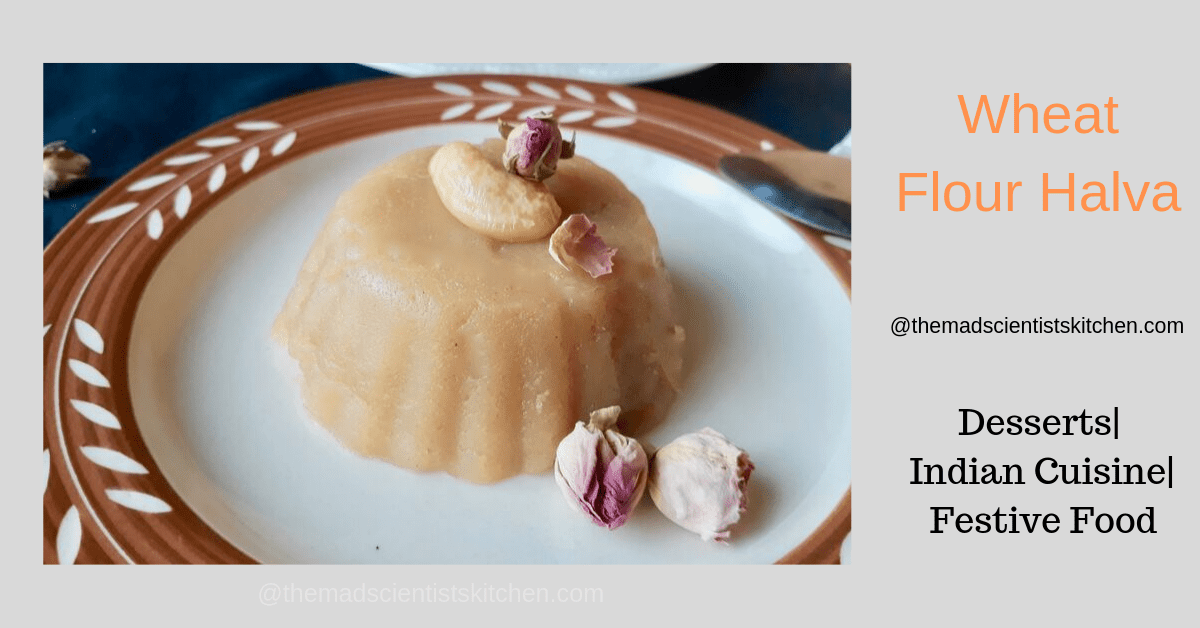 The commonest form of halwa in India and Pakistan are  Suji halwa, besan halwa, badam halwa, there are region favourites like Kerala halwa, Dodol, Bread halwa. These are prepared for different festivities like Eid, Christmas or Navratri.
Suji halwa also called sheer is a fasting recipe consumed for Navratri, Halwa Puri is a delicacy served to young girls during Asthmi Puja.
Having said all this for me Atte ka halwa is totally new. In fact, the first time I ate it was for the BM75 at the Gurudwara in Delhi.
Atta halva is flour-based halva and like all Flour based halva is made by frying flour in oil (in the Indian sub-continent ghee or clarified butter) in short making a roux, and then cooking it with a sugary syrup.
You have guessed right another Monday another FoodieMondayBlogHop this time we are doing the #216 Vijayadashmi Treats Happy Dussehra Folks.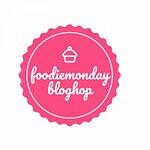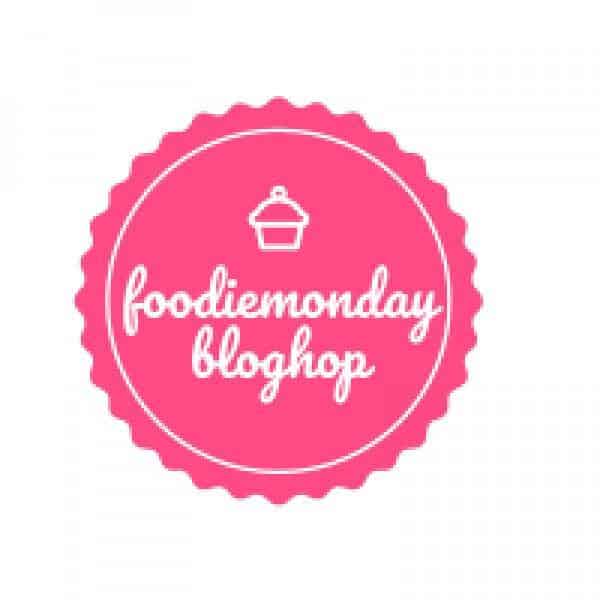 I have adapted this recipe from Veg Recipes of India.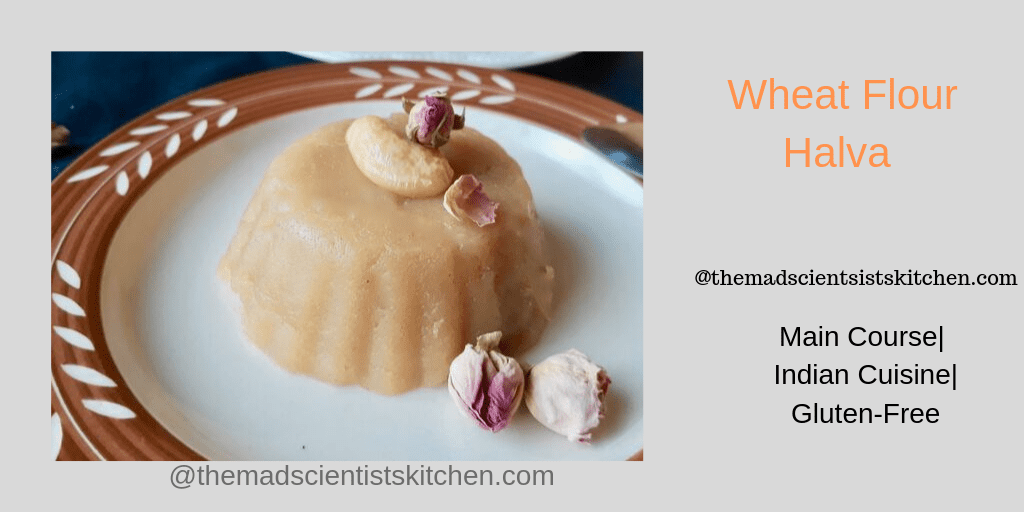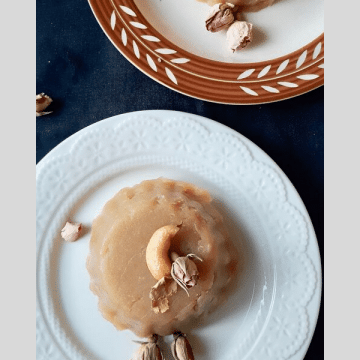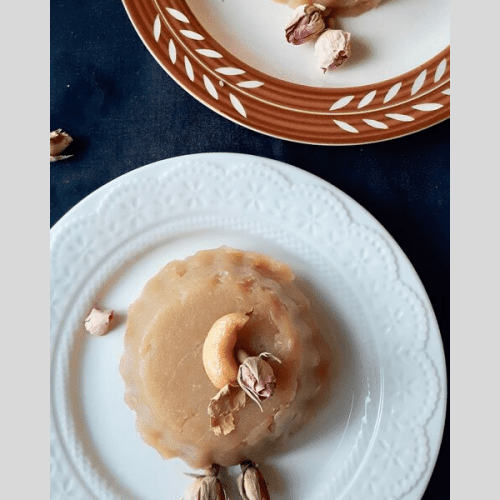 Traditional Whole Wheat Flour Halva
Traditional Wheat Flour Halva is an easy sweet pudding made from wheat flour. Simple Comfort Food.
Print
Pin
Rate
Equipment
Kadhai/wok

Spoons and Ladles

Plate
Ingredients
1 

cup 

atta /whole wheat flour

½ 

cup 

ghee /clarified butter

¾ 

cup 

sugar or as required

2 

cups 

water

Few cashew nuts
Instructions
Heat ghee in a kadhai/wok and stir fry the cashew nuts till golden brown. Remove and set aside.

Add the whole wheat flour and start roasting the flour on low flame.

The atta is done when it changes colour and you get a delicious aroma.

Transfer to a plate.

In the same kadhai/wok add the water and sugar stir till the sugar dissolves then let the syrup comes to a boil.

Once the syrup bubbles lower the flame add the roasted atta and mix well.

The flour will immediately thicken so be very quick and do not despair keep mixing and breaking the lumps.

Once well mixed your halwa is done.

Add the fried cashew nuts and serve hot or warm.
Notes
You can garnish with almonds that are fried similar to cashew nuts.
In case you want to garnish with pistachios chop them and add.
You can also add raisins too but mix them in the halwa towards the end of your mixing up.
As for the atta please roast on low flame.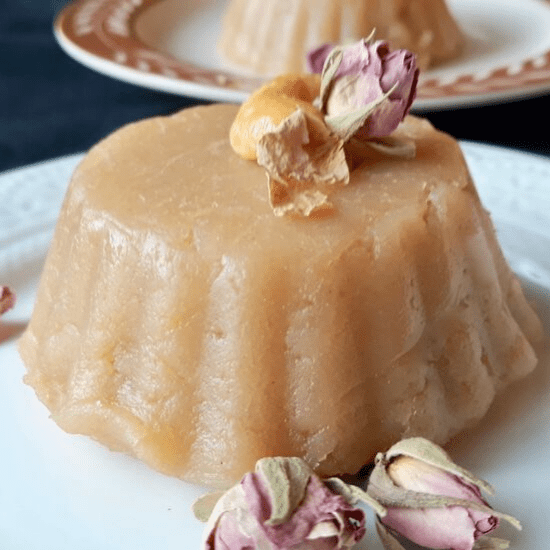 Pin for Later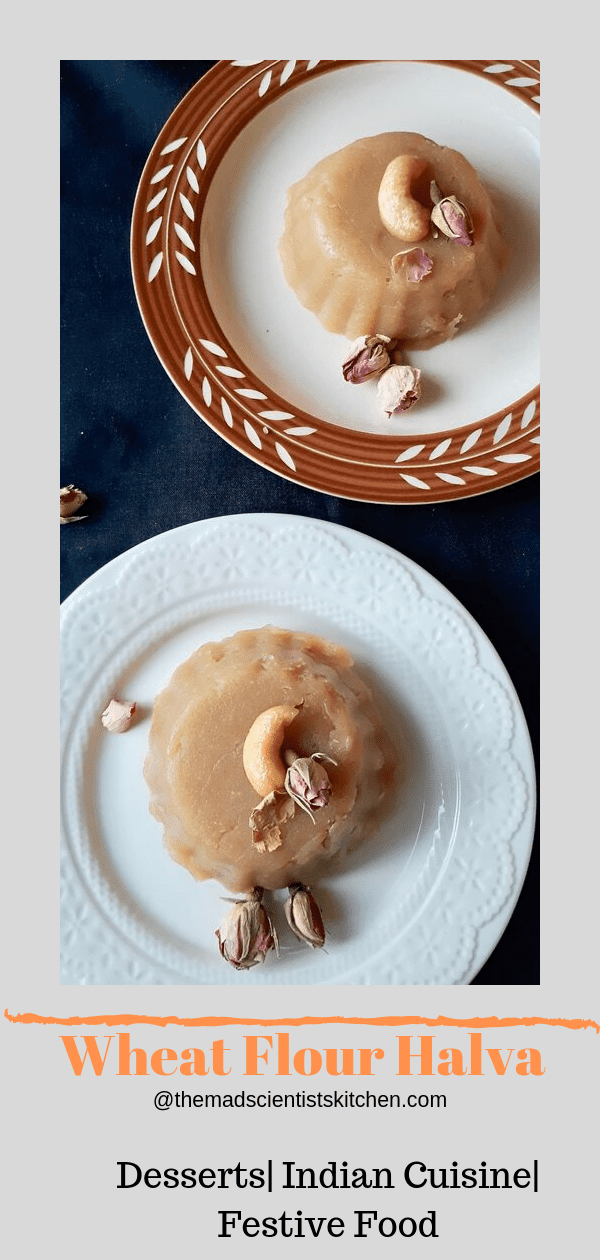 The other Halwa recipes I have tried are
Do you like this recipe? Have you tried it? In case you do and whenever you do please tag me on Facebook. My Instagram handle is #themadscientistskitchen. You can also use my Twitter handle, Then you are always welcome at my Pinterest page too. I will love to see you there.
Please also subscribe to my mailing list and join me in my journey of Food! Will enjoy seeing what you make so that I too can learn from you!!!
More recipes you may enjoy
Reader Interactions