12 March, 2016
Cauliflower Cafreal, a Vegetarian take on the Famous Delicacy from Goa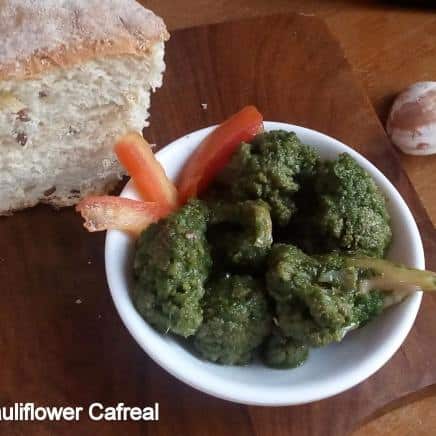 Posted in :
Appetizer
,
Cauliflower
,
Chillies
,
Coriander
,
Goan
,
Green chilli
,
Indian Cuisine
,
Meal
,
Mushrooms
,
Oils
,
Palak
,
Potato/Batati/Batata/Batat
,
Rice barn
,
Shallow Fried
,
Side Dish
,
Stir-Fry or Dry Vegetables
,
Vegetables
on
by :
ArchanaPotdar
Tags:
Appetizers-Starters
,
Cauliflower
,
Goan Cuisine
,
Indian Cuisine
,
Meal
,
Mushroom
,
Palak
,
Side Dish
On a holiday in Goa, you must have tried or, at least, heard the waiter waxing eloquently about the Chicken Cafreal they serve in their restaurant. If you are a non-vegetarian you may try it out, but, in case you are a vegetarian, you will promptly refuse.
So, what is Cafreal?
Cafreal is a spicy chicken preparation much loved in Goa. The Portuguese have left quite an impact on Goan culture and of course, cooking. Cafreal was introduced into the Goan cuisine by the Portuguese and the African soldiers serving under the Portuguese.
Each household has their own style of making Cafreal and so do the restaurants.
There are amazing places in Goa where you can enjoy Chicken Cafreal, Mackerel (Called Bangda in Goa) Reshad. Each one unique and each just as tasty!
After Paneer Reshad, I wanted to try Cafreal!!
Not the Chicken one mind you, for I will be the one running away from the uncooked meat on my kitchen platform, I wanted to try Cauliflower. Of course, 'MasterChef' Shanta Shetty was at hand. The rest was, as they say, was history…
The girls finished up most of the cauliflower that I had fried and left in the fridge. Of course, the gravy I was to complete in the evening did not occur to them. The few leftover pieces of cauliflower gave me a lot of grief in the fading evening light. Had it not been for my fellow BM'ers Priya Srinivasan, Padma, Usha helping me out I would have had no pictures worth a display and this one like many other been relegated to tasty but yuck pics which some day in a crunch I would have posted the recipe is just too good.
Cafreal, a Delicacy from Goa
Chicken Cafreal is a common dish in Goa. Something that is much loved and is as satisfying.
Preparation time: 40 minutes
Cook time:20 minutes
Serves: 4
Ingredients:
1 Onion
1 Dhania/ coriander bunch
10   Garlic cloves
1 inch Ginger
2-3 Green chillies
10 Palak leaves
1 teaspoon Tandoori masala
Salt to taste
1     Cauliflower, medium sized
2     Potatoes cut up for french fries (optional)
Oil to shallow fry
Method:
Grind together the onion, coriander leaves, garlic, ginger, green chillies and palak.
Cut the cauliflower into small florets.
Marinate the cauliflower and the potatoes in the ground masala adding salt tandoori masala for about half an hour.
Shallow fry just the potatoes and then the cauliflower florets in a non-stick pan using oil as needed.
When done tansfer to a plate.
You will not have used all the masala in which the cauliflower was marinating, transfer the leftover masala to the pan in which you have fried the cauliflower, add a 1/4 cup of water and let the mixture boil and thicken.
When serving transfer the cauliflower, potatoes to the serving plate add a little of the gravy and serve with bread.
In Goa, we have it with Uno, a crunchy bread.
Enjoy your cauliflower cafreal.
Notes:
I had too much of the marination masala as I have doubled the to grind ingredients.At the girl's suggestion, I marinated mushrooms in the marinade masala. The mushrooms tasted much better than the cauliflower.