Mooga Kann, Vegan Dessert from Goa
Mooga Kann is also called Mooga Conn or Kann. Conn is made using moong, jaggery and coconut milk.
Kann can also be made using palm jaggery but I use regular jaggery.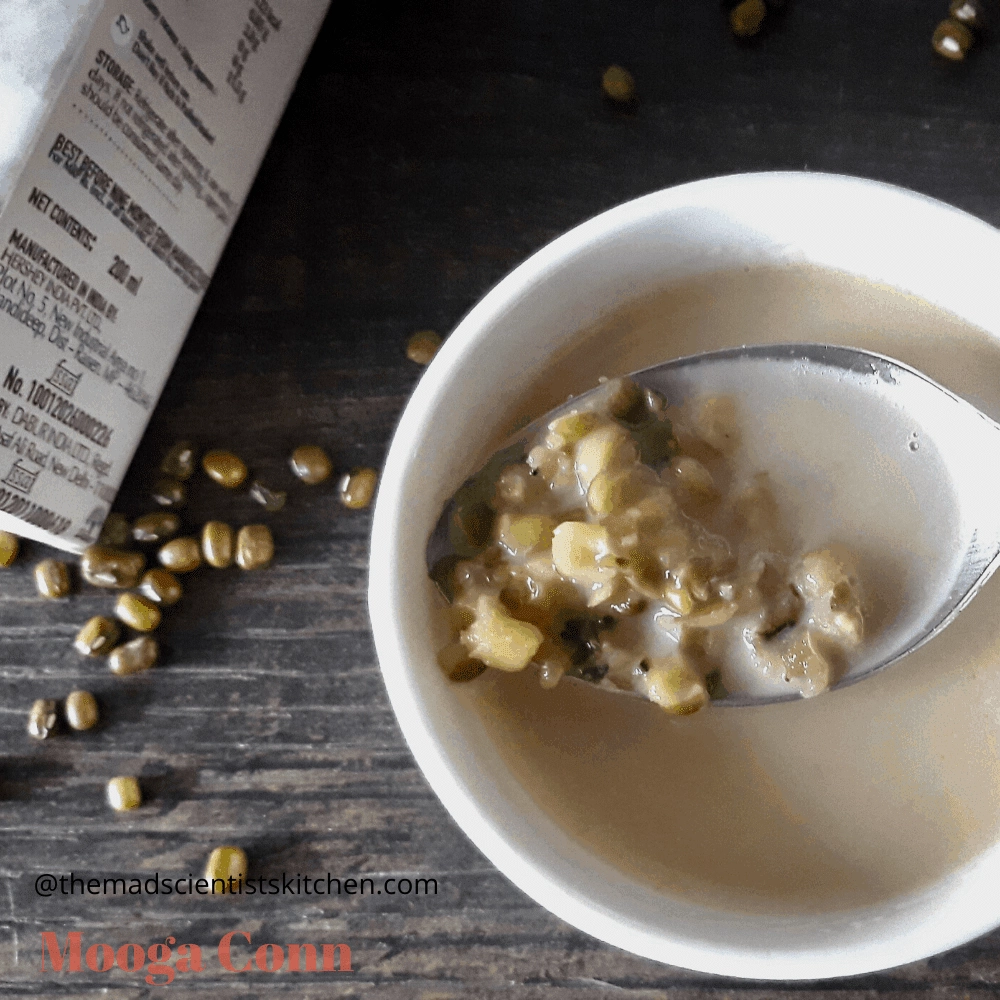 One of my colleagues kept telling the another  "Kann Had" meaning Bring Kann. I asked what Kann was as it was new to me.  There were peals of laughter and a lot of leg-pulling because I did not know but the next lunch we had they ordered Kann.
I loved The Mooga Kann and had 2 glasses!
Swati has set us chasing Green Bean or Moong Recipes this Foodie Monday BlogHop named #221 Moong Magic.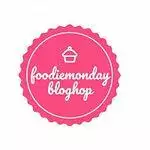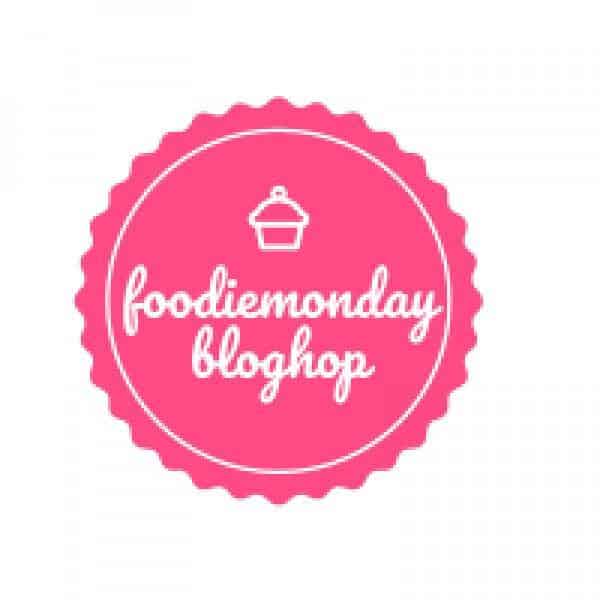 I was at a loss as to what to make as  I have made the regular bean curry and usal too often this month. So I know if I as much as utter the word "Mung" hubby will head to the nearest restaurant and Kiddo, of course, will be too happy.
Suddenly I saw a message from my ex-colleague and friend Shanta with a lunch invite in the Office.  The tube lit up like a lighthouse... I asked her for the recipe of Kann.
So what is Mooga Kann? Is it same or different from Godshe?
Godshe or Godshem literally means sweet in Konkani. Godshem is a Pudding with rice and moong cooked in thin coconut milk and sweetened with palm jaggery.  Check it out here.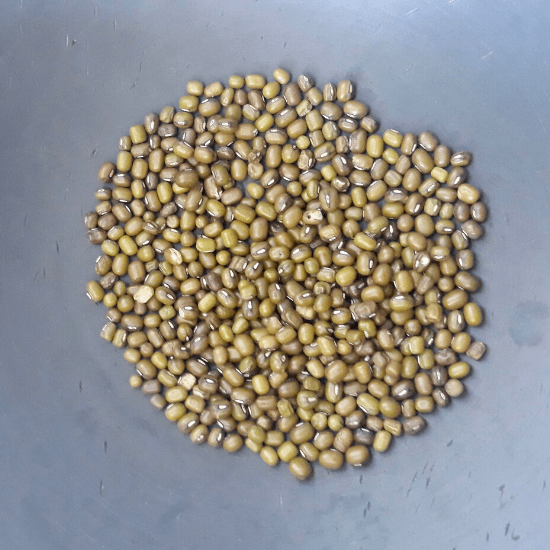 The ingredients you need for Conn
Whole Moong Beans: Green mung bean or sabut moong is used to make  Kann.
Jaggery: Use regular Jaggery, organic jaggery or palm jaggery.
Coconut Milk:  You need both the thin and thick coconut milk. I have used a packet of Homemade Coconut Milk and watered it down to make my thin coconut milk.
Turmeric leaf or Cardamom: use any one of the flavouring agents. Turmeric leaf is traditionally used, even a dried one is fine.
Salt:  use salt if you feel the need. Since I have cut down on salt I have not used though I have listed it and mentioned where to add. I did not miss it.
Cashew nuts:  No Goan dish is complete without "biya". Add them to your Kann.
Let us get down to making Kann
The process involves roasting the moong bean on low flame till you get a delicious aroma and the colour of the bean changes.
Cool the beans then pulse them just once or twice in the mixer.  At this point, I did wonder why use the whole mung why not use the split chilke wali dal? Maybe next time I will, knowing myself I most probably will do just this.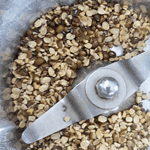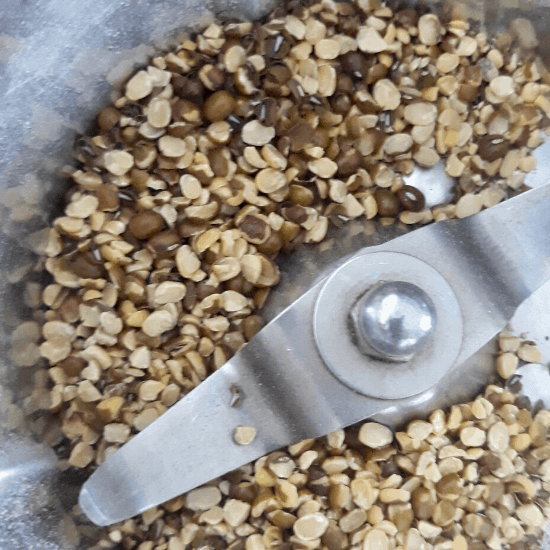 Anyway, now you have 2 options cook the moong in water or in thin coconut milk. Obviously the thin coconut milk one will be more delicious. In case you have turmeric leaves add it. The aroma is great and it is the traditional way of making Mooga Kann.
Once cooked add the jaggery and bring to boil. Again you can use the regular cane jaggery or the palm jaggery. The palm jaggery makes your dish blackish but is considered healthier.  Once the jaggery dissolves add the rest of the coconut milk. Once it comes to a boil switch off the gas.
The hot Mooga Conn tastes amazing! Try it!!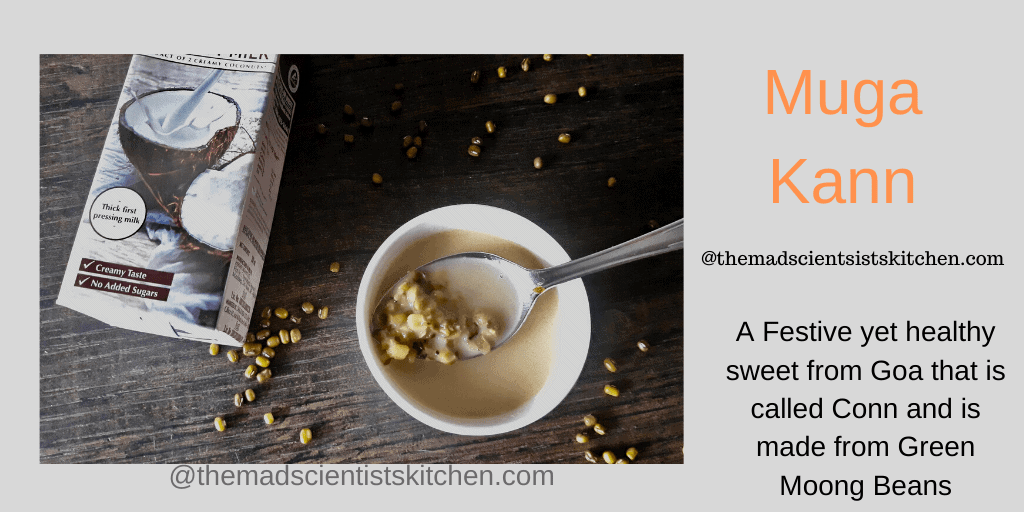 You can also chill Conn a little,  the coconut milk thickens and forms a layer on top. Like I told Sujata that I have kept it in the fridge to chill a little but I had no time to eat it for 2 days. Finally, when I had it I warmed it a bit.  The Kann thickens a bit after cooling.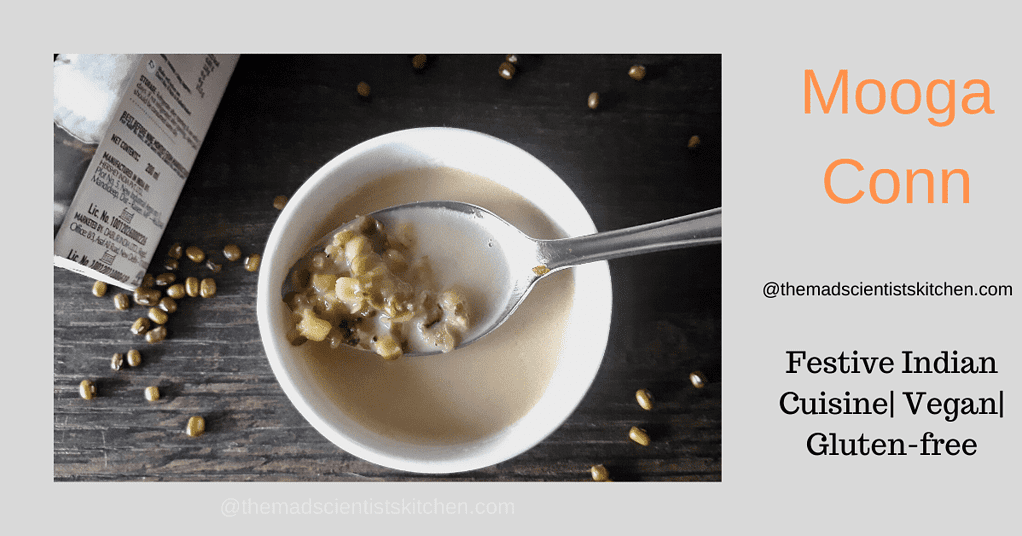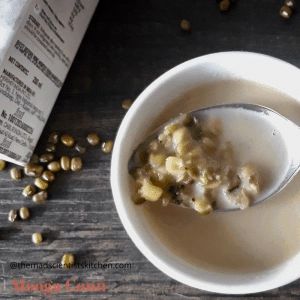 Equipment
Kadhai/wok

chutney jar of mixer/blender

Spoons and Ladles
Ingredients
1

cup

moong

2

cups

coconut milk

1

cup

water

½

cup

jaggery

Turmeric leaf

optional

A pinch of salt

A few cashew nuts
Instructions
In a pan dry roast the moong till you get a delicious aroma or the moong changes colour.

Let the moong cool then pulse it 2 times in the chutney pot of the mixer.

Add the pulsed moong in the pan, add the water and about ½ cup of coconut milk, turmeric leaf if using.

Cook till the moong is cooked fully.

Add the jaggery and cashew nuts cook till the jaggery dissolves.

Once the jaggery dissolves add the salt and the rest of the coconut milk.

Remove the turmeric leaf and serve hot.

Cool it a little and serve it too.
Notes
You can add cardamom powder, in place of turmeric leaf. I have not added both the turmeric leaf and the cardamom powder.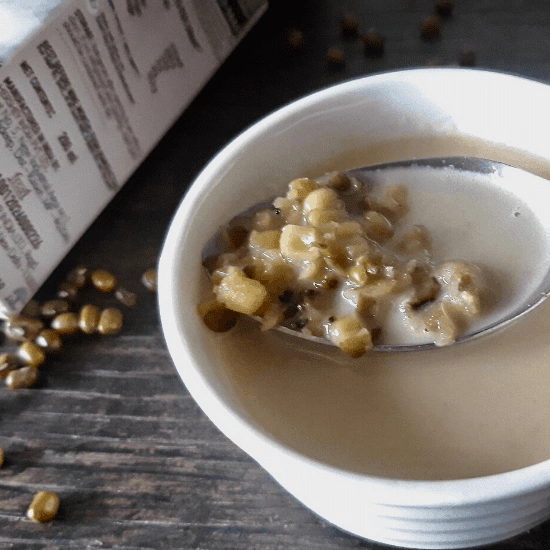 Other Sweet Deliciaies from Goa that may interest you
Moong Deliciaies
What you can source from Amazon:
Disclaimer: We are a participant in the Amazon Services LLC Associates Program, an affiliate advertising program designed to provide a means for us to earn fees by linking to Amazon.in and affiliated sites. When you click and buy through this site, it helps us earn to keep this site running.
Pin for Later: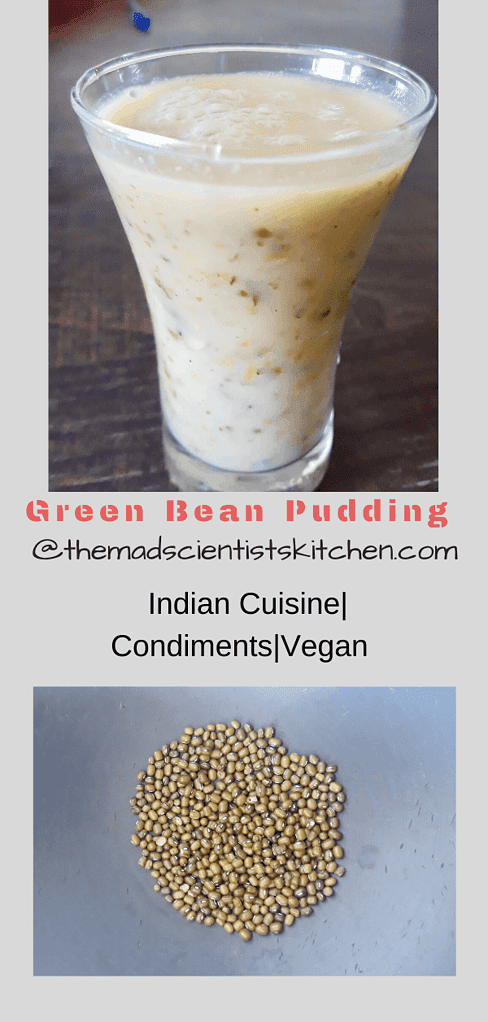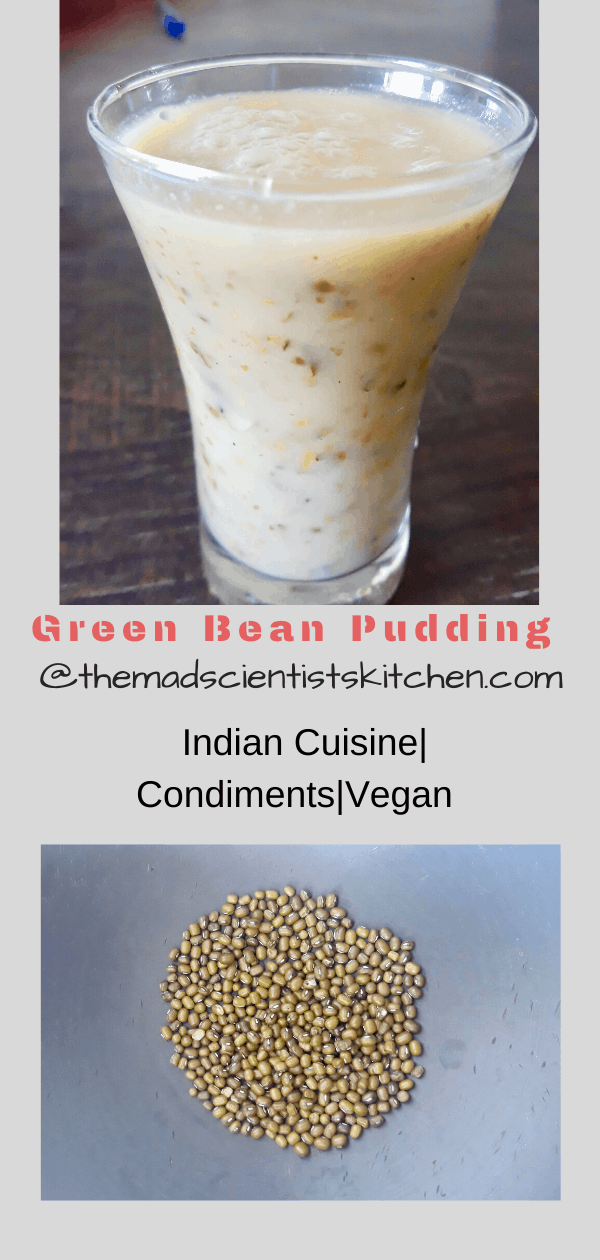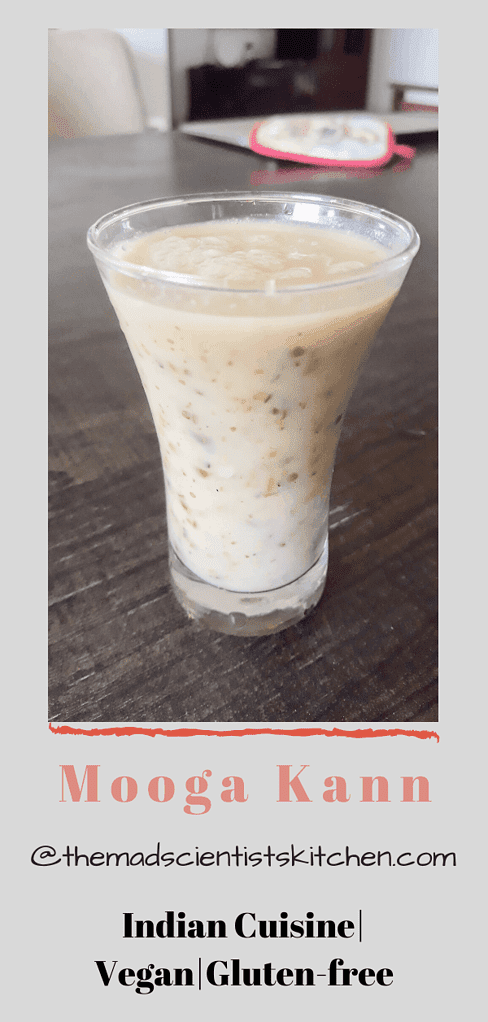 More Simple and Healthy Vegetarian Diet in Old Age
Reader Interactions