Mooga Gathi alias Sprouted Mung The Goan Way
Make Mooga Gathi alias Sprouted Mung The Goan Way, it is a delicious curry that is made without onion and garlic for "Shivrak" days.
"Shivrak" is those days when the traditional  Goan do not eat onion or garlic.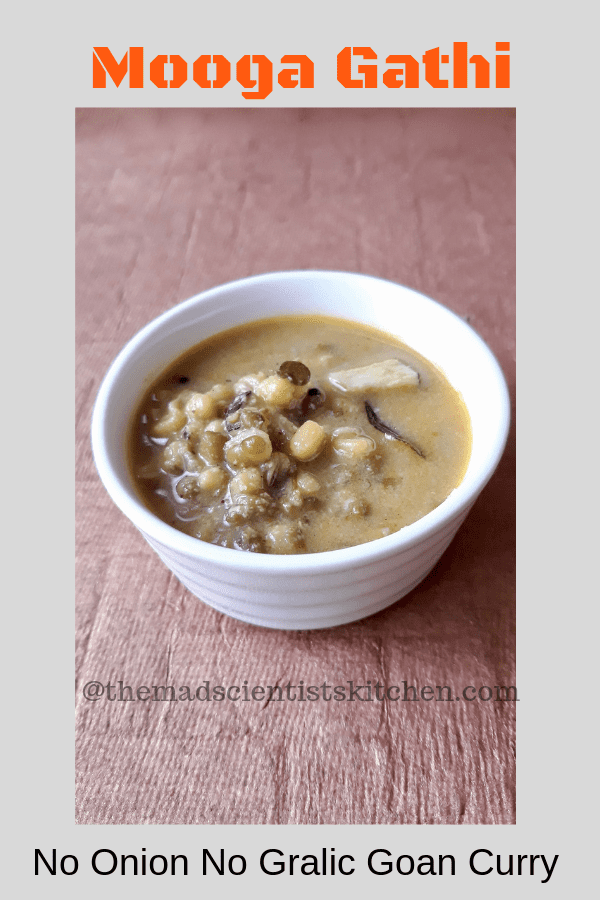 The curry Sprouted Mung the Goan way is a traditional dish that finds it's place in the Goan Menu for festivals, weddings and yes at homes. 
The Goans love their non-vegetarian food, the average Goan cannot live without his "nuste" fish. Why not the fish variety we get in Goa is mind-boggling from Shark to Red Snappers from the small sardines to silverfish we have a variety that 365 days you can enjoy different fish and still have more varieties. And you have still to take into account the prawns, crabs, squids, the different shellfish.
But still, there is a minimum of 2 days when the Goan is a strict vegetarian. He will crib say he cannot eat food but still adhere to his tradition. This is the day when Chana Cho Ras was or moonga Gathi, Toi, batat kapa, vangi fodi, Neer Phanas Fodi are made.
Goan Moong gathi is different from the Mangalorean Moonga Gassi.
The flavours and colours are completely different.
The Goan Moong Ghati is yellow in colour and the Mangalorean one is red. 

In gassi the masala used is coriander seeds, jeera, fenugreek seeds, and pepper along with coconut.

In the traditional Mugachya Ghati, we use coriander seed, nutmeg, pepper and cloves to grind.
Whatever said or done in the rains when most Goans depend on pulses for a curry for one the rains make it impossible to get veggies and second most people follow the Hindu holy month of Shravan and hence veg food, no onion and no garlic and this sprouted mung is light for digestion and takes care of the protein needs of a person.
Mooga Gathi alias Sprouted Mung The Goan Way is generally relished with poori, chapatti, pav, bread.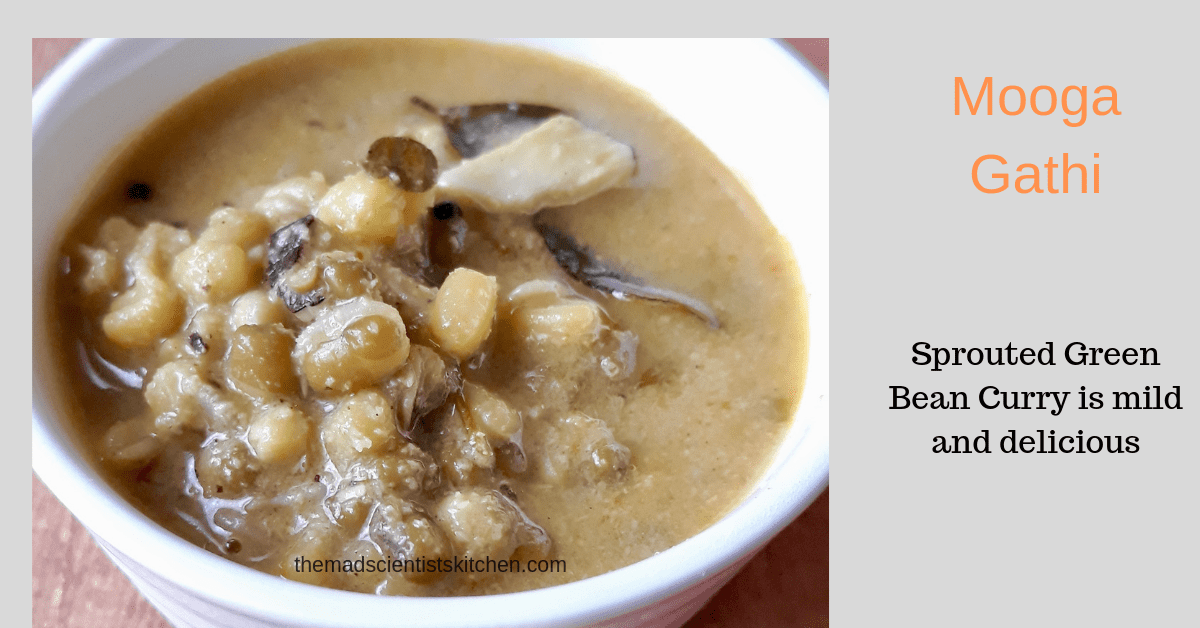 I have followed the traditional recipe except for the treatment of the moong.
The moong is sprouted. How?  
Rinse and Soak the moong in water. Keep the water well above the level of the moong. I generally add about 1 or 2 cups of more water. Set aside for 8-10 hours it is okay if the moong stays underwater for 12 hours.
Next, drain the water and you can tie them up in a cloth, put weight and set aside. Let nature work its miracle and you have sprouted moong in the next 12 hours. Use these in any salad, to make a gravy (I make quite a few but apparently none are on the blog).
But in Goa, these sprouted moong are soaked again. The next day the sprouts skin peels off and then the moong is used to make Mooga Ghati. 
You can follow this method but I avoid removing the skins as the skins are full of fibre and I have not found any difference in taste.
Moong or green bean is very healthy and recommended for people of all ages. To check the nutritive value do check this site where they speak about why mung bean is good for health.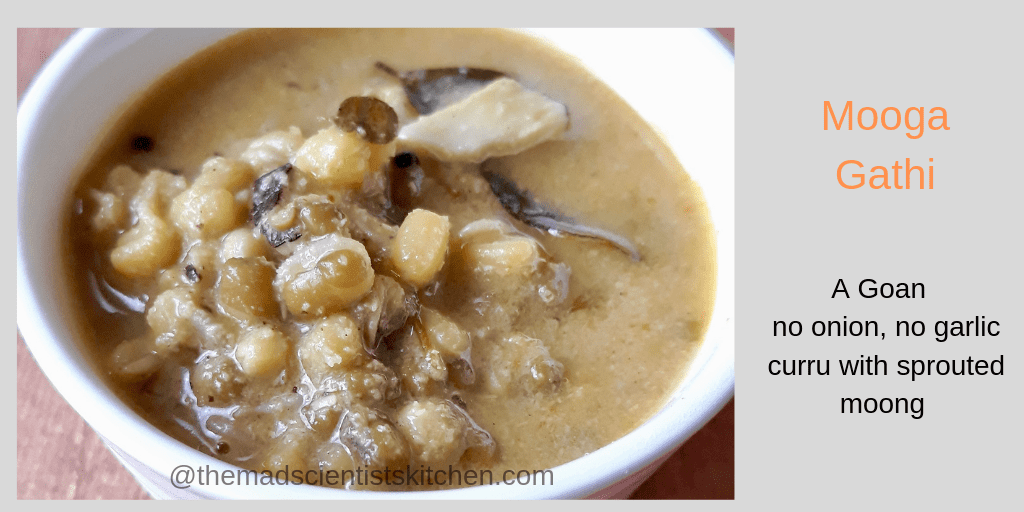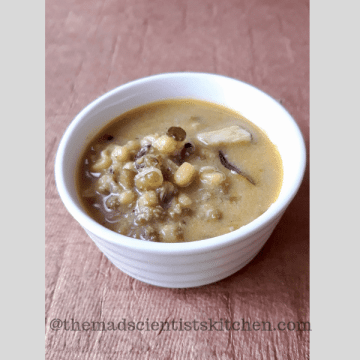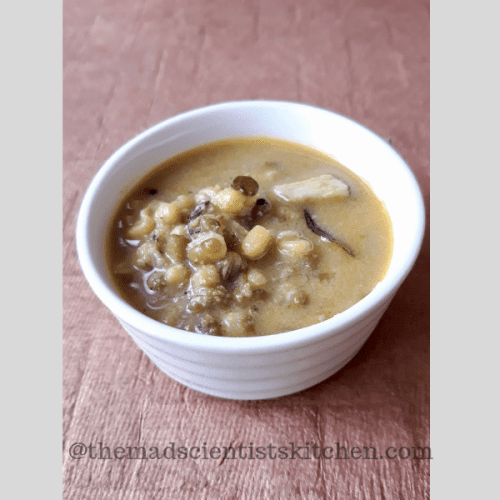 Mooga Gathi alias Sprouted Mung The Goan Way
A delicious no onion, no garlic mild gravy made from the sprouted green gram.
Print
Pin
Rate
Equipment
Mixer/blender

Kadhai/wok

Spoons and Ladles
Ingredients
250

grams 

moong 

sprouted

1

coconut

medium-size(see notes)

½

teaspoon

haldi/turmeric

1

teaspoon

coriander seeds

4-5

red chillies

(see notes)

¼

jaiphal/nutmeg

4

peppercorns

2

cloves

3

teaspoon

oil

½

teaspoon

Mustard seeds

Curry leaves

½

teaspoon

hing/asafoetida

Salt

Few Cashew nuts

Few pieces of a coconut

cut fine

1-2

Green chillies

1

tomato chopped fine

optional

Coriander leaves
Instructions
Heat 1 teaspoon oil and fry the coriander seeds, red chillies, pepper and cloves last add the nutmeg. Add the coconut mix well and switch off the flame. (This is my step not traditionally done). Add the haldi/turmeric. Cool.

Grind the above to a very fine paste. Please note that in Goa all the coconut pastes are ground fine, very fine with minimum water. This was done on the grinding stone now it is done in the mixer.

Next heat 2 teaspoon of oil and fry the cashew nuts till light brown. Remove and set aside. In the same oil splutter the mustard, add curry leaves, hing/asafoetida.

Add the moong and stir till the raw smell goes away (about 4-5 minute)on medium flame.

Add the ground masala and cook till the moong is done. Add the salt.

Towards the end add the green chillies split in two and add the cashew nuts.

In case you are using add the tomatoes and switch off the gas.

Serve garnished with coriander with hot rotis or pav.
Notes
The medium coconut is about the same quantity of the moong sprouts. If you want a thicker gravy add more coconut.
Traditional Goan chillies are pungent but do not give the red colour.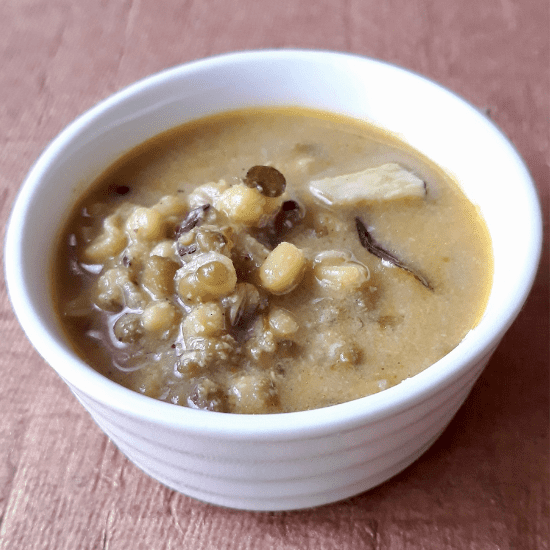 This week I have participated in Foodies Redoing old posts and changed my old post.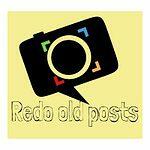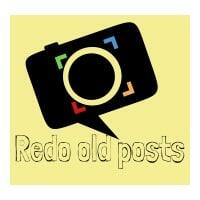 Do you like this recipe? Have you tried it? In case you do and whenever you do please tag me on Facebook. My Instagram handle is #themadscientistskitchen. You can also use my Twitter handle, Then you are always welcome at my Pinterest page too. I will love to see you there.
Please also subscribe to my mailing list and join me in my journey of Food! Will enjoy seeing what you make so that I too can learn from you!!!
Some other Goan Vegetarian Curry recipes we enjoy:
More recipes you may enjoy
Reader Interactions