Last Updated on
Mango Fool is a delicious Fruit recipe made with seasonal fruit in my case Mangoes and Hung Curds.
The actual recipe is called English Fruit Fool; a dessert is an English Dessert, traditionally made by folding pureed fruit into a sweet custard.
But modern man does chase newer and easier and fattening (:D) ways of making food. Now we use whipped cream.
Today is Monday and FoodieMondayBlogHop so we are doing this week at #191 Dahi Delights. This delicious theme was suggested by Priya Iyer. Priya's pictures are something that you just drool over they are healthy and delicious.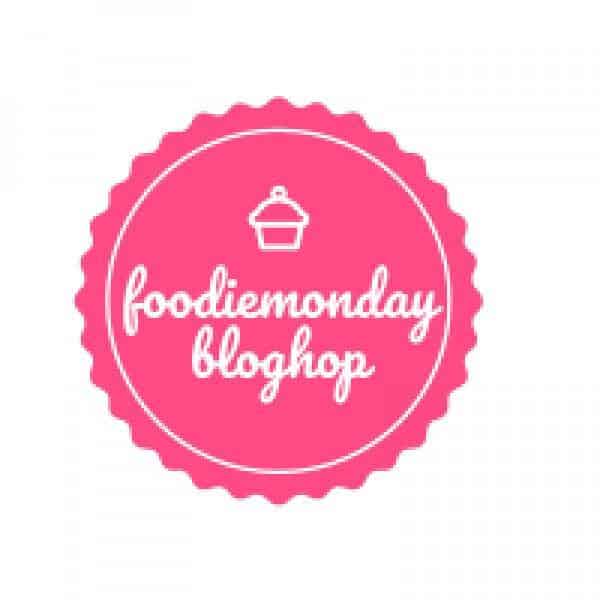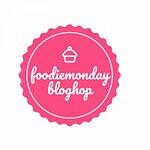 Till the last week, I assumed that dahi and yogurt are the same. In fact, I think most of us thought the same but there is a difference. I prefer this article on Huffington Post that explains the difference.
Curds generally refers to milk solids left behind after adding acidic substances like a lemon. The best example for this in Indian cuisine is Paneer/cottage cheese.
The other curd that we Indians refer to is made by adding a bacterial culture to boiled and cooled milk.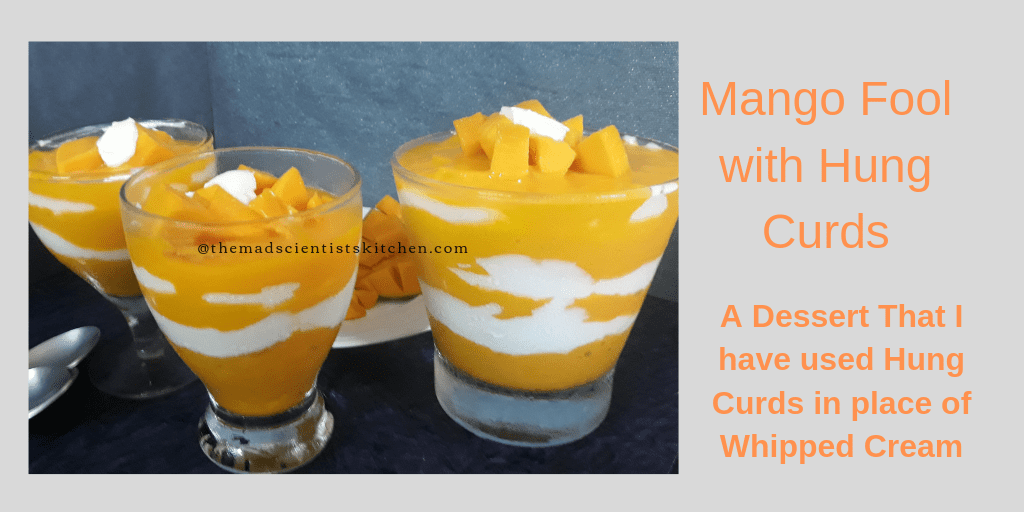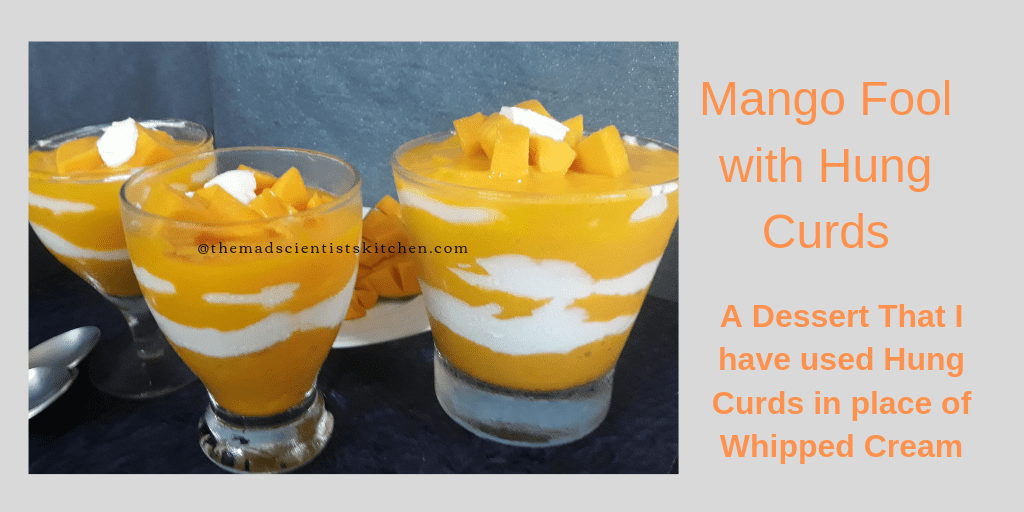 Low Fat Mango Fool
Here is what Chef Kunal Kapur says on Huffington Post about the difference between Curds and Yogurt.
Curd/dahi
Dahi is made by boiling and cooling the milk to 30-40°C and adding a spoonful of curd. Now curd has lactic acid bacteria or lactobacillus. This bacteria multiplies itself in the ambient temperature of 30-40°C and in few hours ferments the milk to form a curd. The curd is a rich source of calcium and protein and is suitable for lactose intolerant people (though it depends on the degree of tolerance).
Yogurt
Yogurt is prepared using similar techniques to curd but the fermentation of the milk is done by adding two specific strains of bacteria called lactobacillus bulgaris and streptococcus thermophilus. Other strains of lactic acid bacteria may also be added. The addition of these bacteria makes the product standardised and homogenous. This ensures both quality and right quantity of bacteria in the yogurt. Also, more of the good bacteria reach the intestines alive.
He has also talked about probiotic yogurt you can check out his article here.
This summer like every year our single tree has given us mango fruits. The amount of fruits we have had is mind-boggling. Here is one plucking, morning work before it got too hot and we got hungry to pluck more.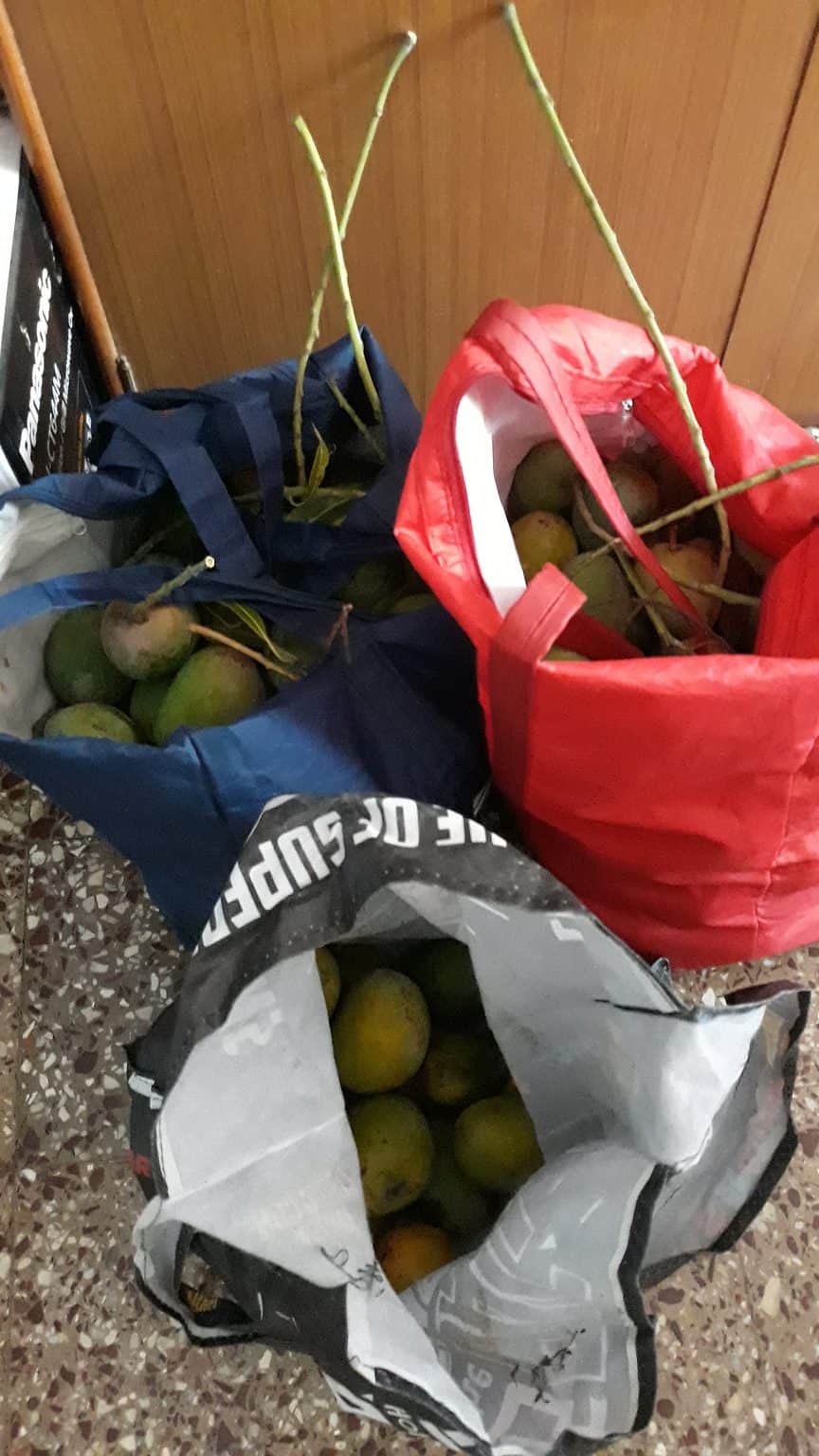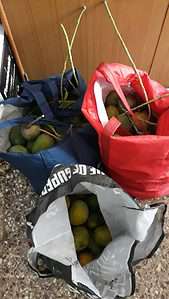 Naturally we are over the moon with these fruits; unfortunately, we can eat only a few.
I wanted to make something with these season fruits that are the king of fruits.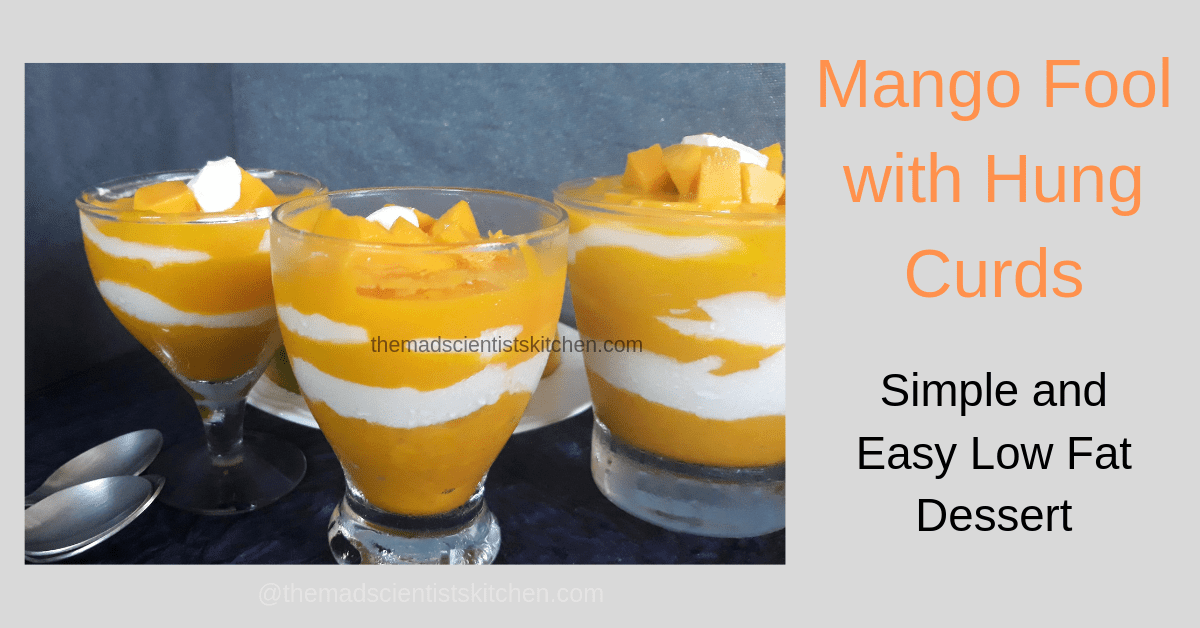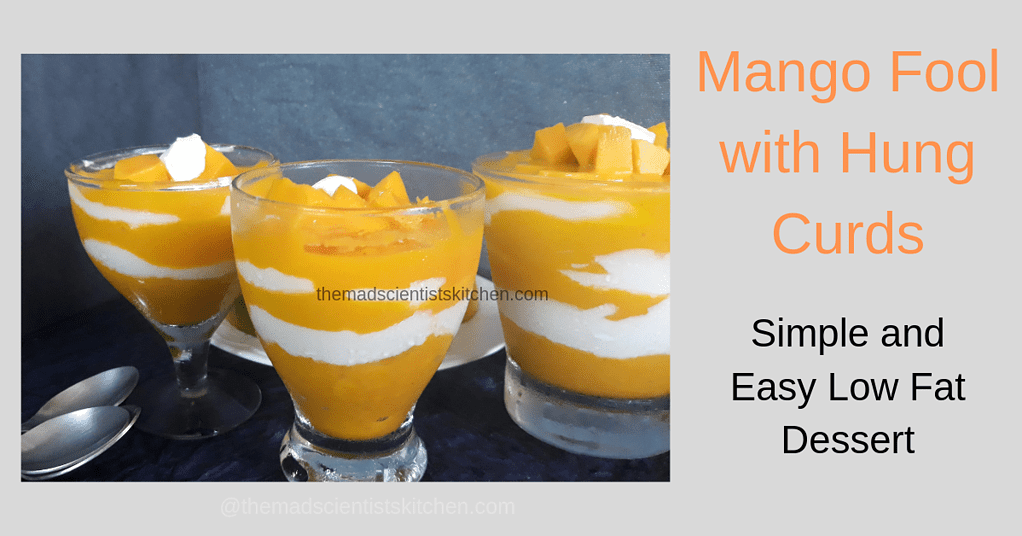 Mango Fool in Hung Yogurt
The Goans will not agree with me if I say Alphonso is the best Mango they prefer the Mankurad Variety but then that is a debate that is best enjoyed over a plate of the fruit.
How do you like mangoes, diced, cut up or do you like to suck on them?
The best way to eat ripe mangoes is with chapatti is called Aam Raas. But you can try Mango shake, Mango Lemonade, Mango Jam. Then people swear by Amrkhand, Amba Barfi you can also try the Sasav.
There are many ways to eat the raw or green mangoes too check them out Mango Chutney, Mango Pickle.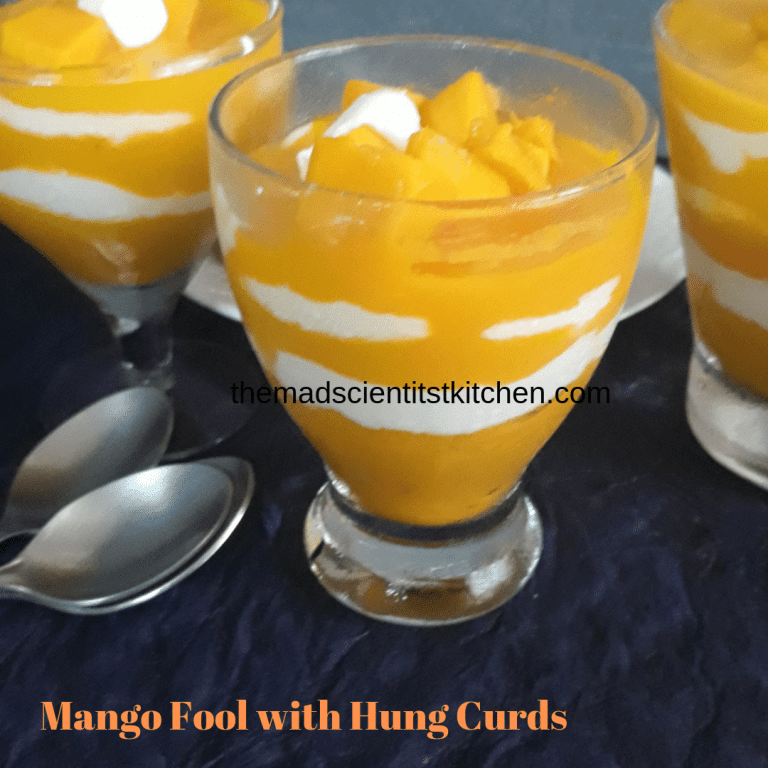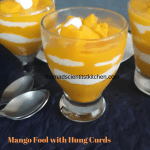 Print Recipe
Mango Fool with Hung Curds
A simple dessert made from sweet mangoes and hung curds.
Ingredients
2

cups

mango puree

200

grms hung curds

2

tsp

powdered sugar
Instructions
Hang 300 grams of curds made from the milk of 6% fat in a fine sieve.

Leave it in the fridge till all the whey drains out. Collect the whey to drink but transfer the hung curds to a big bowl.

Add 2 tsp of sugar and beat it well. (Adjust the sweetness) but remember you will be using mangoes which are sweet too so hold back the sugar.

Meanwhile, puree the mangoes. (Check notes).

Dice the mongo for garnish and set aside.

In a serving, glass add 2 tsp of the mango puree then add 2 tsp of curds.

Repeat till the glass is filled.

Garnish with the mango pieces.
Notes
Since my mangoes had ripened on the tree but before ripening they were removed they were sweet sour. I have not used lemon otherwise add a teaspoon of lemon juice.
Did you like this recipe? Have you tried it? If you do try it please tag me my FaceBook Handle.
Are there any new recipes, any new ingredients or diets you want me to try? Do leave a comment in the comments section.