Jeera Pani is the one concoction that eases an upset tummy and improves gut health too.
Boil cumin seeds till it is reduced and you have a healthy and wonderful healing home remedy recipe in your hands.
A home remedy for minor ailments and something that a grandmother will recommend.  Age-old and effective remedy from your pantry shelf!
Please note that cumin water does not replace what your doctors advise. Please seek medical help and follow the advice to suit your health profile.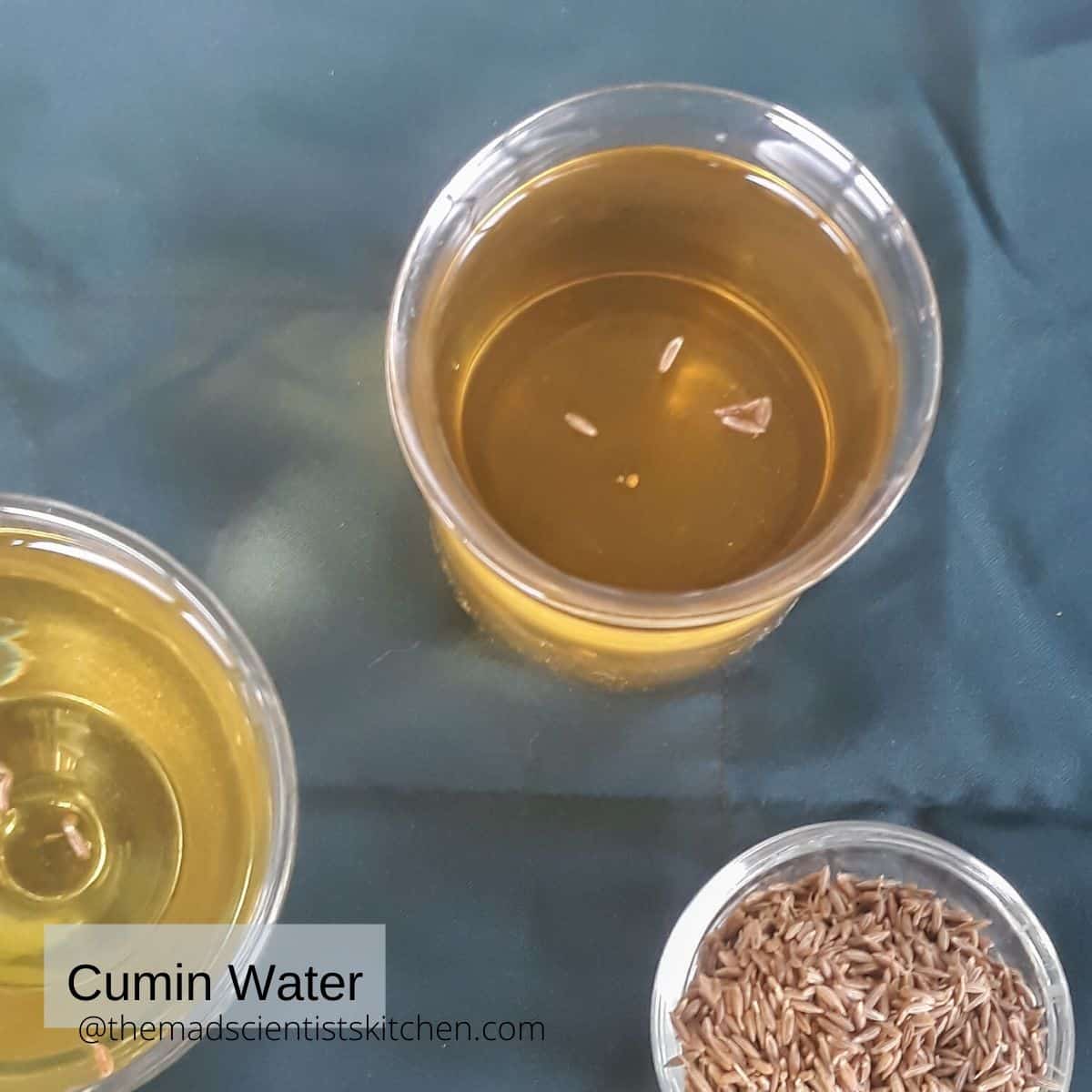 Contents:
Hello, and welcome! I am known as The Mad Scientist's Kitchen, reinventing the foodie in you! 
Tired of choosing between tasty or healthy meals? No more! Here at the Mad Scientist's Kitchen, I experiment with flavours and cuisines that are as nutritional as they are delicious.
Join me in my lab as we cook up some treats! You can stay up-to-date with my latest culinary adventures by subscribing to my newsletter. No scam, no spam, just the clink of my pots and pans!
I will love you to follow me on:
When it rains during Monsoon it pours. We tend to then indulge in Bhajiya and tea! Monsoon means Festivals and good food! Result Gorge! So Monsoon then means upset tummy! So I drink Jeera water regularly during the rainy season.
Jeera or cumin is a spice long used in Indian cuisine. The taste and the flavours it imparts to food are unmistakable. 
Cumin has chemicals that stimulate the secretion of enzymes and aid digestion.  Try sniffing some cumin and it will trigger salivation and improved appetite!
Some of the uses are improved digestion, improved immunity and help to detoxify your system.
I use cumin every day as in Indian cooking cumin plays a prominent role. We use it in many forms crushed, roasted or in tempering.
Cumin is one of the main ingredients for making masalas right from Mayuri's Dhana Jiru, to garam masala, sambhar masala, and rasam powders. You also use cumin to flavour lentils and rice. Then this flavourful rice Milagu Jeeraga Sadam depends on cumin and pepper for flavour.
Jeera water has my homoeopath's seal of approval as it flushes out all your system. My Sis-in-law says they drink this every night and it has worked wonders for their general health. Her skin too looks beautiful.
Make this recipe as 
Simple
Uses just 2 ingredients
Detoxifies the system
Improves immunity
Improves health
These are the ingredients you will need. For quantities please check the recipe card.
Ingredients:
Method:(details and pics, stepwise desc)
Put the two and boil till reduced to half. You can strain it or like me drink it with the grains of cumin.
Warm tastes better but there is time I have gulped it down the room temperature.
If you have planned it well then soak the cumin for 12 hours. Strain and drink.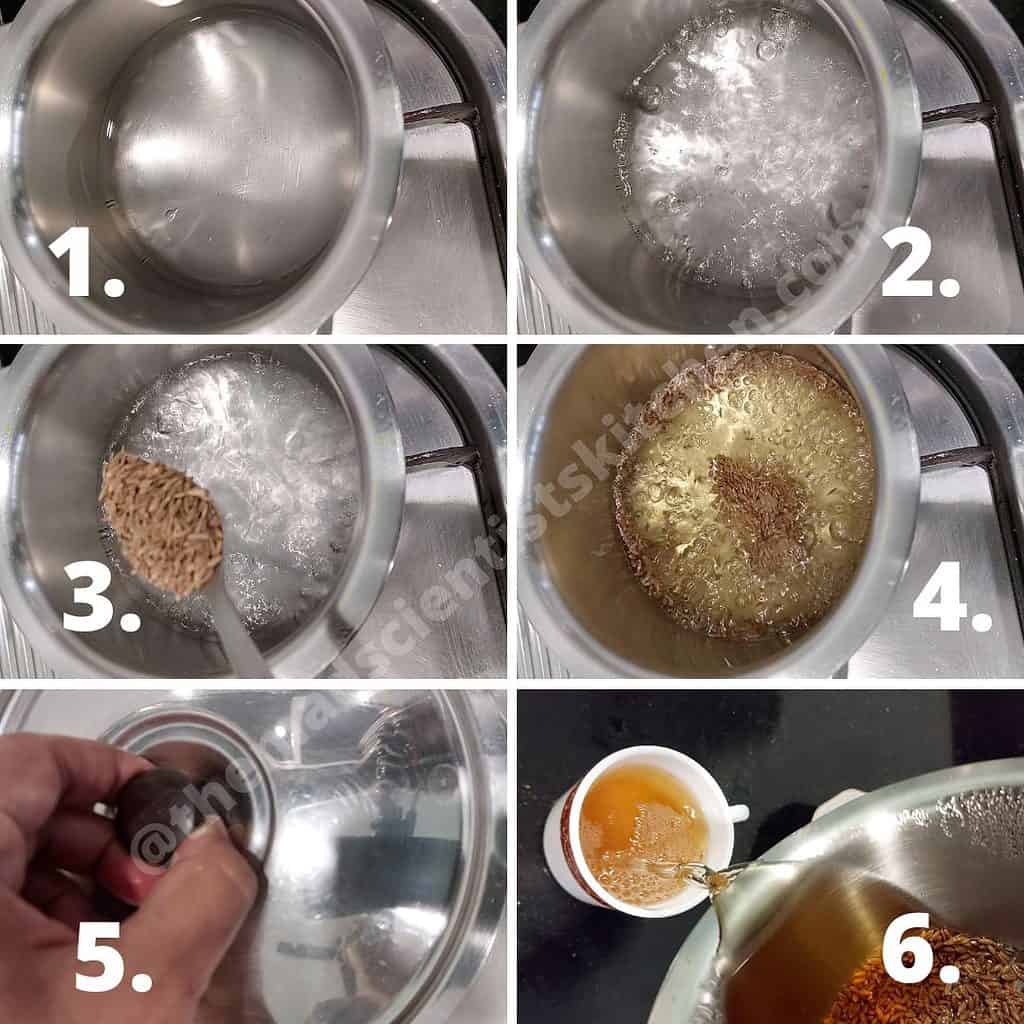 Variations:
I have seen people adding

fenugreek
ginger
carom seeds
fennel seeds
lemon
I will vouch for the carom seeds, remember the gripe water we were fed as babies? Jeera and ajwain water!
Equipment:
You will need
How to serve:
Strain the jeera and serve warm. You could add lemon for flavour.
How to store:
You can make say a litre and store it in the fridge say for 4 days. But I will prefer my cumin water warm so I make it fresh.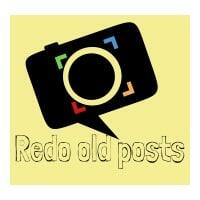 This is an old post that I am updating with newer pictures and a write-up as a part of the group Foodies_RedoingOld Post.
Protips:
If you have the time let the cumin steep in the water. The flavours are delicious.
You can always use powdered or crushed cumin.
Benefits of Cumin Water:
Jeera water has antioxidants and is anti-inflammatory.
Improves appetite, improves digestion.
Beneficial to our body Cumin water hydrates the body.
If you are hiccuping or belching try chewing on a few grains of cumin. It works since cumin is an anti-flatulent.
It also eases bowel movements read as eases constipation. This improves gut health and of course, your overall health improves too.
Now since the number of calories in jeera water is negligible you can sip some to promote weight loss.
Cumin increases sensitivity to insulin. Hence Diabetics will benefit from jeera water. However, this does not excuse you from maintaining your diet and exercise regime. 
During my pregnancy, jeera water helped control morning sickness and reduced heartburn too.
Side effects of Cumin Water:
Too much of anything no matter how tempting and effective it is something you should avoid. This is my general rule for anything in this world. Moderation is the key to everything we do. So even cumin water needs to be taken in moderation!
Too much jeera water can result in health issues.
You can suffer from early contractions if you are pregnant.
Or become hypoglycemia in diabetics which is dangerous.
Can cause bleeding and liver damage if consumed in excess.
So a cup is all that I recommend and contact your medical advisor now if you have issues.
When to visit your doctor:
Please bear in mind that I am not a medical practitioner. These remedies work for mild cases.
Please call on your doctor if

you go to the loo more than 4 times.
Have a fever, weakness, and shivers.
If there is blood in your stools.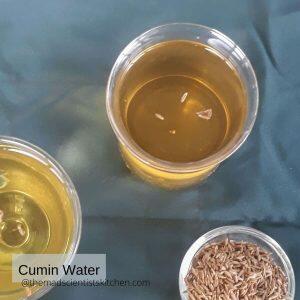 Jeera Water Home Remedy for Upset Stomach
A simple home remedy that improves your health, promotes metabolism and eases bowel movement! It is plain Jeera Pani! Try it!
Print
Pin
Rate
Ingredients
1

tablespoon

jeera/cumin seeds

2

cups

water
Instructions
Boil the water and the jeera till the water reduces to
1 cup.

Cool it and drink.

Repeat 3-4 times a day if needed.
Video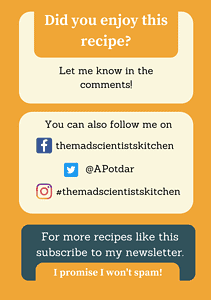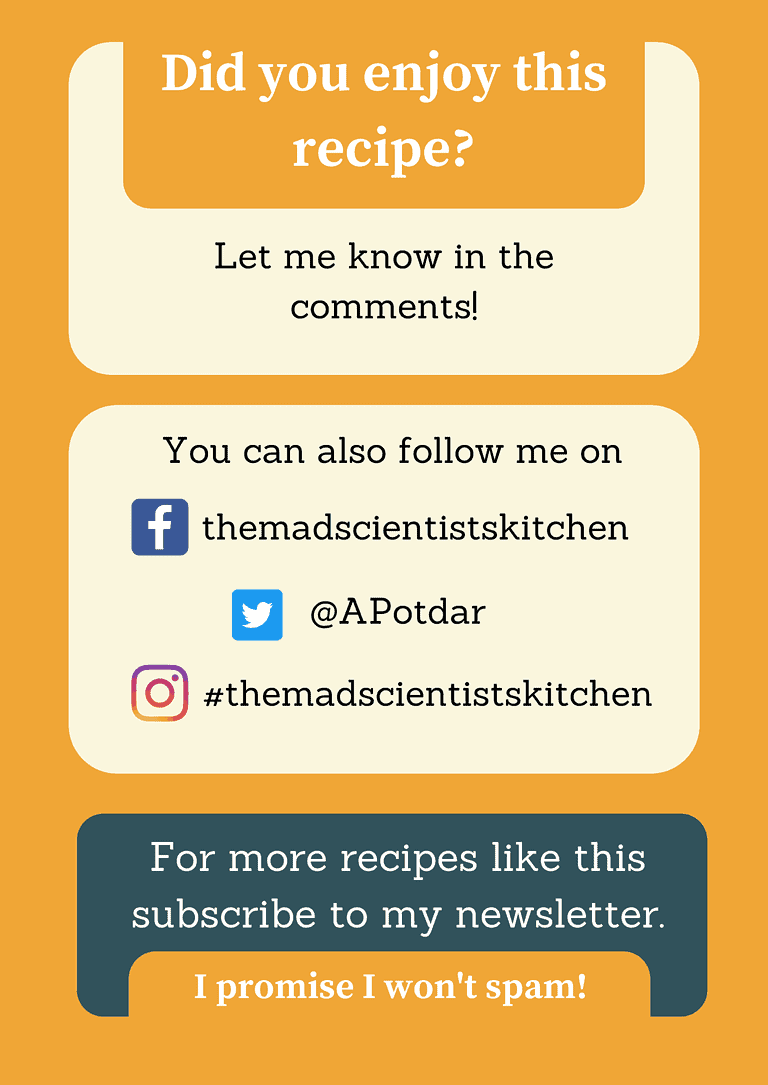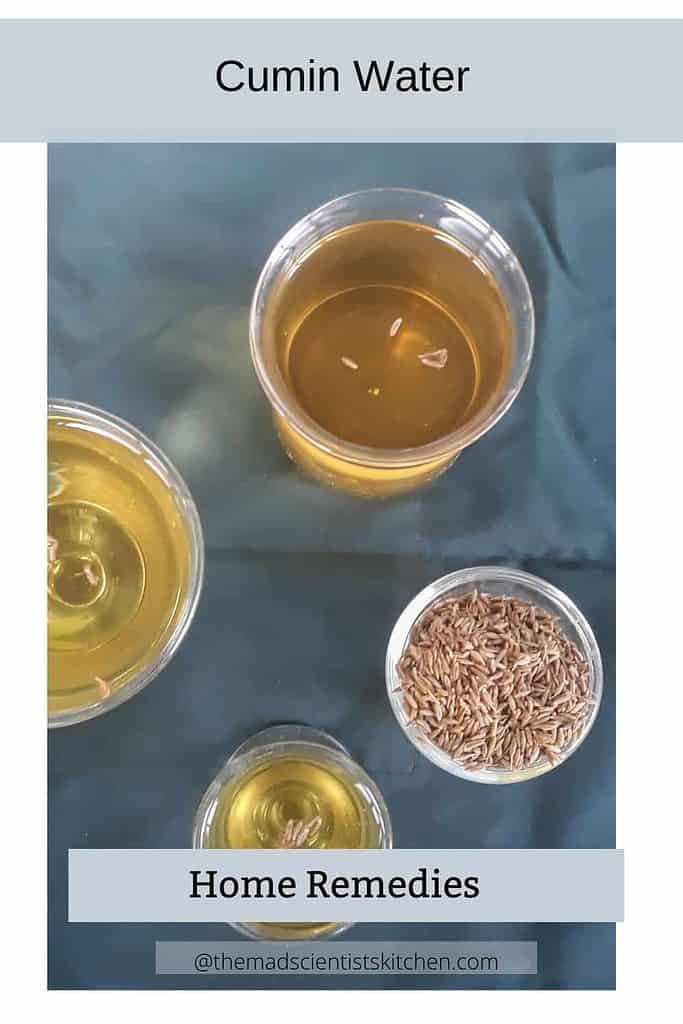 More recipes you may enjoy
Reader Interactions