Need something that will tease the tastebuds of your Teen suffering from a cold? Try Pepper Jeera Rice.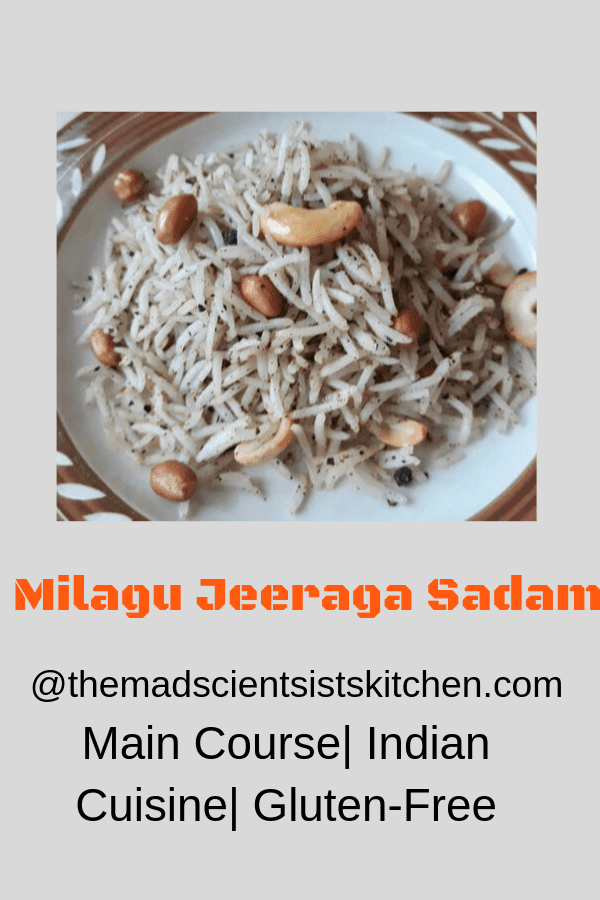 This month I am participating in the Ssshhh Secretly Cooking Challenge, we are doing the state of Tamil Nadu and I am paired with Sujata Roy. Sujata blogs at Bater up with Sujata and she is a versatile blogger she bakes and cooks amazing food. The one recipe I desperately want to try Chilli Rasagulla but will settle for   Ivy Gourd vegetable.
Sujata as per the rules of the challenge has given me 2 secret ingredients Pepper and Cumin. I gave her ghee and cardamom just check what she makes.
Now, I tend to forget the dates and I did it this time too. For another event the Foodie Monday BlogHop I posted Pineapple Rasam which uses these two ingredients. Once the Admins pointed out my mistake I decided to make another recipe with the Kali Mirch and jeera combo.
I finally zeroed down to two recipes one was was Milagu Jeeraga Sadam the other was the famous Milagu Jeeraga Rasam same pepper and jeera combo but a Saaru or a spicy, tangy soup that can be sipped or had as an accompaniment with rice. (My next to-do.)
The rice lover that I am Sadam one hands down. Milagu Jeeraga Sadam one of the delicious rice recipes I have come across in the Tamil Nadu Cuisine.
The additional push was that
Pepper jeera rice
is a rice dish that is easy to make and yet delicious!
Pepper Jeera Rice is one of the offerings to Gods and made many occasions like Saraswati Puja, Navratri etc.  Milagu Jeeraga Sadam also stays good for 1 day, so in case you are travelling then try carrying it.
Milagu Jeeraga Sadam revolves around 3 main ingredients they are peppercorns, jeera or cumin seeds and rice.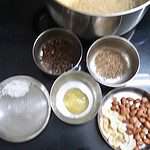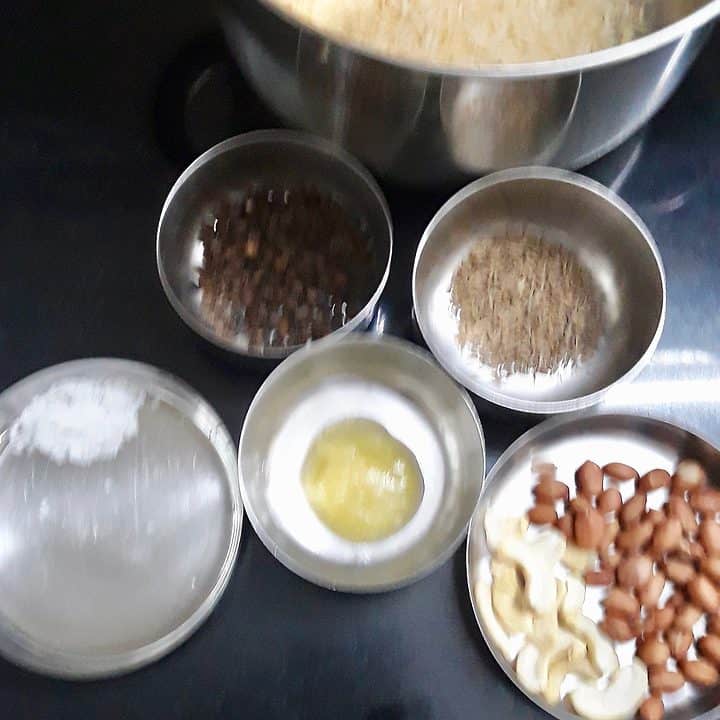 The rice used in this recipe is cooked rice. Most Indian recipes use the local rice varieties but today I am using Basmati Rice.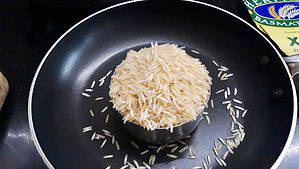 Ways to Cook Rice
Plain steamed rice can be cooked in 4 different ways
by draining out the water after the rice is cooked, this is the preferred method in most Goan houses.

in the pressure cooker, this is what I prefer to do for rice and dal that we eat every day.

on the stovetop is what I prefer when cooking a pulao or where I need pre-cooked rice.

 in the microwave.
How To cook rice on the Stovetop
Wash and drain the rice then add 1-½ times the Water for Khila Khila Chawal…

Cook on low flame.

There are a lot of people who say cook covered but every time I do that the water boils over and the gas burner clogs. So now I never cover my rice vessel. I let it boil half covered.

Once the water reaches to just some bubbles on the surface of the rice I cover my rice. Remember to keep the flame low once the water starts boiling.

To check if the rice is done press between your fingers and the rice will yield.

Gently fluff the rice then Cool it.

Once the rice is cooked making Milagu Jeeraga Sadam or Pepper Jeera Rice is simple
In a pan, since I am using peanuts or ground nuts and cashew nuts stir-fry till done in ghee.
The peppercorns or kali mirch takes longer time to release aroma so on low flame fry in ghee first. Then add the cumin seeds and stir fry till you get a delicious aroma. Cool and grind.
Mix all your ingredients and you are done.
In case you do not want to use rice to make Pepper Jeera Rice use millets like Barnyard Millet, Quinoa to make this delicious dish.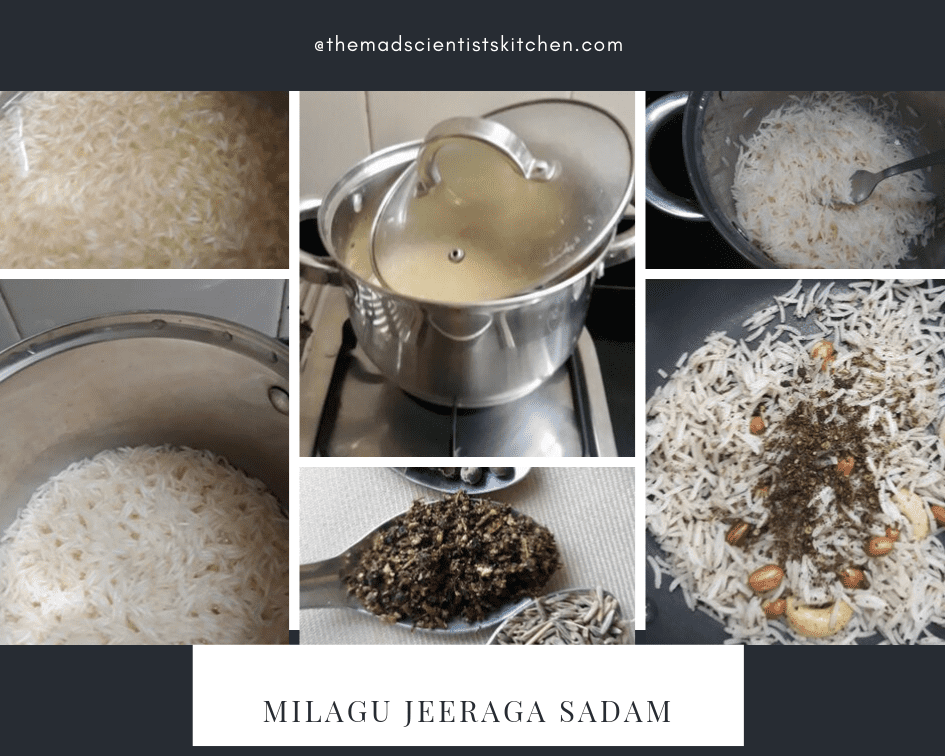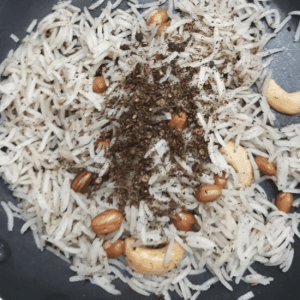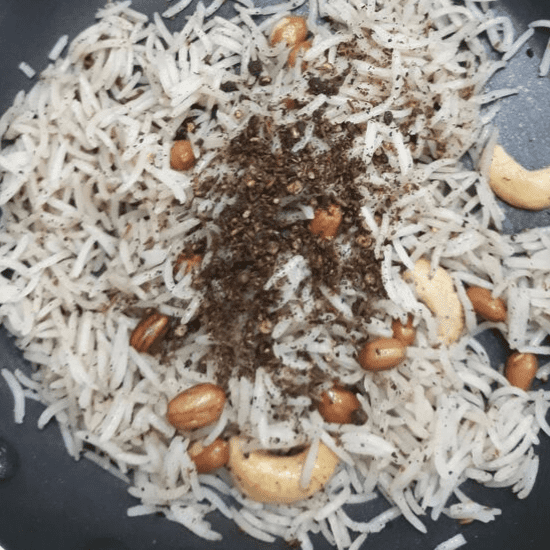 Milagu Jeeraga Sadam
Need a simple rice dish that is easy to make and yet delicious? Try Pepper Jeera Rice. 
Print
Pin
Rate
Equipment
Non-stick pan

Vessel

Spoons and Ladles

chutney jar of mixer/blender
Ingredients
1

cup

cooked rice

1

teaspoon

ghee

1

tablespoon

black pepper

½

tablespoon

jeera/cumin seeds

Salt

to taste

A few cashew nuts and peanuts

optional

1

tablespoon

Ghee

to mix with rice
Instructions
In case you are making rice fresh then let us start with washing the rice. I have used Basmati rice here.

Rinse it at least 2-3 times in a container. (please check note 1)

Add 1-½ times water in volume or follow instructions on the packet. We are looking for a nice grainy kind of rice here. Khila Khila Chawal…

Cook on low flame till rice is cooked. Once cooked the rice can be pressed between your fingers and the grain will yield.

Fluff the rice and let it cool in the container. In case you are in a hurry transfer to a plate and cool.

As the rice is cooking in a small nonstick pan heat 1 tablespoon of ghee. Add the cashew nuts and fry till golden brown. Transfer to a bowl.

Add the peanuts and stir fry till the peanuts are done. You will get a nice darker brown colour. Transfer to the bowl with the ghee and set aside.

Now in the same nonstick pan on low flame add the pepper, stir for about 1 minute then add the jeera. Stir till you get a nice aroma. (I did not add the 1tsp ghee as I felt the pan had enough ghee. In case your mixture is dry add the 1 teaspoon ghee).

Cool the pepper and jeera mix. Grind to a powder using salt to help the grinding.

Mix the about 1 tablespoon of the Milagu Jeeraga mixture in the rice, add the peanuts and the cashew nuts and the ghee. Mix well.

Adjust the salt and Milagu Jeeraga powder. add more ghee if needed.

I served it paired with thick curds.
Notes
Generally, I wash my rice in the pot I cook.
You can also make a tempering of mustard and curry leaves in ghee or sesame seed oil.
Add more pepper if you want spicier rice.
If you increase the quantity of jeera it will not taste good.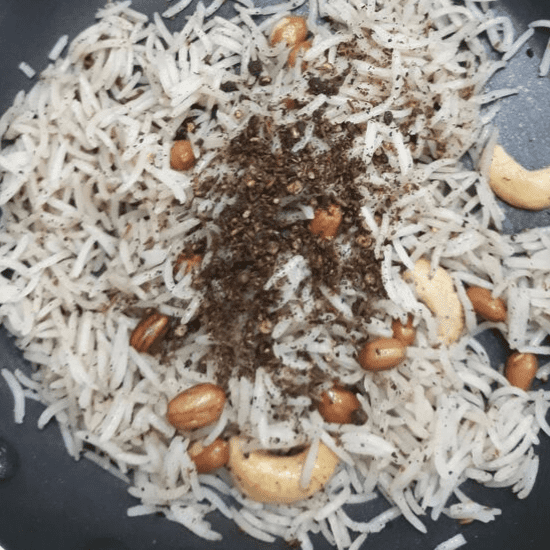 Pin it for later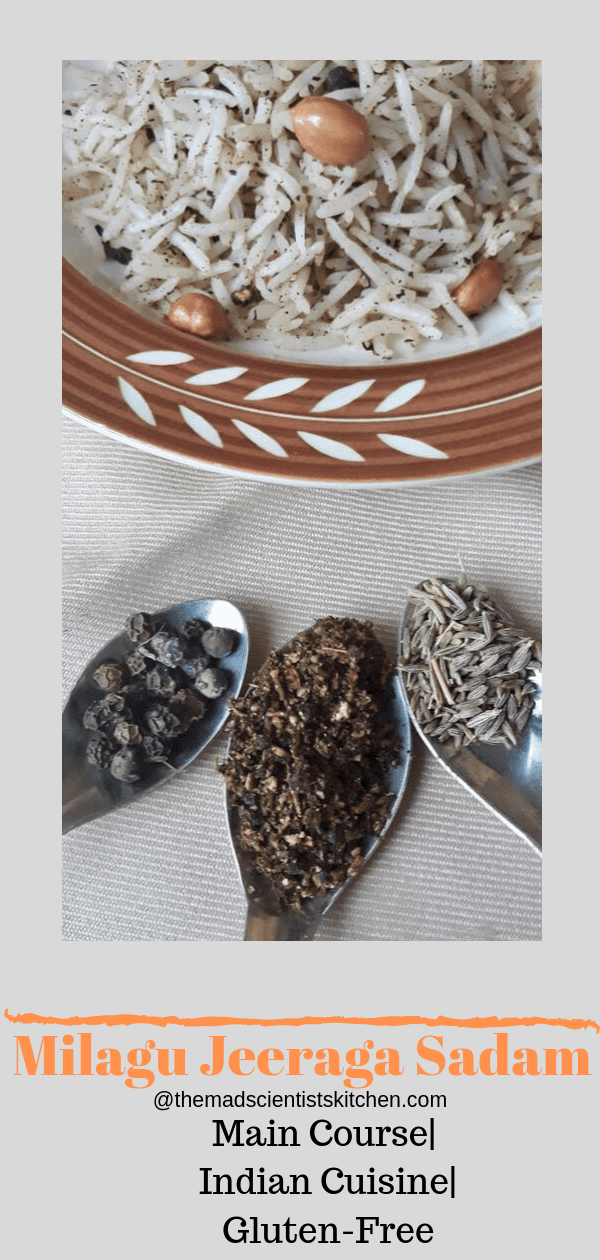 The other rice recipes that will interest you are
Do you like this recipe? Have you tried it? In case you do and whenever you do please tag me on Facebook. My Instagram handle is #themadscientistskitchen. You can also use my Twitter handle, Then you are always welcome at my Pinterest page too. I will love to see you there.
Please also subscribe to my mailing list and join me in my journey of Food! Will enjoy seeing what you make so that I too can learn from you!!!
Reader Interactions