Akki Rotti/ Akki Bhakari/ Tandula-chi-Bhakari
Akki Rotti is my idea of a gluten-free healthy breakfast.
Traditionally you eat Akki Bhakri with chutney or curry, homemade butter or ghee. Akki Rotti and Tandula-chi-Bhakri are about the same.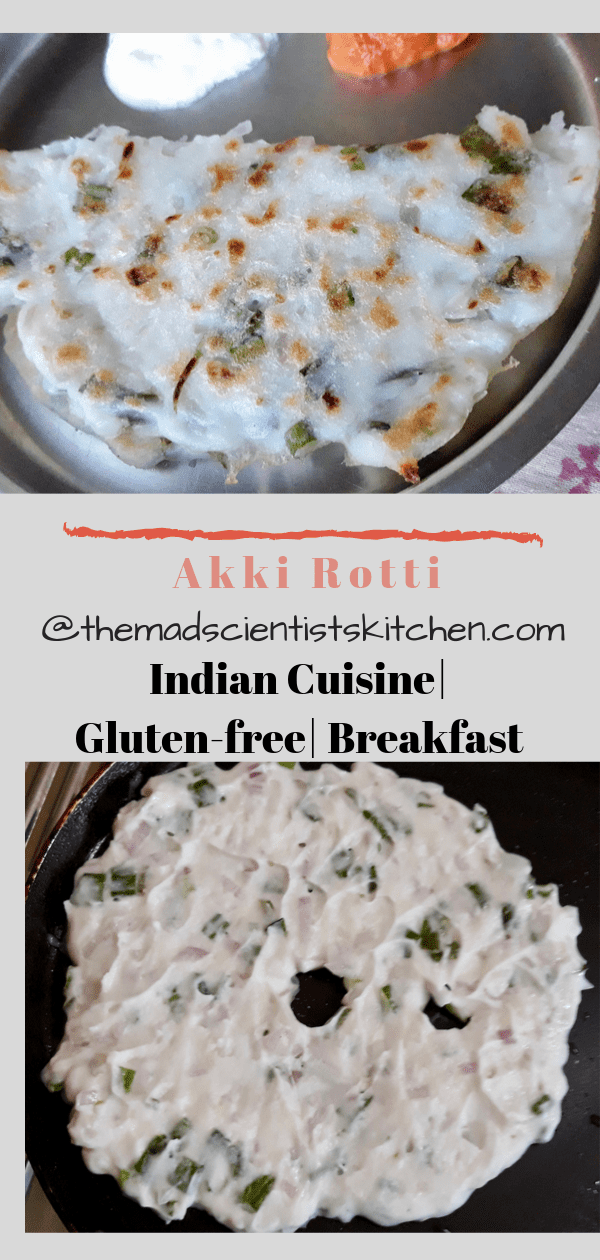 Indulge me into thinking that you are wondering just what is Akki Rotti. I know I did say indulge me.
Akki Rotti, Akki Bhakri or Tandula chi Bhakri is an unleavened flatbread.
In India, we have many kinds of flatbreads like chapatti, paratha, bhakri, thalipeeth, dosa, appam. These are part of our everyday meals. In fact, the question that you will be asked anywhere in North India is "Roti khaye kay?" Did you eat roti?
Akki is Rice I Kannada and rotti is flatbread so we are enjoying gluten-free rice flatbread for breakfast.
Akki Bhakri Variations with Accompaniments
Plain Akki Bhakri

Masala Akki Rotti

Sabske Akki Rotti

Tandulachi Bhakri
While making Plain Akki Rotti you need rice flour and water to make a soft dough. Serve with a curry-like in Coorg we had it with chicken curry, you can use this Coorgi Egg Curry too.
You can add chopped onions, carrots, coriander leaves, sesame seeds along with salt. Serve with homemade butter or ghee. Chutney too makes a nice accompaniment.
You can also use chopped dill leaves called sabski palya in Kannada, the language used in Karnataka. Serve with ghee or homemade butter.
Tandulachi Bhakari with chutney is again breakfast in Goa.  The main ingredients are rice flour, onions, grated coconut, green chillies and coriander leaves.

How is Akki Rotti made?
Method 1 of making Akki Rotti
To make Akki Rotti grease a tava/skillet then pat a small ball of the rice flour till the edge.

Drizzle oil on the top and cook on both sides till you see brown specks.

Serve hot.
The disadvantage of this method
is that the rotti means that the griddle has to cool down before the next one is made.

In large families, this will be difficult to wait for the griddle to cool down.
You can solve the issue by using multiple griddles. I use at times 3 two on the flame 1 cools down. Very messy and needs a lot of space, also if you are multitasking like making vegetables, your cooker is on it plays havoc with your schedule.
The Solution
Use banana leaves or cloth to pat the rotti (see this is how Poonam did it)now we use foil to do the same job.
My father had told me that his mother used lotus leaf to make what he called kamal tattu. Must ask him.
Method 2 of making Akki Bhakri
My mother made the Akki Bhakri like jowar roti.
Add boiling hot water to the flour and mix the flour to make a soft dough.
Take a small ball, knead well.
Dust the board with flour then gently pat the dough ball to a flat thin disk till evenly done.
The Disadvantage
This looks and sounds simple but it is not. There is no gluten in the flour so it cracks and breaks you need to be very gentle.
The Solution:
I prefer to use the rolling pin or mash up the dough with the puri press.
But then there is nothing better than practice.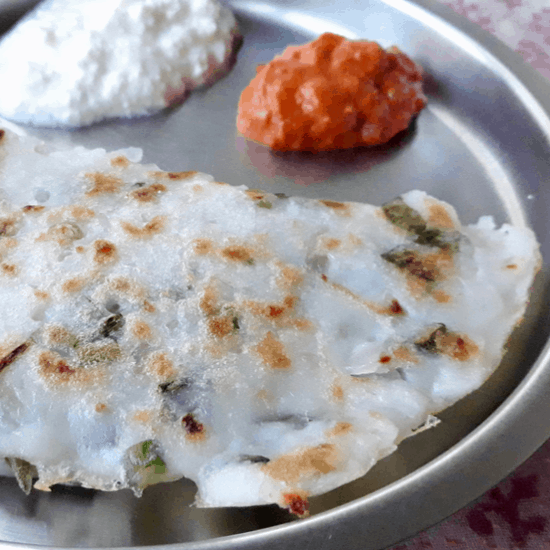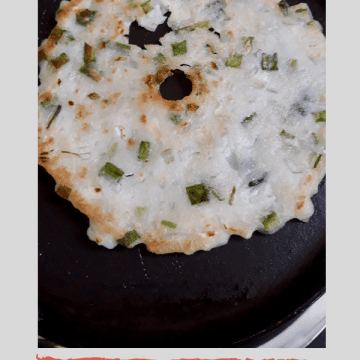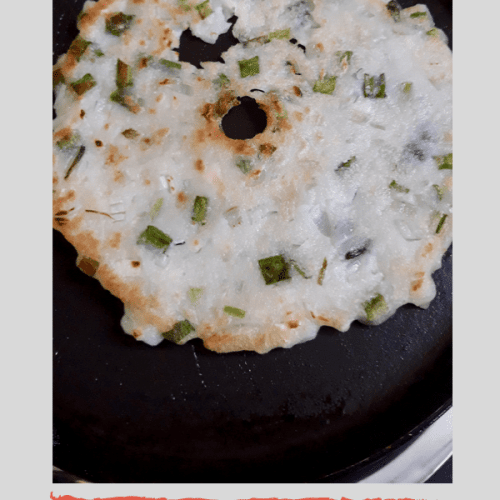 Akki Bhakri/ Akki Rotti/ Tandula-chi-Bhakari
A gluten-free rice flour unleavened flatbread is delicious and filling especially for breakfast.
Print
Pin
Rate
Equipment
Foil

Non-stick tava/skillet
Ingredients
1

cup

Rice flour

1

bundle of spring onions

chopped fine

2-3

green chillies

chopped fine

3

tablespoon

coconut

freshly grated

A few springs of dhania/ coriander leaves

Salt to taste

Oil to fry

Water
Instructions
In a bowl add the rice flour, spring onion, green chillies, coconut, coriander and salt.Mix well.

Pile the mixture in the middle and make a well in the centre.

Pour boiling water about ¼  cup in the well.

Using a spoon mix the flour or atta, in the well. Set aside until the mixture cools down and is warm to handle.

Gradually add more water and mix to  Add get a soft dough that is not sticky.

Make smaller balls of the dough about the size of a tennis ball.

Heat the non- stick tava/skillet.

Grease the foil and place one ball on the smeared portion.  Flatten the ball on the oil gently turn it over.

Use your fingers and gently flatten the dough to make a thin circle about ⅛ inch in thickness.

Pick up the foil support the rotti and quickly invert the kaki rotti on the tava.

After about 3 minutes you will be able to peel the foil off the Rotti.  Drizzle a teaspoon of oil (if the pan appears dry)and cook covered.

Grease the foil and follow the same steps and make the next rotti. By the time you have patted the rotti, your tava will need attention.

Flip it over with a spatula admire the brown specks on the rotti and cook on the other side. The rotti is done when it gets slight brown flecks and changes colour.

Serve hot with homemade butter, chutney or like me with raita.
Notes
In case you do not see the brown specks when you turn over the Akki Rotti let it cook on the side on the skillet. Turn over and cook on the other side.
Basically you will find it difficult to flip the rotti if it is not cooked so in case you cannot flip it best wait for a few minutes then flip.
Other Similar Recipes
Pin it Later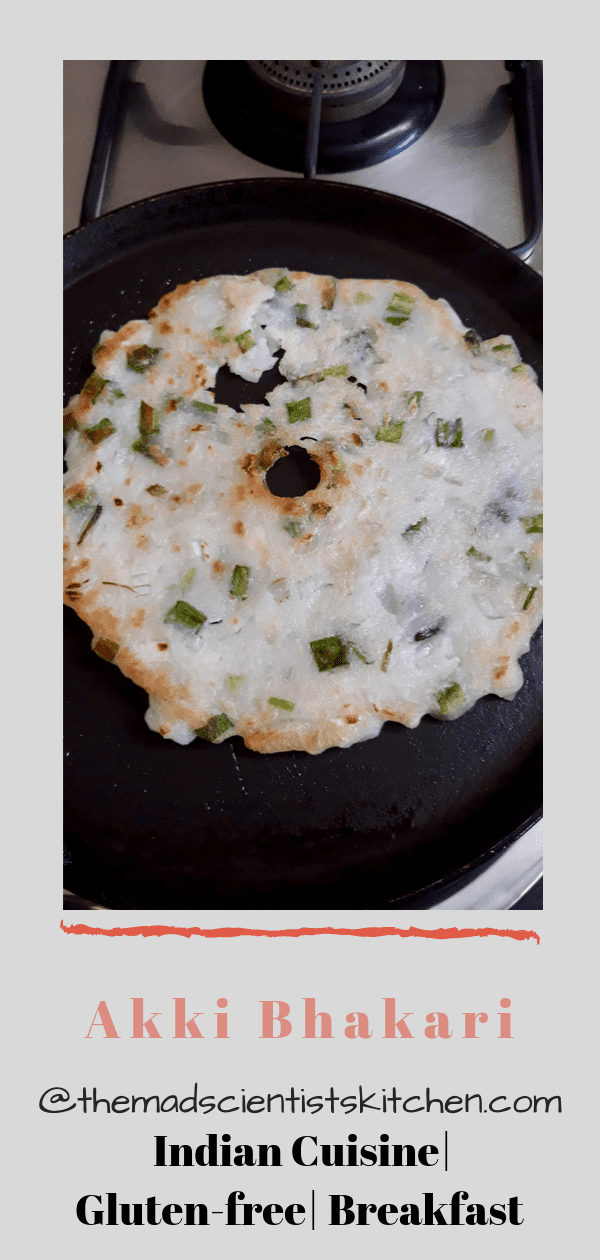 This week I have participated in Foodies Redoing old posts and changed my old post. The pictures in the past I have lost when I was hacked so updating pictures then I could not resist rewriting the whole post. This post was originally published in the year 2015 when I did not hav erecipe cards etc.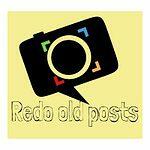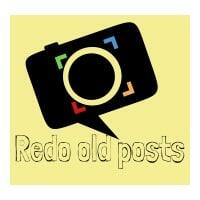 Do you like this recipe? Have you tried it? In case you do and whenever you do please tag me on Facebook. My Instagram handle is #themadscientistskitchen. You can also use my Twitter handle, Then you are always welcome at my Pinterest page too. I will love to see you there.
Please also subscribe to my mailing list and join me in my journey of Food! Will enjoy seeing what you make so that I too can learn from you!!!
Reader Interactions