#7 Classic Diwali Snacks and Sweets Recipes
Simple yet delicious that is what I look for in my Diwali Snacks and Sweets just 7 of them.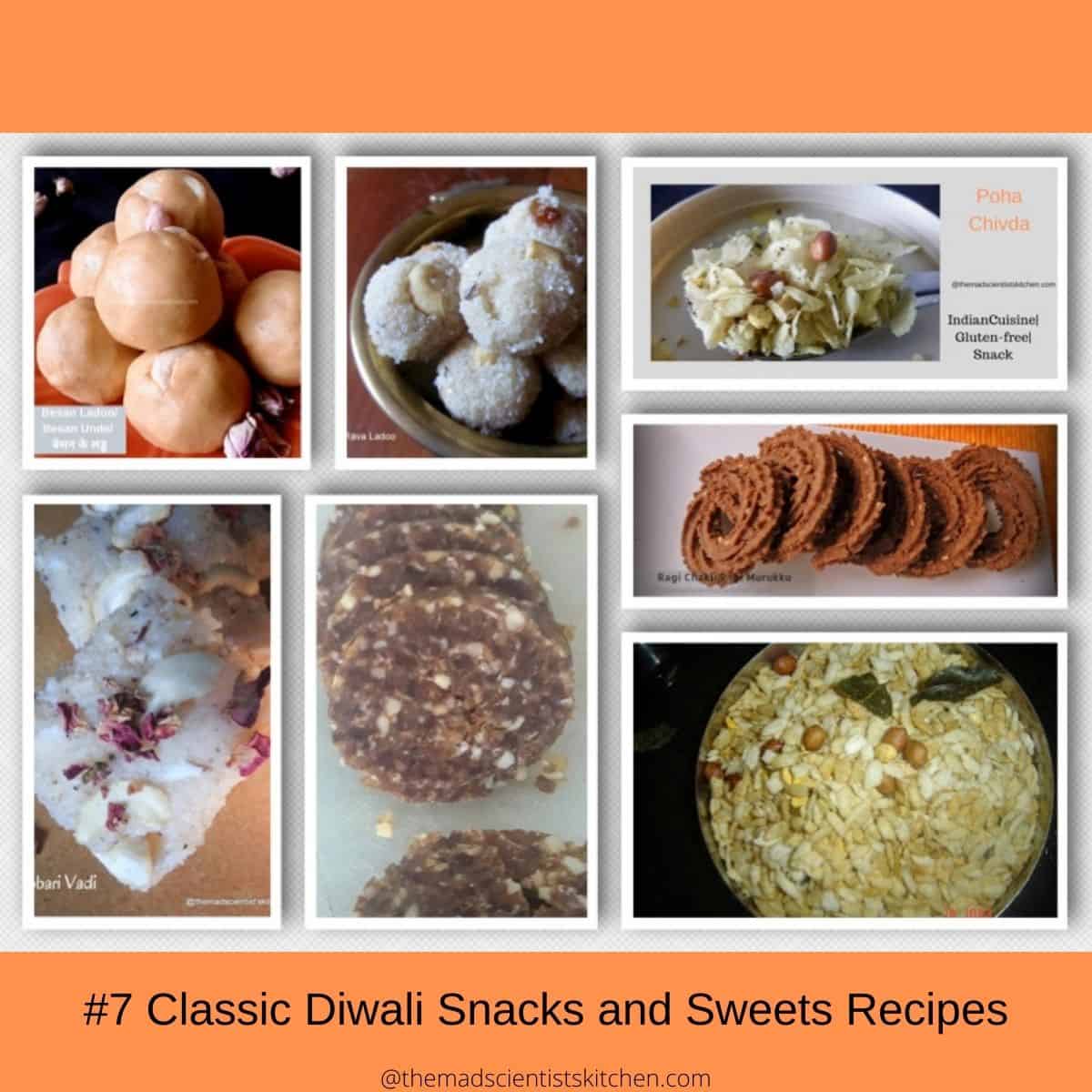 If you too are wondering what to make for Diwali I am sharing Simple #7 Classic Diwali Snacks and Sweets Recipes is a must-have for Deepawali. That does not mean you have to spend time in the kitchen slogging over the festive delicacies. If you too like to spend minimum time in the kitchen then I have you covered. These sweets and savouries take not much time to make. I have tried to give some of them a healthy twist. Read on! Spread the love, share and like my post. Sign up for my newsletter! (link below).
Deepawali, Deepa means a row of lights, lit lamps of course. Diwali symbolises the "victory of good over evil, and knowledge over ignorance, light over darkness"!
Also called Diwali, this Festival of lights and is celebrated across the country. The festival is celebrated for 3-5 days depending on the region you stay in. The festival is generally associated with The Goddess of wealth and prosperity, Lakshmi but depending on the region they are associated with Lord Rama, Krishana, Yama etc.
Diwali starts with Dhanteras and ends with Bhau beej. In Karnataka, the celebrations used to be for one more day called Akkan Tadgi. On this day the sister gifts the brother nowadays we finish it off on Bhau Beej only!
In anticipation of the festival of Deepawali houses and offices are cleaned, painted. Then we string lights, light oil lamps, put up sky lanterns. The highlight is rangolis that are beautifully and painstakingly designed before the houses. The Goddess of Wealth is worshipped as kids we used to set off firecrackers too. Diwali also meant feasting we had a huge set of friends in Nagpur and the celebrations used to start one month ahead of Diwali and continue well into the next month!
Diwali is in Karanatk and Maharashtra celebrated with dry snacks like chakli, chivda, ladoo. In Goa, it is more about Poha, we have right from batata fov to rastle pov then there is Amado chutney, Chana che usli, kelyacho halvo, churma along with chakli,nevri, sev etc.
So this Deepawali I had plans to make my own snacks and sweets. But the girls are leaving tomorrow and I do not expect that they will come back for the festivities! Maybe I can parcel them the goodies! Here is the list
Chakali and Murukku are my favourites how will my goody bag not contain them? Just to ease my conscience I will make Ragi Chakali or Nachni/finger millet. Here is the link try it..
Ragi Chakli|Ragi Murukku
A spiked spiral that your Indian friend will offer is Chakli. It is a  savoury snack from India.
Check out this recipe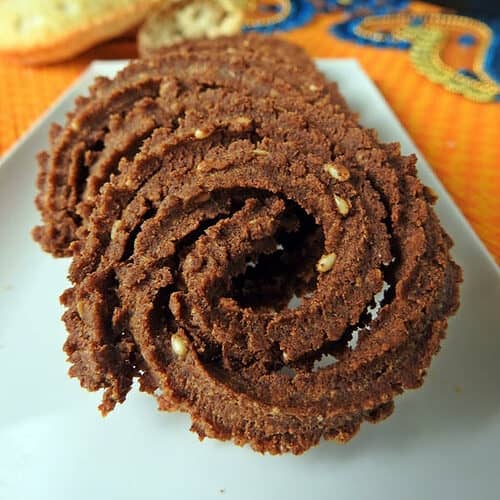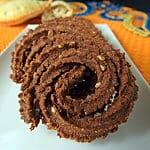 2. Chivda, this is something without which Diwali is incomplete. Make it out of the thin poha that you need to roast well. Roasting is what makes or breaks your chivda. Try it it is simple.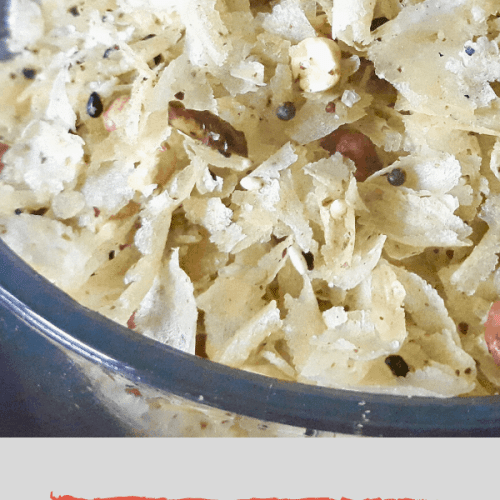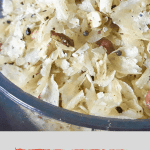 3. Bhajke Pohe Chivda uses pre-roasted poha called Bhajle Fov to make this Chiwda you need very little oil. Generally, I make Bhajile Fov chivda as I want to save the time needed to roast the poha. This is very easy and you make it as a snack for other days too. Try making it and you will love it.
Bhajkya Pohe Chivda Recipe
A variety of poha that's pre-roasted you can just make Chivda out of it. Bhajkya Pohe Chivda is a healthy option. Try it!
Check out this recipe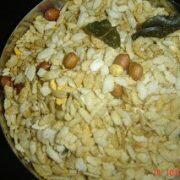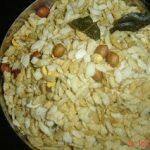 4. Besan Ladoo is a laddu that is well known and enjoyed by all rich and poor in India. Simple and quick Besan Laddu is a necessity for any festivity. These are my favourite? becomes difficult to choose. But yes I love besan ke Ladoo.
Besan Ladoo Recipe
Use pantry ingredients to make Besan  Ladoo. Also called Besan Laddu or Besan Unde!  In fact festivities are incomplete without them.
Check out this recipe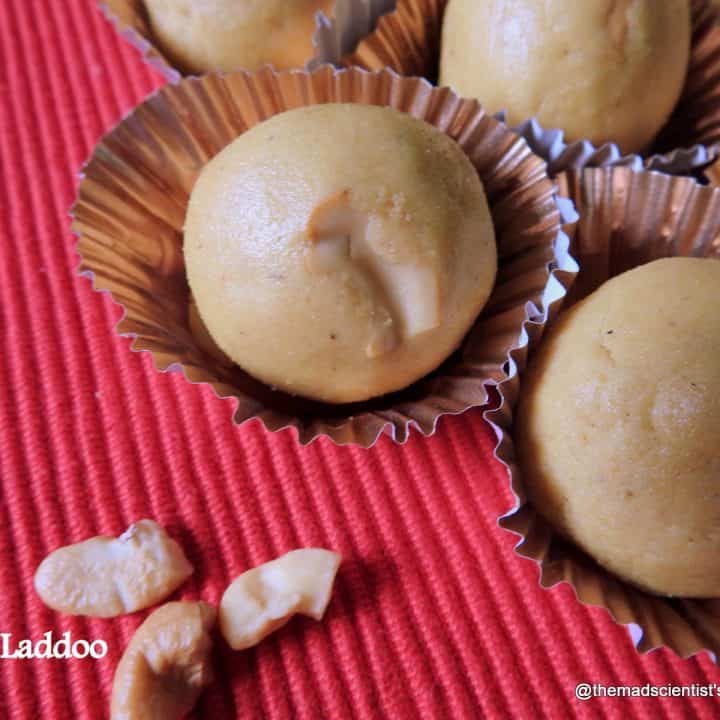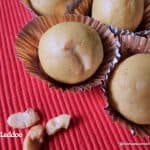 5. Childhood treats like Rava/Sooji Ladoos are difficult to forget! One of our favourite sweets in childhood was Undi/Unde or Laddu or Laddoo any kind was ok. Let me qualify is okay! Try this easy rava ladoo you need not make a sugar syrup to make them.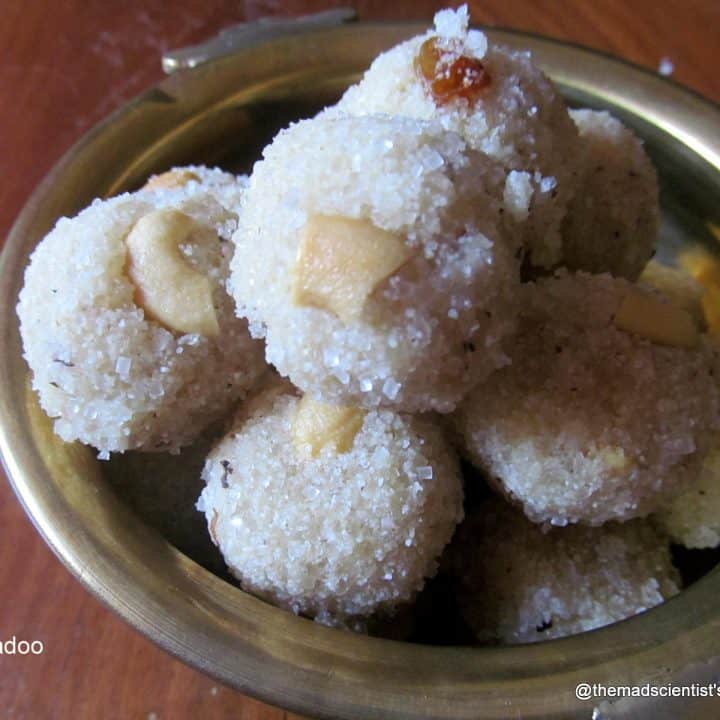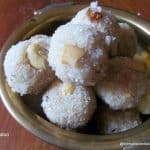 6. Nariyal ki Barfi this is my favourite sweet, okay let me confess one of my favourites. Have you tried it? This recipe I learnt from my grandmother and it is delicious.
Nariyali ki Barfi|Kobbari Vadi|Naralachi Vadi|Coconut Fudge ~Diwali Special
Simple yet delicious sweet not just for Diwali but any time of the year.
Check out this recipe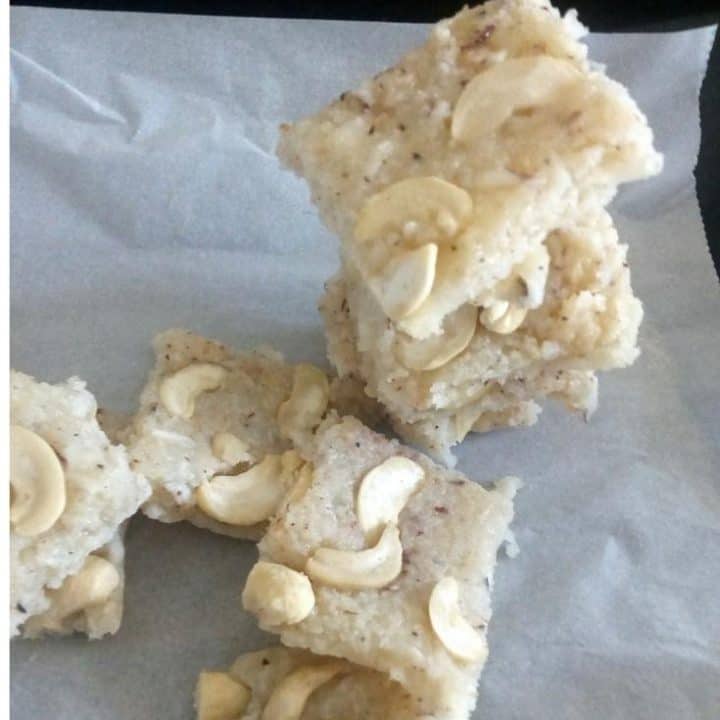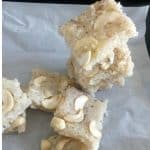 7. My last sweet for Diwali that is easy and a super hit is these Sugar-free Dates Dry Fruits Rolls.
Sugar-Free Dry Fruit Rolls
A delicious yet simple Sweet that is delicious and a great energy booster. Can be gifted and yes your friends and relatives will love it. Try it!
Check out this recipe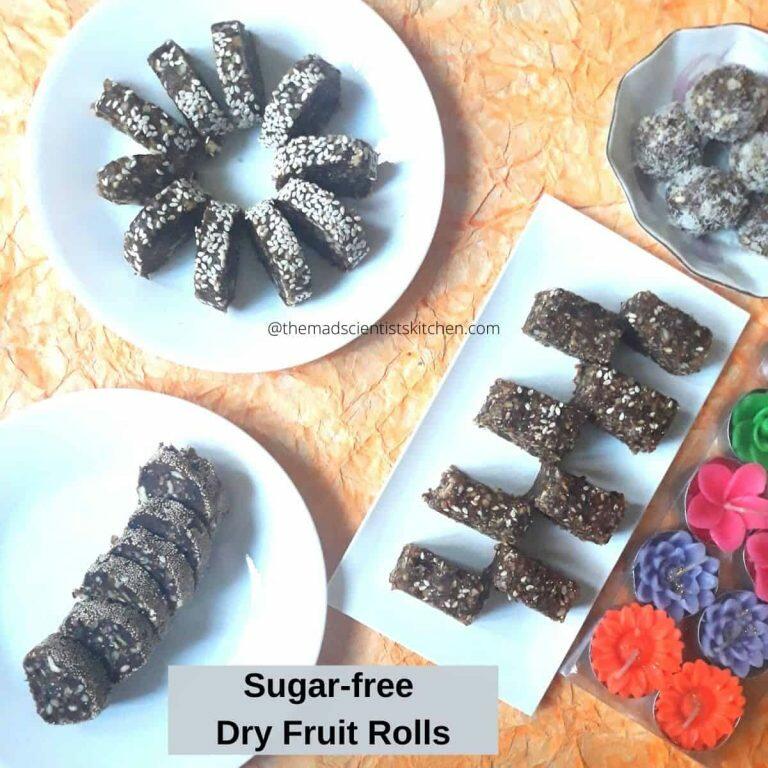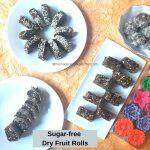 So what sweets are you making from this list? Do you have any other recipe that completes Diwali for you? Do comment and let me know. Share your feelings and your Diwali pictures with me. I will love to see them.
Pin for Later: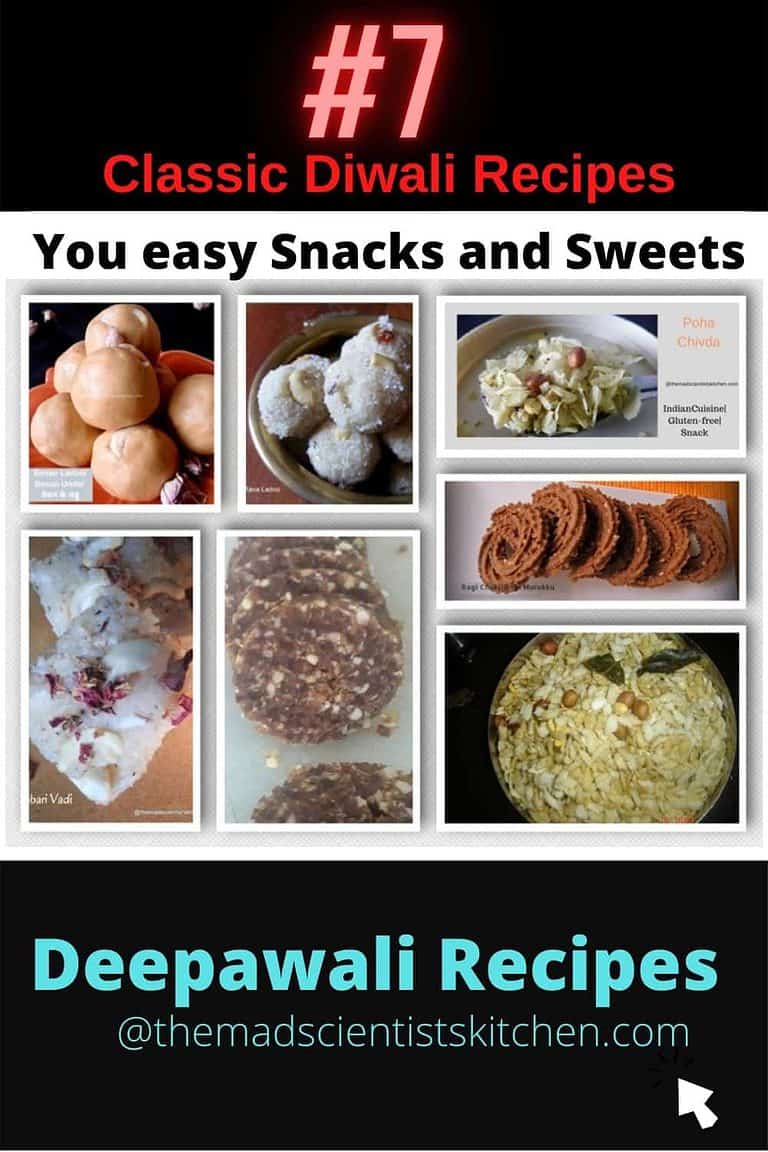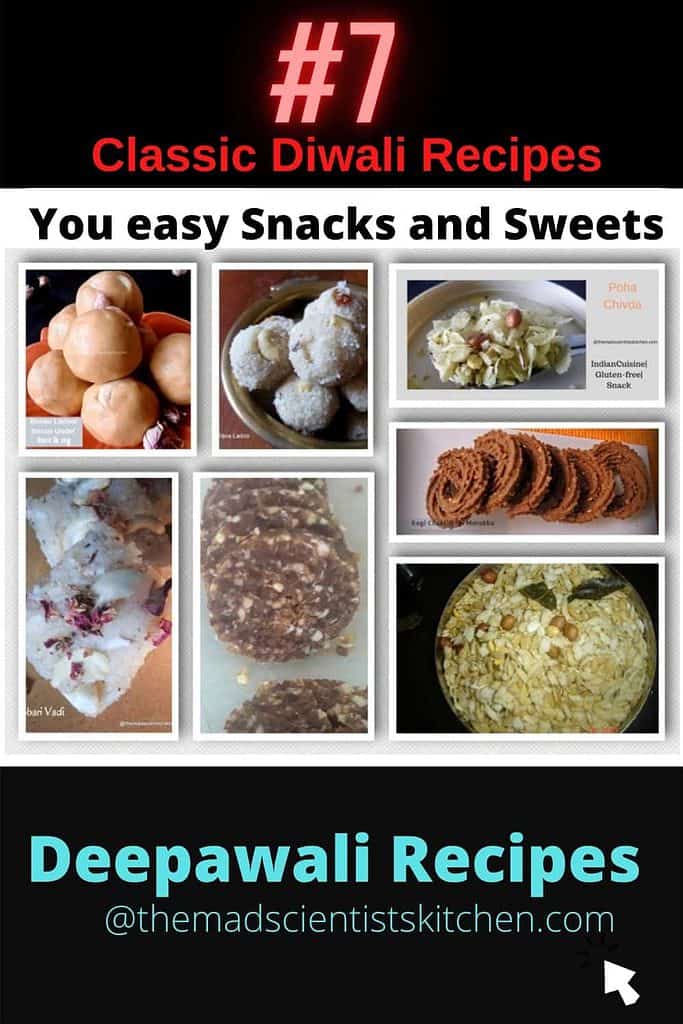 Reader Interactions