Patoli also Patoleo is a Goan delicacy made by steaming rice flour, coconut and jaggery in turmeric leaves.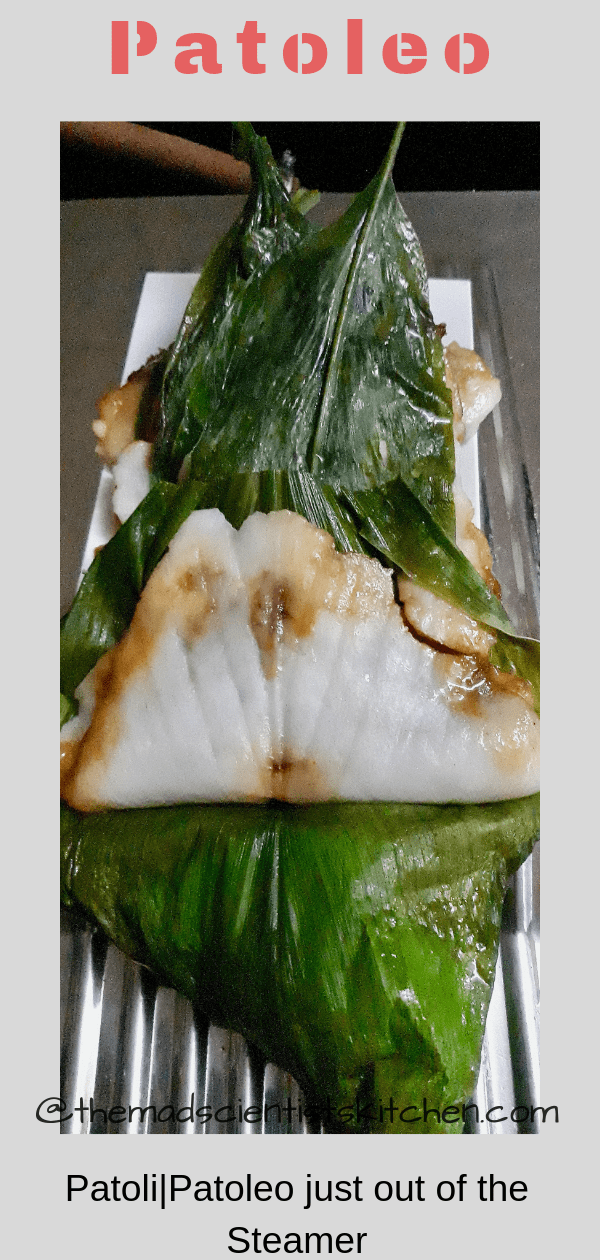 Steamed foods are offered as Prasad or blog to Lord Ganesh, to the snakes, yes Patoli is made for Nag Panchmi and also for the Feast of Assumption of Blessed Virgin Mary on 15th of August.
Rains when you best avoid leafy vegetables and vegetables like cauliflower is the time when bitter gourd, ridge gourd, snake gourds and fresh turmeric leaves are available.
These are immunity boosting veggies and they are light on the digestive system. So we eat a lot of these veggies in this rainy season. Plus since we get these veggies that are grown locally our carbon footprint is much low.
In the rains avoid eating raw vegetables, they should be well washed and cooked. Fish and chicken are avoided, and we call it Shravan Mahina… the Hindu Month of Shravan which is holiest. In fact, people keep a Vrat for Chaatur Maas, 4 months when certain foods are avoided.
Turmeric is long known for its anti-inflammatory benefits on the body there is a reason why you are fed turmeric milk when you suffer from cough and cold.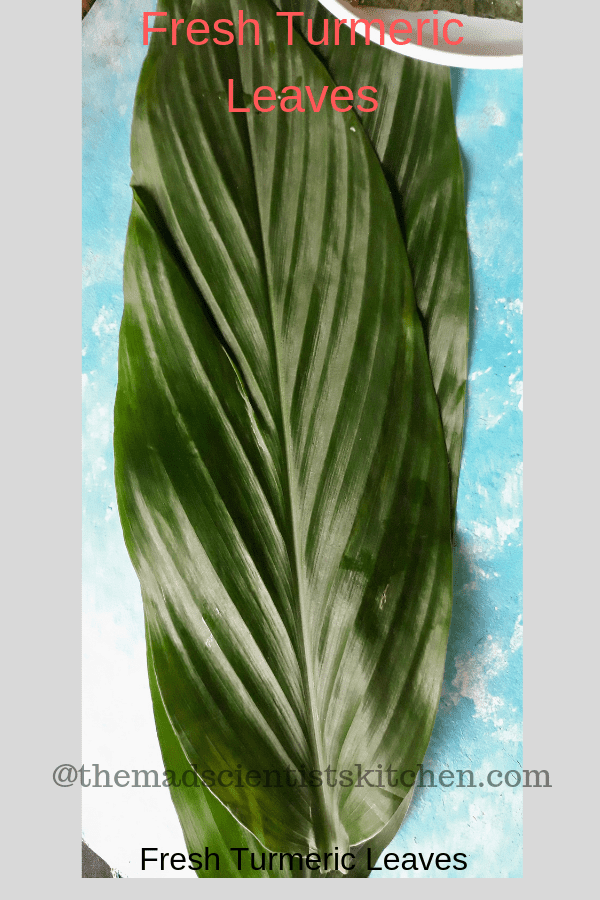 Fresh turmeric roots can be eaten as a pickle, there is veggie too( recipes soon). Since we Indians generally tried to avoid waste the turmeric leaves were highly prized by the Ancient Indians.
They developed Patoli, also a turmeric leaf is added to butter when making ghee. There may be many more recipes I am not aware of but in case you know please tell me.
Nag Panchmi, the 5th day of Shravan we Hindus worship Snakes. Snakes are revered in Hinduism there are many mythological stories associated with snakes and they make an interesting read. Though all the stories I think we are taught that snakes do not attack unless provoked, snakes are needed for the ecosystem. So leave them alone.
On Nag Panchmi we avoid using a Tava/skillet, we avoid chopping in fact use of sharp objects and objects for tilling digging etc are avoided.
So any festivity we have a special dish, something that is good for the season.
"When in Rome do as Roman do " following this proverb tried remaking patoli.
This time my daughter demanded them and she wanted them a little sweet a little pungent. She also helped me make them. I loved making them with her in fact we shot a video. 
 The only difference between steamed modak and patoli is the shape and that patoli is steamed in fresh green turmeric leaves.
The end result is a fragrant and healthy low fat, gluten-free dish and completely satisfying experience.
I have already said that the ingredients for both modak and patoli for both make the filling first so that it cools down for you to use your hands when necessary. The Goan soak and grind the rice fine to make patoli but I prefer this method of making a dough with rice flour.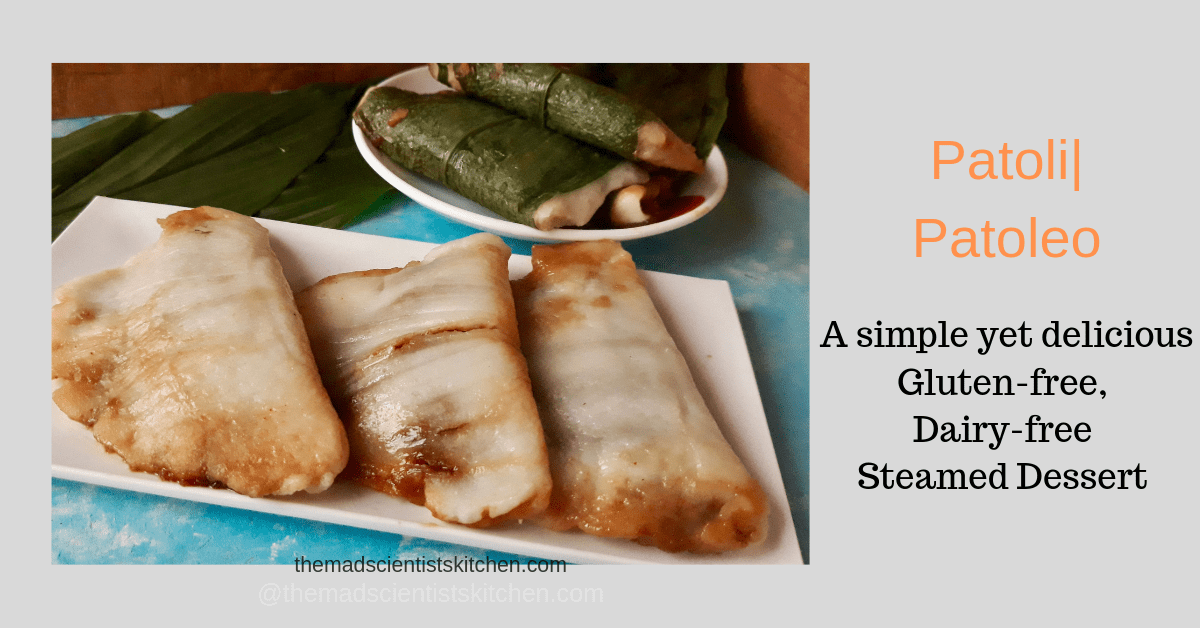 You will need a steamer to make these Patoli. You can buy it here
Disclaimer: We are a participant in the Amazon Services LLC Associates Program, an affiliate advertising program designed to provide a means for us to earn fees by linking to Amazon.in and affiliated sites. When you click and buy through this site, it helps us earn to keep this site running.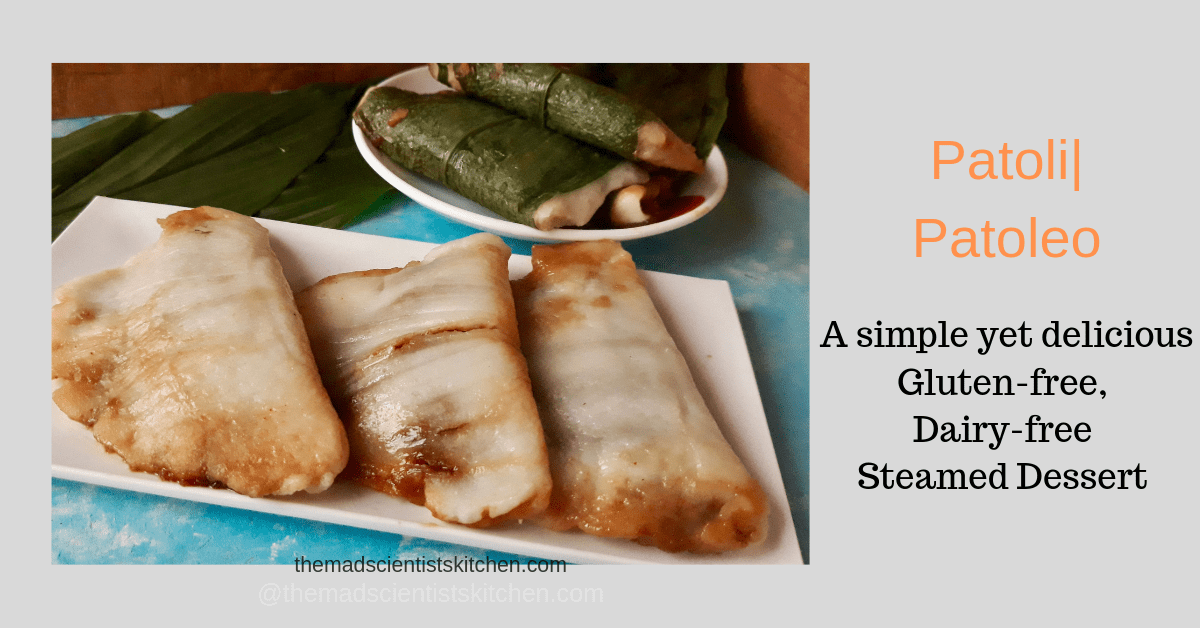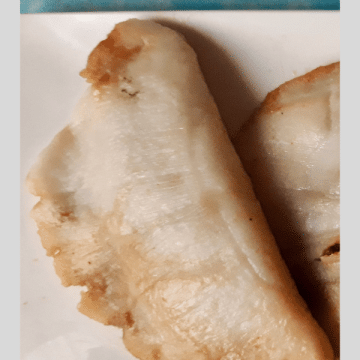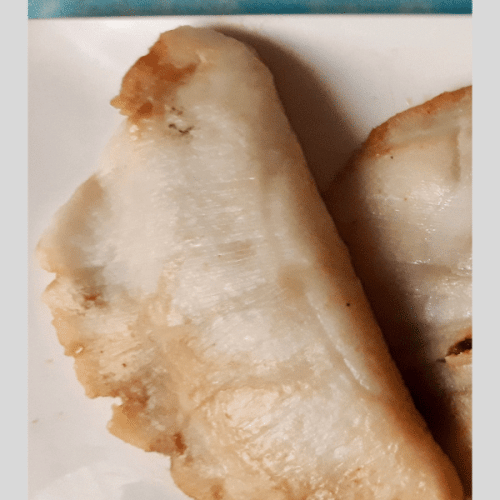 Patoli| Patoleo
A steamed rice flour dumpling made with a stuffing of jaggery and coconut.
Print
Pin
Rate
Equipment
Kadhai/wok

Steamer

Plates

Spoons
Ingredients
For the filling:
1 ½

cups

coconut grated

1

cup

jaggery

5-6

cardamom/ elichi powdered

2

tablespoon

red chilli powder

optional
For the covering:
2 ½

cups

water

A little salt

2

cups

rice flour
To make Patoli:
Turmeric leaves

2

teaspoon

oil

⅓

cup

water
Instructions
For the filling: (cook time about 20 minutes)
In a kadhai/wok add the coconut and jaggery, mix well and set aside for some time. This helps the jaggery to melt and reduces the time needed to cook the mixture.

Adjust the ingredients to suit your taste before you start heating. Remember that the filling will taste pungent (if using the chilli powder but with the rice cover, it will taste okay). However, adjust the amount of chilli powder to suit your taste.

Cook on low flame till the mixture comes together and is almost dry. It forms a sticky paste.

Cool completely.
For the covering:( cook time 5 minutes)
In a pan add the water, salt and bring to boil.

Once the water starts boiling add the rice flour, mix.

Cover with a tight lid and set aside too cool. (see note 1)

Once the vessel is warm transfer to a bowl/plate a small portion of the dough(keep the rest covered) and knead to get a smooth ball off the dough. This dough will be malleable but since there is no gluten you will have to handle it gently.

Make small balls and set aside.
To make Patoli: (Cook time 15-20 minutes)
Wash the turmeric leaves under running water and then dry them with a clean kitchen towel.

Smear the leaves with a little oil and set aside.

With oiled hands take a small ball of the rice dough and with your fingers spread the dough to a thin layer on the turmeric leaf. (You could also roll it with a rolling pin but it's very messy.)

On one side spread the jaggery mixture along the length or breadth of the leaf on one side.

Close the other section of the leaf and press gently but firmly.

Place the fold patoli in the steamer and steam them for 15-20 minutes or till the leaf changes colour.

Serve hot.
Notes
Variations:
 This was what I used to make for hubby dear. Let me tell you it was very dry and even he did not like it much but insisted I make it.
1 ½ cup coconut, freshly grated
¼ cup fresh coriander leaves
2 green chillies (Adjust as per taste)
½ teaspoon asafoetida
2 teaspoon red chilli powder (Adjust as per taste)
A pinch of sugar
Salt to taste.
Grind all the ingredients coarsely. Use this mixture in place of the sweet filling.
Note 1: The vessel may have cooled down but the flour will be a bit hot. Do not add your hand in the centre. Take a small portion from the side. Cover the rest and set aside.
Note 2:Please note adding of chilli powder is not in the traditional Goan Recipe. It is my addition you may use just jaggery.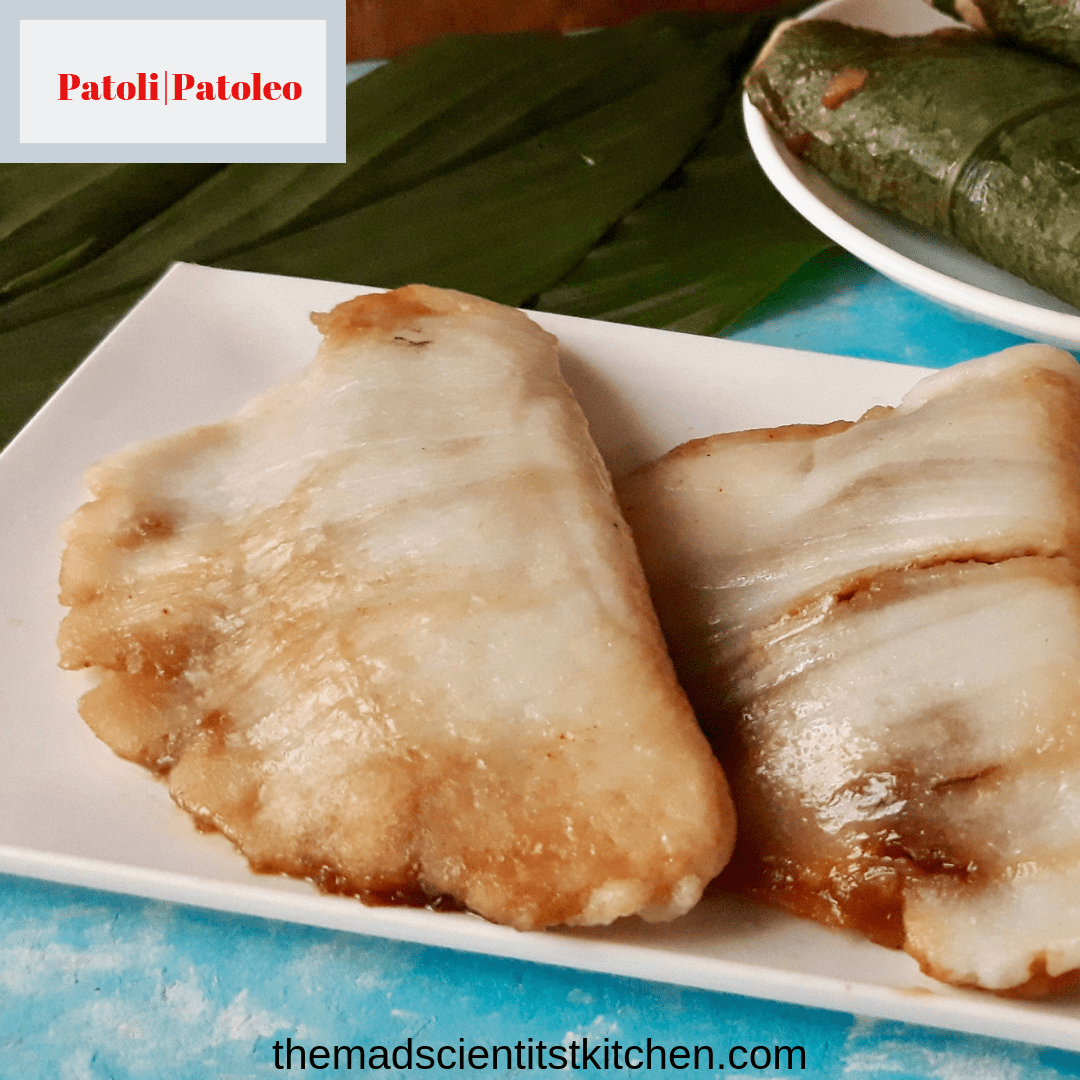 Do you like this recipe? Have you tried it? In case you do and whenever you do please tag me on Facebook. My Instagram handle is #themadscientistskitchen. You can also use my Twitter handle, Then you are always welcome at my Pinterest page too. I will love to see you there.
Please also subscribe to my mailing list and join me in my journey of Food! Will enjoy seeing what you make so that I too can learn from you!!!
Reader Interactions