Last Updated on
Southekayi Kosambari also Kakdi Chi Koshimbir is an everyday salad accompaniment for our chapatti or rice.
In the sultry summers when you do not feel like eating, much less cooking something make Sautikai Kosambri or Kakdi chi Koshimbir in Curds, since cucumber is recommended to beat the heat this is one yummy way to eat something and yet stay cool.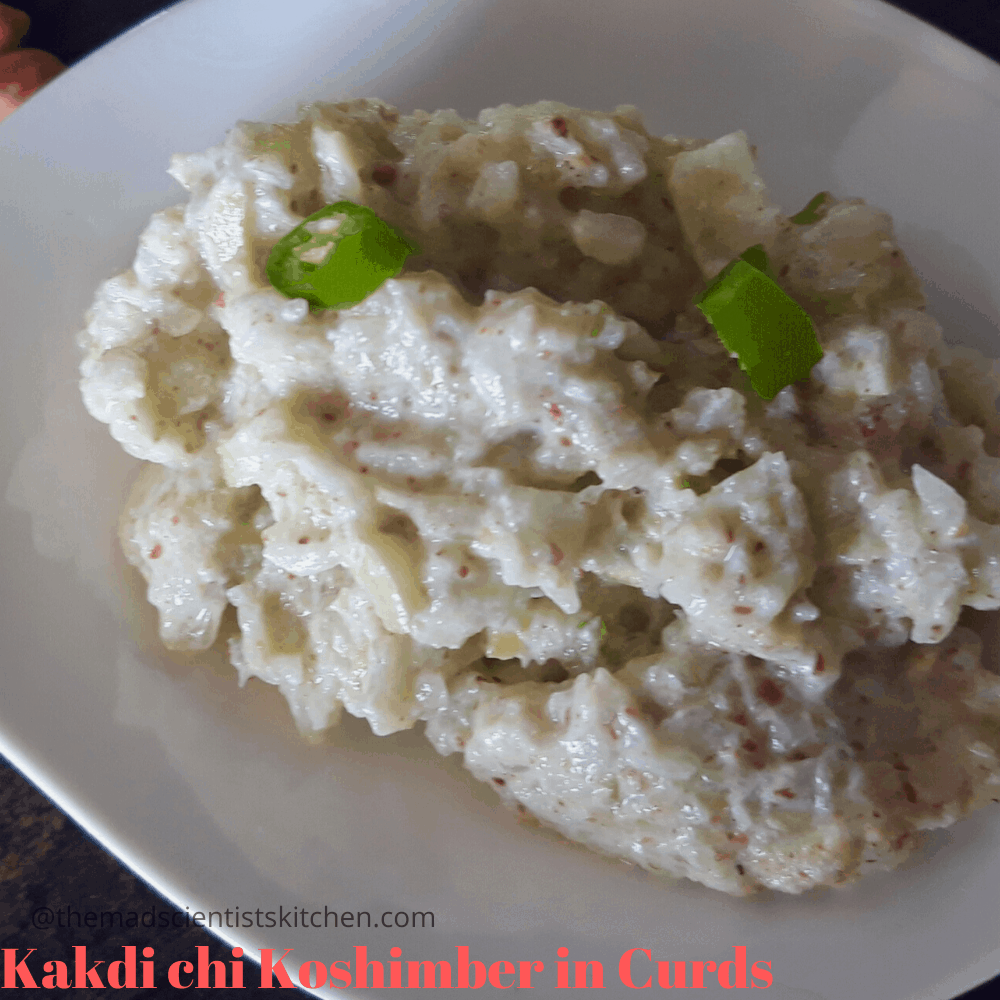 These are everyday salads something I put together in the last possible minute. Today I am updating the pictures of my old post as somehow these are missing.
This week after a long long break I am back in the blogging Marathon.
The reasons why I did not blog range from house upkeep, ill-health to plain laziness.
So in an effort to shake some energy into my blog, I am making salads. Simple ones, mind you those that you can make from the ingredients in your pantry, the everyday salad that we like and I do make but never got down to penning them down.
Let's begin with all-time favourite cucumber one.
In Kannada, it's called Sautikai Kosambri and in Marathi Kakdi chi Koshimber. This is different from Khamang Kakdi that is made in Maharashtra as I have used curds or yogurt here. This is made in my place often; I believe it's the Karnataka-Maharashtra border recipe.
The main ingredient in making Kakdi chi Koshimbir in Curds
Cucumber: Kakdi, Taushi, Southekayi as it is called is available in different forms. Some kinds have a lot of water so if you are using a variety like these you will have to squeeze out the water. Use the water on your face as it is a pore tightening agent.
Roasted Peanut Powder: peanuts or groundnuts are commonly used in the Karnataka_maharashtra border areas. Basically the nuts are roasted on low flame stirring them till the nuts are done. The aroma is unmistakable.
Green chillies, coriander leaves, curds, sugar, salt: The taste enhancers use them and you will really enjoy your Southekayi Kosambari.
Tempering: Use a tempering of asafoetida, mustard and oil. I generally avoid the tempering but when I do add tempering my Father-in-Law loves it more.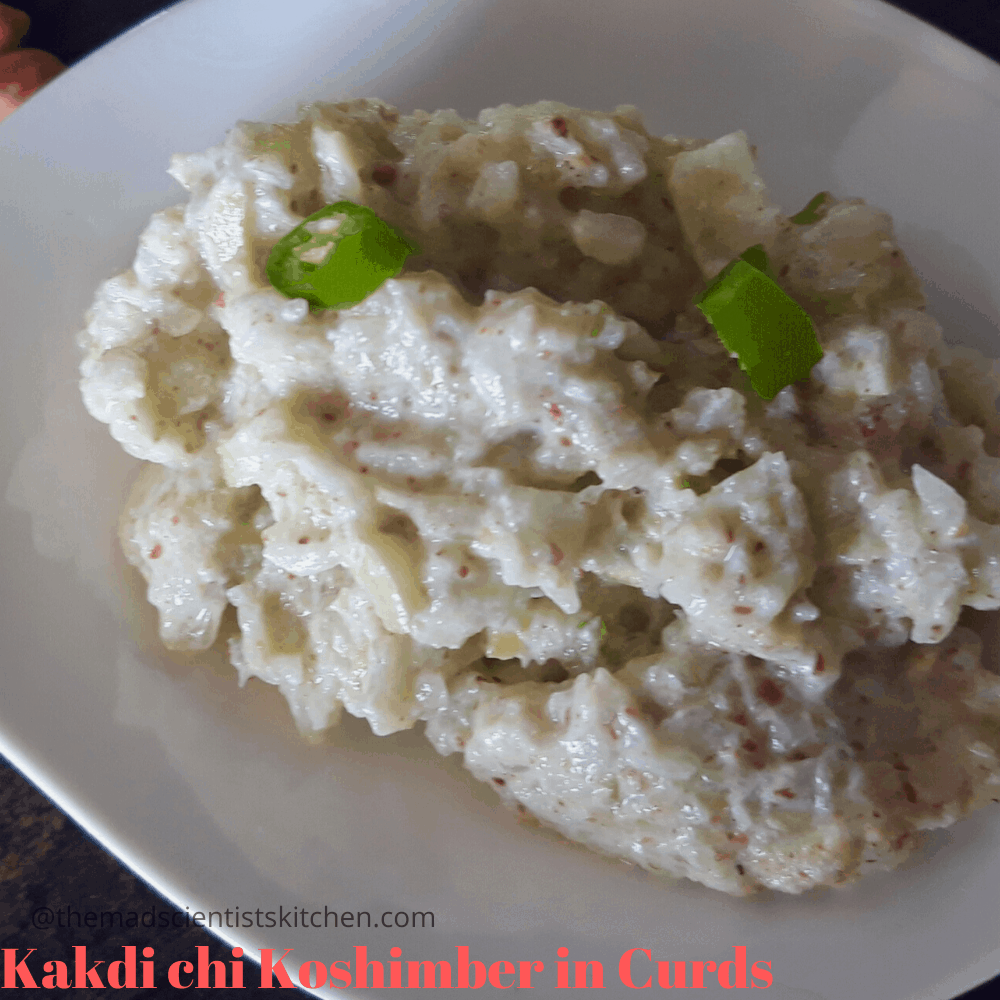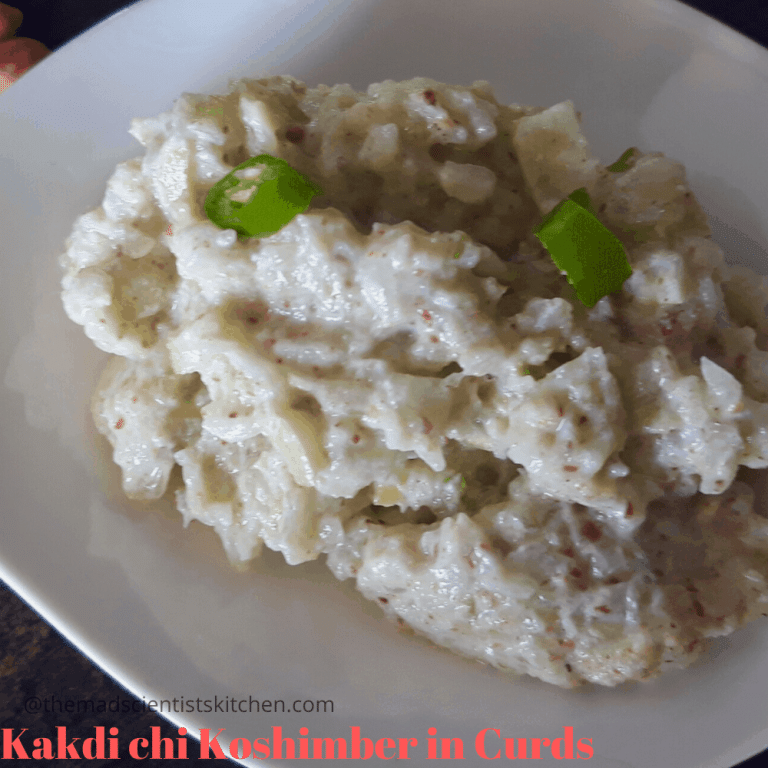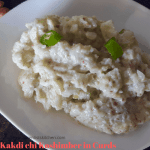 Print Recipe
Sautikai Kosambri/Kakdi chi Koshimbir in Curds
A cucumber salad that is simple to make yet cool you down on hot summer days.
Equipment
Knife

Chopping Board

small pan for seasoning

Bowl for mixing
Ingredients
2

Cups

Cucumber

finely chopped

2-3     

green chillies

finely chopped

1/2

Cup

Curd

beaten

3-4

Tablespoon

Roasted groundnut or peanut powder

2

Tablespoons

Dhania/ coriander leaves

finely chopped

1

Teaspoon 

 Sugar

Salt to taste
Seasoning:
1

Teaspoon

Oil

1/2

Teaspoon

Rai/mustard seeds
Instructions
The cucumber can be bitter sometimes hence after washing them cut the tops and rub the cucumber ends with the tops. You will get some foam. Wash the cucumber again.

Taste a slice if it is still bitter discard the cucumber. You can peel the cucumber if you wish I never peel them.

Chop and dice the cucumber fine.

Squeeze the cucumber with your palms to remove excess water as much as you can.

Add this squeezed cucumber in a mixing bowl.

Add groundnut powder, chopped coriander leaves, and sugar. Mix well.

In a small saucepan, heat oil add mustard when the rai/mustard splutters add finely chopped green chillies and pour this mixture to cucumber.

Add salt mix it with cucumber mixture.

Add curd and mix. Serve immediately as a side dish.
Notes
If making for fasting or Upvas as it is called in Maharashtra, the oil is replaced with ghee and mustard with jeera.
There are times like now when I skip the seasoning.
If you plan to make Khamang Kakdi then use 1 tsp lemon juice in place of curds.
The other Indian salads that you may like :
Your Shopping List for Kakdi chi Koshimbir in Curds:
Disclaimer: We are a participant in the Amazon Services LLC Associates Program, an affiliate advertising program designed to provide a means for us to earn fees by linking to Amazon.in and affiliated sites. When you click and buy through this site, it helps us earn to keep this site running.
Pin For Later: