Indian Green Tomato Salad Recipe
This unripe tomato salad is simple, delicious, and a vegan koshimbir that can be made to suit your tastebuds.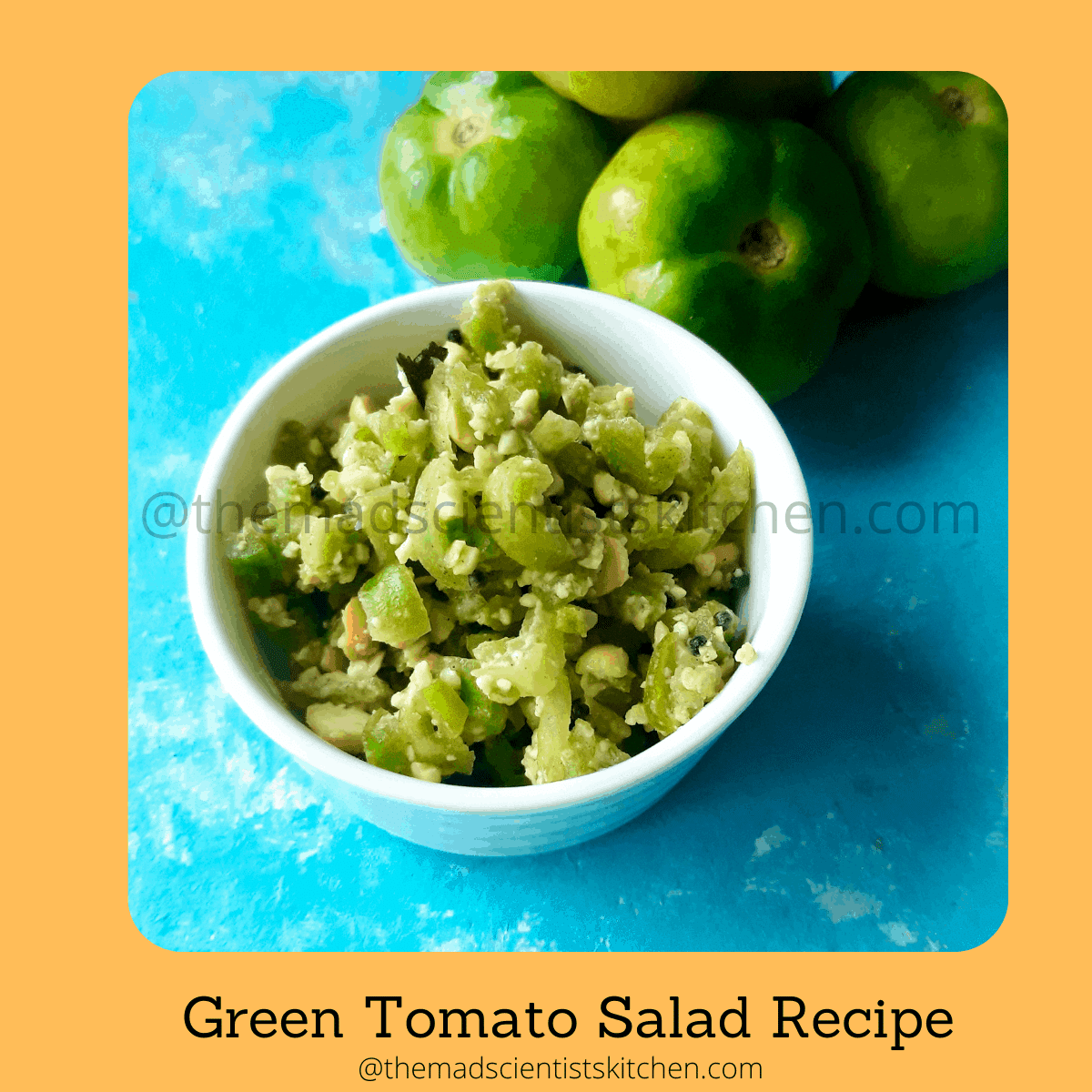 Tomato Kai Kosambri comes from my grandmother kitchen. She regularly made it when I went home from the hostel over the weekends. Took her 5-10 minutes to make it it is not too dry or runny so great with rice and dal or even with rotis as a side dish.
Hello, and welcome to The Mad Scientist's Kitchen, Reinventing the Foodie in you! If you need simple recipes tasty and healthy food then you are in the right place. Please leave me a comment as to what you will like to see here. We will not spam you, so subscribe to the link below or on the sidebar!
Contents:
Ajji made this yum salad and I had totally forgotten about this salad. I had made it when Akanksha was about 6-7 years. The other day she had come with me to the market and she searched and picked up about t ½ kg of these unripe tomatoes and reminded me about this salad these pictures are by her. This post I had first posted on 29thof Oct 2008 updating it now for SEO purposes and mainly to replace my cringe worth pictures.
In my hometown kai tomato, (kai is an unripe fruit) are very common. Not so in Goa, I need to search for them and the greengrocer is like why do you want it?  I am sure he like the local farmer thinks I am nuts. 
For once let us make it very clear you can eat green tomatoes. They are delicious and they are sourer thanks to their higher acidic content. 
You need not wait for the tomato to ripen before you eat them. There are very many green tomato recipes you can make a salad, gojju a sweet-sour curry, chutney and I am sure there are many more that I need to explore.
Even the Kitchen has said that you can make delicious dishes with them. Of course, now my mission is to search for green unripe tomatoes and make the ones that The Kitchen has mentioned. 
Fun facts about Tomatoes!
Tomato is consumed popularly when ripe, the luscious red tomato has an appeal that is irresistible. Do you know there are tomatoes that are yellow, orange too when ripe? They were the original ones grown in Europe. 
Tomatoes were considered poisonous in medieval times.
Pommes d'amour or love apples was what the French called them as they believed tomatoes had stimulating aphrodisiacal properties.
Tomatoes, the popular berry that is now considered a vegetable was introduced to India in the 16th century by the Portuguese. The plant thrived and now we are the second largest producers of tomatoes.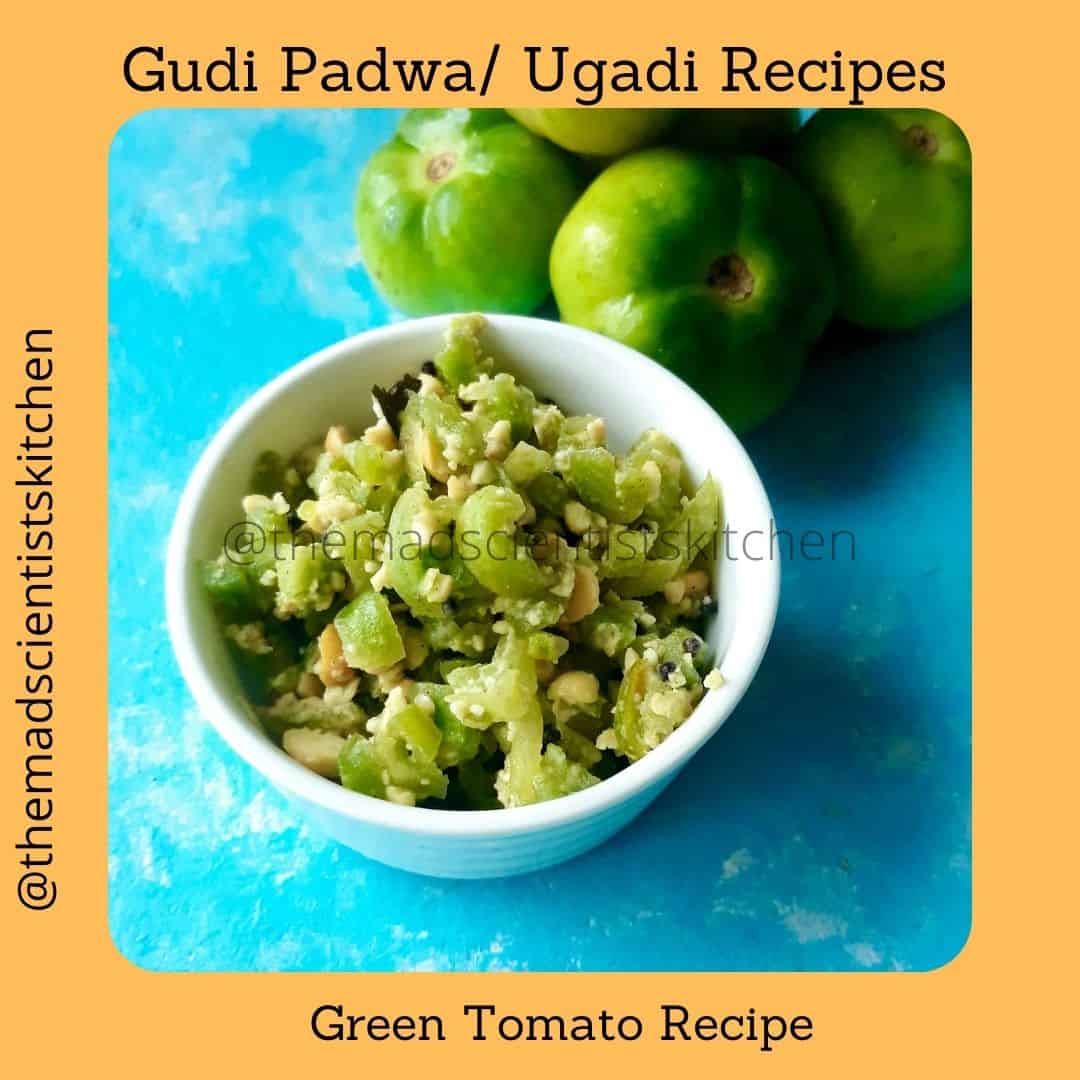 There are the ingredients you will need to collect before making the salad. The measures are in the recipe card please do check them out.
green tomatoes
green chillies
roasted gram what we call puthane(will add the picture)
oil,
mustard seeds
asafoetida
salt to taste
sugar (optional)
coriander for garnishing
Green Tomatoes: Use the reddish and green half-ripe one. If the pinch comes to a shove then use firm red ones but I have never tried it so I cannot say for sure how it will taste. Let me know if you make it.
Tempering: Avoid tempering if you wish but then mustard gives a delicious tang.
Asafoetida: Asafoetida is an anti-flatulent but in case you want a gluten-free salad avoid it.
Making Tomato Salad is very easy!
Wash the tomatoes clean. These days I soak them in a solution of baking soda for about 15 minutes. Before using them rinse them yet again in water.
Cut the tomatoes fine and add to the serving bowl. Add some salt mix and set aside.
Pulse in the chutney pot of your mixer/blender some green chillies and the roasted gram coarsely. Add to tomatoes and mix well.
In a small wok heat oil, add mustard when it splutters add asafoetida.
Mix in the tomatoes and check the seasoning.
Add sugar if using and serve immediately.
If you have half-ripe tomatoes use them too the taste is just as good.
Use firm tomatoes and cut them fine.
I use sunflower oil, rice bran oil or groundnut oil in rotation. You can use vegetable oil or any oil that does not smell.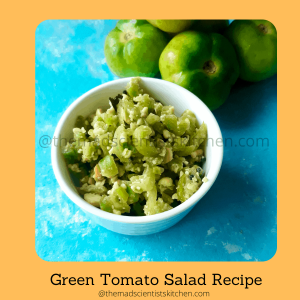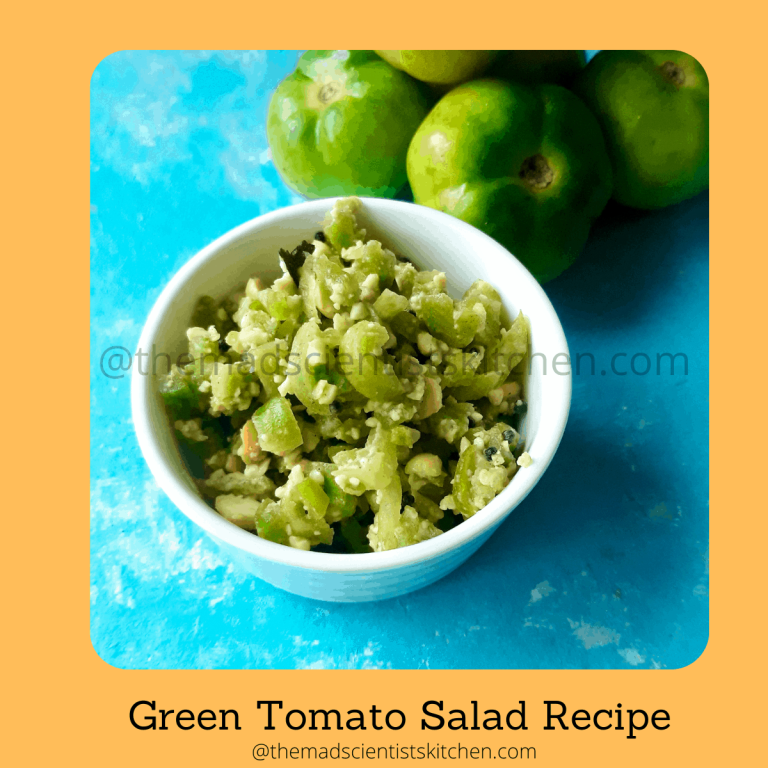 Indian Green Tomato Salad Recipe
Tomato Kai Kosambri is a simple salad that accompanies a meal tastes great with rice and dal or even chapati and sabzi. Easy vegan salad with pantry ingredients!
Print
Pin
Rate
Equipment
Knife and board

chutney jar of mixer/blender

Bowl for mixing

Spoons and Ladles
Ingredients
2

raw tomatoes

2

green chilies

2

tablespoon

roasted gram

½

tablespoon

oil

½

mustard seeds

½

teaspoon

asafoetida

salt to taste

¼

teaspoon

sugar

optional

coriander leaves for garnishing
Instructions
Wash and cut the tomatoes into fine pieces add to a bowl add salt. Mix and set aside.

Pulse the green chillies, roasted gram coarsely in the chutney pot. Add to tomatoes.

In a wok heat oil, add mustard when it splutters add asafoetida.

Add to the tomato and mix.

Adjust the seasoning, sugar if using and garnish.

Serve immediately.
Nutrition Facts
Indian Green Tomato Salad Recipe
Amount Per Serving (1 bowl)
Calories 134
* Percent Daily Values are based on a 2000 calorie diet.
Nutritional Disclaimer: I am not a certified nutritionist and make no claims to the contrary. Please check with your nutritionist for your dietary needs and restrictions. Ultimately you are responsible for your decisions.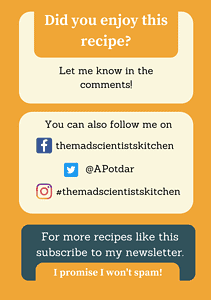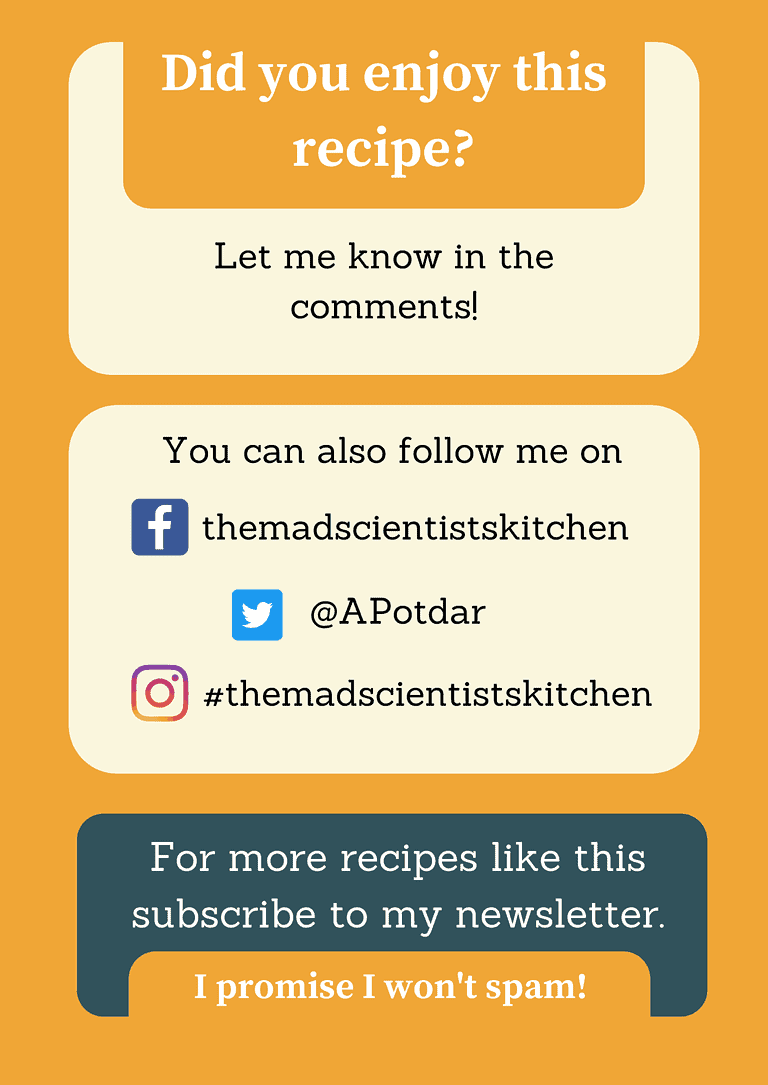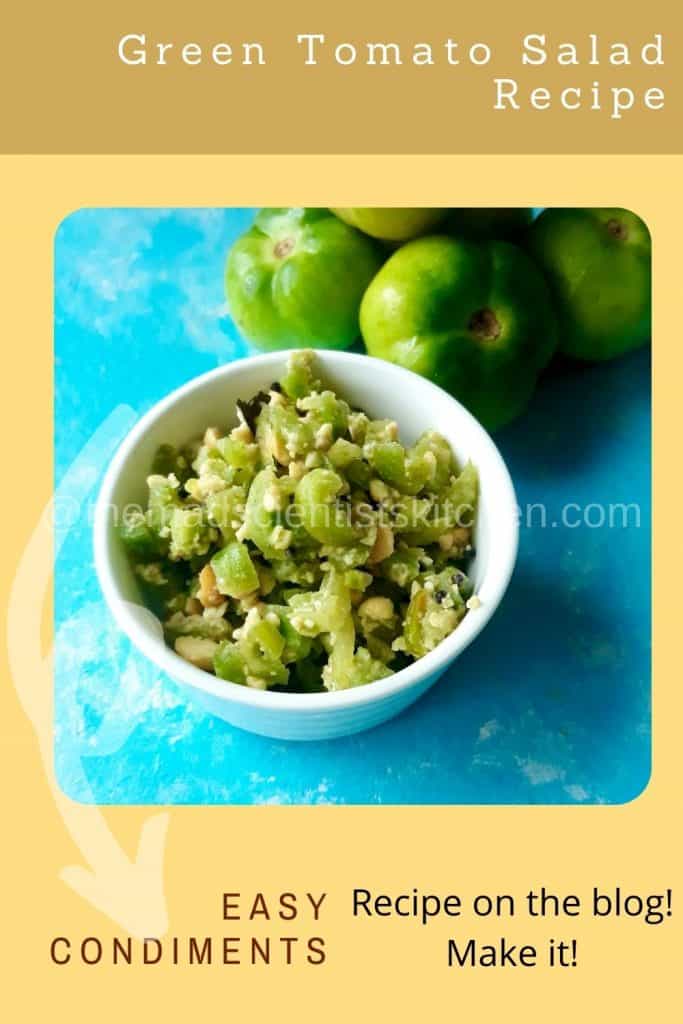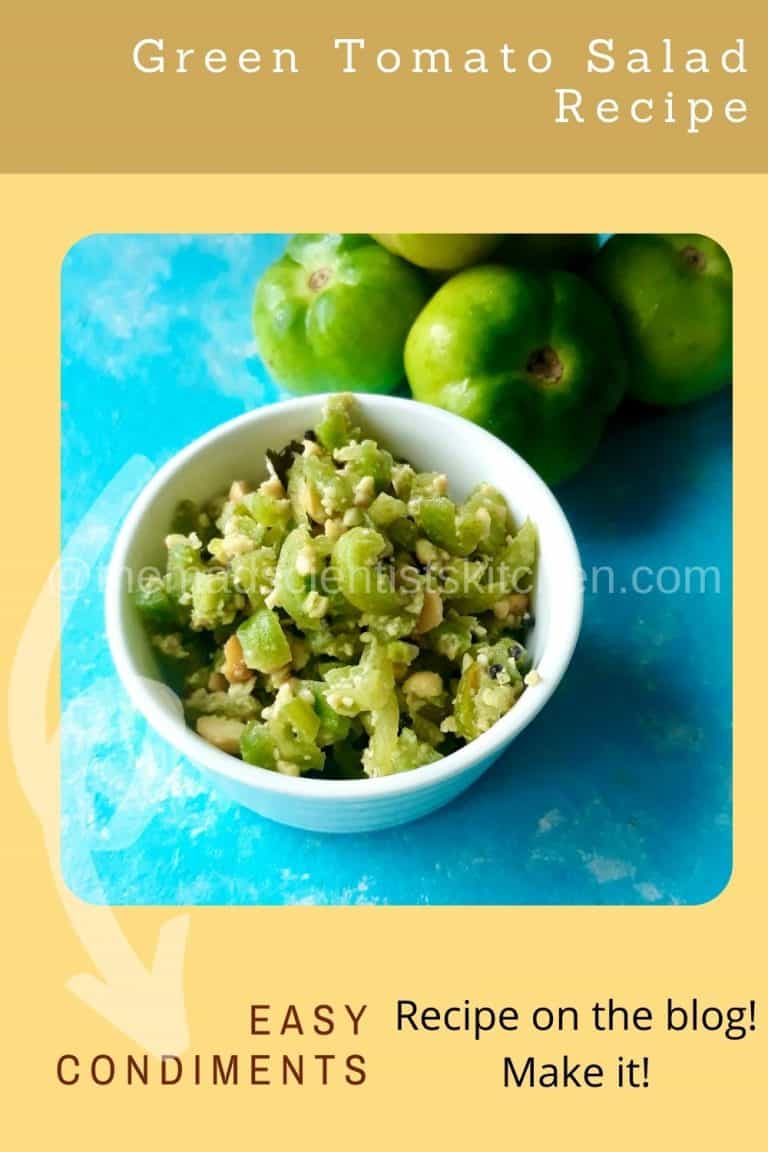 Reader Interactions