Saffron and Chia Seed Pudding Recipe
Saffron and Chia Seeds pudding is what I reach out when I need a creamy dessert or snack that does settle on my hips!
Is this possible?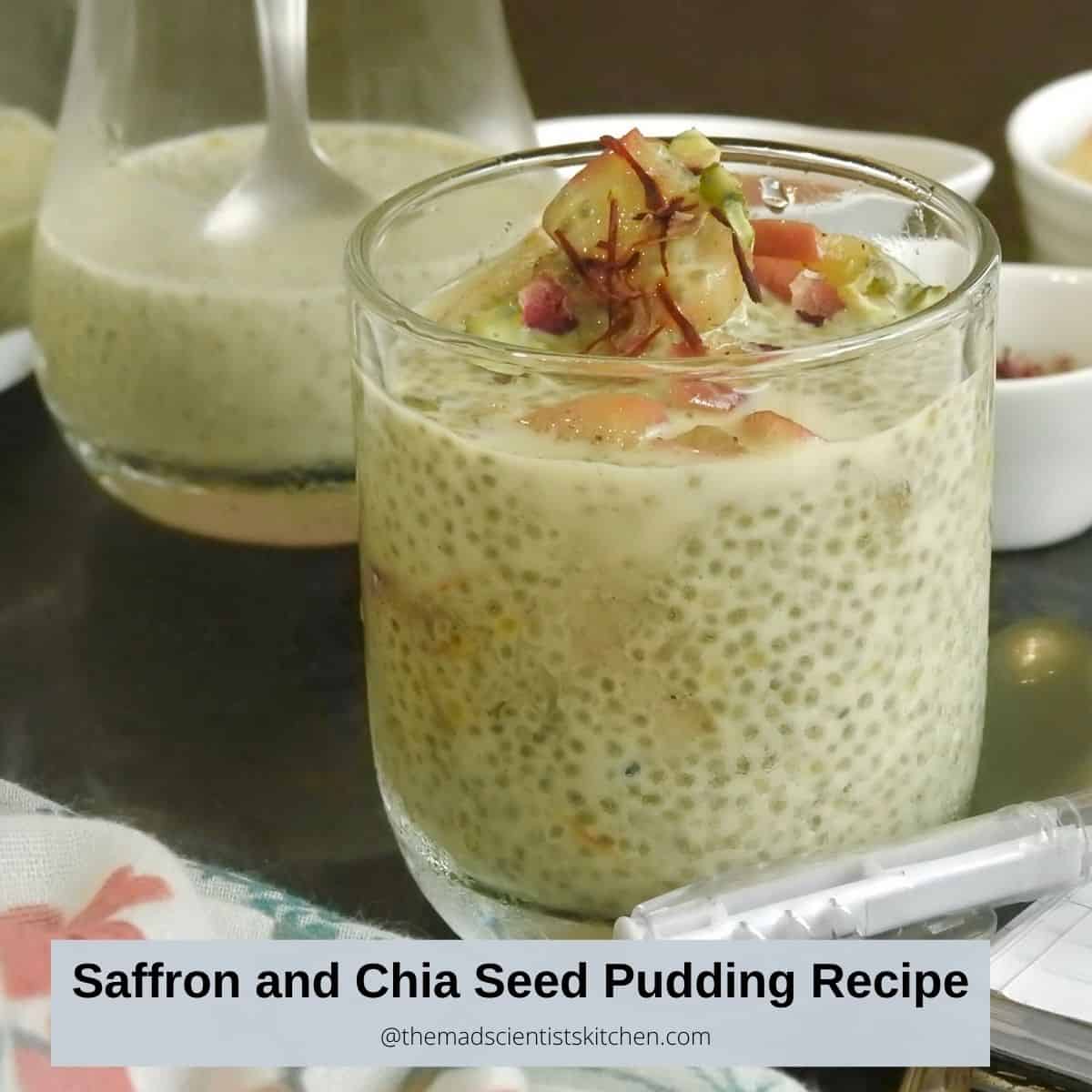 As always I need a delicious and packed with fibre and an easy breakfast recipe at the crack of dawn. So make ahead this yum glass of pudding with chia seeds. I have used apple and cinnamon, with exotic saffron-flavoured milk to make my creamy Saffron and Chia Seed Pudding Recipe you can use any flavours you like. Have you tried my creamy rice pudding a comfort food that we love.
By the way, this pudding is not fattening and is yummy as a snack too incredibly easy to make and filling too! Read on for I am sharing an easy and healthy way to vary your food. Spread the love, like and share my post. Sign up for my newsletter! (link below) for updates delivered to your inbox every time I post that is once a week generally.
Contents:
Today is Monday and Foodie Monday Bloghop! Today it was Mayuri's turn to suggest a theme to blog on. The group voted as usual and decided on #266Exotic Saffron as the theme.
Mayuri blogs at Mayuri's Jikoni! Have I mentioned that in Swahili Jikoni means Kitchen? I was curious and so I googled it! Now, Mayuri is a globetrotter and has many delicious dishes from all over the world. I have my eyes on many recipes from her, all eye mind you no hands so I am just looking and not making anything! I cannot keep pace at the rate she gets her posts out. Anyway, some of the recipes that I want try are Batheeth, Chilli Avacado Chocolate Cake, Apple Kheer. I think these are enough for now before I get palpitations.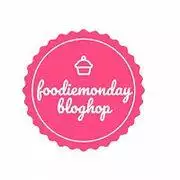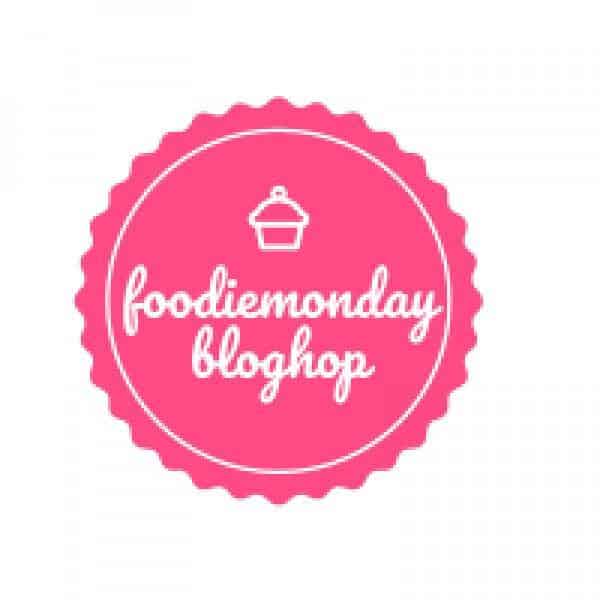 So for making this saffron dish I wanted to use Chia Seeds that I had got as a part of the BM group meet at Hyderabad. My friends there gifted me with many kinds of seeds one of them is chia seeds.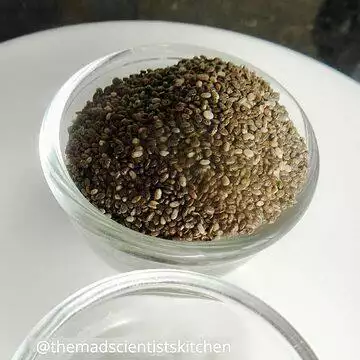 Generally, I focus on local produce and ingredients but that does not mean that I will not try something new and healthy from around the world. The health benefits of chia seeds are well documented as a great source of fibre and protein.
Chia seeds are high protein and omega 3 oils. Since they have a lot of fibre they keep you satisfied. The best part is they are not fattening. Since I have hardly any chia seeds recipes I must start focussing on them. So stay tuned to see some more healthy and tasty recipes with Chia seeds. For the health benefits of Chia Seeds check this Healthline Post.
How much Chia seeds is it okay to eat?
Since chia seeds have fibre, do not eat too much in one go. Also, why try and stuff too much in one day? Pace it 1.5 tablespoons per day is more than enough. This way you will not get bored with the pudding.
So what ingredients did I use to make my creamy Saffron Chia Seed Pudding Recipe?
Chia seeds: I have used black chia seeds. I believe you get white, grey and brown too. Use any you have at hand.
Milk: I have used regular milk 6% fat. You can use any nut milk or oats milk.
Saffron: To flavour my pudding I have used saffron. You can use cardamom, vanilla, rose any flavouring.
Apples: I have used one delicious apple that I had.
Sweetener: I have used sugar you can use honey, maple syrup as a sweetener,
Cinnamon: I have used cinnamon as I had the overpowering urge to mimic Thanksgiving flavours but with saffron even cardamom is good. Try it!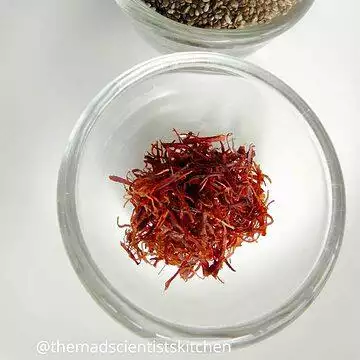 How did I make my Pudding with Chia Seeds?
Actually the method is very simple
In a bowl add warm milk and saffron. Set aside for 10 minutes.
See the beautiful colour of the milk once you add saffron. I fall in love with the colour every time.
In a bigger bowl, bottle add the chia seeds, milk and saffron milk. Mix and set aside.
After 10 minutes whisk well again and set in the fridge overnight is best but if want some immediately wait for 3 hours.
When ready to serve, chop the apple in sizes you prefer.
Add the sugar, cinnamon powder and apples. Cook for 3-4 minutes.
In a glass add the chia seed pudding. Top with the fruit compote and garnish with pistachios and saffron.
Enjoy!!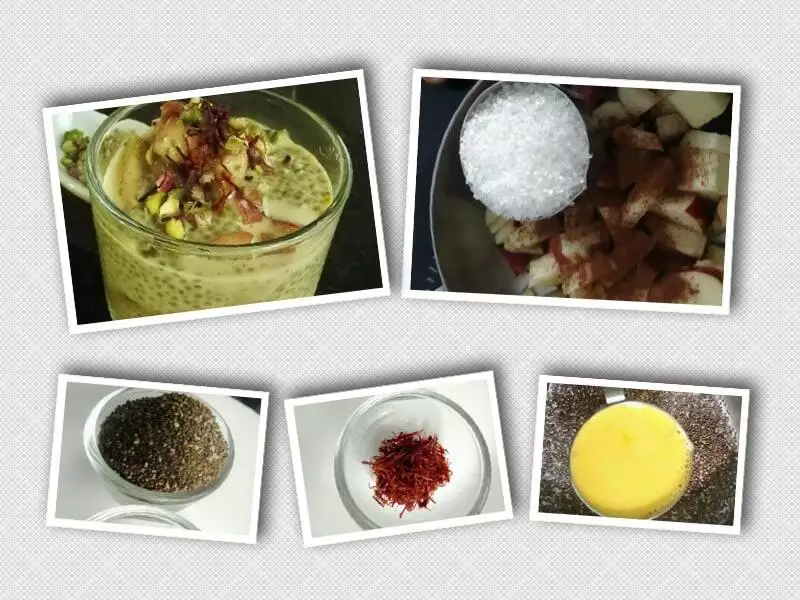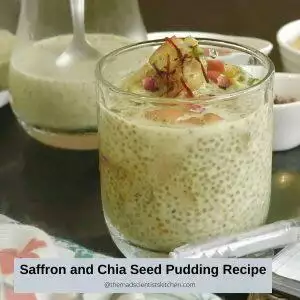 Saffron and Chia Seed Pudding Recipe
A creamy dessert or snack need not be fattening! It can be just as tasty as this Saffron and Cinnamon Flavoured Chia Seed Pudding Recipe. Try it you will love it!
Print
Pin
Rate
Save Recipe
Saved Recipe!
Share by Email
Ingredients
For the Chia seeds:
3

tablespoon

chia seeds

1

cups

milk

1

teaspoon

saffron
For Cinnamon Apple:
1

apple

diced

¼

cup

sugar

½

teaspoon

cinnamon powder
To garnish:
pistachios

chopped

saffron
Instructions
In a small bowl add the saffron and add about ¼ cup milk. Set aside for about 10 minutes.

In another bowl add the chia seeds,  milk and saffron milk. Whisk well.

In another 10 minutes stir yet again. Set the bowl in the fridge well covered.

Refrigerate for at least 3 to 4 hours or overnight.

When ready to eat add the diced apples, cinnamon and sugar to a pan heat till the apples are well coated an soft. Say about 3-4 minutes.

In a glass add the chia seed pudding top with the apple mixture. Garnish with pistachios and saffron.

Dig in.
Nutrition Facts
Saffron and Chia Seed Pudding Recipe
Amount per Serving
% Daily Value*
* Percent Daily Values are based on a 2000 calorie diet.
Toppings:
Today since I wanted just a fall feeling( because I have seen so many on Pinterest) I used apples and cinnamon.
I used a few pistachios and saffron strands to garnish use any fruit or brittle to garnish. Next time I will use this chikki.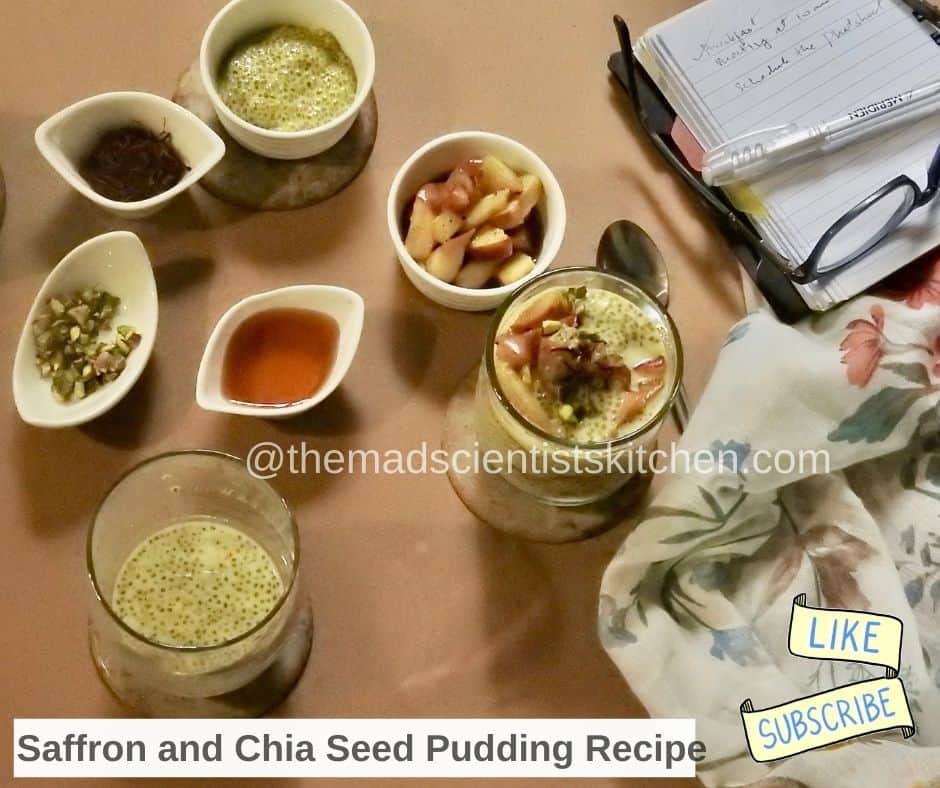 If you are using apples like me then use sweet apples.
Stir the pudding after about 10 minutes to prevent clumping of the pudding.
Rest the pudding in the fridge for a minimum of 3 hours. I loved it in the morning for breakfast.
Use any seasonal fruits, berries, grapes, pomegranates too will taste awesome.
If you want it Vegan use any plant-based milk almond milk, soy milk, even oats milk.
If you want a gut-healthy Pudding do use Kefir in my case it will be buttermilk.
If your kid's baulk at the sight of the pudding or texture run it in a blender.
How long should I soak the chia seeds need to soak in milk/ liquid?
I will recommend soaking them for 3 hours but if cannot wait then 20 minutes is fine.
So you tried making the Chia seed pudding and it is not thickening?
Do not worry if the pudding looks thick or thin at first you can always adjust the thickness or thinness later by adding more milk or chia seeds as needed. Let it sit at first.
If the pudding is not thickening then your liquid and seed ratios are off, add some more chia seeds. Stir and set it aside for at least 20 minutes.

I cannot tell you use a set proportion for making this pudding as the amount of seed you will need will depend on the variety of milk.
Thick milk will give a thick and creamy pudding. Having said that you can always add more milk so start on lesser milk. You should be able to stir the mixture when you are mixing.

The amount of liquid which can be water, regular milk, nut milk, oats milk can be anything from ¼ cup to 1 cup for 1 tablespoon of chia seeds.
My chia seed pudding has clumped why? And how do I avoid it?
Chai seeds love water or liquids. They absorb quite a bit of any liquid, you soak them in. so just adding the ingredients together and letting it say is not the answer. Stir the pudding with a whisk after 10 minutes. After half an hour store covered in the refrigerator for say 3 hours to overnight.
Can I refrigerate chia seeds pudding?
Definitely, you can soak them for 5 days in one go. But this process will need only 4-5 minutes. Then it is stirring after 10 minutes. Surely, you can do it every day. Why make a huge batch?
The Saffron and Chia Seed Pudding Recipe is a delicious and simple make-ahead breakfast dish. It can double up as a snack or as a dessert. Include chia seeds in your diet for their health benefits and don't skip breakfast!
A small request:
If you try this recipe then please either
add a comment below,
tag me as #themadscientistskitchen on Instagram
or tag me on Twitter as @APotdar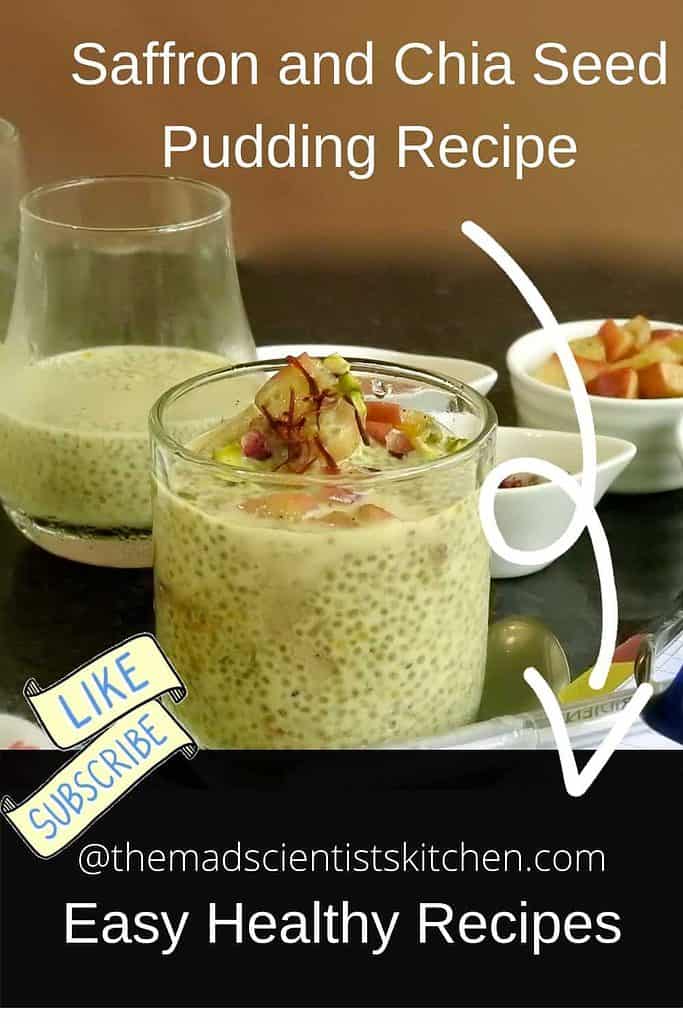 More Serve these for those want something to eat moments.
Reader Interactions