Delicious Blancmange a trip to Childhood
Making this delicious Blancmange is what brought back my childhood to me.
A Blancmange is a smooth pudding set in a mould and served cold.  Blancmange a dessert that is originally French. To make this delectable dessert sugar sweetened milk or cream is thickened either with gelatin or cornstarch are the main ingredients. The dominating flavour is almonds as almonds are used to flavour the pudding.
I always wanted my Mother  to make these foods that I read about. My staple diet of reading was the British author Enid Blyton. Enid Blyton spoke of camping trips and children being detectives and solving mysteries that puzzled adults and food.  Scones, Yorkshire pudding, watercress and cucumber sandwiches and Blancmange!
Amma did make custards, pudding etc. but something's were beyond her as we had no access to anything but names that we threw at her.  Now had she been around she would have come up with a lot more innovative ideas than I can ever think of.
My original idea was to make Yorkshire pudding but … maybe someday!!
Coming back to blancmange traditionally they are white, blancmanges are frequently given alternative colours. The others that are similar to this pudding are Bavarian cream, panna cotta, annin tofu, the Turkish muhallebi, and haupia.
According to Wikipedia:
"The historical blancmange originated sometime in the Middle Ages and usually consisted of capon or chicken, milk or almond milk, rice and sugar and was considered to be an ideal food for the sick. Tavuk göğsü is a sweet contemporary Turkish pudding made with shredded chicken, similar to the medieval European dish."
But then let us make our Blancmange which is also known as white dish, blanc mangier was an upper-class dish common to most of Europe during the Middle Ages and early modern period!
The puddings that I have tried in the past are Malva Pudding, Self Saucing Chocolate Pudding, Baked Bread Pudding, Banana and Burnt Butter Pudding, Thai Coconut Pudding/Custard, Agar Agar Pudding, Trifle Pudding, Ragi Pudding or Nachni-che-Satv, Coffee Chocolate Pudding, Bread Pudding, Kheer. Do check out my Corn Pudding and Sago and Chia Seed Pudding too which I tried out in the series  Are you Pudding me?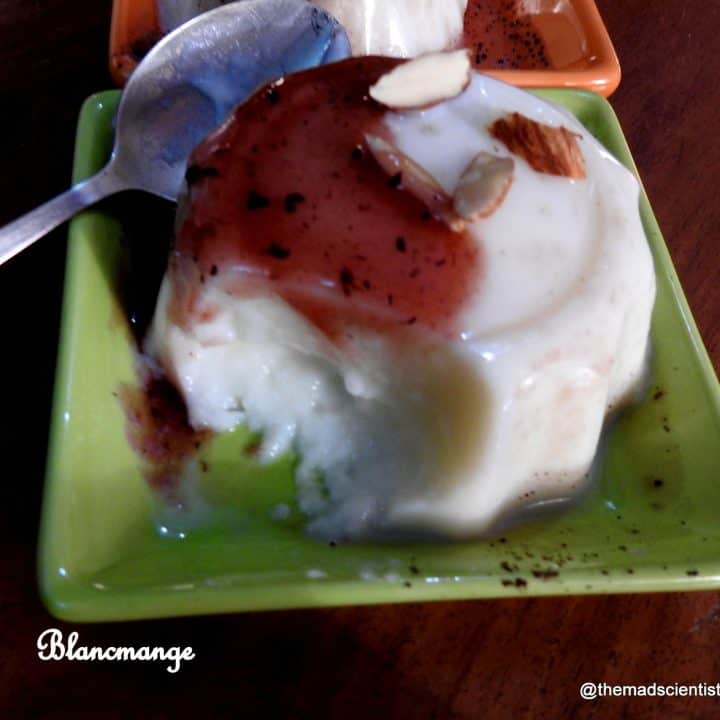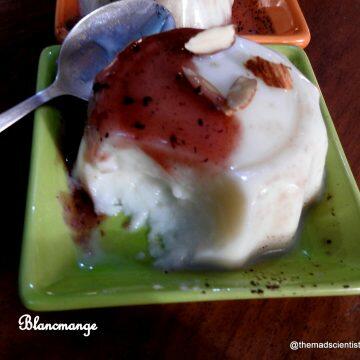 Delicious Blancmange a trip to Childhood
A smooth pudding set in a mould and served cold.
Print
Pin
Rate
Ingredients
3

Cups

Milk

cold

4

Tablespoons

Corn flour

6

Tablespoons

Sugar

1

Teaspoon

Almond essence

1/2

Teaspoon

Butter
Instructions
In a cup mix the corn flour and ¼ cup of milk.

In thick vessel heat the rest of the milk and sugar. It should bubble at the edges only. (Do not boil the milk.).

Stirring continuously add the cold milk and corn flour mixture to the heated milk.

Keep stirring and cook over low flame for 10-15 minutes until mixture thickens. Switch off the gas in between the heat of the burner is enough.

Let cool, then add the vanilla.

Can pour into decorative 1/4-1/2 cup moulds.

Cover and chill.

Unmould and serve with a sauce of your choice. I also served with a sprinkling of cocoa powder. Tasted yum.
Notes
Take care while unmoulding I managed to split one of them.
Check out the Blogging Marathon page for the other Blogging Marathoners doing this BM#74
Hi! First time here?
You are Most Welcome! I hope you keep coming back for more here. If you are my regular visitor then Thanks, for you encourage me to experiment more!! I would like you to please click on my link below and like my Facebook Page. I will be happy if you can follow me on on Twitter too!
Reader Interactions