Pound Cake the "High-Ratio" Formula
Anyone can bake this delicious dense yet soft and flavourful cake from the scratch.
For a Pound Cake the ingredients are simple and since there are not many ingredients and measurements it is an easy cake. You can also use the cake to make variations in your flavours and get a wonderful new cake.
Some of our favourite bakes are Honey Cake for the Jewish New Year, Layered Angel Cake the British Version, Bajra Carrot Cake| Pearl Millet Recipes| Millets Special.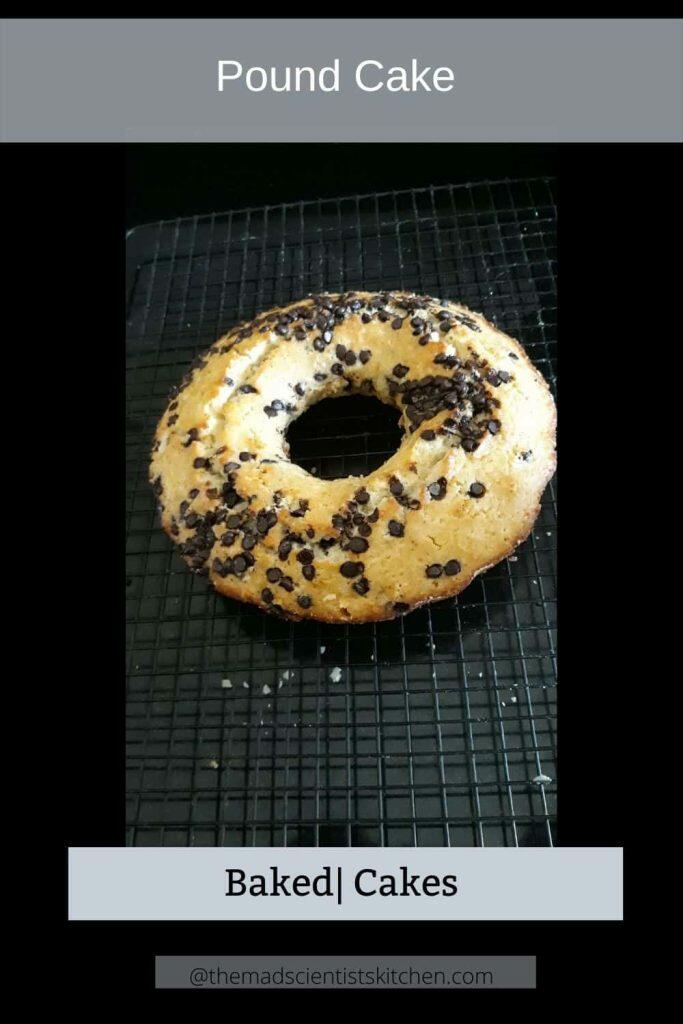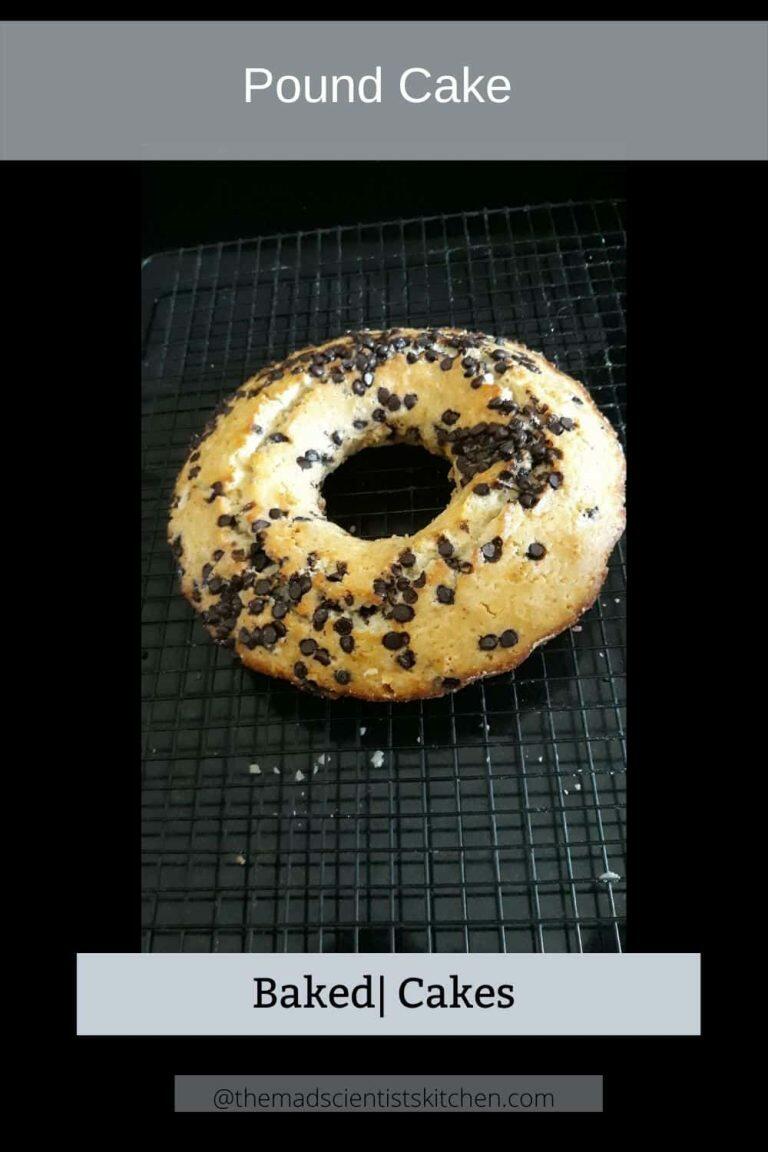 Today, the foodie Monday Blog hop Group celebrates its 250th post. We are celebrating it with a cake. The foodie Monday group we vote on 2 topics and the theme with most votes end up as a theme. Only once have we had a tie!
A wonderful talented bunch of bloggers who support one another totally! Reminds me many times of the BM group.
Anyway, today's post I will keep short. Will update it soon reason being I am not feeling too good. This cake is from my old pictures as I have nothing and since I never ever have drafts I working now when I am supposed to be sleeping.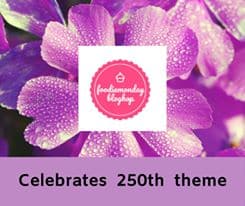 Remember this thumb rule while baking a cake.
Keep an eye on the batter, it should not be very thick nor runny.
Thick will mean your hydration is less. Add more liquids like eggs, milk etc. by weight the liquid should be equal to or more than the sugar.
Runny batter you will have a soupy mess at hand. Better to ditch the batter. Sorry, but the only way will be to add more sugar and flour, fat. Yet I will not guarantee a good cake. Make pancakes!
Why is the cake called pound cake? Do you hit the batter? 
The answer is no you do not hit the batter. 
When you add a pound of sugar, flour, butter and eggs you will call it Pound Cake. In France, the cake is called "quatre-quarts", meaning four quarters. 
Do I need cake flour to bake Pound Cakes?
No, you can make the cake with ordinary all-purpose flour. But if you want to use cake flour go ahead and substitute it. The proportion is the same 1:1 you will have the same cake slightly softer but delicious.
What is the test that my cake has finished baking? 
For any cake, to check if it has  finished baking I start checking on it once I get the aroma. I know this is not  a great scientific test but come on our grandmothers have baked without any of these thermometers etc. 
Anyway since we want to stick time frames your pound cake will take anywhere from 50 minutes to 60 minutes at 180 C. 
The cake starts to  pull away from the sides of the pan.
Keep a cake tester or wooden skewer ready after 45 minutes if it comes out clean it's done.
Check your cake if it is not done put it in the oven for another 5 minutes.
I said you can make Cake Variations to get delicious cakes
I wonder many times why I try out so many different cakes varieties and methods. A pound cake is strong enough to take in other flavours and you get a delicious cake every time.
Coming back to the variatons in let us see 
Plain vanilla is standard but do try lemon, coconut, almond, rose, and pineapple extracts. Only when you add the extracts remember less is more. Add 1 teaspoon then if you need more you can always add more.
Try adding Coffee
My favourite is zest, lemon zest being my personal favourite.
So also juices use ¼ cup maximum if you are using fresh juice.  There was a time when I baked about 6 cakes in a row. The last one we forgot to add eggs. Because the batter felt a bit too thick, so  I added some orange juice and man was that cake amazing!! 
Chocolate Chips: Yum yum yum. These cakes just disappear.
Nuts: use walnuts, cashew nuts, pecans, pine nuts. They will give a delicious crunch
Tutti frutti: You can make a colourful cake with these small colourful bits of fruit.
You can add sprinkles, mashed banana.
If you plan to use fruits hold it! I have a better cake recipe for it check out my Perfect Blueberry Muffins. Here you will need a batter that can hold the fruit up.
What is the shape/moulds you can use to bake?
Starting from the regular square, oval, round, heart-shaped to bundt pans use any of the pans you need. There are times I have used the takeaway foils to bake. They make ideal Edible Gifts.
Want to bake cupcakes, go ahead. Depending on the size of your mould you will get 8-14 cupcakes.
Can we frost a Pound Cake?
You can easily frost the cake. Use whipped cream, butter icing, ganache, make a glaze.
How  to make pound cake?
There are many methods of making a cake, there are quick mixes and there is the creaming method.
The creaming method is where you beat the butter and sugar till light and fluffy Fold the eggs and flour. What our mon's did traditionally! Not saying it's bad it is time-consuming if you are doing it manually.
But you do have quick mixes for a pound cake. The cake is just as good as the creaming method and it is quicker and easier too. Today I am sharing a quick mix method
What I have done is used my old Pound cake recipe to make my cake only this time I have loaded it with chocolate chips.
Recipe Card: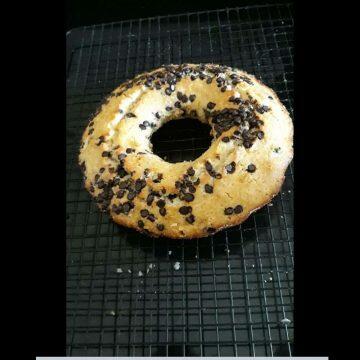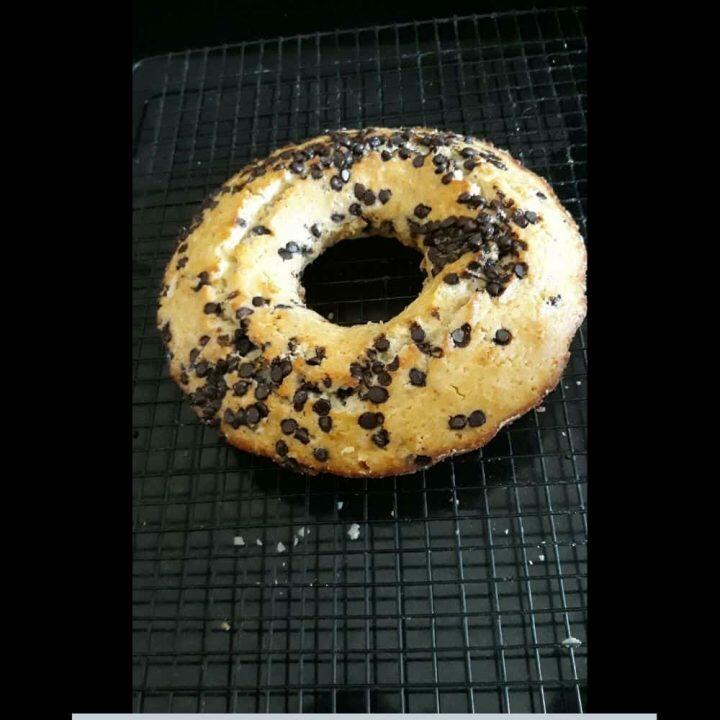 Pound Cake the "High-Ratio" Formula
A cake technique that is quicker and easier than the traditional creaming method .
Print
Pin
Rate
Equipment
Bowl for mixing

Hand-Held Beater

Oven

Moulds for Baking

Cooling Rack

Spatula
Ingredients
3

tablespoon

milk

3

eggs

1 ½

teaspoon

vanilla

1 ½

cups

flour

¾

cup

sugar

¾

teaspoon

baking powder

¼

teaspoon

salt

13

tablespoon

unsalted butter

softened [184 gms]

200

grams

Chocolate chips
Instructions
Initial Prepartion:
Preheat your oven to 180C/350 F.

Grease an 8 inch by 4 loaf pan or fluted tube pan.
The Cake Mixing:
Lightly whisk together milk, eggs and vanilla in a medium bowl.

Place dry ingredients in a large bowl and mix on low speed for 30 seconds, until blended.

Add the butter and half the egg mixture. Mix well until dry ingredients are moistened.

Use your beater and on medium speed, beat for one minute. This aerates the mixture and will help develop the cake's structure. Scrape down the sides of the bowl.

Similarly, add the remaining egg mixture in two batches, between each addition beat for 20 seconds. Scrape down the sides of the bowl.

Add the chocolate chips keeping aside about 50 grams.
Transfer to the Mould and Baking:
Pour batter into prepared pan. Smooth surface with a spatula.

Sprinkle the reserved chocolate chips.

Bake for 55-65 minutes (35-45 minutes if baking in a fluted tube pan), until a wooden toothpick inserted into the centre comes out clean.
Cooling the Cake:
Once done transfer the cake mould to a cooling rack. Let it sit for 10 minutes.

after 10 minutes invert on a greased wire rack.

If you have used a bundt pan or a fluted tube pan let the cake be. Else flip it up again so that the top is up.

Once fully cooled cut the cake and serve it.
How long can a Pound Cake be stored?
If you can keep the family off the cake then i believe it will stay good for 2 days outside on the table. Remember i live in hot tropical climates.
But you can keep it in the  fridge for a week.  
Variations for Cakes:
Pin for Later: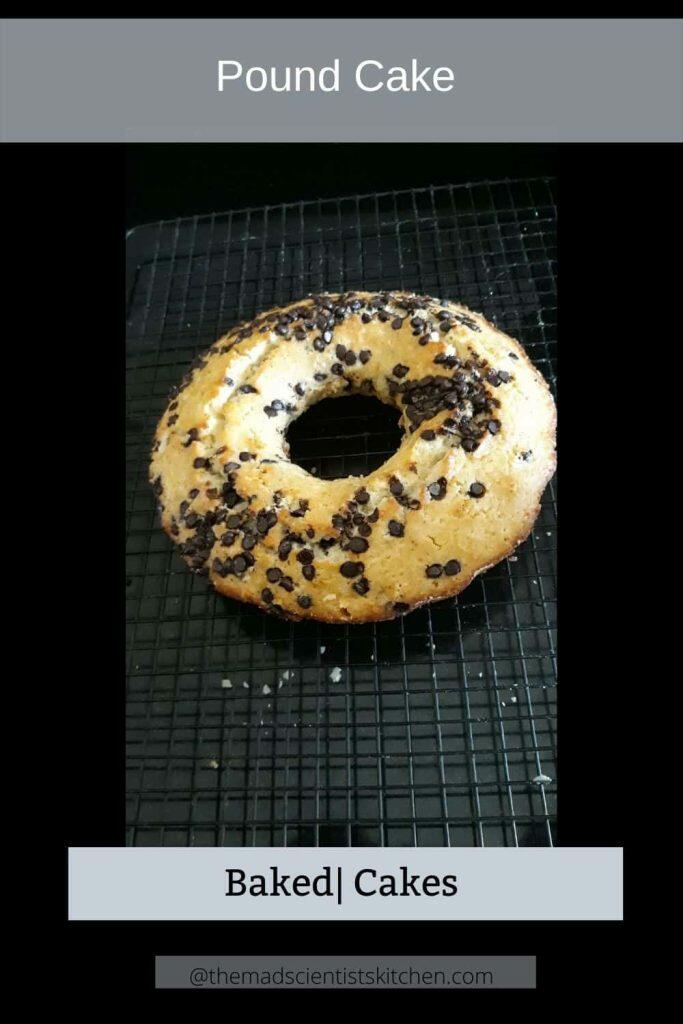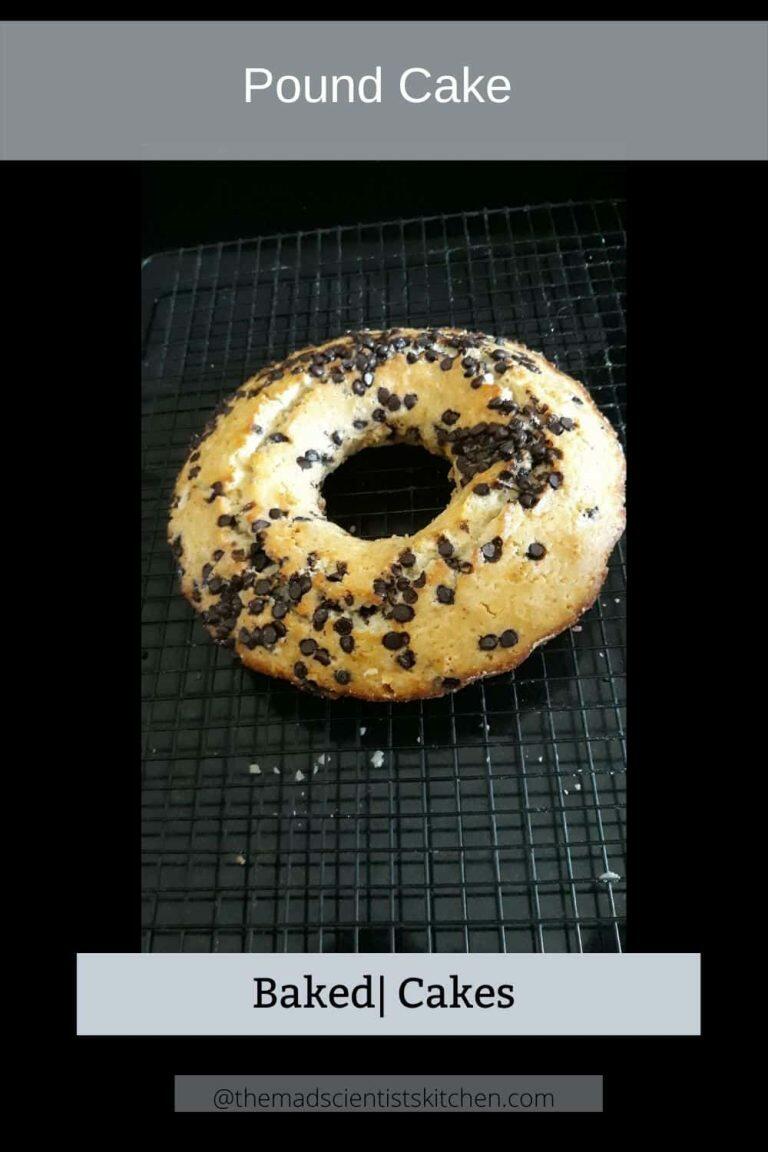 Reader Interactions