Panchamrut, The Elixir of Gods Recipe
Abhishek is done in the Hindu and Jain Pooja with what is also called Charanamrut.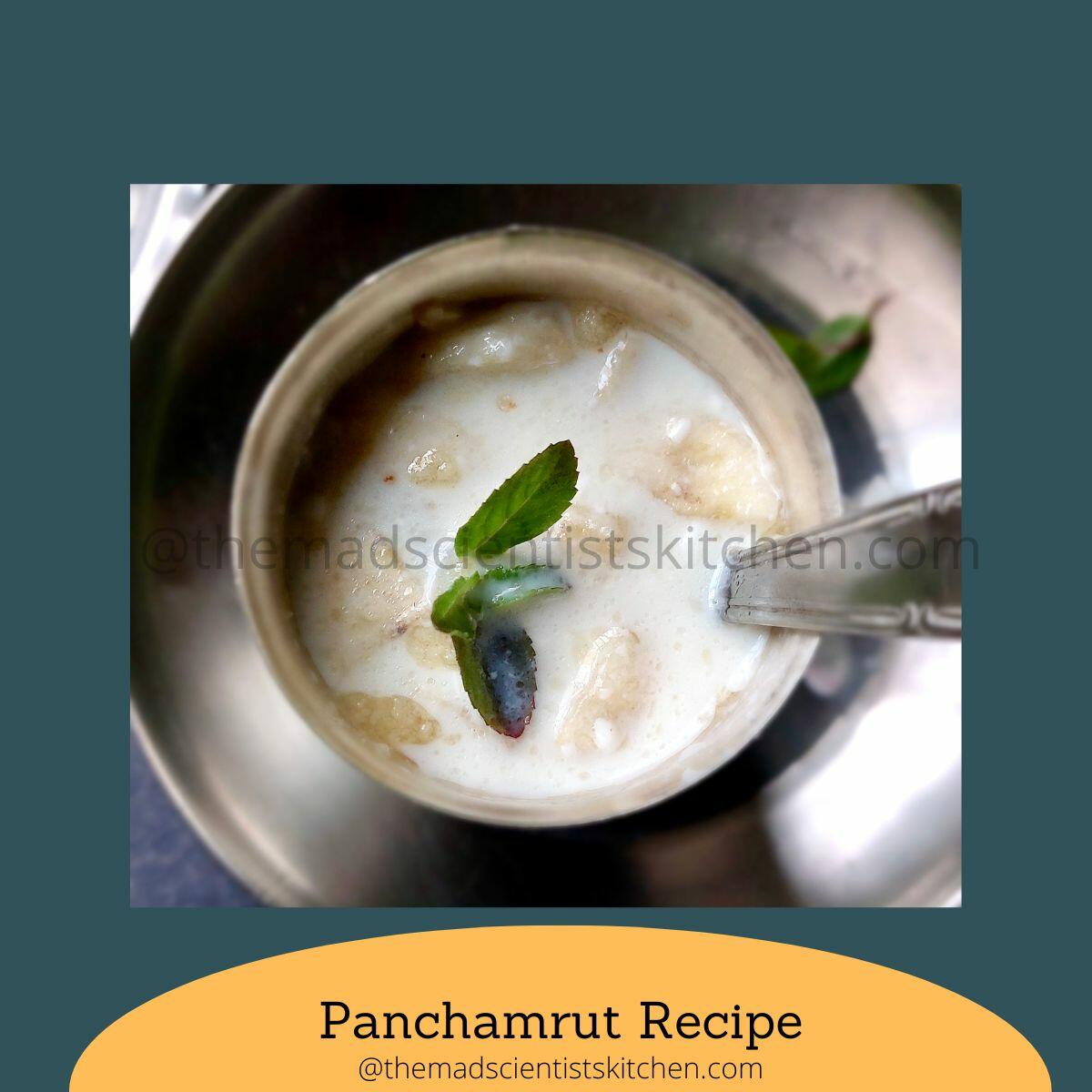 This Ayurvedic concoction of 5 ingredients is also called Panchamrut. A teaspoon of Panchamrut is served as prasad to devotees after a Puja. Read on for I am sharing an easy and healthy way to vary your food. Spread the love, like and share my post. Sign up for my newsletter! (link below) for updates delivered to your inbox every time I post that is once a week generally.
With Navratri around the corner, I want to share my way of making Panchamrut. In my maternal home, where Pujas are quite elaborate Mom made Panchamrut. Then I never liked it now I can drink by litres!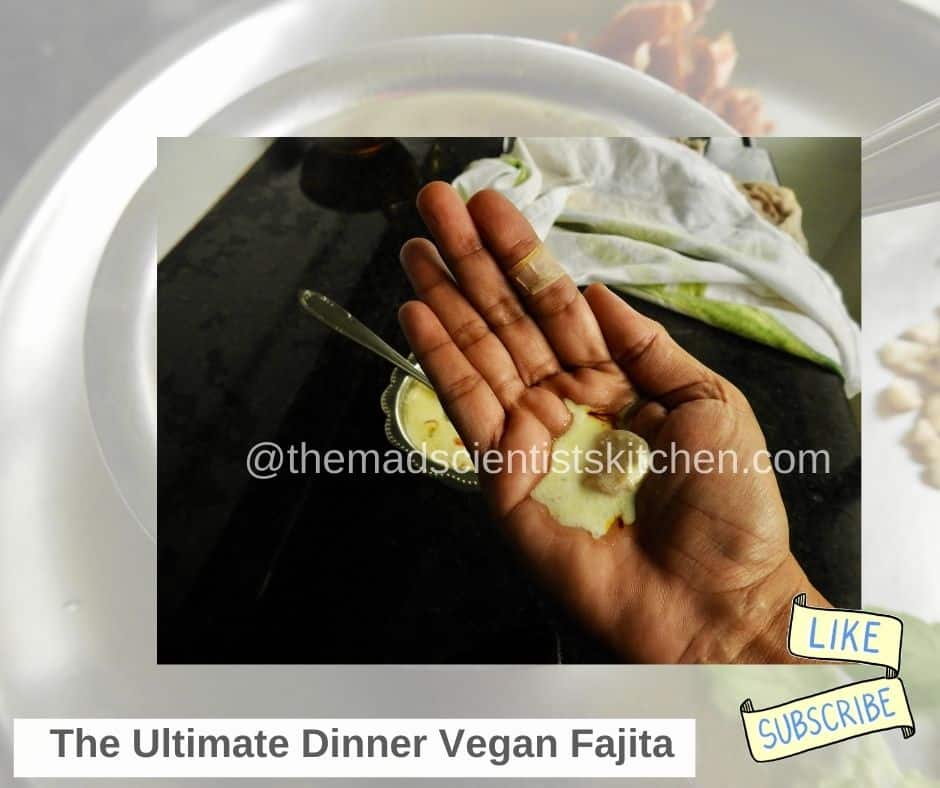 In both Jain and Hindu forms of worship, the 5 ingredients used are about the same. You will use cow milk, honey, curd, jaggery and ghee, Panch means five and 'Amrit' means 'The Elixir Of Gods'. It is also called "Charanamrut" Charan meaning feet.
The 5 ingredients Amma used was milk, yogurt made from cow milk, ghee, honey, banana. Sugar is considered as impure or not natural so we did not use but some do. Then there are some regions that use seedless dates, cardamom, dry fruits like cashew nuts. In Kerala tender coconut water is added and called Panchakavya. This is offered to the Snake God or Nag Devta.
According to Wikipedia,
In Palani Murugan temple, Tamil Nadu, panchamrita consists of banana, sugar, ghee, honey, seedless dates, cardamom and sugar candy. The banana used is the Virupatchi variety, which grows only in the Palani hills and has very low water content.[6]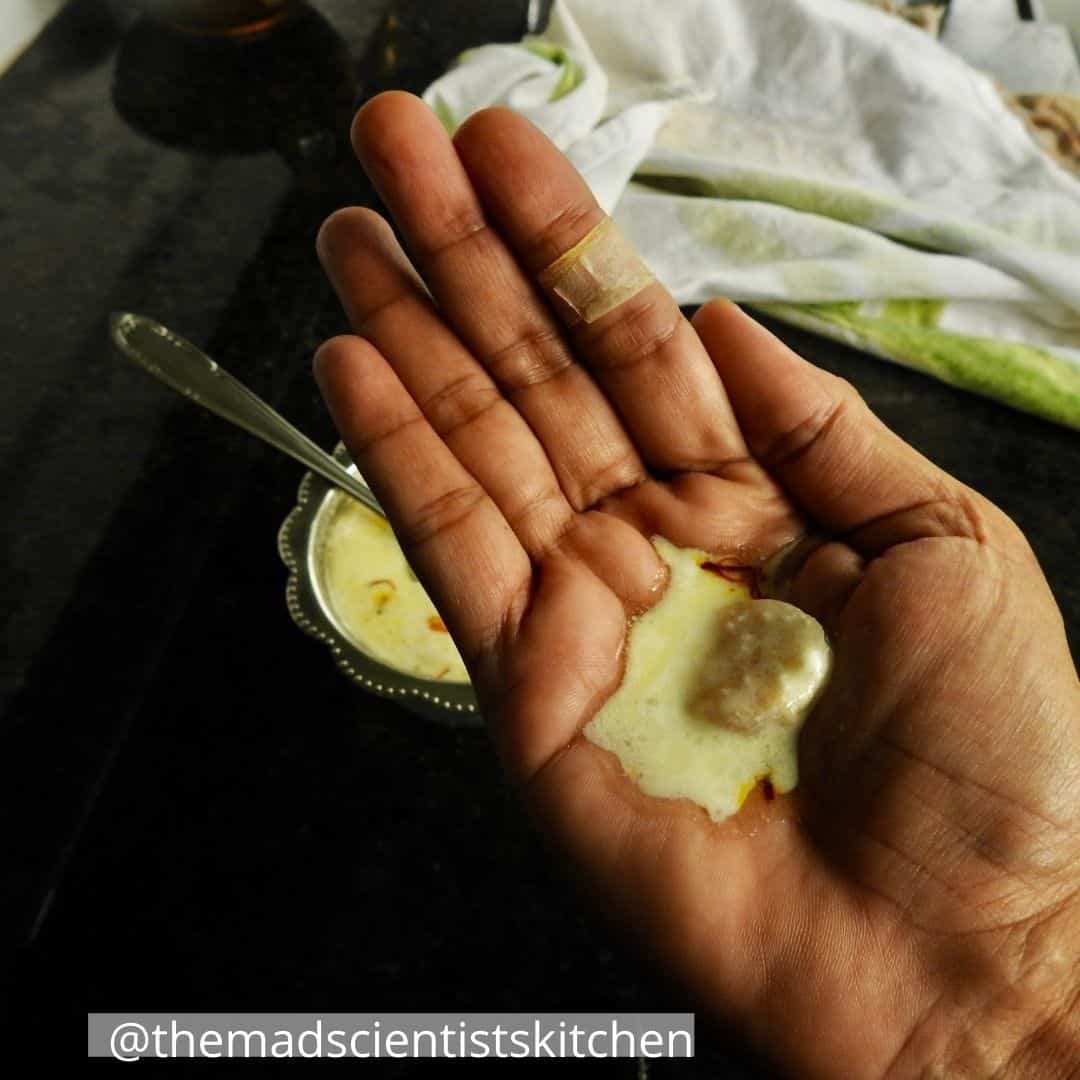 Ingredients I used for Charanamrut are
Milk: Cow Milk is considered more superior so you use cow milk.
Yoghurt: Dahi no panchamurt recipe is complete without dahi in it. Use cow milk yogurt.
Ghee: Homemade ghee or clarified butter another important ingredient. Do not skip.
Honey: Use natural honey. You can use jaggery or sugar in place of honey but sugar is considered impure.
Banana: I cannot imagine my panchamrut without a banana but you can avoid it.
Cardamom: Use cardamom in case you skip any of the other ingredients, use saffron too after all you offer the best to the Lord.
Tulsi: Holy Basil is not added to the mixture but the Bhat or the Poojari will add it before making and offering.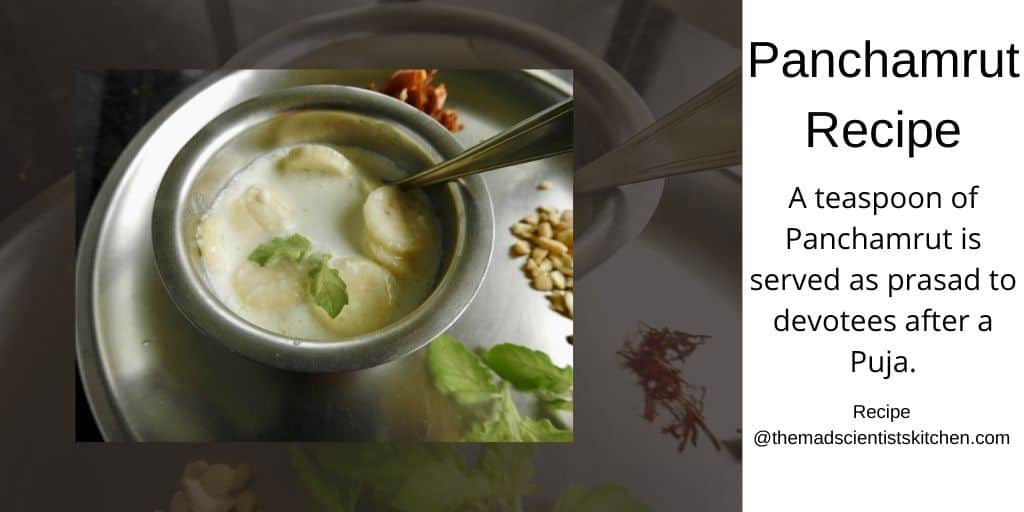 How to make The Elixir Of Gods
In a bowl add the milk add the sliced banana, curd, honey and ghee.
Mix well.
The mixture will appear split do not worry it has to look like that.
The best way to make Panchamrut so that you get the maximum benefit out of it is by using a silver vessel.
The proportions used for each ingredient has to be adhered to strictly.
In case you need more or less increase or reduce the ingredients proportionately.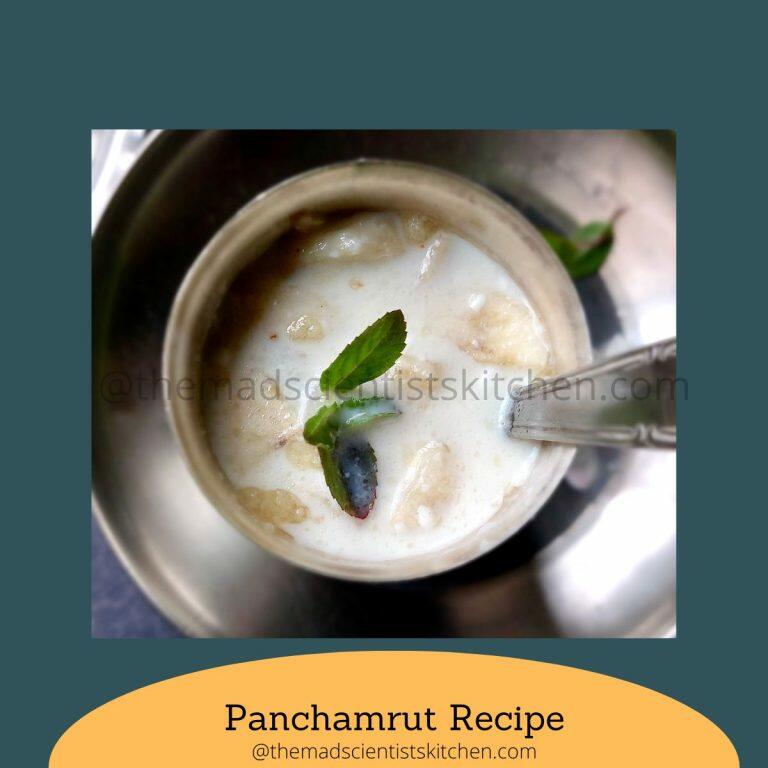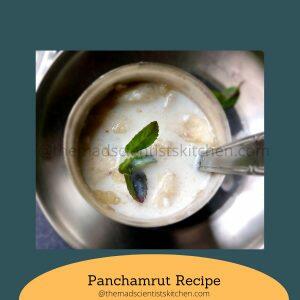 Panchamrut, The Elixir of Gods Recipe
An Ayurvedic concoction made of 5 ingredients used in Pooja Archa of God.
Print
Pin
Rate
Ingredients
⅓

cup

milk

½

banana

sliced

1

tablespoon

curd

⅓

teaspoon

honey

⅓

teaspoon

ghee
For Garnishing
Tulsi or Holy basil As required
Instructions
In the milk add the sliced banana, add the curds, honey, ghee and mix well.

Use immediately but if you need to store it refrigerate it.
Nutrition Facts
Panchamrut, The Elixir of Gods Recipe
Amount Per Serving (1 cup)
Calories 226
Calories from Fat 125
% Daily Value*
Fat 13.9g21%
Carbohydrates 23.7g8%
Protein 7.6g15%
* Percent Daily Values are based on a 2000 calorie diet.
Panchamrut is said to
aid immunity, boost growth both physical and mental.
Panchamrut can be used as a skin cleaner it also nourishes the skin and keeps hair healthy.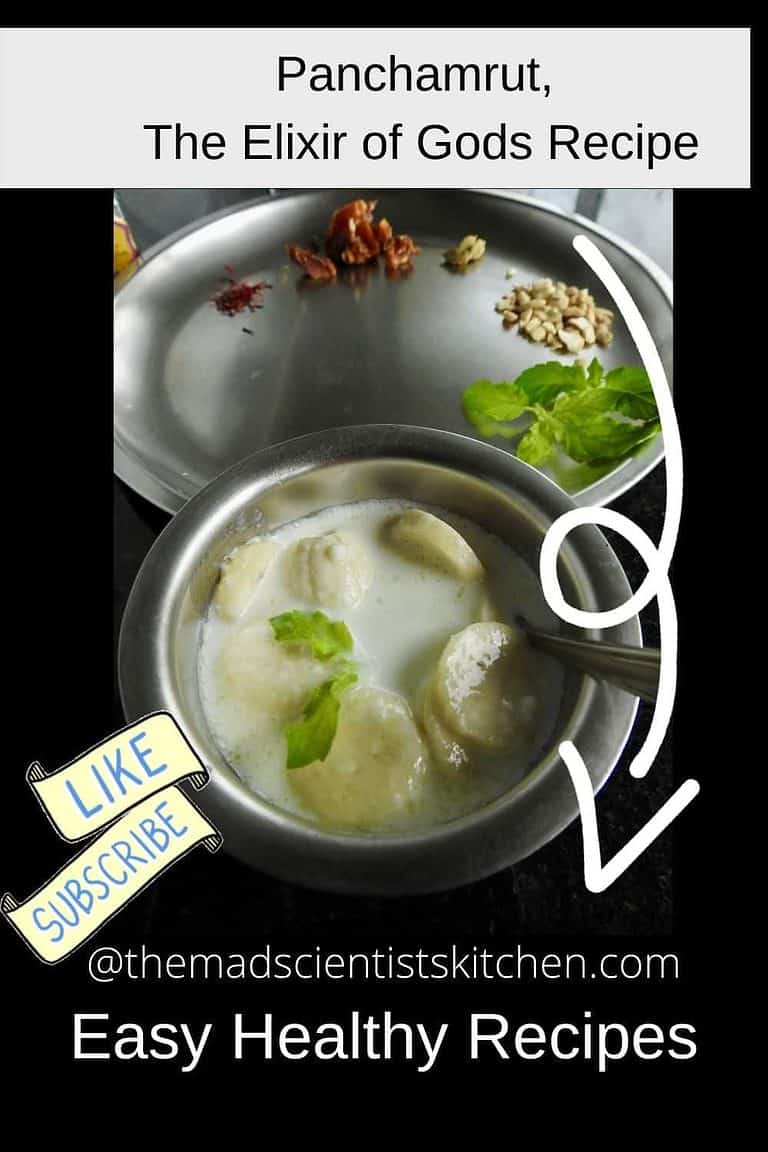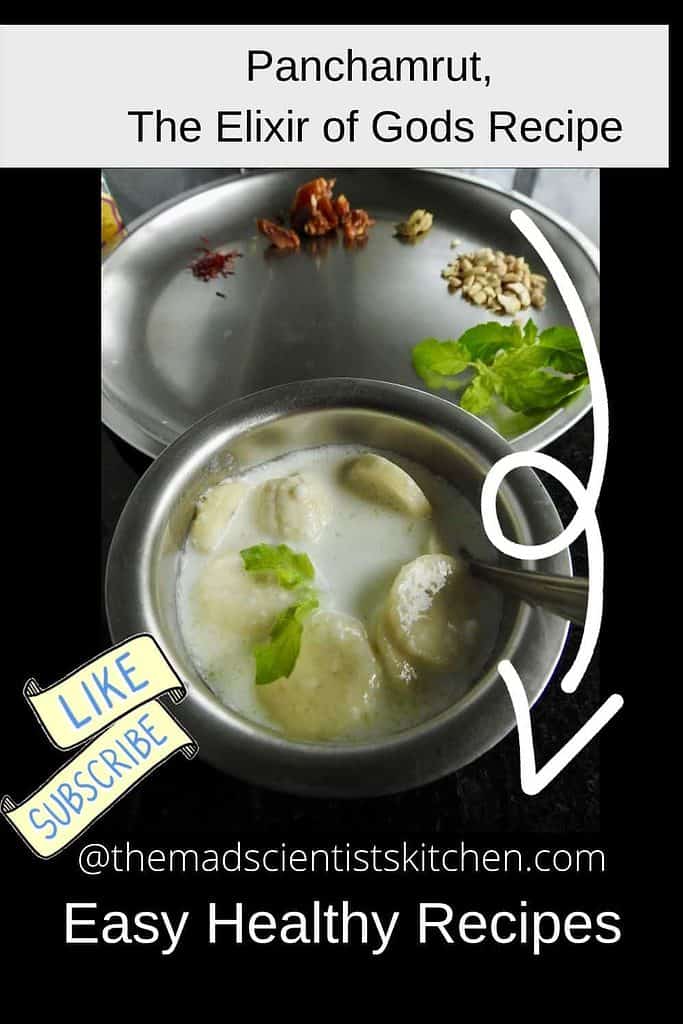 Reader Interactions