Celebrate Vasant Panchmi with Rava Kesari or Shira
Vasant Panchami or Basant Panchami is a festival celebrated in with different traditions in different regions of India.
"Vasant" literally means "spring" while "Panchami" means "fifth." This festival is celebrated literally on the fifth day of spring or Magh Shukla in accordance with the Hindu traditional calendar.
Although this festival was originally associated with Kamadeva (the god of love and physical attraction) it now more commonly centred around the goddess Saraswati. Saraswati is the embodiment of knowledge, learning, wisdom, fine arts and technology. She is worshipped, especially is East India and Bengal, in the hopes of blessings in these fields. Hence another name is Shree Panchami.
Vasant Panchami also falls exactly 40 days prior to the major festival of Holi. The significance of these 40 days has a mythological background. After Kamadeva shot Shiva in the eye with his arrow of love, he was reduced to ashes by the angry deity. So, his wife Rati performed penance for 40 days. In many parts of the country, before these 40 days, an effigy of the demoness Holika is placed in a public area. In the days leading up to Holi, the faithful add twigs and logs to help build a pyre around her. On the night of Holi, the bonfire is lit, signifying the triumph of good over evil.
The festival of Vasant Panchami is also related to harvesting. In places like Uttarakhand, in addition to Saraswati puja, the mother earth is also worshipped. Heaps of cow dung are placed in the fields topped with barley or wheat grains. In Gujarat, the people perform the folk form of Dandiya dance in the hopes of a good harvest. In Bihar and Bengal, the same is wished for by worshipping their plough.
In the state of Punjab, this festival transcends all faiths is celebrated as the Basant Festival of Kites. Over 200 years ago, Maharaja Ranjit Singh, began the tradition of flying kites (called patangs,) on this day. Children and adults alike make their own kites and fly these colourful contraptions all over the state. This is a major tourist attraction in the state.
The colour yellow has a great significance on this day. The colour yellow signifies ripening of fruits; crops. Yellow is the colour of the day and people wear yellow clothes, flowers are offered in yellow.
Since yellow plays a significant role on this day the foods offered too are yellow in colour. Here is what I gathered from the net 
Indian festivals are incomplete without traditional sweets.  Some popular sweets which are relished during Basant Panchami are:

From Bengal, the land of Mishti: Here Goddess Saraswati is offered boondi ke ladoo and sweet rice.

From Bihar, the land of festivals:  Here Goddess Saraswati is offered with different varieties of sweets like Kheer, Malpua and Boondi.

From Uttar Pradesh, the land of exotic food: On the day of Basant Panchami in Uttar Pradesh, devotees offer prayers to Lord Krishna. The revered sweet which is offered to Lord Krishna here is kesari bhaat.
So for Vasant Panchami or Basant Panchami lets make something that is yellow in colour. While of course, you can try my Besan Ladoo, Sakhar Bhat, Kheer, the health conscious can make Moong Dal Kheer or make Chawal ke Kheer and add lots of saffron in case you do not want to add food colour.
While of course, you can make Rava Kesari or Shira. To make Shira, you need not wait for an occasion. It's an eat anytime snack, dessert all rolled in one. In Karnataka it is called Sajjige, Maharashtra you will call it Sheera or Shira, North India Sooji ka Halwa and Poori Halwa is a breakfast item. If that is not enough then in Europe and US Semolina Pudding.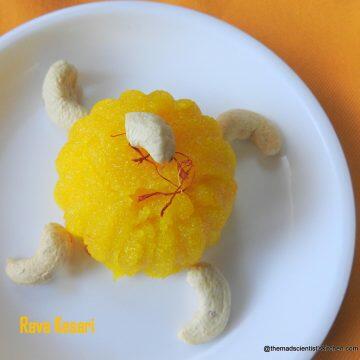 Rava Kesari or Shira for Vasant Panchmi
Shira or Sheera is a dessert, a snack that can be made to fill the kid tummy or for those unexpected guests for dinner.
Print
Pin
Rate
Ingredients
½

Cup

Rava/Sooji/Semolina

¾

Cup

Sugar

1 ½

Cups

Water

boiling

2 ½

Tablespoons

Ghee

¼

Teaspoon

Cardamom powder

7-8

Cashew Nuts

Fried

A pinch

Yellow Colour
Instructions
In a kadhai/wok add the rava and 2 tablespoon ghee.

Stir-fry on low flame stirring constantly till you get a nice aroma comes and the rava changes colour to light golden brown.

Add the boiling water to the pan and stir. Take care there are no lumps formed keep in low flame.

Cook covered for 3-4 minutes or until the rava is cooked.(Generally by the time the lumps go th erava is cooked so this is a step I generally do not follow).

Add the sugar and yellow colour, keep the flame low, and stir well. There may be lumps stir well to mash them.

Cook till the till the Shira comes together for about 4-5 minutes.

Add ghee fried cashews, elachi and mix well.

You can either grease a plate with ghee and spread the Shira in it cut in diamonds after cooling. Or like me serve it as a scoop.
Notes:
The rava kesari texture and cooking will depend on the roasted rava. Roast it well.

You can use milk in place of water. Actually, ½ water and ½ milk give it an amazing flavour.

Use homemade ghee for the amazing aroma, flavour and of course its is a healthy option recommended by most dieticians
More recipes you may enjoy
Reader Interactions