Lauki Ke Kofte| Vegetarian Meatballs with Calabash 
Lauki Ke Kofte is gravy of delicious balls of the lauki mixed with spices fried and then served in a mild gravy of onion, tomatoes.
Lauki ke kofte can be literarily translated to bottle gourd balls in a gravy.
Bottle gourd is a yellowish-green gourd and is a vine grown for its fruit. It is common to Sri Lanka, India, Indonesia, Malaysia, Philippines, China, tropical Africa and South America. 
The other names for bottle gourd are calabash,  white-flowered gourd, long melon, New Guinea bean and Tasmania bean. In India, they are called lauki, doodhi, Ghia,   etc.
Bottle guard is rich in dietary fibre, which provides relief from constipation and/or flatulence. Since the gourd is low in fat and cholesterol content while being rich in vitamins and minerals.  Bottle gourd is great if you want to lose weight.
According to Ayurveda, lauki is helpful in cases of Liver malfunction or diabetes. It is easy to digest and rich in nutrients.
Having said this let me tell you that Lauki ki sabzi is one vegetable that has most people wrinkling their noses and in my family, all of them are not hungry!

 
Try making  
I have everyone trying to scrape the pan when it is a Handvo but just plain vegetable with tomato and onion is a no-no.
So this time when I purchased my bottle gourd or lauki there was a reason. Please humour me and listen 
If you follow me you must have noticed that the whole of last year I have been talking about a trek, a Himalayan trek. Let me tell you we are not in the best of health so this was a real challenge to both of us. But we did complete the trek.  In one of the camps, we were served what looked like a boiled egg. 
People who did not eat eggs were reluctant to take, it that is the time the cook there said it is lauki ke kofte.
Now hubby immediately said lauki he did not want it but his friend told him to eat it.  It is delicious he said, in fact, there were no seconds for kofte but the gravy yes and everyone took seconds and thirds too.
So I had to try it. 
It was a coincidence that we have Punjabi Cuisine as Shhh
  Secretly Cooking.
My partner is  Priya Satheeh and she has given me ingredients lauki and oil. 
Priya blogs at   Priya's Menu Do check out  Vada Rice it is so very delicious and innovative, similarly, she has blogged about avocado n chickpea sandwich in short check her place out for some lovely recipes.
But coming back to this Lauki Ke kofte let us first touch the first base
What is kofta?
Kofta is a meatball of minced meat mixed with spices and bound together by flour/eggs.  
There are vegetarian versions of Kofta made from potatoes, paneer, green banana, and bottle gourd. 
Where are kofta common eaten?
Kofta is commonly eaten in India, Central Asian, Middle East, Balkan cuisines. 
What are the differences in these koftas?
Basically, the ingredients that go in the making of a kofta is the difference.
In India, Middle East kofta are made from mutton, beef, lamb, and chicken. The Greek and the Balkans Cuisines use pork, beef, lamb, or a mixture of the three is common.
In the Lent, if you are in Greece or Cyprus do try hortoketftedes, a vegetarian version.
In Turkey  Çiğ köfte an uncooked version is also made. 
In Europe in the Kabab Shop do not forget to try their fast food sandwich.
In India of course, kofta are made from vegetables also.
How are Kofta served?
In india you will be served kofta as an accompaniment to Rice or Indian Bread. These are great to scoop up the spicy gravy they kofte are dunked in.
Again in the middle East, you will be served as a spiced gravy.
Let us get down to making the Lauki Ke Kofte I have used the appe patra or paniaram pan to make my kofte as a low oil indulgence.  I suggest you do buy one of the appe patra in case you do not have one. You can use it in many different ways. Here is the link for your reference. Let me, however, tell you as an Amazon Affiliate I will get a small commission in case you buy through me. This will hep me to try newer and better recipes.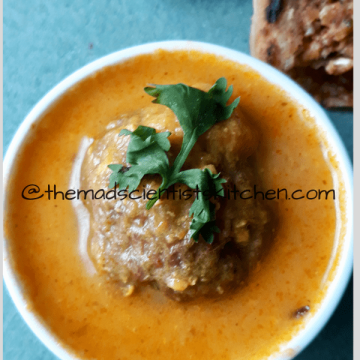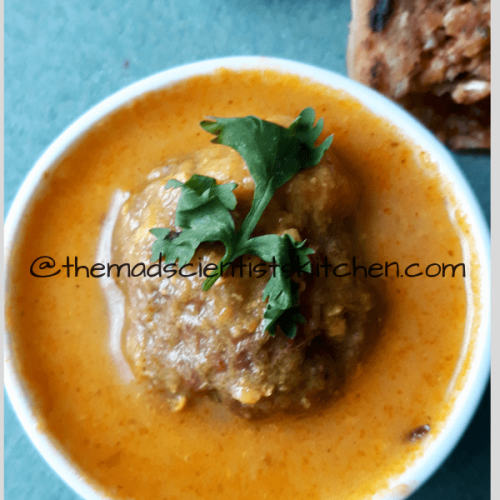 Lauki Ke Kofte
Lauki ke Kofte are best served with Indian Flatbreads or Rice. The mild gravy and the kofte are amazingly delicious!
Print
Pin
Rate
Equipment
Paniyaram Patra/ Appe Patra
Ingredients
For the kofta:
2

cups

lauki|bottle gourd grated

1

teaspoon

ginger garlic paste

½

teaspoon

red chilli powder

⅓

cup

coriander leaves

1

teaspoon

jeera/cumin powder

1 - 1 ½

cups

Besan|chickpea flour

Salt to taste

Oil to deep fry
For gravy
3

tablespoon

oil

1

bay leaf

1

green elichi|cardamom

¼

inch

dalchani sticks|cinnamon

1

masala elichi|black cardamon

2

tablespoon

ginger garlic paste

1

few springs of pudina/mint

2

onions boiled and made in paste

4 to

matoes

peeled and pureed

¼

teaspoon

haldi|turmeric powder

½

teaspoon

red chilli powder

10

cashew nuts soaked

2

tablespoon

curds

¼

cup

milk

1

teaspoon

kasuri methi

¼

teaspoon

garam masala

Salt to taste

Fresh coriander leaves

Water from the squeezed lauki
Instructions
For the Kofte:
Wash the lauki, peel it and grate it.

Measure the amount of grated lauki and squeeze out as much water as you can in a bowl and set aside.

In a mixing bowl add the squeezed lauki, ginger garlic paste, jeera powder, besan, salt, red chilli powder, coriander leaves mix to form a dough. This dough is sticky. You have to be quick when working with it and do not knead for long.

Next make small balls and deep fry them till golden brown. I used the appe patra also called the paniyaram pan to shallow fry the balls.

Drain on absorbent paper and set aside.
For the gravy:
Roughly slice the onions and boil in 3 cups of water. Reduce the heat, cover and boil for 20 minutes. Strain, cool and grind.

In the same hot water drop the tomatoes after slicing the tops and cutting them in a cross. This will help you to peel the tomatoes.

Peel and grind the tomatoes.

Meanwhile, in the mixer's chutney pot grind the ginger garlic paste, pudina, the cardamoms, cinnamon and grind to a very fine paste. Add very little water to help you grind. Use the water from the lauki.

Heat a thick kadhai/wok and add the oil.

Add the bay leaf, add the ground ginger garlic paste mixture. Stir fry until the raw smell of garlic goes away.

Add the ground onions. Stir fry till the oil comes out. Stirring need not be continuous but regularly stir.

Now, add the ground tomatoes and continue to fry, stir occasionally. You will get a lovely aroma and the oil will surface. Add a tablespoon of water if the contents stick to the pan.

Meanwhile make a paste of the cashews and add to the gravy.

Now, stir fry. The oil has to come out. Add a tablespoon of water if the contents stick to the pan.

Add the garam masala, salt and sugar.

Add milk and let it cook. The gravy will be a little watery then will start thickening.

Adjust the consistency. Adjust the seasonings too.

Add the curds after beating it well. (see notes)

Keep the gravy a bit on the thinner side but very hot.

When ready to serve arrange the koftas on the serving plate, pour the gravy over them.

Serve garnished with coriander leaves immediately.
Notes
In place of curds use cream for a tastier and richer gravy.
You can also use mawa or thickened milk in place of milk for a richer gravy.
Do you like this recipe? Have you tried it? In case you do and whenever you do please tag me on Facebook. My Instagram handle is #themadscientistskitchen. You can also use my Twitter handle, Then you are always welcome at my Pinterest page too. I will love to see you there.
Please also subscribe to my mailing list and join me in my journey of Food! Will enjoy seeing what you make so that I too can learn from you!!!
More recipes you may enjoy
Reader Interactions