How to Make Dahi Bhalla Recipe
The creamy wonder of the chaat family where deep-fried fitters of dal that are steeped in creamy curds, topped it with chaat chutneys!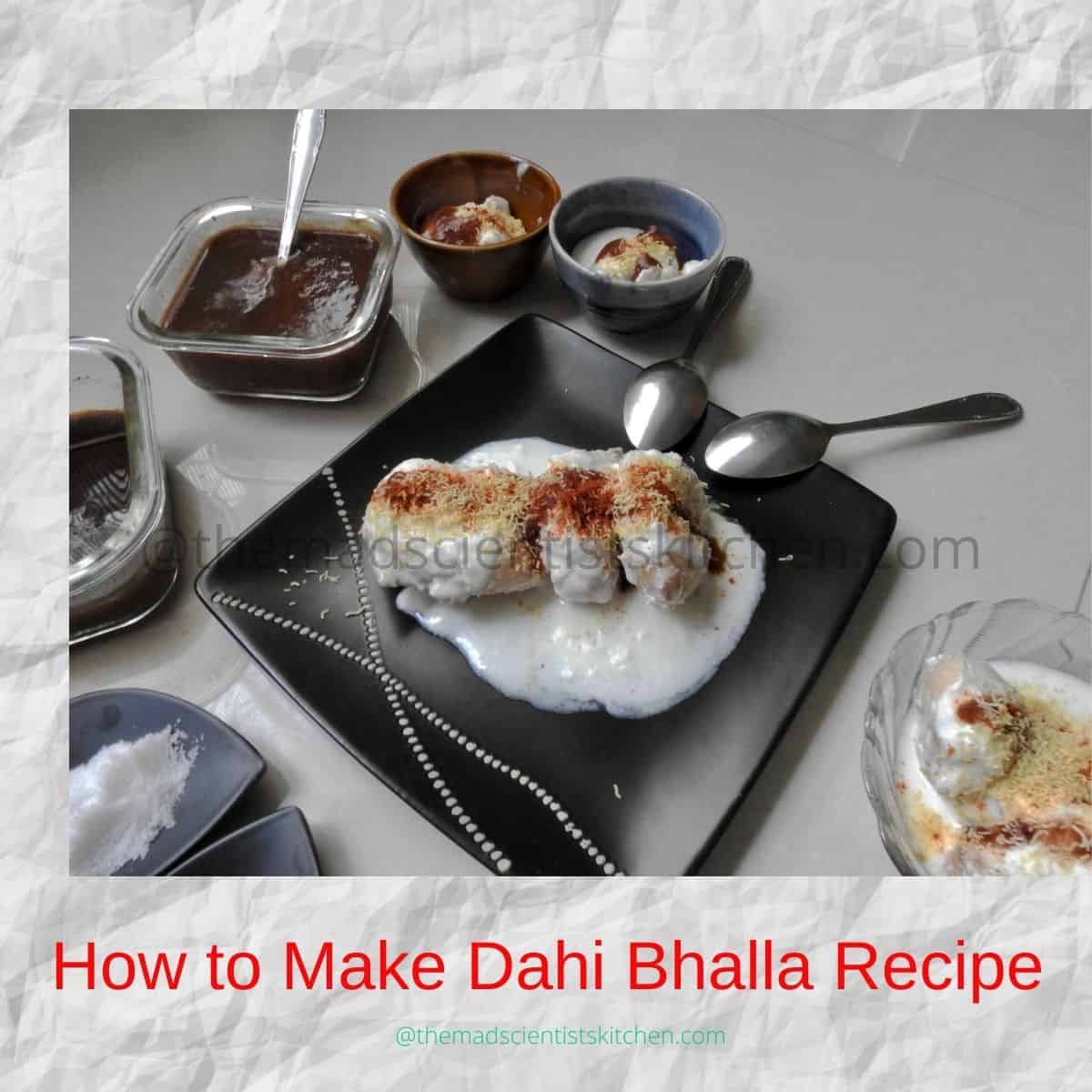 Easily customisable Dahi Wada is a visual treats much as it is to the tastebuds! Dahi Bhalla,  Thayir Vadai, or Masur Ambodi is a very popular chaat that you will find both in Northern India as well as South India albeit with a  few variations.  Make-ahead for any festivity, party or as a snack. You can serve Dahi Bhalla as a side dish or as a dessert but at home, we love them as a meal.  Will you like to add Dahi Bhalla to your repository of dishes?  Then read on and for delicious and easy recipes please subscribe to our newsletter. You will not miss any recipes and I promise not to spam you. (Link below).
The Event:
Another Monday that brings us closer to Christmas another recipe for this unique year we have had! Today the Foodie Monday Bloghop is focusing on the #276th Kids Treats! Our hostess this week is Swathi from Food Trails check her delicious Healthy and Nutritious Sattu Cookies. Beautiful pictures and delicious recipes are the highlight of Swatis blog. Check it out.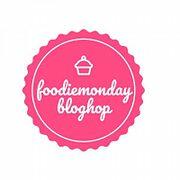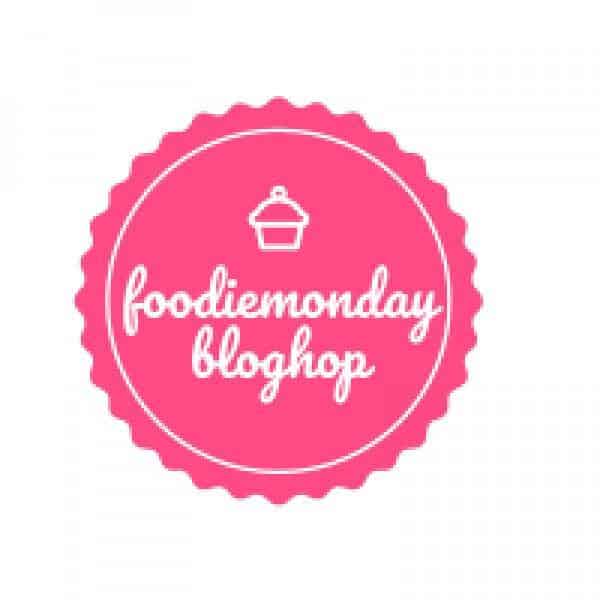 Dahi Bhalla or Dahi Bhalla is a chaat a popular street food in North India. Dahi Bhalla is dal fritters dipped in yoghurt or Dahi and topped with chaat chutney, cumin powder, chilli powder etc. 
What is the difference between Dahi Bhalla and Dahi Vada? 
The basic difference between Dahi wade a Dahi Bhalla starts with the ingredients. 
While Dahi vada also popular in Southern India as  Masur Ammbodi, Thayir Vadai, Peregu Vada uses only urid dal as its main ingredient whereas in Dhai Bhalla you use a combo of urid dal and moong dal.
The south Indian version has a hole in the centre like the medu vada but for Dahi Bhalla, they are more like a ball. 
Then there is a difference in the topping in North India the toppings are very elaborate Dahi Bhalla is served with chaat toppings, tamarind chutney, dates chutney, green chutney, cumin powder etc. 
Dahi Wada is topped sweetened curds (generally) with a tempering of mustard seeds, curry leaves etc. very easy and simple.
The North Indian version may have nuts and raisins in the batter. Unlike the South Indian version where vadas may include chilli and ginger in the batter.
What is the similarity between Dahi Bhalla and Dahi Vada?
The batter for both is not fermented. 
Both are deep-fried and dipped in creamy curds. 
Both taste good and are okay for an occasional indulgence. 
The procedure for making Dahi Wada and Dahi Bhalla is the same. Only your additions change but here goes. Let's Make Dahi Bhalla Recipe:
First is set your curds if you are using homemade curds. In the microwave, it needs 5 hours so plan accordingly. I generally use a litre whole fat milk with 6% fats to make my curds. New to setting curds at home? Watch this video.
Next, rinse and soak the dal in enough water.
While the dal soaks make the tamarind chutney and dates chutney. If you plan to make the green chutney for chaat rinse the chutney pot add all the ingredients and set aside. I recommend you make it last just before serving.
before you grind the dal set up your workstation. You will need a kadhai/wok and a slotted spoon to fry. Get a smaller vessel in which you can dip your hand (A). 2 bigger bowls one with lukewarm water (B) and another with buttermilk (C).
Once you dal is soaked grind it with minimum water. Add salt and whisk up the batter, if you plan to add chillies and ginger or nuts and raisins you can add now. I do not add anything other than salt.
You are ready to deep fry the batter. Heat the oil, any oil that does not smell like sunflower, groundnut oil is fine.
Dip your hand in a small bowl of water (A) before you drop the balls of dough in the oil. Fry till golden brown on all sides.
Once your vada is fried transfer to a bowl of lukewarm water(B). 
Add another to fry and after a few minutes squeeze out the water from the vadas in the bowl (B).
Transfer these wadas to thin buttermilk bowl (C) let them soak.
Finally, transfer to a big bowl in which you plan to store, arrange the wadas in a single layer.
Add some a the buttermilk, a little thicker than the one you have soaked in the vadas in.
 Once you finish frying and arranging all vadas add a little creamy Dahi on top and set it in the fridge.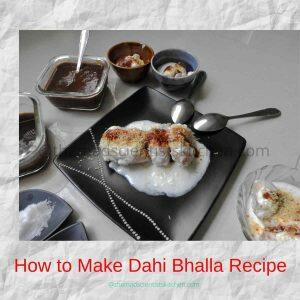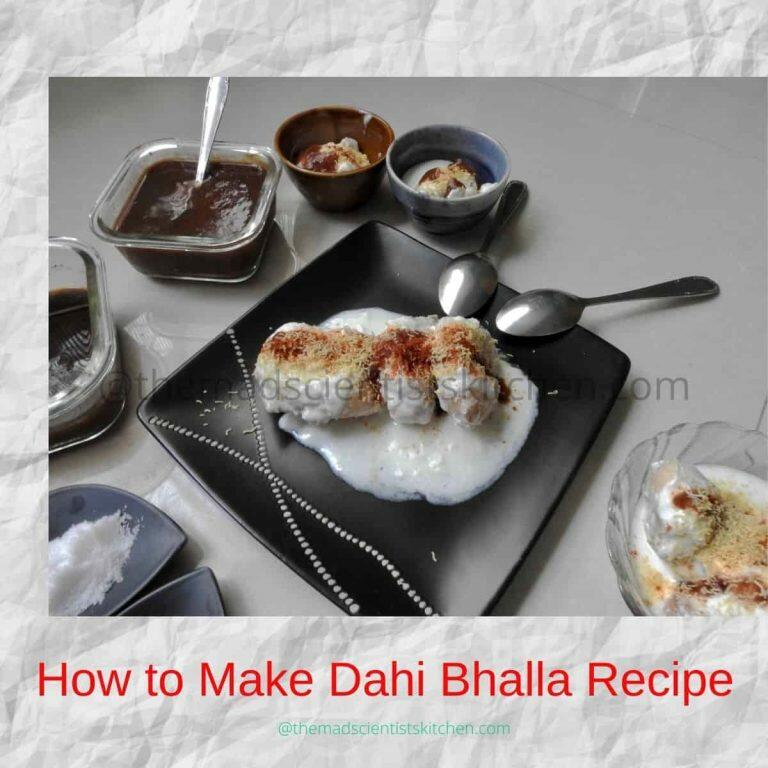 How to Make Dahi Bhalla Recipe
A delicious side dish, a dessert these deep-fried fitters of dal are steeped in curds, topped with tangy and spicy chutneys that tingle your tastebuds! Just delicious must try!
Print
Pin
Rate
Equipment
Kadhai|wok

Slotted Spoon

Bowls

chutney jar of mixer/blender

Mixer/Grinder
Ingredients
For the bhallas:
2

cups

gms moong dal

1

cup

urad dal

Oil

for deep frying
For the Tamarind chutney:
¼

cup

tamarind

1 ½

cup

water

¼

cup

jaggery

1

teaspoon

coriander seeds

1

teaspoon

jeera

2

teaspoon

red chilli powder

½

teaspoon

black rock salt

salt to taste
For the Dates Chutney:
1

cup

dates

de seeded

1

teaspoon

coriander seeds

1

teaspoon

jeera

½

teaspoon

black rock salt

salt to taste
For the Green Chutney:
1

cup

coriander leaves

¼

cup

pudina leaves

1

Green chilli

12

garlic cloves

½

teaspoon

black rock salt

to taste salt

1

Lemon

juiced
For Dahi:
5

cups

yogurt

Salt to taste

2

tablespoon

sugar

powdered (optional)
For garnishing:
1

teaspoon

chaat masala

¼

teaspoon

red chilli powder

¼

teaspoon

cumin powder
Instructions
For the bhallas:
Rinse and soak moong dal and urid dal for 2-4 hours.
To make the Tamarind and Dates Chutney:
While the dal is soaking add the dates/ meethi chutney in a pan. Similarly, add the tamarind mixture to another pan. Add a cup of water and pressure cook for 2 whistles. Let the pressure drop naturally.

Add the dates mixture in the chutney pot mixer and grind to a smooth paste. Add water if needed.

Transfer to a small saucepan and cook till it thickens and is smooth. Strain to a small serving bowl and cool. Set aside.

Similarly, grind the tamarind to a smooth paste cook and strain.

Meanwhile set up your work station for the deep frying of the Dahi bhalla.

Kadhai/wok with a slotted spoon fro frying, a small bowl of water to dip your fingers or spoon(A).

Iin a big bowl add some Lukewarm water(B). In another bowl add ½ cup curds and ½ litre water. Whisk well. (C)

The biggest bowl you find to line your wade in (D).

Lets take a look at the dal now. Drain and reserver the water then grind fine with minimum water to a fine paste. Use the reserved water to grind.

Your batter is done when it is smooth and fine. The test for the batter is try adding a small blob of the batter in a bowl of water. If it floats your batter is done.

Heat the oil in a kadhai/wok.

Add salt in the batter and whisk well till it is light and fluffy. Once your batter is ready, start frying.

Dip your fingers in bowl A. Wet your fingers well and make small portions of the dough and deep fry. You can also use teaspoons to drop the small blobs in the oil.

Deep fry on medium heat till golden brown. Drain well.

Once you get one batch out of the oil transfer to a bigger bowl of lukewarm water(B). Let then soak till you add more batter in the oil.

Squeeze out the soaked deep-fried balls of vada and transfer in a bowl of watery Dahi(C). Soak till you get the next batch ready.

Then transfer from the watery Dahi to a dish (D).

Lay the vadas in a layer add some thicker buttermilk.

Finsh off with all the wadas. Add some creamy curds on the vada and set in the fridge.
To make the green chutney:
Blend all the ingredients to fine paste. Set aside.
Prepare Dahi:


Whisk the Dahi/ yogurt with salt and powdered sugar( if using). Keep it in the fridge to cool.
Plating up Dahi Bhalla Chaat:
Add 3-4 vadas to a plate. Take care they will break easily.

Add creamy Dahi on top about 3-4 tablespoons.

Add the tamarind chutney, dates chutney and green chutney if using.

Sprinkle some chaat masala, red chilli powder and cumin powder on top.

You can also add some sev and pomegranate arils on top.
Nutrition Facts
How to Make Dahi Bhalla Recipe
Amount Per Serving (2 vadas)
Calories 150
* Percent Daily Values are based on a 2000 calorie diet.
Grind the dal with minimum water. The batter is thick but very smooth. If you add more water you have absolutely no fix. At least I will not recommend adding rava or anything else. Your vadas are not going to be soft. the only solution maybe you add some rice flour, rava and try making dosas.
The batter is not fermented/ stored in any form unless you want to use the vadas as missiles.
Use a neutral oil like groundnut, sunflower oil to fry the vada on medium flame. High flame your batter will not get cooked inside and low flame well your vada may absorb a lot of oil. Plus it boring waiting for the vada to get cooked.
As in case of any deep-frying Do not crowd the kadhai/wok. Becomes easier to flip the vada and you will not splash the oil.
Soak the vadas as soon as you get them out of the oil in warm water. Squeeze out the water then transfer to a watery curd mixture before transferring to the vessel in which. You plan to finally store the vadas. This way your vadas comes out soft, they soak well and you will need lesser Dahi to soak the vadas.
Whisk the curd well with a little salt. I do not add sugar but you can add sugar then pour some on the Dahi Bhalla.
What I do is I make slightly water Dahi which I pour on the Bhalla before I transfer the container in the fridge. Just before I serve the Bhalla I add thick curds. This way I manage in about 1-1.2 litre of curds and since my family wants a lot of curds this works well for me.
#9 Delicious Cookies Recipes for Christmas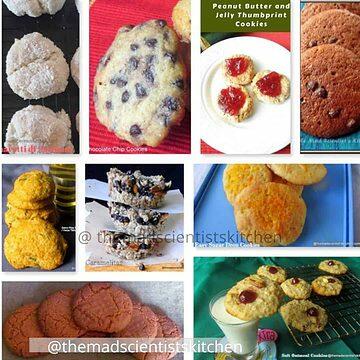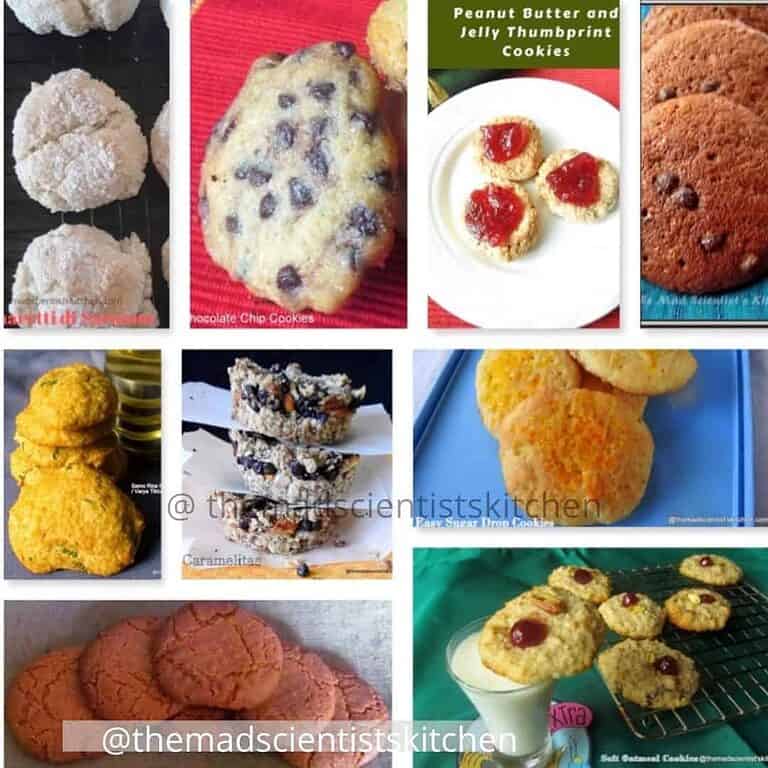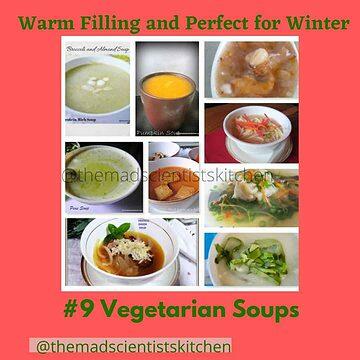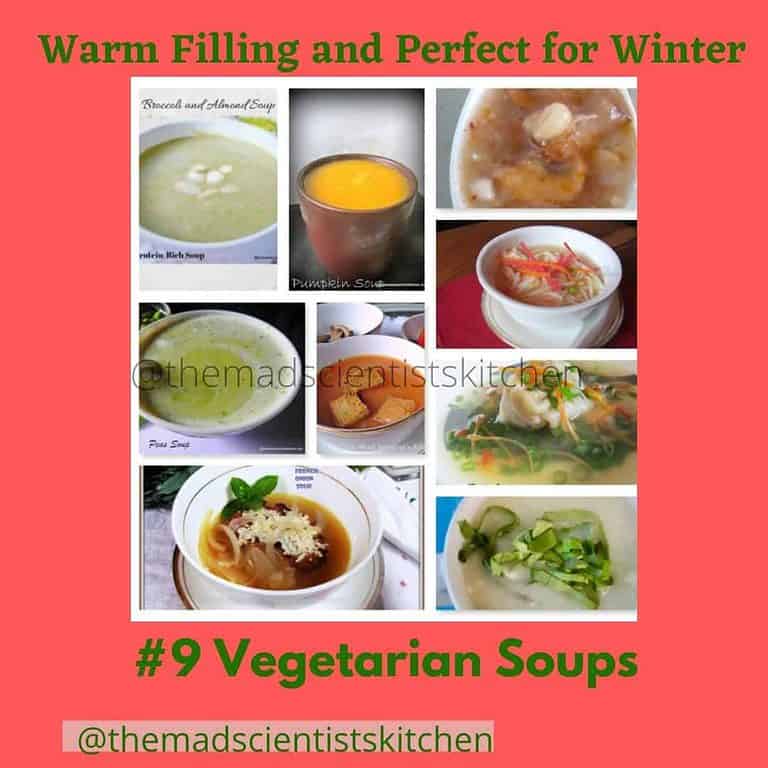 Crispiest Baked Onions Rings Recipe without Flour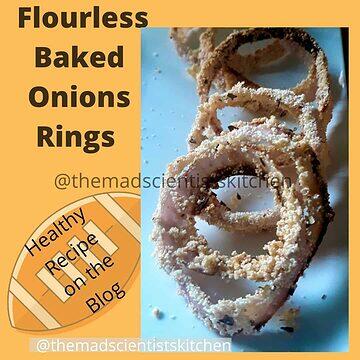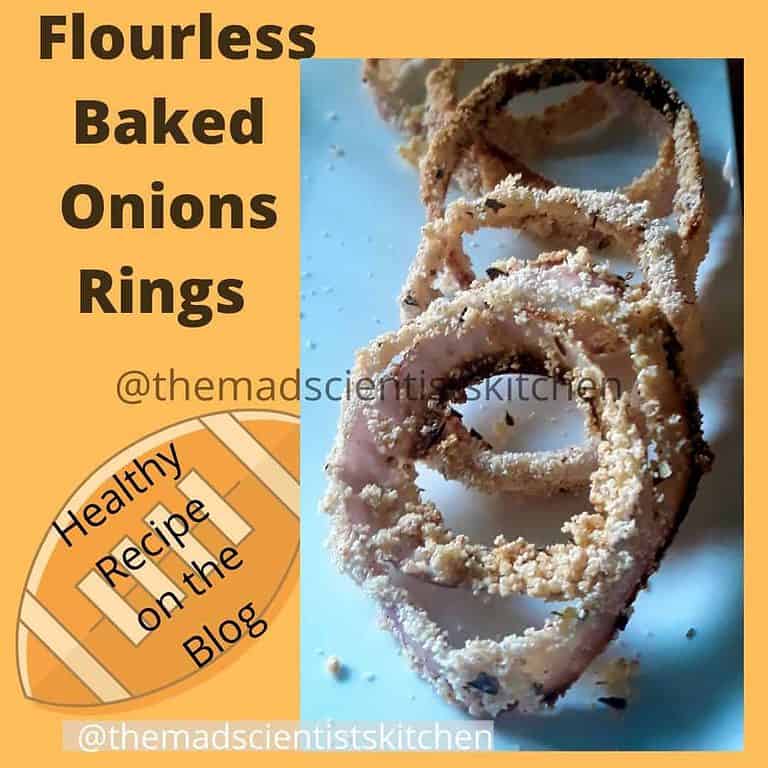 Gobi Musallam|Baked Whole Cauliflower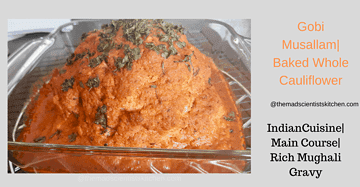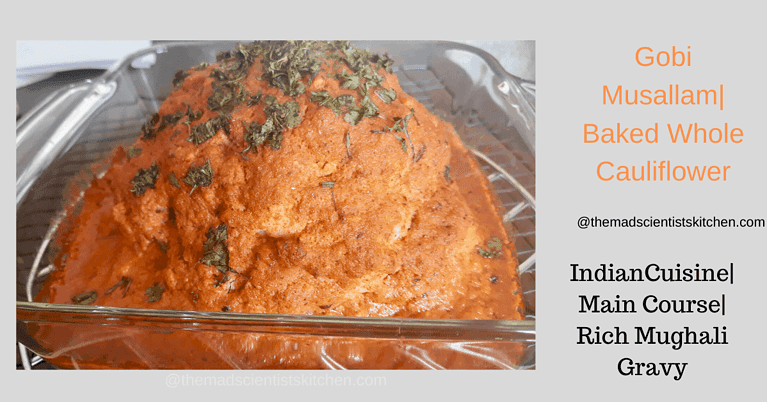 Bajra Carrot Cake| Pearl Millet Recipes| Millets Special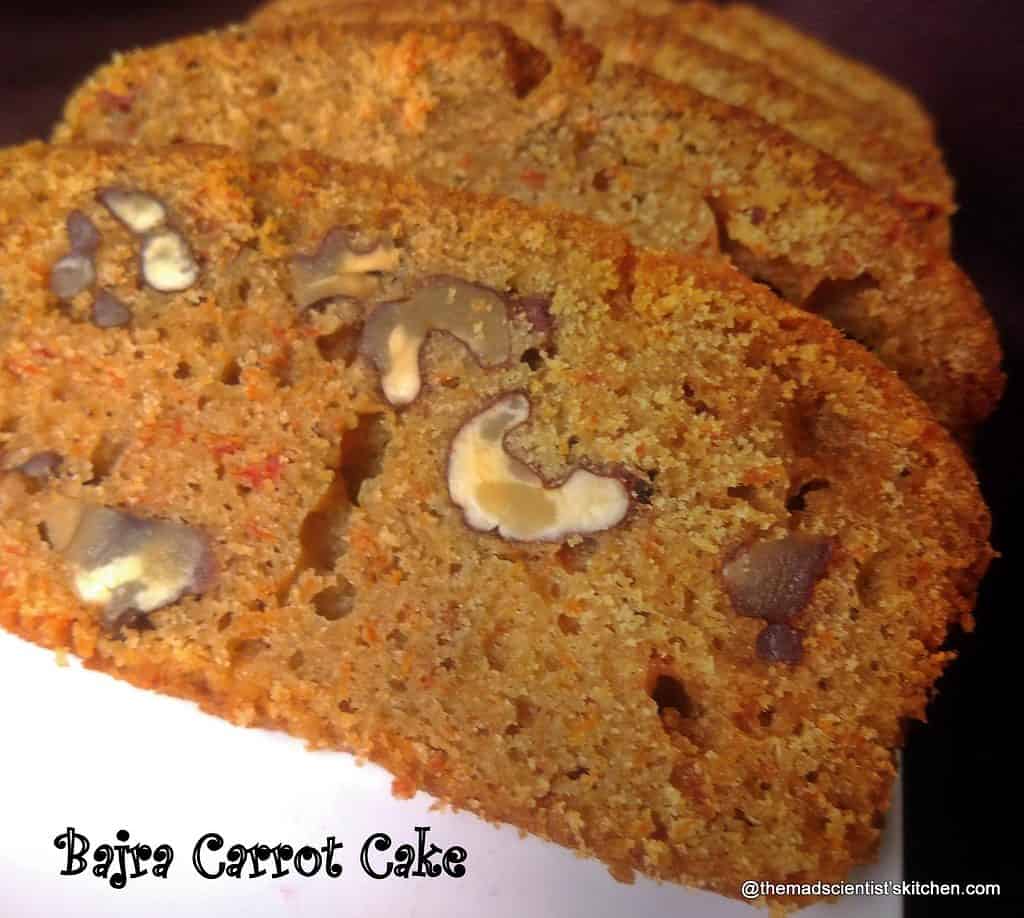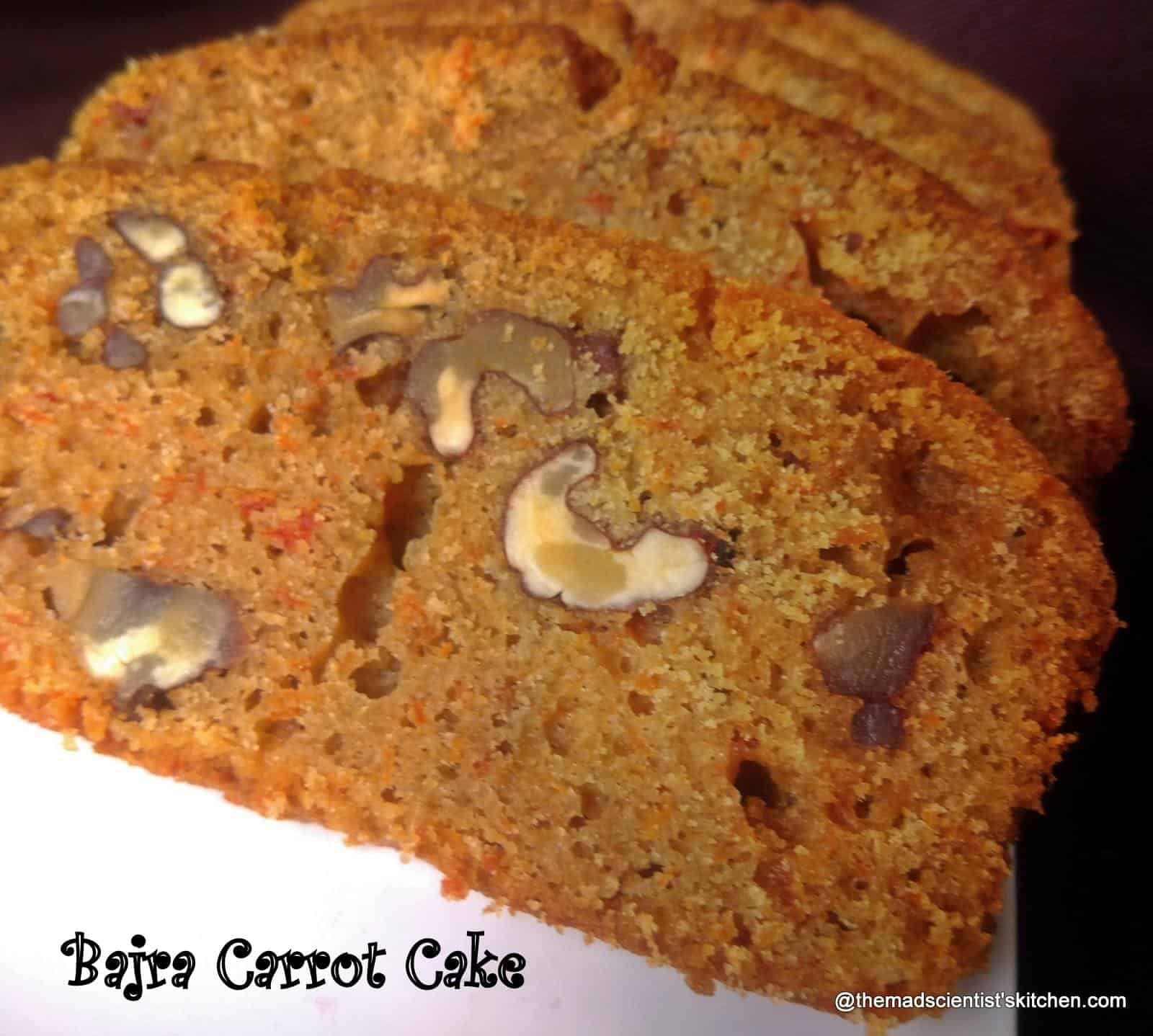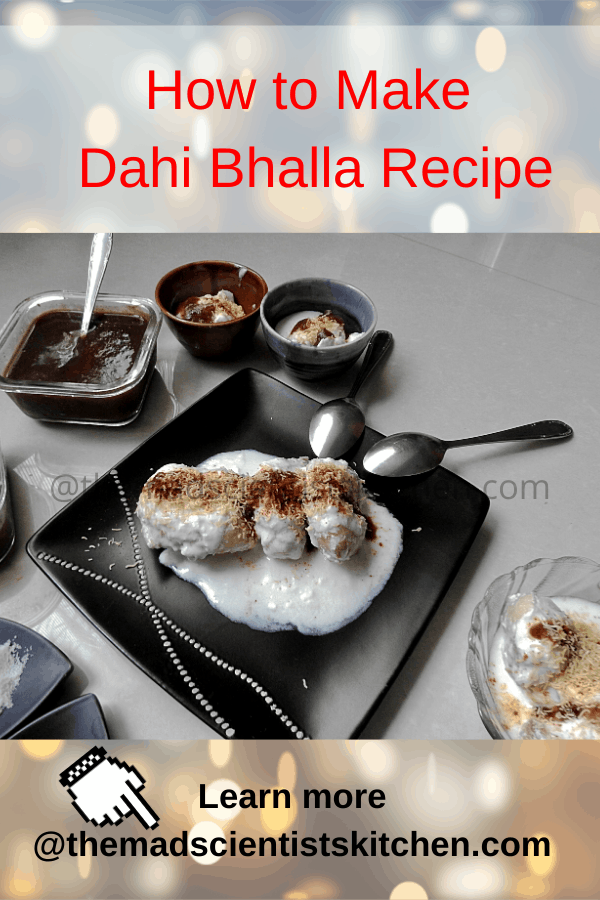 More Christmas| X'Mas Special Recipes
Reader Interactions