Haldi Doodh the Age Old Indian Cold Remedy
I made Haldi Doodh today as I have a very bad cold and my nose is blocked.
One cup of Turmeric Milk and a few fond memories of Amma I was good to sleep. 
My mom doled out a teaspoon of turmeric and gave us hot sweetened milk to down the turmeric. I always coughed, thanks to the haldi powder, so I think the method of boiling the haldi/turmeric is better.
Every time the season changes we are sure to have a runny nose and cough. The runny nose turns into a cold in no time and you are all drained. Now, is the time when all the age-old home remedies for cold and cough come out and I play Doctor.
Home remedies are known as "Dadi ke Nukse" in Hindi.  In an Indian joint family, these old ladies used to be an encyclopaedia of traditional medicine, not all of them were palatable but were effective. With the spoon sugar to blank out the taste and oodles of hugs and kisses and fake shouting at the mother, she was spot on in treating the sick grandchild. Right from babies to teenagers no one missed granny's medicine.
Like I said I have a very bad cold, blocked nose and a hacking cough.  Now, this is getting worse as I keep going to my flat as it is getting renovated. So that seals the fate of all the other medicines I want to write about. We are sticking to cough and cold.
The best part of most of the age-old cures is that they are tested and are effective. You can use these on your baby too, I have tried and they work.
These were everyday remedies I followed for my younger one Akanksha.  For  Apeksha the elder one coughed I ran to the doctors. By the time my second daughter was born my elder one was 7 and the paediatrician told me to treat Apeksha with the age-old treatment for cold.
Here are some of the remedies I have tried sometime or other.
Teezan, a ragi flour porridge rich in calcium, iron and helps to raise the immunity in kids.

One of my neighbours used to give her kid a bottle/feeder of rava/suji made in a fine liquid porridge. She used to swear by it.

The one remedy we use even today on a regular basis is Honey Lemon Hot Water. In fact, this is what Apeksha is living n right now in Bangalore.

When the child is very small say about 1- ½ to 2 years give them what in Marathi is called "Chatan" what you do is you burn 1-2 cloves till they can powder it with your fingers. Mix honey and let your child lick it. The runny and blocked nose will clear out.

Whenever the younger one had a cold my maid used to cut onions rings and put them in a plate that had an edge. On this, she sprinkled a teaspoon or 2 of sugar this plate she kept inclined so that all the onion and sugar syrup ran down to the edge. The liquid she fed her in a small spoonfuls. 2-3 times.

My maid did the impossible she had taught the girl to gargle so every day when she bathed the kiddo gargled this was at the age of about 1 year.

If you get dry cough hold a clove in your mouth is a common remedy but try holding the skin of a pomegranate. I will definitely vouch for these remedies. I have tried both during my pregnancy.

Another great pick me ups are Hot Chocolate Bombs Recipe, Spicy Hot Chocolate with Cinnamon. Try them.

The other age-old method is, of course, today's turmeric milk hailed now in the West as the Golden Milk, Turmeric Latte.

If you are suffering from upset tummy try this Home Remedy for Upset Stomach-Jeera Pani.
Haldi Doodh or Turmeric Milk is something that soothes you and you can sleep better.
To make this Haldi Milk you will need
Haldi/turmeric: Use good turmeric powder good quality organic Haldi/turmeric is what I buy and store every year.
Milk: I use 6% fat milk, use your everyday milk.
Pepper: It is only recently I have heard that you should be using pepper with turmeric to make Turmeric Milk. Apparently the absorption is better if included in the milk.
Ginger: Since ginger has anti-inflammatory properties, helps in drying up the mucous.
Sweetener: You can use sugar, honey, the sugar candy called kallu Sakare/ Khadi Sakhar.  I rather not use jaggery as jaggery will use the milk to split.
How to make Haldi Doodh
If you are using honey add it to the cup.

Mix the rest of the ingredients in a small pan and simmer for 10 minutes.

Strain and serve.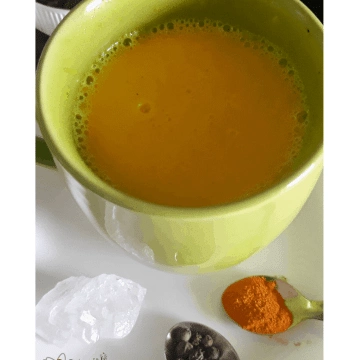 Ingredients
1

cup

milk

1

teaspoon

haldi/turmeric

½

teaspoon

ginger

grated, see notes 1

5-6

peppercorns

ground

Sugar candy small piece

see notes 2
Instructions
In a small but thick bottomed pan add the milk, turmeric, ginger, pepper and bring to boil.

Simmer for about 5-10 minutes.

Add the sugar candy and let it dissolve.

Strain and serve.
Notes
1. Use ¼ teaspoon of ginger powder if you do not have ginger.
2. Use any other sweetener of your choice.
Other Home remedies  like Golden Milk you may like:
When to visit your doctor:
Please call on your doctor if you find it difficult to breathe, coughing up blood,
Have a fever, weakness, shivers.
Your phlegm is green or yellow.
Pin for Later: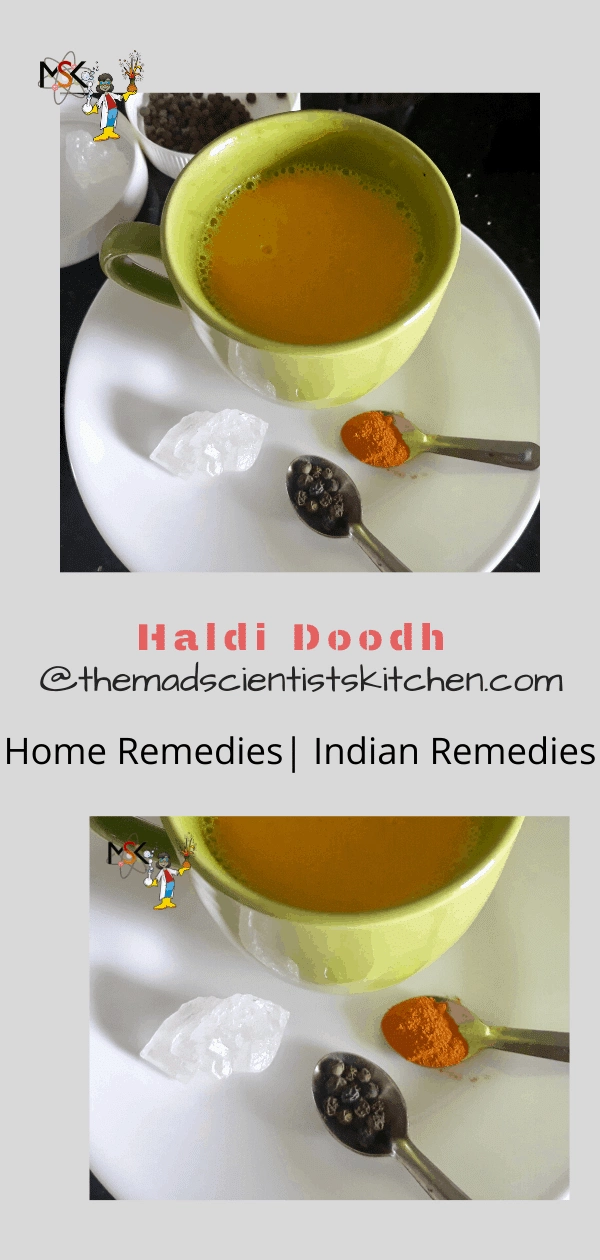 This week at the FoodieMondayBlogHop Narmadha themed us to use#225 Grandma Remedies.
Narmadha blogs at Nams Corner and she has some amazing recipes you need to try. Her latest
Eggless Sugar Cookies Recipe is what I am eying right now.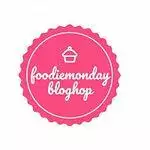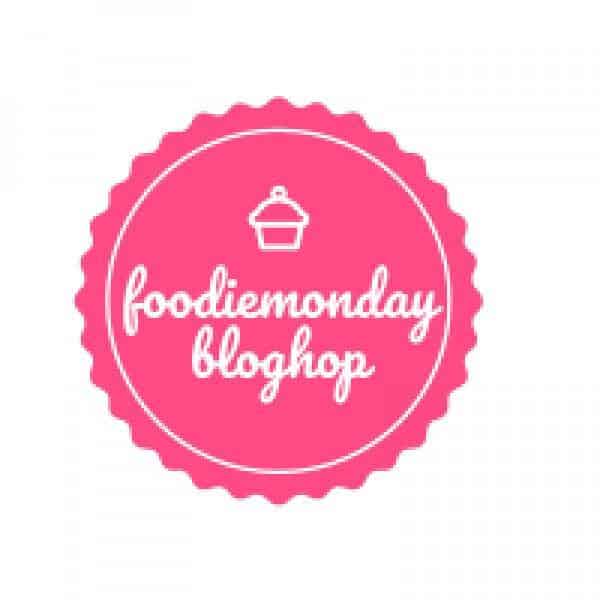 Reader Interactions