Last Updated on
One amazingly delicious meal with the healthiest vegetable was Dodkyhe Bhat /Ridge Gourd Rice !!!
Ridge gourd or Turai in Hindi is also known as Luffa acutangula, turiya, heerakai, dodka, Sponge gourd or Chinese Okra.
Ridge Gourd is a dark green and ridged vegetable. The outside ridged gourd is white spongy pulp inside the seeds are also white.  Generally, the hard peel has to be de-skinned, then chopped and used for culinary purpose.
Ridge gourds are its low in cholesterol and saturated fats but high in vitamin C, dietary fibre, riboflavin, thiamin, zinc, iron, manganese and magnesium. Ridge gourd nutrition value makes it appropriate for weight loss programme.
Ridge gourd can be made in a variety of ways like they can be stuffed this curry goes well with rice and rotis. Ridge gourd can be added to sambhar, sliced and fried, made in a salad as it has a sweet taste.
So you are making ridge gourd now?
Wait don't throw out the peels they can be made in chutney, a side in South Indian cuisine.
Today, however, I am writing about my find in the book "Ruchira" yes the age old book that is a treasure trove of traditional recipes. Join me in this delicious Dodkyhe Bhat or Ridge Gourd Rice.  Trust me no one in the office came to know that my rice has another ingredient, Ridge Gourd!!
Linking it to my Rice and its Versatile uses.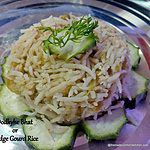 Print Recipe
Dodkyhe Bhat aka Ridge Gourd Rice
A delicious meal with the healthiest vegetable was Dodkyhe Bhat /Ridge Gourd Rice !!!
Ingredients
2

Cups

Rice

1/2

Ridge gourd

4-5

Green chilles

Adjust to taste

1

Inch

Ginger

Grated

1

Teaspoon

Jeera powder

2

Teaspoon

Coriander seed powder

1

Cup

Buttermilk

Approximately
To Garnish:
Coriander

Coconut freshly

Grated (optional)
Instructions
Soak the rice for 30 minutes in warm water.

After 30 minutes drain and set aside.

Meanwhile in case the ridge gourd is tender grate them. However, in case they are not peel the skin and discard and grate.

In a thick bottomed vessel add the ridge gourd, the coriander powder, jeera powder, salt and the rice. Mix well.

Add about ½ cup of buttermilk. Mix gently.

Cook on low flame with a lid.

There is no need to add water as the water from the ridge gourd is enough to cook the rice.

After say about 7 minutes you will see that the rice is half cooked. Add the rest of the buttermilk.

Cover and let it steam for another 5 minutes.

Switch off the flame and let it sit on for another 10-15 minutes.

Serve garnished with coriander.
Check out the Blogging Marathon page for the other Blogging Marathoners doing thi