Vegan Low Fat Masala Makhana Snack| Vegan Low Fat Lotus Seed Snack  
Vegan Low Fat Masala Makhana Snack is a healthy and tasty snack made by roasting  Lotus Seeds.
These makhanas have a difficult time staying in the jar they are better off as a snack with tea, or study time snack now that exams are fast approaching.
Makhana, the first time I heard of this foodstuff I just remembered the song,
" Mere pyar ka ras zara chakhna, hoye makhna hoye makhna…"
this was a hit song then and was sure the shopkeeper was pulling my leg!
I did not know what to do with them and I did try roasting them but no one was much interested.
Times change, cut to the last 2 years we have been focusing on healthy foods and the foods we looked down upon for some time are now back as health foods! Back to square one.
I am happy with that for we are eating healthy foods with awareness and appreciation. I only hope our craze does not snatch the meal out of some poor person's mouth.
Monday and Blog hop have become a routine I will not like to miss but then I have.
In fact, I have missed a few events and I am sorry for that.
The reason for that was my site; it had some malicious files that were causing frequent problems. That had to be attended urgently and now that is water under the bridge and now I hope I can blog consistently.
Coming back to Monday by now you know that we are a group of bloggers where a theme is proposed and voted upon. Then we have exactly 1 week to cook and blog.
 This week for FoodieMondayBloghop  #183 Indian Superfood where we had a choice of makhana, turmeric and moringa.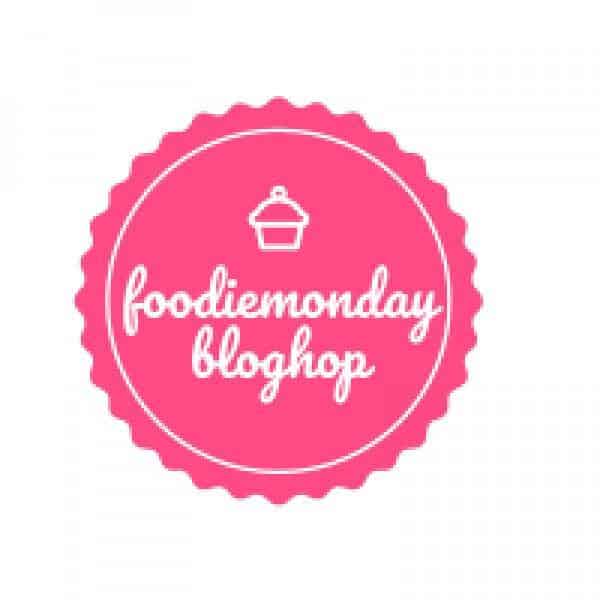 Now, who else will propose these foods other than Vidya of MasalaChilli?  Vidya's blog has delicious food made from healthy and wholesome ingredients. Crisp pictures and lovely write-up it is pleasure to read Vidya's posts.  Do check out her recent post of tutti fruit buns has me down the memory lane.
So what is Makhana?
The botanical name of makhana is Euryale ferox and the common names are fox nut, gorgon nut or phool makhana. Makhana is also known as Lotus seeds as it a seed of a special species of water lily.
Grown widely in Bihar, Manipur, Korea,   Japan, some parts of Russia these balls are a powerhouse of nutrients.
Growing and extracting then processing Makhana is elaborate and needs a skilled workforce. Yes, Makhana needs to be processed before we can consume it.
There is a reason why fox nuts are considered as one of the Indian super food its health benefits. Let us check them out at first.
Makhna is rich in fibre, protein, carbohydrates, iron, magnesium, potassium, zinc.  So adding these to your snack bowl will help you to fill up the tank without adding very many calories best way to lose weight. Foxnut seeds are ideal for diabetics as there is no sugar (ignore the fact that I have added maple syrup to the makhana). In addition to these reasons they are full of fibre so good for bowel motions, aid the kidneys in their functions.
I have made makhana kheer and I am yet to blog it however I am yet to explore ways of adding this wonder superfood in our diet.
Anyway, let us straight get down to the recipe of Vegan low-fat Makhana. Just today my daughter was complaining that she got none from the last batch and to keep aside some for her. Your teen says that then baby you have hit on a yummiest recipe.
I have used maple syrup to bind the masala but then you can add honey. You can use oil use homemade ghee also but in today's recipe, I have not used either.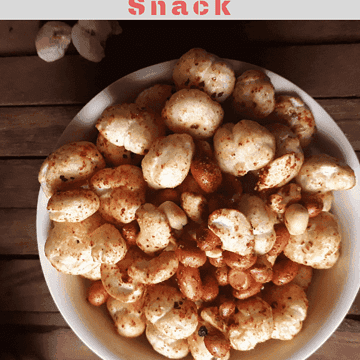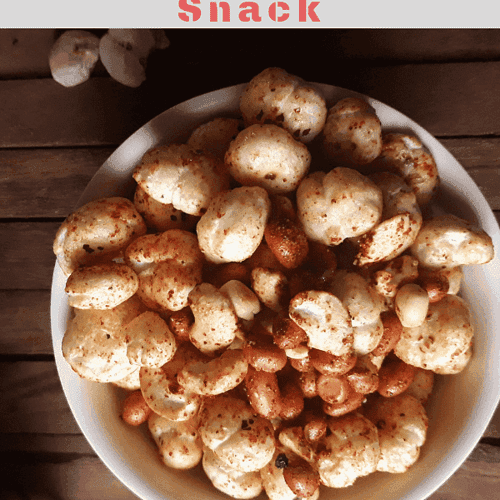 Vegan Low Fat Masala Makhana| Vegan Low Fat Lotus Seed Snack  
Vegan Low Fat Masala Makhana Snack is a healthy and tasty snack made by roasting  Lotus Seeds.
Print
Pin
Rate
Ingredients
3

cups

lotus seeds

¼

cup

ground nut seeds

roasted

3

tablespoon

Cashew Nuts

½

teaspoon

Jeera/ cumin powder

1

teaspoon

Chilli powder

1

teaspoon

amchoor powder

½

teaspoon

rock salt

Salt to Taste

2

tablespoon

maple syrup/honey
Instructions
Add the makhana to a thick pan.

Dry roast the makhana for 4-5 minutes on a low flame or when you bite in the makhana there is crunch to it.

Add the cashew nuts, ground nuts, red chilli powder, cumin seeds powder, amchoor powder, rock salt and salt and mix well.

Add the maple syrup/ honey and mix well till all the makhana are coated with the masala. You will need about 2-3 minutes.

Transfer to an air tight container when cool.
Reader Interactions