Last Updated on
Sugar-Free Dates Dry Fruit Rolls for a sweet yet guilt-free Diwali Sweet that is quick to make yet healthy too!
I know my husband's love for dates and dry fruits the store brought ones are something in my current healthy food drive that I want to avoid at any cost. Thankfully now that he has given u his corporate job the boxes and boxes we used to get for the festive days has tapered down.
I said tapered down so the few that we have also are something he is after. That is the time when Dhantadaaan … I gave him the roll and told him to slice the roll! Boy is he thrilled! He is posting it all around his groups!
Entering this recipe for the A to Z Challenge this month wherein we choose to cook with key ingredients Alphabetically. This month it was time for Alphabet 'D' and I chose my key ingredient 'Dates' to make this gorgeous Diwali Sugar-Free Dates Dry Fruit Rolls.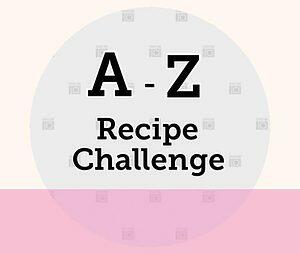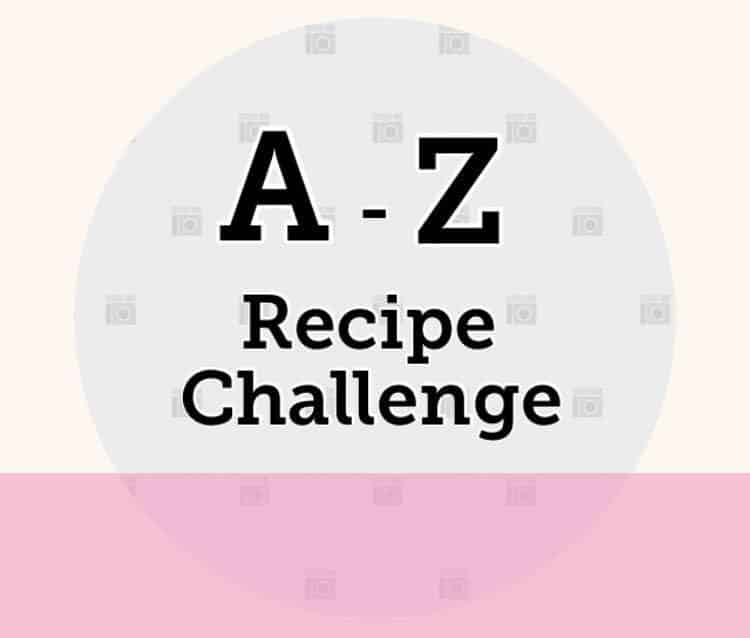 This is my first entry to the challenge I was oscillating between these rolls and a radish pachadi I make that is an absolute hit with my kids. Okay, maybe I will post it soon if I can find the pictures you see my laptops crashed and I am struggling with my daughter's old laptop. I could also make it again and the girls will be more than happy! I am really blessed to have children who will shoot out of bed to eat salads!
But finally Diwali won!!
In this post, I have used standard grams please use the dry fruits as available and in whatever measure you care. This I have used all the leftover nuts before I open/buy new dry fruits.  We had so many guests yesterday that I  have not been able to click pictures. I will update the pictures asap.
Make sweets with dates is something that I have tried in the past here are some
Egg-less Chocolate Sticky Date and Cashew Nut Cake
Granola ~ Vegetarian Old Age Diet
Sugar-Free Dates Dry Fruit Rolls
Serves: 2 Rolls
Preparation Time: 10 minutes
Cook time: 5 minutes
Passive time: 4-5 hours
Ingredients:
28 grams walnuts

38 grams almond, chopped

27 grams pistachio, chopped

33 grams pecans, chopped

71 grams sunflower seeds, chopped

70 grams cranberries, 

500 grams dates, pitted

10 grams khus khus/ poppy seeds

2 tsp ghee
 Method:
Heat a non-stick pan and roast the poppy seeds.

Remove and set aside.

In the same pan add the ghee and stir fry the nuts until you get a nice aroma. Set aside to cool.

Add about 1- 1/2 tsp of the poppy seeds.

Meanwhile, in the food processor or the mixer process the dates until it forms a soft lump.

Transfer the nuts to the processor and run it to mix the nuts.

Transfer to an aluminum foil and make a cylinder.

Refrigerate for 4-5 hours.

Cut in circles using a sharp knife.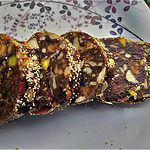 Print Recipe
Sugar-Free Dates Dry Fruit Rolls
A delicious yet simple no cook Diwali Sweet that is a show stopper!
Ingredients
28

grams

Walnuts

38

grams

almond

chopped

27

grams

pista

chopped

33

grams

pecans

chopped

71

grams

sunflower seeds

chopped

70

grams

cranberries

500

grams

Dates

pitted

10

grms khus khus/ poppy seeds

2

tsp

Ghee
Instructions
Heat a non-stick pan and roast the poppy seeds.

Remove and set aside.

In the same pan add the ghee and stir fry the nuts until you get a nice aroma. Set aside to cool.

Add about 1- 1/2 tsp of the poppy seeds.

Meanwhile in the food processer or the mixer process the dates until it forms a soft lump.

Transfer the nuts to the processer and run it to mix the nuts.

Transfer to a aluminium foil and make a cylinder.

Refrigerate for 4-5 hours. Cut in circles using a sharp knife