One of my favourite chaats and is made by adding potato cutlets in a mildly spicy curry made from white peas.
The plate of Chaat, called Ragda Pattice or plain Ragda is garnished with different chutneys, sev and coriander.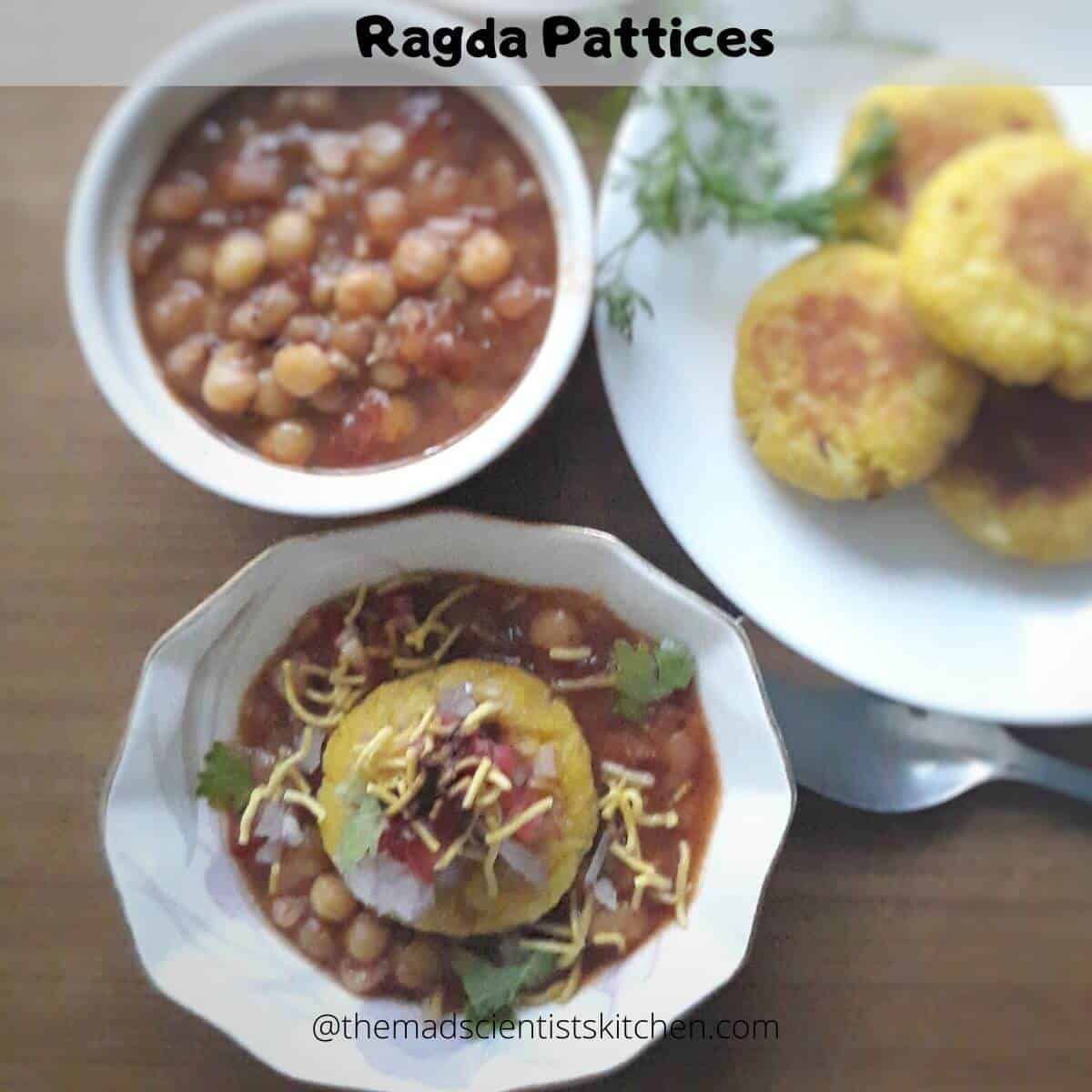 I hate making chapatis but we need them every day for every meal. So when the lockdown happened I was in a panic of my own! Needless to say, I was hunting for escape routes. Chaat happened to be one of them.
Chaat the very word has us drooling. For the uninitiated chaat is spicy, tangy and sweet and delicious Indian Street Food.
Mouthwateringly delicious Ragda Patties is equivalent to Chhole Tikki served in Northern India but milder. Ragda patties or pattice and it is very common Street Food in Maharashtra and Gujarat states of India.
Dehydrated White peas are used a lot in Goa, every Shivrak or vegetarian food day Chana Cho Ras is made. However, I do not use dehydrated peas of any kind.
When the lockdown happened I was not prepared and so I ran out of most groceries. Thankfully I could order online from the setup the Government put up. I just ordered the full kit and in it, there were white peas, masoor, Kabuli chana, moong etc. Looking at the white peas the girls wondered if we could have ragda pattice.
YES!! YES!! Anything as long as I do not have to make chapatti even for 1 meal! Next, it will be Kulcha cholla the Street food from Delhi!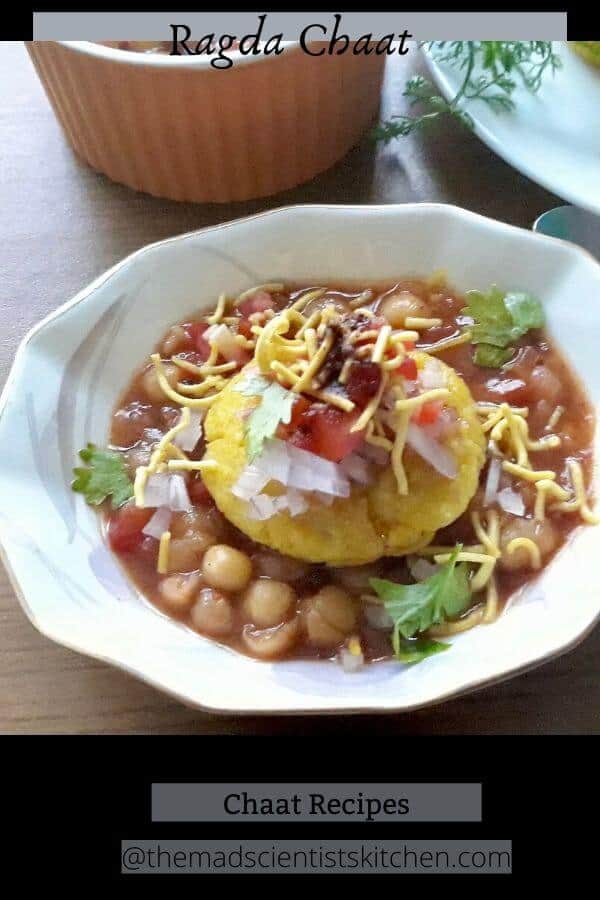 Thanks to Swathi of Foodie Monday Blog Hop I can dwell on my favourite food Chaat! Chaat means to lick and any chaat is brought together in its myriad tastes with different chutneys, onions, raw mangoes if in season, sev! In short nothing less than wanting to lick your fingers. The best part is that a chaat of any kind is customisable.
Swati blogs at Food Trails and if her pictures speak volumes of all her trails! Do check out her simple Tiramisu you will know what I am talking about.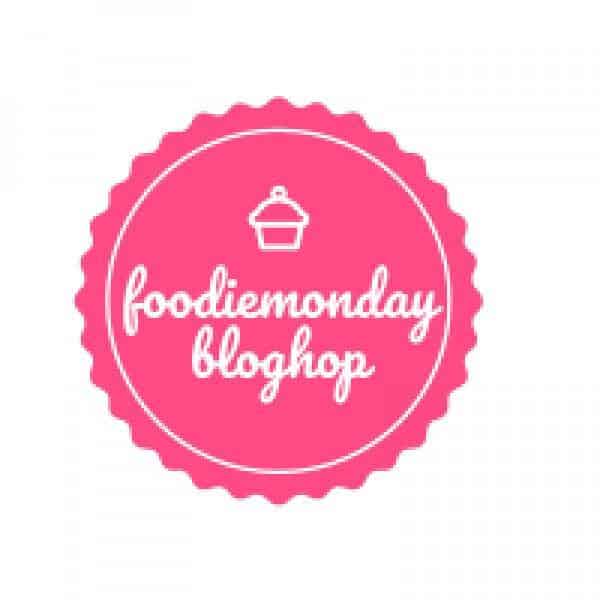 Ragda Patties has 3 components
Ragda is made of dehydrated white peas.
Pattice the star ingredient here is potatoes, and
the delicious sauces and chutneys, sev and tangy chaat masala as a topping.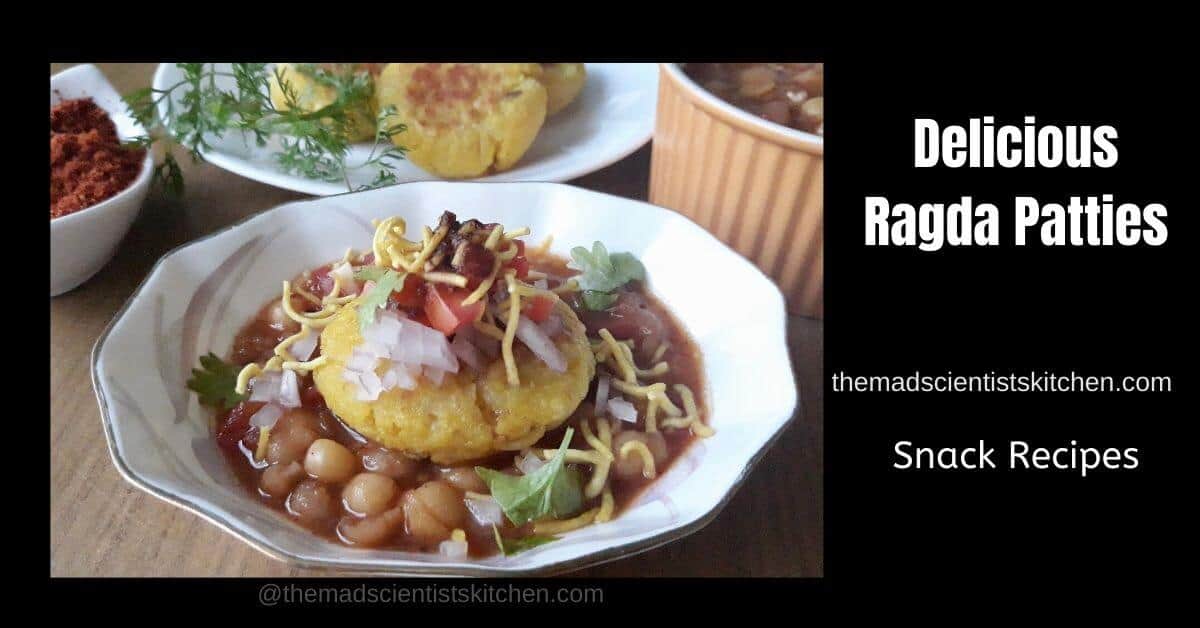 Dry White Peas: Soak these peas overnight or for at least 8 hours.
Cooking Soda: Also sodium bicarbonate a small pinch helps in cooking the peas nice and soft.
Ginger and Green Chilli Paste: For the extra zing to the gravy.
Ragda Masala: Use the Ragda Masala or Goda Masala, Kanda Lasun Masala sparingly.
Oil: Use any oil that does not have a strong smell. I use rice bran or sunflower oil.
Mustard and Asafoetida: To make my tempering.
Salt: to taste
Tomato: Use a very finely chopped tomato this is optional but recommended.
Tamarind Pulp: Soak tamarind in the water early in the morning so in about an hour I can get a thick pulp to use in my ragda. The balance goes in making the tamarind chutney.
Whole spices: You will need peppercorns, coriander seeds, cloves, cinnamon, red chillies and cumin seeds. dry roast these ingredients.
Oil: I used sunflower oil to fry the red chillies until crisp.
Potatoes: Use boiled and grated or mashed potatoes. I prefer to grate them as then they tend to be less sticky.
Bread slices: Generally I use 1-2 slices per potato for making my dough. The number of slices you will need to make a soft dough will vary.
Turmeric: These patties are yellowish, use a generous pinch of turmeric or haldi.
Coriander leaves: Now, this is one ingredient I love to use in my patties. This is optional.
Oil: To shallow fry the patties
Salt: To taste.
Poha or Flattened Rice: In case you do not have bread slices or you need your patties extra-crisp add about ½ cup of poha. Rinse the poha set aside for about 5-10 minutes then add to the potato mixture. I prefer not to use poha as the patties become blackish.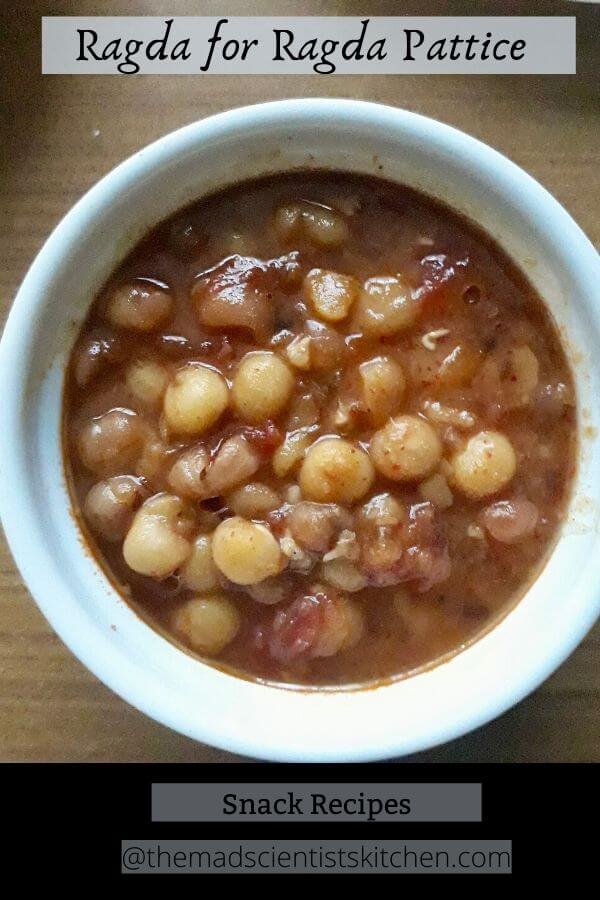 You need some planning to make ragda as the white peas are soaked in water.

Since we need soft peas, soak them for at least 8 hours overnight soaking is easier as I can cook them in the morning as I go about the rest of my jobs at hand.

Cook the white peas on the stovetop in a vessel or like me use the pressure cooker. I add a ½ tsp salt and pressure cook it for 3 whistles.

Me being averse to spending long periods in the kitchen I avoid the stove-top method in an open pan. It takes about 2 hours to cook these peas to the needed soft point. I would rather not waste time or gas.

I put my potatoes in the cooker in another container and pressure cook them too.
Once the pressure drops I remove the peas and make a simple tadka of mustard.
Fry my tomatoes and ragda masala. Add the peas, tamarind pulp, salt. Tada! The gravy or Ragda is done!!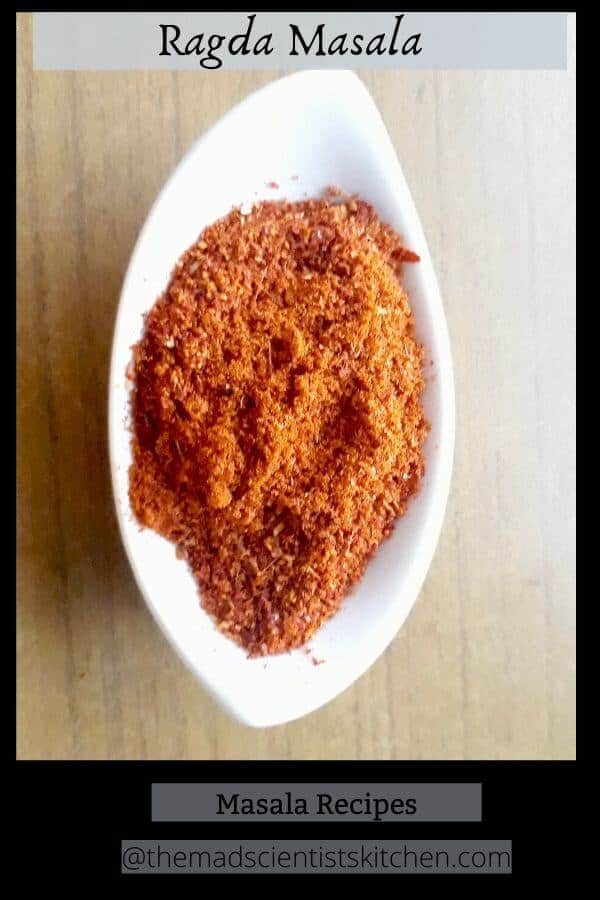 Making the ragda masala is very simple. You can make it as your cooker with the peas gets done. Needs hardly 5 minutes to get the ingredients and roast them. The only time taken is for the ingredients to cool.
Please remember the general points when making the masala or rather any masala

measure all ingredients beforehand,
use a thick skillet, pan or kadhai/wok to roast the ingredients.
last and most important keep the flame low.
Dry roast the pepper, cumin seeds, cloves, cinnamon, coriander seeds. Transfer to a plate.
In the same pan add oil and fry the red chillies till nice and crisp.
Cool and grind all the ingredients. Store in an airtight container.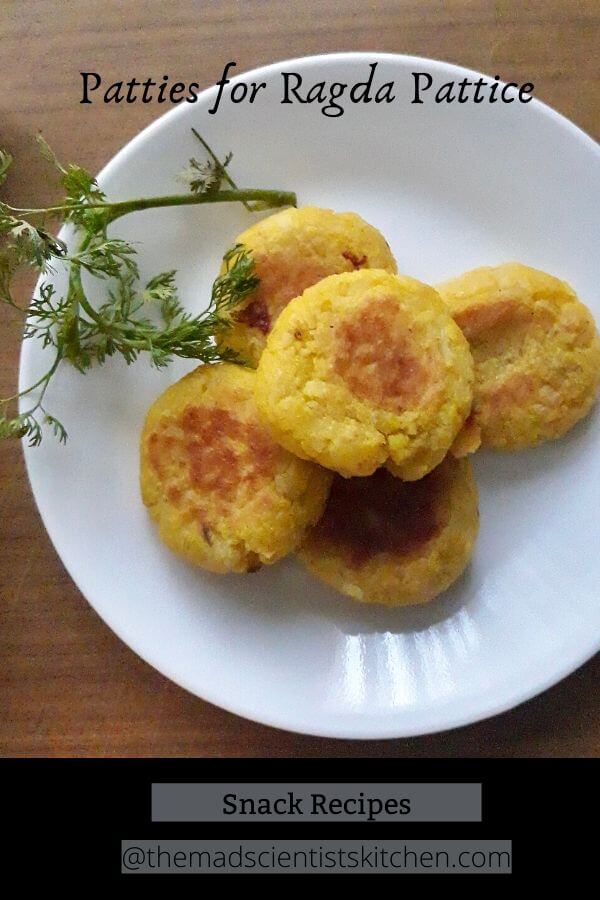 I use boiled and grated potatoes.
Add salt, turmeric powder, coriander leaves if using, and bread slices dipped in water and squeezed dry. You can add ginger garlic, green chilli paste too.
Make small lemon sized balls and flatten them.
Shallow fry on both sides till golden brown on both sides.
To serve to add the 1-2 patties on the plate, add a ladleful of the ragda. Top up with finely chopped onions, tamarind chutney, green chutney and sev. Garnish with coriander and a dash of red chilli chutney if you wish.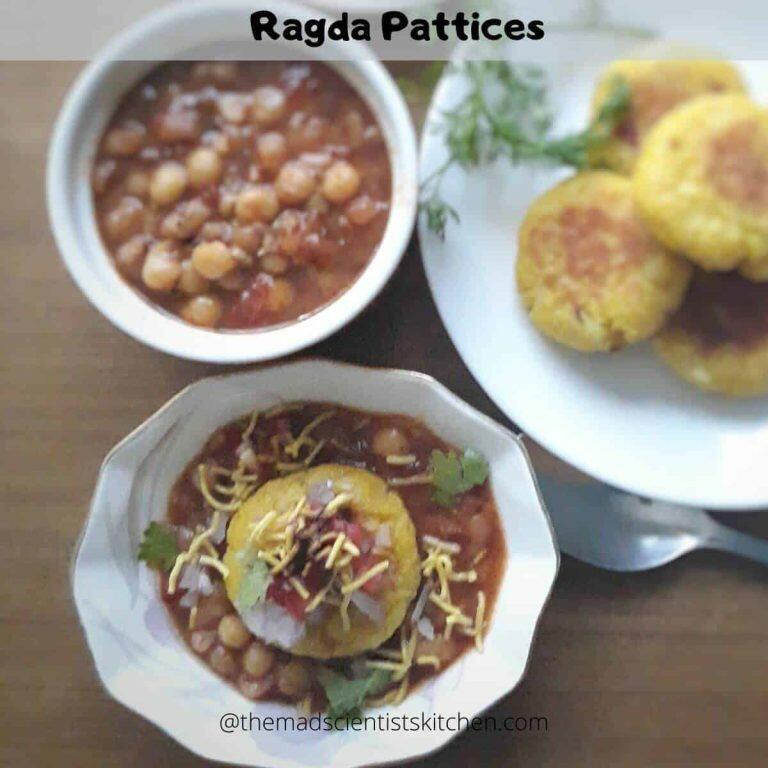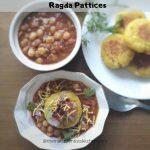 Print Recipe
Delicious Homemade Ragda Chaat
Yummy Ragda, a Street Food is deliciously assembled with potato cutlets called patties in a mildly spicy curry, ragda made from white peas. The topping is mouthwatering tangy chutneys, sev and coriander leaves make it an irrestible dish!
Equipment
Bowls

Pressure cooker

Grater

Kadhai/wok

Mixer/Grinder

Tawa/Skillet/Griddle

Spoons and Ladles
Ingredients
For the ragda masala:
¼

tsp

peppercorns

1

tbsp

coriander seeds

4-5

cloves

2

cinnamon stick about 1 inch each

1

tsp

cumin seeds

1/2

tsp

oil

3

red chillies

broken in small pieces
For the Ragda:
2

cups

white peas

soaked overnight

A pinch of Cooking soda or sodium bicarbonate

2

tsp

ragda masala

1

inch

ginger

peeled

3

green chillies

2

tbsp

oil

½

tsp

mustard seeds

¼

tsp

asafoetida/hing

2

medium tomatoes

chopped fine

A lemon sized ball of tamarind soaked in 1cup of water

Salt to taste
For the Patties:
4

medium potatoes

4

slices

bread

Salt to taste

A few sprigs of coriander leaves

optional
Instructions
Start your preparations overnight. Wash and rinse the peas and transfer to a big bowl add  8 cups of water.

In the morning transfer the rinse and transfer the peas to the cooker, add about 3 cups of water, a pinch of cooking soda and ¼ tsp salt. Stir well and pressure cook for 3 whistles. Let the pressure drop naturally.

Open the cooker and take about 1 cup of peas out. Mash them. Set aside.
Meanwhile let us get the Ragda Masala ready:
In a thick kadhai/wok put the peppercorns, coriander seeds, cinnamon sticks, cumin seeds and roast till you get a lovely aroma.  Transfer to a plate and let it cool.

In the same pan add the red chillies and a ½ tsp of oil. Roast till the chilles become crisp. Cool and then grind all the ingredients to a fine powder.

You will need about 2-3 tsp of this masala. The rest, store in an airtight container. You can add it to your other gravies. The aroma of this masala is amazing.
Now let us finally make the ragda:
Make a paste of the ginger and chillies with a little salt.

Since I generally roast the masala in the pan in which I plan to make my ragda I heat the same pan. It is a big kadhai/wok.

Add the 2 tbsp oil splutter mustard, add the asafoetida.

Add the ginger and chillies paste.

Add the tomatoes and about 2 tsp of the ragda masala fry until the tomatoes become pulpy. Stir occasionally.

Add the peas and about 2 tbsp tamarind pulp, salt.

Let it boil then adjust the seasonings, add more masala if needed.

Remember the mashed peas add them. They will help thicken the gravy.

Keep the gravy on a little watery side. As it cools it will thicken and plus when you add on the patties it becomes perfect.

Use tamarind pulp if you need or else you can use it to make the tamarind chutney needed for the topping.
To make the Patties:
When pressure cooking the peas in a container add washed potatoes and pressure cook. By the time your ragda is ready your potatoes will have cooled down.

Peel and grate them or mash them.

Add salt, turmeric powder, coriander leaves if using.

Dip the bread in a little water and remove. Squeeze dry.

Add to the potato mixture and make a soft dough.

Make small lemon sized balls and flatten on your palm. I got about 20 pieces.

Arrange on a tava pour the oil and fry both the sides till they are brown. You will need about 5 minutes each side.
To serve Ragda Patties:
You can either place the patties on the plate and add ragda on top or add the ragda then add the patties like i have done here on my plate.

Top with tamarind chutney, coriander chutney, dates chutney, chopped onion, sev and coriander leaves.  sprinkle chaat masala, kala namak (black salt)on top

This part you can customize to the liking of the individual. Since I am off proteins and sour stuff i added very little of everything.
To make ragda you need to use white peas. There is absolutely no satisfactory substitute. Sorry!
Use the Ragda Masala it makes awesome gravy. Use Goda Masala or Kanda Lasun Masala if you want a substitute.
You can use curry leaves to make your gravy. I do not.
Add the whole spices in the tempering too, I did do it in the past but now I do not as it is too spicy.
If you feel your Pattice dough is too loose and you do not have bread use poha or flattened rice, wet it in a sieve after about 5-10 minutes and add to the potato dough and mix. Do Not OverKnead!
Make the Tamarind Chutney and Dates Chutney a day ahead. Here is the link on how to make them. Strain and pour in a squeeze bottle. Hide It. Seriously there are times when I make ahead and ace an empty squeeze bottle.
Make the Green Chutney just as you plan to serve Chaat. It changes colour very fast!
Keep all your sev, coriander leaves, onions ready.