Muthia Ringan Tuvar Nu Shaak
Muthia Ringan Tuvar Nu Shaak is a delicious Gujarati dish that is approved by my daughter. In fact, we ran out of vegetable because I made very little not expecting it would be liked so much.
The vegetables used are Methi leaves, brinjal/eggplant and tuvar grains. Yes, the green pigeon chickpeas. Tuvar is also called toori che dane, lilva.
How I met Methi Muthia Ringan Tuvar Nu Shaak?
It was the FoodieBloghop Monday when we all cooked with Methi leaves. Among all the delicious dishes we saw on that day one remained etched in my mind.
It was Methi Muthia Tuvar Nu Shaak made by Mayuri.
Mind you I am a lazy person I manage to get out of the kitchen in record time. Anything long intricate and involving multiple cooking methods bore me up, I get tired and irritable.
But I just could not get it out of my head.
It was then I decided to break the method up. 
So my workflow was to be muthia on the day then the rest on the other day.
I hit a major roadblock … the most important ingredient fresh tuvar seeds?? How was I going to manage that? So I decided to let it go.
The fact I can substitute the lilva with peas, corn or other beans did not register.
But I know when I want something hard enough The Universe conspires and gives me my hearts desire.
 Yes, I  read "The Secret" by Rhonda Byrne and try to implement it in my life.
So we were in Pune in the month of January and got the last of the tuvar dana. I had to sit and peel them, yes I hate that but then since I had the coveted tuvar I was willing to do anything.
Like I said on day one made the muthia, and pressure cooked the tuvar. In the evening I roasted the brinjal and got it peeled and smashed. 
I have made muthia in the past but since I love trying newer recipes I tried making it exactly like what Mayuri made. I think I like Mayuri's muthia better than what I made.
Muthias are very common in Gujarati cooking they are often made on special occasions.
Muthia is made by adding different veggies like bottle gourd, amaranth, cabbage and of course, methi leaves like I have used. The amount of greens that go in the dough depends on availability and preference.
The binding agent is chickpea flour also called besan, whole wheat flour or like this recipe with just sooji or cream of wheat, the dough so made is steamed or fried after you make small lemon-sized balls. 
This curry uses eggplant/aubergine, ( this is a joke in our family we were out for dinner in Little Italy and there was aubergine on the menu. The girls enthusiastically ordered. Their faces when they saw the aubergine was priceless) anyway kiddo has said if you make aubergine like this I do not mind eating!
 

Let us get down to making Muthia Ringan Tuvar Nu Shaak.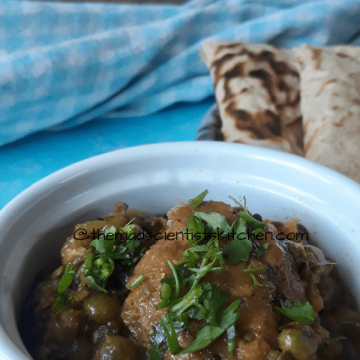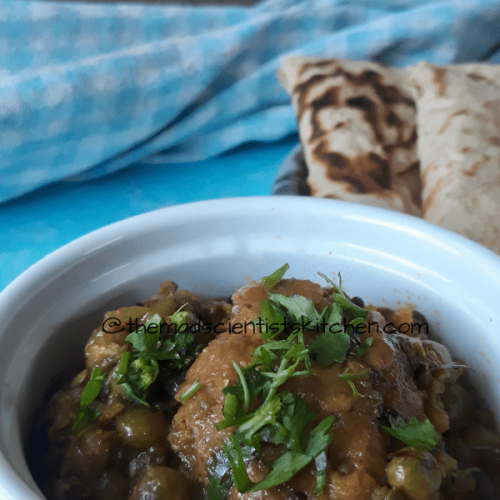 Ingredients
For the methi muthia :
1

cup

besan/ chana/ chickpea flour

2

cups

fresh methi/fenugreek leaves

chopped fine

4

tablespoon

rava/suji/ semolina

¼

teaspoon

baking soda

2

teaspoon

sugar

1

teaspoon

salt

3

tablespoon

oil

½

teaspoon

haldi/turmeric powder

1

teaspoon

red chilli powder

1

teaspoon

dhania-jeera powder

¼

teaspoon

ajwain/ carom seeds

½

teaspoon

dhania/coriander seeds coarsely crushed

1

tablespoon

lemon juice

3

tablespoon

plain curd/yogurt

1

teaspoon

ginger paste

1

teaspoon

green chilli paste

oil to deep fry
For the curry (shaak, sabji):
1

eggplant/baigan/ringan/aubergine)

1

tablespoon

garlic paste

1

teaspoon

ginger paste

1

teaspoon

green chilli paste

1

tablespoon

oil

¼

teaspoon

hing/asafoetida

1

cup

boiled fresh tuvar/ pigeon peas

¼

teaspoon

methi seeds

½

teaspoon

Mustard seeds

1

teaspoon

cumin seeds

1-1½

teaspoon

salt

1

teaspoon

dhania-jeera powder

½

teaspoon

garam masala

2

teaspoon

jaggery

½

cup

water

2-3

tablespoon

coriander leaves

chopped
Instructions
To Make The Muthia:
Mix besan, fresh methi, rava, baking soda, sugar, salt, 3 tablespoon oil, haldi, red chilli powder, dhania-jeera powder, ajwain, dhania, lemon juice, yoghurt, ginger paste, green chilli paste in a bowl. Use very little water and keep the dough stiff.

Let the dough rest for about 30 minutes.

Towards the end of 30 minutes heat the oil for deep frying in a Kadhai/wok.

Meanwhile, grease your palm with oil and make small balls of the dough. You can make oval balls or make clump it like ball with your fist. Repeat with all the dough.

Test the heat of the oil by adding a small ball of the dough. Your dough should sizzle and come up immediately.

On low flame slip a few dough balls in. Take care, as the oil is hot.

Fry them till golden brown on all sides on medium flame.

Fry all the muthia balls and set aside.
To make the shaak:
To the eggplant/brinjal make deep slits and roast it over the open flame. You can also roast it in the oven for that cut the brinjal in 2 pieces, brush oil over the surface exposed and bake in the oven @180 C/350F for 20-30 minutes. While at it please note that baking/roasting time will depend on the size of the eggplant. Bigger the eggplant longer it will take.

Once you have roasted the eggplant cool it and peel the skin off and mash it.

This is a kadhai/wok this is what I generally prefer to use.

So heat the oil in the pan and once the oil is hot add the methi seeds. Let the methi seeds sizzle but do not let them blacken as you dish will become bitter and nothing can fix it.

Immediately, add mustard seeds and cumin seeds. These will splutter.

Add garlic paste and sauté for the raw smell to go away then add the ginger and chili paste and stir.

Next, Add hing, turmeric powder, red chilli powder, dhania-jeera powder and mix well.

In this delicious aromatic mix add the mashed eggplant, boiled tuvar, salt, jaggery. Mix well and add some water, say about ½ cup.

Simmer over low heat for 10-15 minutes.

When ready to serve heat the gravy add 12-14 muthias and garam masala.

Mix well gently, cover and let the curry rest for 10 minutes.

Garnish with coriander and serve with rotis or rice.
Notes
The remaining muthia store in the freezer to make the same recipe yet again.
In case you run out of tuvar dana use other seeds like fresh corn, peas, black-eyed peas.
Make muthia tomato curry.
None of the above? Enjoy muthia with some chutney.
To make the gravy gluten free use maize flour or Makkai ka atta,
To make a vegan version use water and more lemon juice. This is assuming like me you cannot get vegan curds.
You can also make the delicious curry with or without any of the veggies. Substitute with other veggies yesterday I tried with lobia and as I did not have eggplant did not use it. Used onion and tomato instead. The curry was yummy.
This Monday the FoodieMondayBlogHop want you to join us on the #201 JamvaChaloJi.  Yes, take a virtual tour of food in Gujrat. This theme has been suggested by Mayuri. Mayuri has an amazing collection of recipes. I now have my eye on the no Bake Chocolate Swiss Rolls that she made last blog hop.  (I told you no cook, no bake, easy food I love.)  This Muthia Muthia Tuvar Nu Shaak is also from Mayuri's place.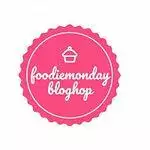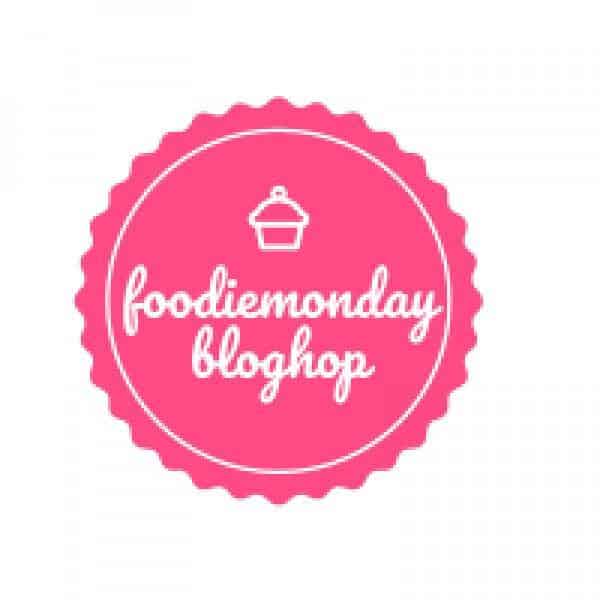 I somehow have moved on to making so many Gujarati dishes,  mine are generally low on jaggery and higher on chillis.
Do you like this recipe? Have you tried it? In case you do and whenever you do please tag me on Facebook. My Instagram handle is #themadscientistskitchen. You can also use my Twitter handle, Then you are always welcome at my Pinterest page too. I will love to see you there.
Please also subscribe to my mailing list and join me in my journey of Food! Will enjoy seeing what you make so that I too can learn from you!!!
More Different Everyday Curry and Gravy
Reader Interactions