Last Updated on
Crackers and hot tea a good romance to read when it is pouring outside my idea of bliss.
Methi Khakhra, a cracker is a crunchy and healthy snack to be enjoyed with pickles and chutneys.
My idea of bliss in the rains especially now that I can sit at home and relax on the bean bag as I watch the rains. Now that I am supposed to be off pickles I khakhra enjoy with tea.
I am ready with my Khakhras but where is the rain? Waiting for it to rain so impatiently.  June is the month when it pours in Goa, bhajia, soups and hot tea are the general food we enjoy but this year the rains are playing hide and seek.
Praying it starts raining soon as more than man it is the animals that are suffering. Please keep a small bowl of water for the birds, animals to drink.
Coming to khakhras, let us start with the basic question 
What are

 

Khakhras? Who eats them?
Khakhras are thin handmade flatbreads cooked on a tawa/skillet until they are crisp. Khakhras nothing but crackers as they are called in the West.
Khakhras are common are eaten by the Jain community, Gujarati and Rajasthani communities, these people are vegetarians, The Jains especially have many diet restrictions. they are consumed as breakfast or even as a snack.
What are ingredients that go in making khakhras?
Khakhras are basically made from whole wheat flour, oil. But there are varieties like methi, bajri, jeera/cumin, pudina, garlic, methi, ajwain, green chilli, pav bhaji masala, red chilli, pain puri flavoured. Apparently, there are nacho flavoured ones too but I am to come across one of them.
How can I store Khakhras?
Make the khakhras and let them cool completely before packing them in an air-tight box. 
So for your next road trip, we can expect you to carry homemade khakhras right?
Come on let us make them. They are easy to make. 
Okay let us make things clear I had stopped making chapatti, fulkas, parathas. In general making flatbreads the reason I have a lady who makes them for the last say 15-20 years.
So over the period my skills, mediocre skills have become non-existent. For the last 1-month madam is on leave and I am making chapatis, fulkas etc. so if I am saying they are easy they are.
I have chosen to make Methi Khakhra you can choose the flavours you love.
I have made  Freshly Baked Methi Crackers| Baked Methi Mathri #Bread Bakers.
My love for methi leaves is tremendous checkout (to name a few)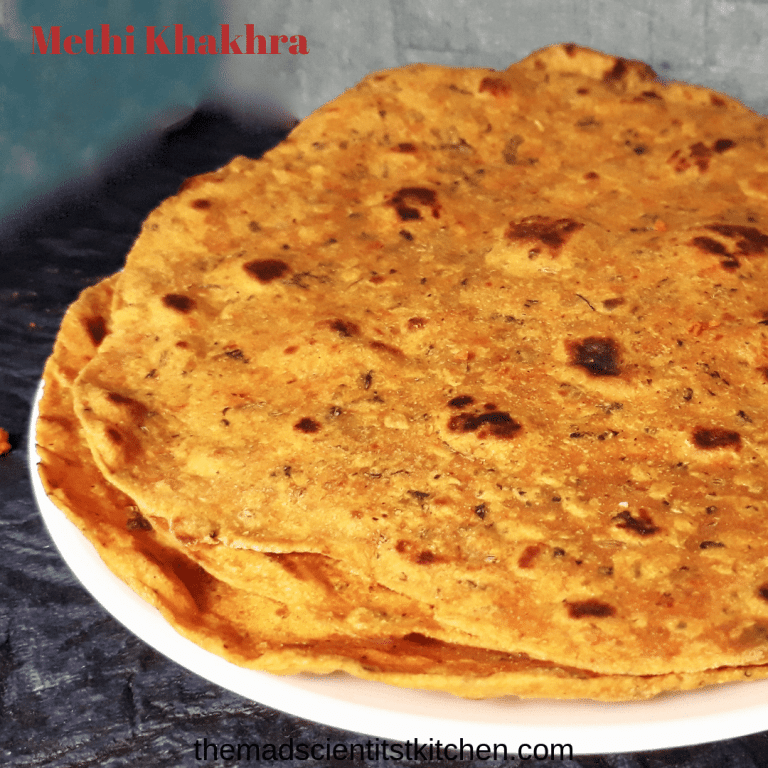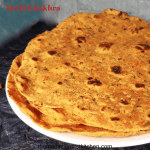 Print Recipe
Methi Khakhra
Methi Khakhra are made from whole wheat flour and a hot skillet. Store them in an airtight container as a healthy snack option not only while travelling but at home.
Ingredients
1

cup

whole wheat flour

2

tsp

besan/gram flour

1/4

cup

methi leaves


1

tsp

ajwain/carom seeds

1

tsp

jeera/cumin seeds

1/4

tsp

haldi/turmeric

1

tsp

red chilli powder

Salt as per taste

4

tsp

oil

Water as needed

Wheat flour to dredge
Instructions
Mix together the wheat flour, besan, methi leaves, ajwain, jeera, haldi, red chilli powder, salt.

Add enough water to make a soft dough. Apply 2 tsp oil on the surface of the dough. Cover with a bowl and set aside for 30 minutes.

Place the tawa/skillet on medium low flame to heat.

Make 8 balls of the dough and with the help of the dry flour roll out each ball to a very thin chapati.

Transfer the chapati on the tawa and cook it.

Initially wait for small bubbles to form. Flip and cook till you get brown spots, apply oil. Flip and apply oil and cook till you get brown spots use a cloth or a spatula and press down.

When done your khakhra will be crisp. Allow it to cool fully before you tore in an air tight container.
Notes
In case you cannot get fresh methi leaves use 2 tsp kasuri methi.
Today is Monday and FoodieMondayBlogHop day. This is our 200th-week edition and we are doing the Robin Round. Which means each one cooks from a blogger that we are paired with.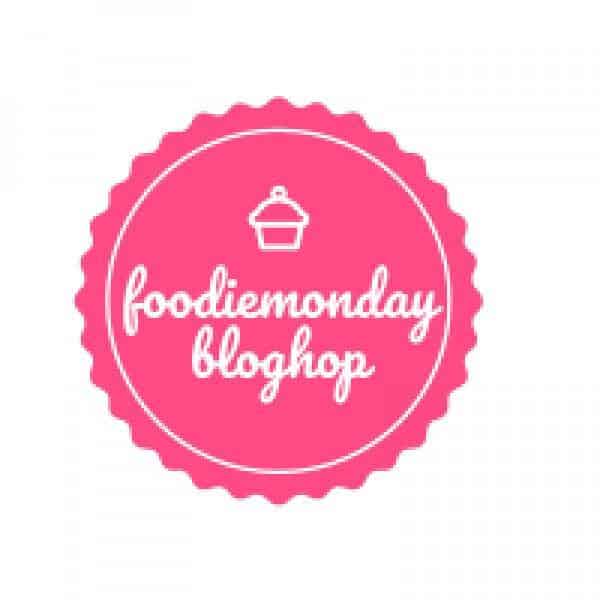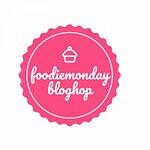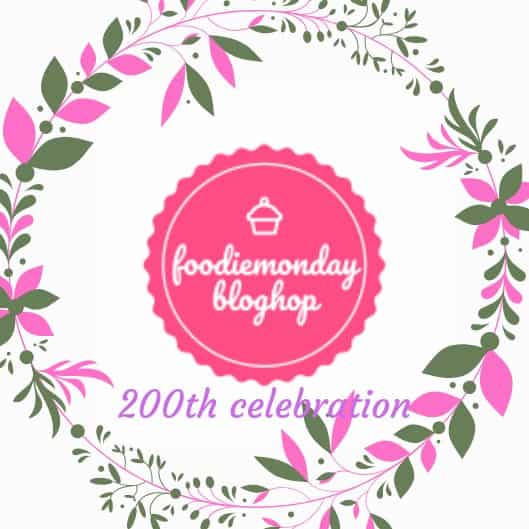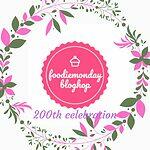 I am paired with Aruna who blogs at Vasusvegkitchen. Recently Aruna had blogged pickle with dosakai but then since I am told to lay off pickles I decided not to make them. But rest assured I plan to make it. Some of Aruna's posts that I want to try are Ragi Puttu among others.
Do you like this recipe? Have you tried it? In case you do and whenever you do please tag me on Facebook. My Instagram handle is #themadscientistskitchen.You can also use my Twitter handle, Then you are always welcome at my Pinterest page too. I will love to see you there.
Please also subscribe to my mailing list and join me in my journey of Food! Will enjoy seeing what you make so that I too can learn from you!!!