Raw |Unripe|Green Mango Chutney
This raw/green mango chutney tastes best when it is made with a tart mango. This is our family recipe and I know all of us make raw mango chutney just like this. This chutney preserves well in the fridge for about a week. However, I say this in the cool climate of Dharwad it stays for a week outside a fridge. I never lasted beyond that.  At home, we put in the fridge and the bottle gets over in 2-3 days.
My granny used to make a big Bournvita bottle full of this chutney for me when I was in the hostel.
Chutney or   "चटनी" or chatney or chatni , a sauce in the Indian cuisine.
According to Wikipedia 'The word "chutney" is derived from the Hindi word चटनी chaṭnī, meaning to lick."
We have very many of them tomato chutney to peanut chutney with garlic, without garlic, from dry chutney to wet ones. Chutneys that can be stored to those that needs to be finished immediately.
Main ingredients are dhania/ coriander leaves, capsicum, mint, leaves, sooth, coconut, onion, prune, tomato, red chilli, green chilli, mango, lime, garlic, coconut, peanut, dahi, green tomato,  peanut,  ginger, yoghurt, red chilli powder, tomato, onion. The spices used can be methi/fenugreek,  dhania/ coriander seeds, jeera/cumin and hing/asafoetida.
Here are some that I have tried in the past  Lasun/garlic Chutney,  Sunflower Seed and Garlic Chutney, Til ki Chutney, Curry Leaves Chutney, Cucumber Peel Chutney, Peanut, Coconut and Onion Chutney, Kavalikai/Karvanda che Chutney, Green Chutney, Green Chutney for Chaat, Dates Chutney, Tamarind Chutney.
Some of the raw mango dishes I have tried are Keri ki Launjee/A Raw Mango Preserve, Mixed pickle of Raw Mangoes, Cauliflower and Carrots, Raw Mango in Salt, Raw Mango Rice, Panha-Raw Mango Drink, Gor Keri a Raw Mango Sweet Pickle, Ambe Dal, a Salad.
In today's fast and commercial world, however, we prefer store bought chutney and pickles. The disadvantage of these commercial chutneys is the use of vinegar and sugar. Sugar and vinegar though a preservative and the use of these relishes can add to total sugar, consumption which can be harmful.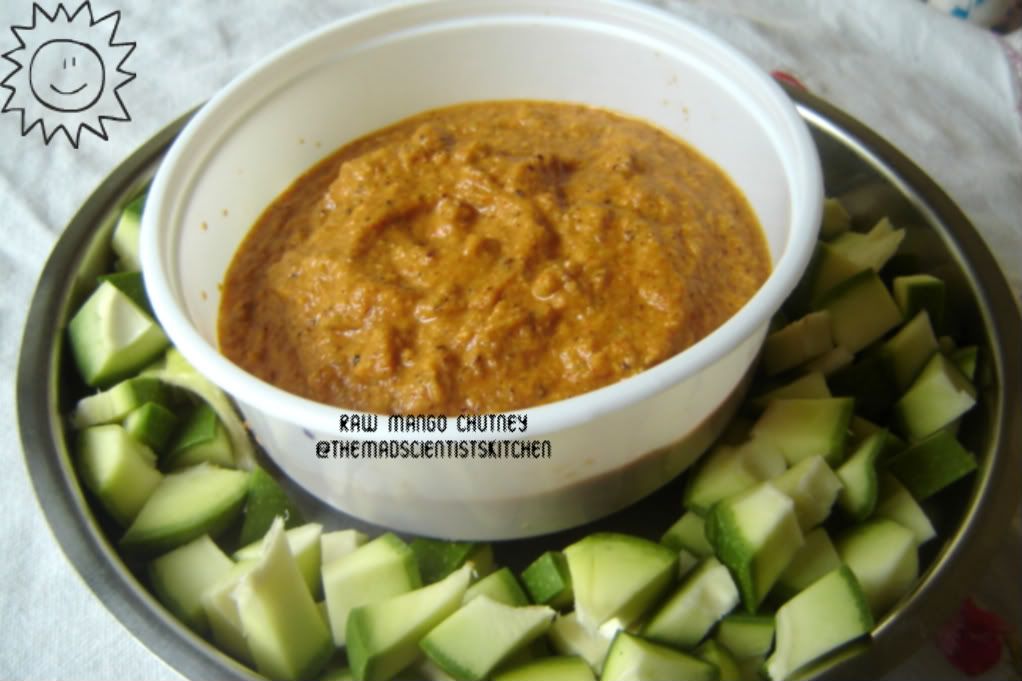 Ingredients:
1 cup raw mango, grated
1 cup chobra (dry coconut), grated
1 tablespoon red chilli powder (adjust as per taste)
Small marble sized ball of jaggery
½ tablespoon oil
Mustard
Hing/asafoetida
Methi/fenugreek seeds
Salt
Method:
Heat the oil and add the mustard seeds.
Once they splutter, add the hing/asafoetida and methi/fenugreek seeds and switch off the gas.
In the mixer mix all the ingredients and grind to a fine paste using water if necessary.
Serve with chapatti or rice.
The best taste is when you eat chutney mixed with rice and ghee.
Sending to Gayathri's Cook Spot
Hi! First time here?
You are Most Welcome! I hope you keep coming back for more here. If you are my regular visitor then Thanks, for you encourage me to experiment more!! I would like you to please click on my link below and like my Facebook Page. I will be happy if you can follow me on on Twitter too!
More Akshay Tritiya Festive Recipes
Reader Interactions