Easy Mocha Semifreddo Recipe
This Mocha Semifreddo Recipe cuts down the steps of making a zabaione and a meringue!
A delicious dessert that is like ice cream and needs no churning is Semifreddo.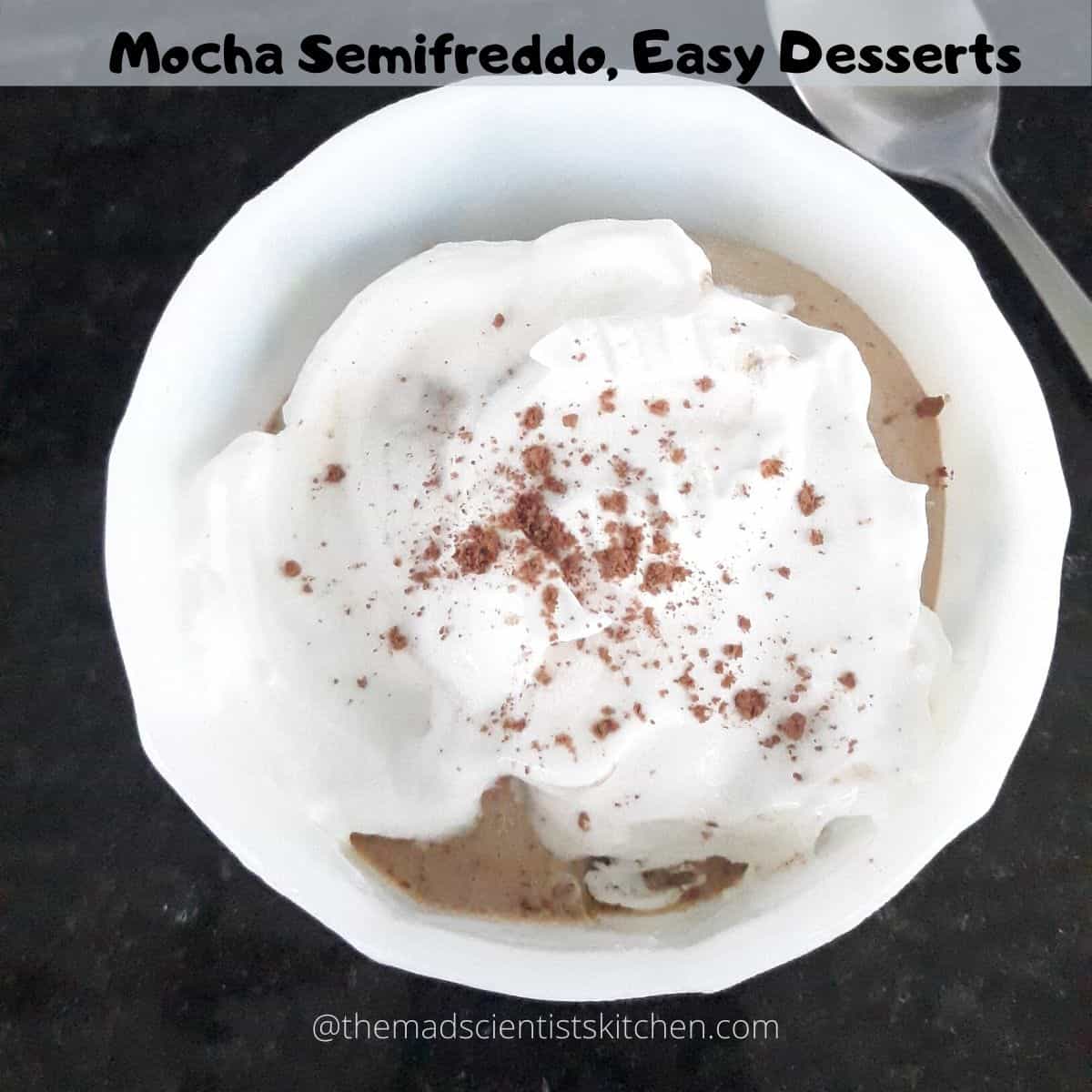 We love coffee, given a choice, I will eat, drink and breathe coffee and chocolate with coffee is our favourite combination. So there was nothing not to like in this semifrío or an ice cream cake! Coffee, chocolate and whipped cream! Can it get any better?
I was like a kid in the candy store right now the variety is mind-boggling and I knew nothing about it!!
Thanks to Sasmita at FirstTimer Cook's, whose amazing pictures floor you is our hostess this week. Do check her Instant Bread Vada Recipe it is delicious.   Sasmita's suggested we show our #245 Love for Coffee for Foodie Monday Blog Hop.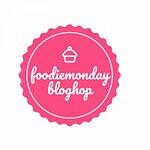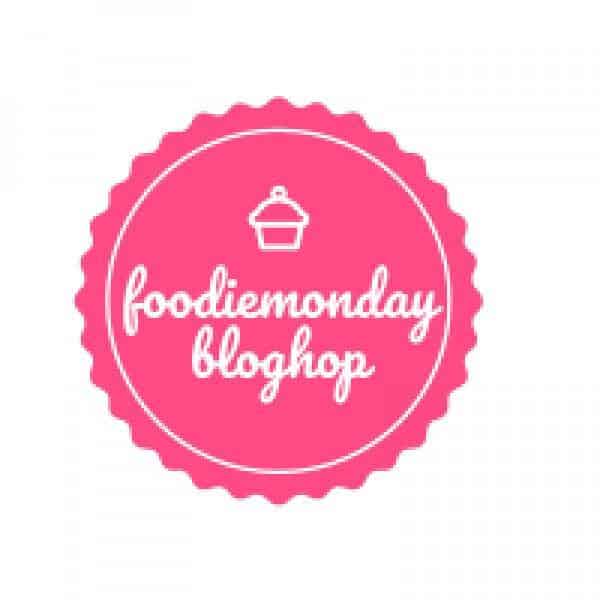 Honestly speaking I had not heard of Semifreddo. I just happened to stumble on it. I was hunting for a coffee recipe since I have already made dalgona coffee I did not want anything similar, cake or frappe were my last options. When I saw this Mocha Semifreddo.
Contents: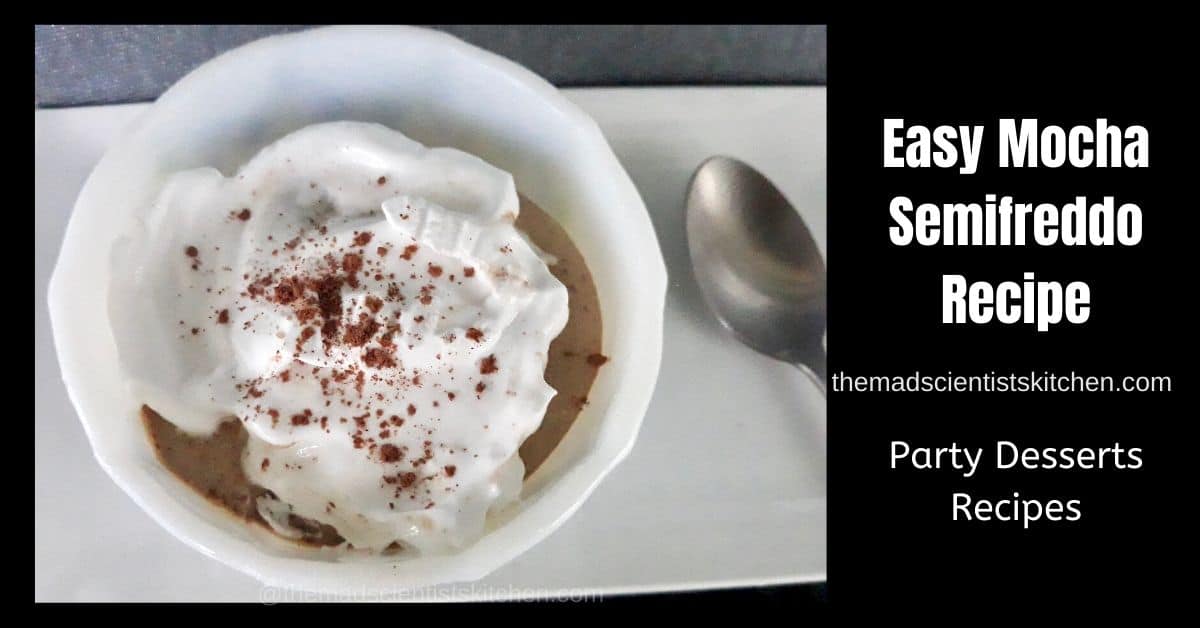 Wikipedia classifies this Italian dessert which means half cold as a semi-frozen dessert. The Semifreddo texture is like a frozen mousse and is served as a tart too. In Spain, the dish is called semifrío or an ice cream cake.
In Italy, one way of making this SemiFreddo is made with gelato. Traditionally however this dessert is making a zabaione, a meringue, and whipped cream.
Cumbersome and one part fails you have to redo it. It can be quite disheartening.
I have already said that this process is cumbersome, tedious but if you eat eggs do try making this dessert.
The benefit of making Semifreddo is that you do not need an ice cream maker.
A little practice to master the technique and the right recipe like I said the varieties are, for the want of a better word, vast.
Your whisk, pots and pans are more than enough. A true Semifreddo is served sliced.
in this method of making Semifrio you need not make the zabaione, a meringue, and whipped cream. The first 2 steps are clubbed.
Chef John ( from whose post I have copied this recipe) in his post said that,
"The classic procedure is a little bothersome since you need to make three separate components – a zabaione, a meringue, and whipped cream – so, I decided to simply use the eggs whole, and make a 'zabaringue.' I knew I wouldn't get as much volume, but I didn't care."

Chef John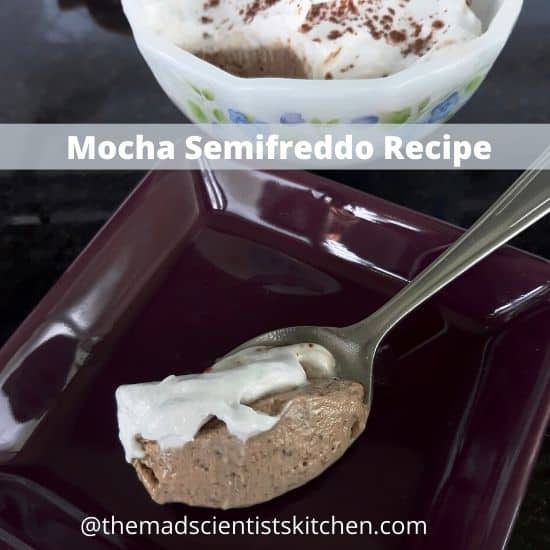 Now, making the 'zabaringue' or custard with whole eggs can be tricky for you are heating the whole eggs on a flame, not a double boiler.
I kept putting the pan off the low flame often as my arm got tired whisking. Also, I wanted to make sure I am not overcooking the eggs.
But once I reached the ribbon stage without any problems I was thrilled! After that, it was easy to put the dessert together.
Freezing in the freezer 8 hours is enough to set the Semifreddo.
The Semifreddo can be kept stored in the freezer for up to 6 weeks. 
Eggs: I have used the whole eggs. Unfortunately, I cannot think of any replacement for eggs, 
Sugar: use regular white sugar,
Coffee: instant coffee that you have at home,
Coffee Liqueur: Since I do not have liqueur I have used 1 teaspoon instant coffee powder with 2 tablespoon of water,
Cocoa Powder: what is mocha without cocoa in it. Use unsweetened cocoa powder,
Whipping cream: I use Tropolite Whipping Cream it does not need sugar in case you are using some other whipping cream then please check and use about a tablespoon of sugar. 
Put a dry metal bowl and the dry beaters in the refrigerator with the whipping cream. 
In a metal bowl, I used my steel kadhai/wok. Add the eggs, sugar, coffee, in case you are using liqueur use that or the substitute and cocoa powder. Whisk well, the egg bolk should break and you should have a homogeneous mixture. 
Place it on low flame and keep whisking the mixture till the mixture thickens. Hold the bowl firmly and keep whisking continuously; you do not want the eggs to scramble. Get the bowl off the flame if your arm tires or you need to check on the custard. 
Once your whisk starts leaving ribbons in the custard, get it off the flame to cool completely. You can if you are in a hurry set the bowl on an ice bath.
On another ice bath set the bowl of whipping cream add sugar if your cream is not sweetened. Beat the cream till you get stiff peaks.
Mix the cool egg custard in the cream till combined.
Transfer to bowls or in case you plan to use a loaf pan line it with cling film then add the combined cream and custard. 
Cover the bowls, pan with cling film and set in the freezer to firm for a minimum 8 hours. Overnight is fine too.
To serve, drizzle a little whipped cream, sprinkle with cocoa powder.
I have to rate the difficulty level for Mocha semifreddo I will say intermediate for making the custard with whole eggs is the hurdle. After that its a breeze!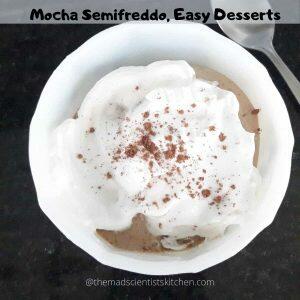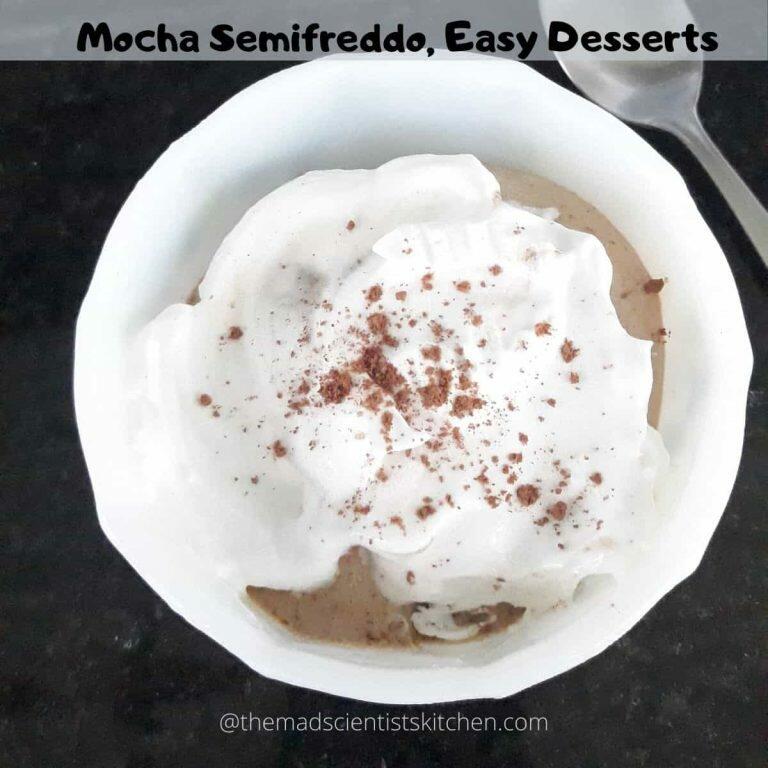 Easy Mocha Semifreddo Recipe
Making Semifreddo a delicious desset in an easier way does not compromise the deliciousness!
Print
Pin
Rate
Ingredients
2

large eggs

2

tablespoon

sugar

1

tablespoon

coffee-flavoured liqueur

see notes for substitution

1 ½

teaspoon

instant coffee

1

teaspoon

cocoa powder

unsweetened

¼

cup

whipping cream ice cold

1

tablespoon

sugar

1

teaspoon

whipped cream for garnish

optional

1

pinch

unsweetened cocoa powder for dusting

optional
Instructions
Dry the beaters and bowl then add the whipping cream in it, add sugar if needed.

In a steel kadhai/wok whisk the sugar, eggs, coffee powder, cocoa powder, water.

On low flame heat, the mixture whisking continuously till there are ribbons in the custard. Set aside to cool on an ice bath.

Now, remove the bowl and beaters from the fridge and put on an ice bath.

whip the cream till you get stiff peaks. About 5 minutes is more than enough.

Mix the whipped cream in the egg mixture using a spatula till well combined.

I have used bowls to set my Semifreddo so added it directly to the individual bowls. If you want to set it as a loaf then line the loaf pan with cling film and add all the mixture.

Smoothen the top, cover with plastic cling and freeze till firm for about 8 hours. I froze them overnight.

To serve garnish with whipped cream and a dusting of cocoa powder.
Notes
In case you do not have

coffee-flavoured liqueur use 1 teaspoon of coffee and 2 tablespoon of water.
Reader Interactions