Satisfying Pineapple Rasam
Do you like Rasam? Saaru, Chaaru? Have you tried making this Satisfying Pineapple Rasam?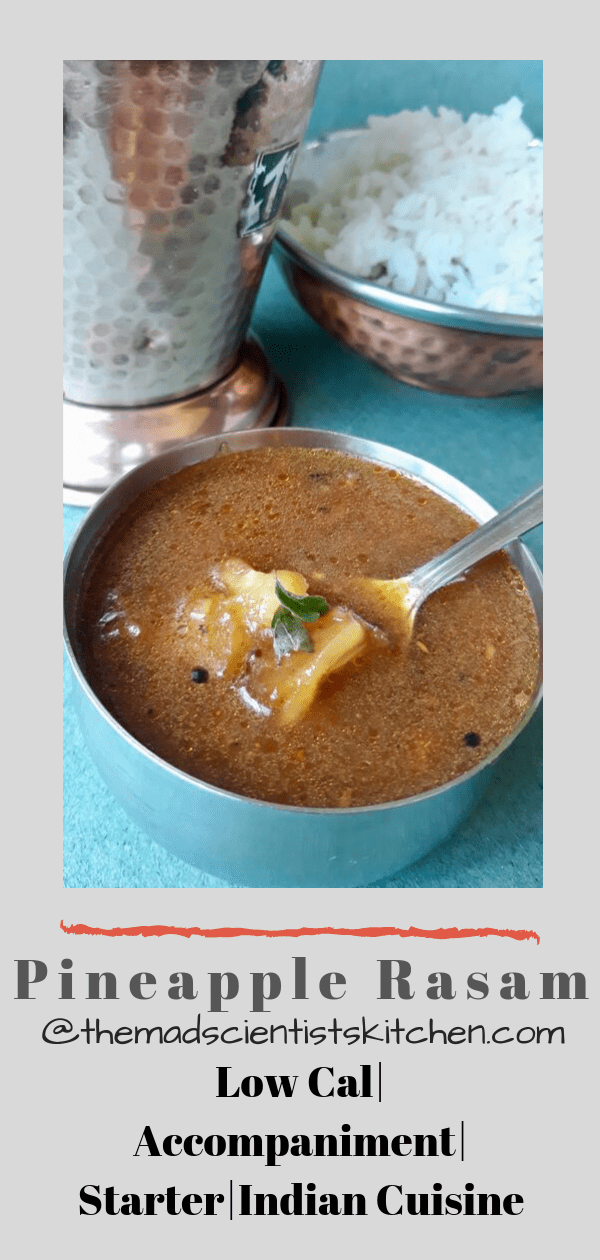 Satisfying Pineapple Rasam is one of the most delicious Soups like dishes of South Indian Cuisine.
Pineapple Rasam is also called Madras Pineapple Rasam, Kalyana Pineapple Rasam as it is traditionally made for festive occasions and weddings.
Rasam which means juice or essence. The taste of rasam is distinct from sambhar as the seasonings used are different. Rasam is more runny, watery in consistency or soup-like as compared to sambhar. My girls often drink rasam like soup.
Rasam or Saaru is generally enjoyed like a soup or as an accompaniment for other dishes. Think Khichidi good saar, Saaru anna which is plain white rice and rasam.
Actually Rasam can be made on any day but traditionally rasam or Saar as we call it is prepared for festive occasions (in my place) so we have Katin Saar the day we make puran poli.   
The reason I think is the other dishes we make are so heavy puran poli, poori bhaji, hayagreeva so you do need something light to settle your stomach. I may be wrong but it sounds logical.
If I am at a traditional Meal when will I be served Rasam?
In a traditional meal, saaru can be had before sambhar rice or curd rice. Saaru is also served in katoris called batla in Kannada and is drunk pretty noisily.
What are the ingredients used to make Rasam?
In the traditionally prepared Rasam ingredients used generally are
 

Tamarind, Malabar tamarind, kokum, or tomato depending on the region is the base.

Seasoned with chilli, black pepper, cumin, garlic, jaggery, chilli powder, turmeric, curry leaves, coriander leaves.

Boiled  lentils may be added but in a lesser quantity,

There are some who add vegetables to a rasam (but in my family, they are not added).
In olden days the rasam masala was made as and when needed. My Grandmother had her saarin pudi or rasam masala powder prepared beforehand.  It used to be stored in a treasured glass jar and was used under her eagle eyes.
I have gone a step further and started buying my rasam masala powder from stores. Every time I tell myself this is the last time but end up buying my rasam masala powder.  Making it is simple.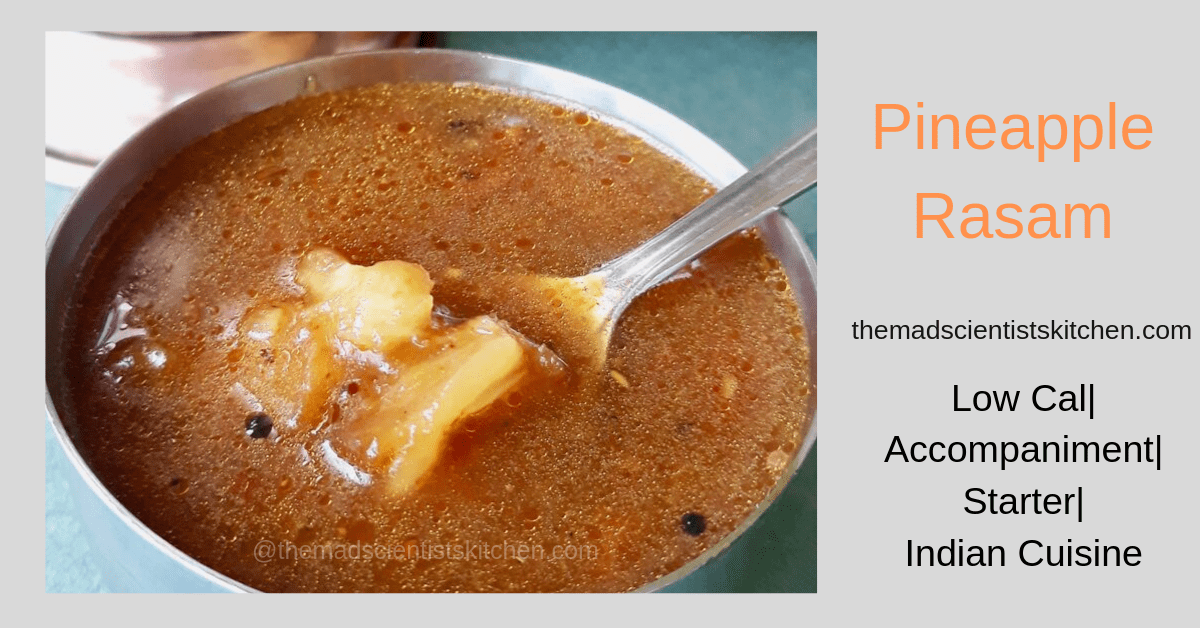 My reasons for making Satisfying Pineapple Rasam
My initial plan was to make Kalyana Rasam check off 2 things from my diary one this Foodie Monday and the second being Shhhhh Secretly Cooking.
This time for FoodieMondayBloghop we are at #214 Rasam Raaga suggested by Priya there are so many recipes I have tried from Priya but never got around to post. One of them is this long-time craze is Kalyana Rasam made it so many times but I have never managed to click it as the bowl is empty.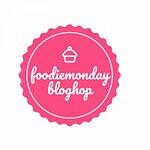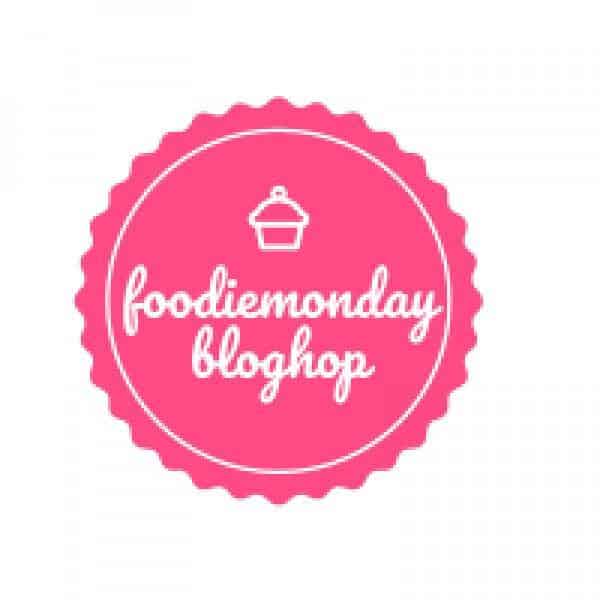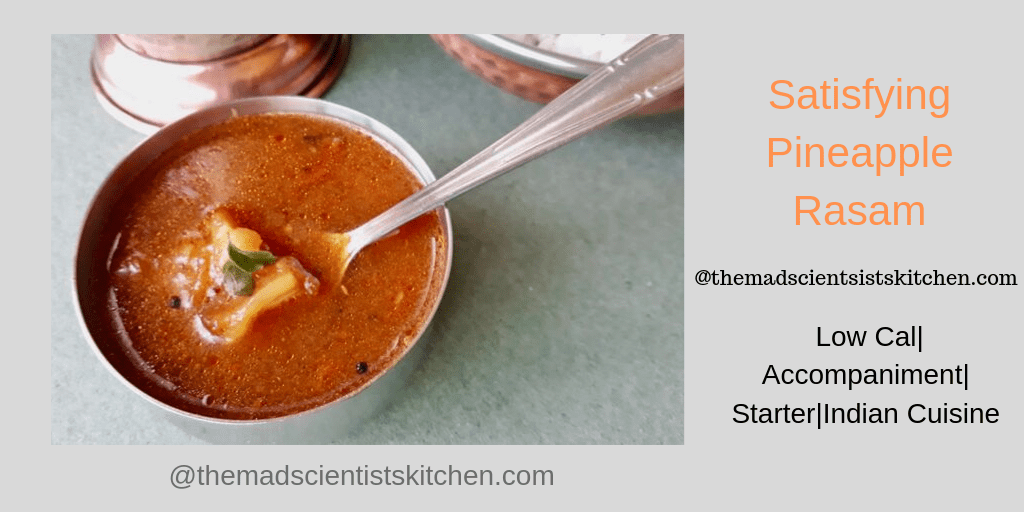 Pineapple Rasam as I understand is of 2 kinds the Udupi Pineapple Rasam and Tamil Pineapple Rasam. The only difference I understand is the use of jaggery in the Udupi Rasam and the lack of it in the Tamil Rasam. Please correct me if I am wrong.
This delicious and satisfying Pineapple Rasam is from Veena's place. She has used toor dal I have not used any dal. A delicious example of where you can use dal or leave it out to make a Rasam. Also, I have used fresh Pineapple in case you are using tinned ones I suppose you may have to increase the tomato and cook for a lesser time. 
Let me reiterate this is one amazing Rasam. I loved it and after I finished making it my Finicky Cook asked me for a little Saaru with her chapati.
Veena that is a Huuuuuuuge compliment. Thanks, dear!
More Rasam Recipes for you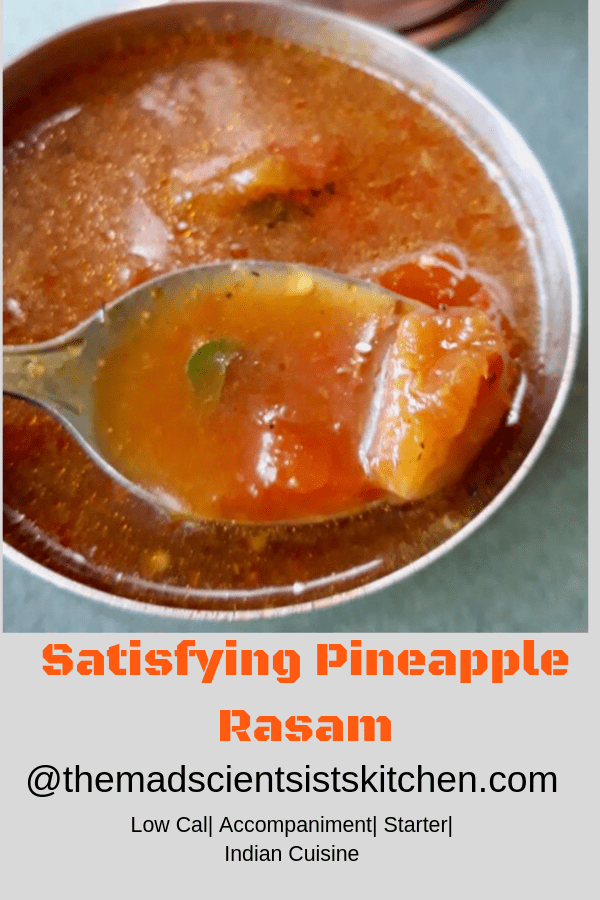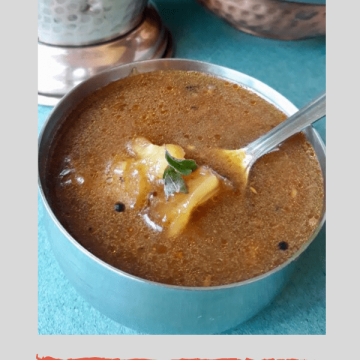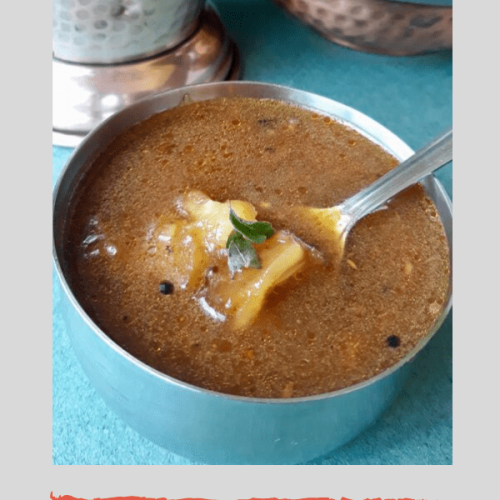 Satisfying Pineapple Rasam Recipe
Suffering from a cold? Then try this Satisfying Pineapple Rasam
Print
Pin
Rate
Equipment
Kadhai/wok

Spoons and Ladles

Chopper

Blender or nutribullet
Ingredients
½

cup

pineapple

diced

1

tomato

chopped

1

green chilli

½

inch

ginger

1

teaspoon

Mustard seeds

½

teaspoon

jeera/cumin seeds

1

teaspoon

oil

1

spring of curry leaves
Spice powder:
1

teaspoon

black pepper

1

teaspoon

jeera/cumin seeds

¼

teaspoon

red chilli powder
Instructions
Chop the pineapple, ginger and tomatoes fine.

Split the green chillies. Set aside.

In a thick kadhai/wok add the pepper and jeera and dry roast stirring continuously.

Once the jeera becomes nice and brown switch off the gas add the chilli powder. Cool and grind coarsely.

In a mixer, jar add ½ the pineapple and tomatoes to a smooth paste add water if needed about ¼ cup is what I needed.

Heat oil in a pan add mustard and jeera seeds. Let them splutter.

Add the green chillies, curry leaves, ginger. Stir well.

Add the tomatoes and pineapple and sauté. Let the pineapple soften.

Add the water and adjust the consistency of the rasam. Cook on a low flame.

Add salt, spice powder that you have ground and boil for 5 minutes.

Add the ground pineapple and tomato paste on low flame about 2 minutes.

Serve steaming hot on rice.
Notes
You can add lentils like toor dal or pigeon peas boiled immediately after the pineapple soften.
In case you want Pineapple Recipes then these are your options
Do you like this recipe? Have you tried it? In case you do and whenever you do please tag me on Facebook. My Instagram handle is #themadscientistskitchen. You can also use my Twitter handle, Then you are always welcome at my Pinterest page too. I will love to see you there.
Please also subscribe to my mailing list and join me in my journey of Food! Will enjoy seeing what you make so that I too can learn from you!!!
Reader Interactions