These beautiful Peanut Jaggery Ladoos are something we love to snack on especially in the winter.
January is when we celebrate the Indian festival Makara Sankranti, the Harvest Festival and the end of winter, longer days and beginning of summer, The Season of Kites.
Peanut laddus and til ladoos, chikki, ber, sugar cane pieces, jaggery, sakkare acchu or moulded sugar. These are my childhood companions that I enjoy even now.
India being an agrarian society Sankranti is the Harvest Festival or Suggi Habba is an important festival.
Sankrant as it is also known as is celebrated all over India but is known as  Maghi, Makara Sankranti, Pedda Pandaga, Poush sôngkrānti, Sukarat, Magh Bihu, Thai Pongal. I have written so many times about this festival but still, I remember something new. You can read about the festival here too.
The one festival that comes on a fixed date that is 14th or 15th of January every year. Having a festival on fixed dates is a rarity in India but  Sankranti is one of the few festivals that is celebrated according to the solar calendar.
Any festival involves worship, feasts and funs so also for Sankranti is celebrated differently around the country.
For the more religious it involves a bath in sacred rivers and ponds with prayers and thanks to Surya, the Sun God for successes and prosperity. Every 12 years at the Prayaga the confluence of River Ganga and River Yamuna there biggest fair held is at the Kumbha Mela. However, Festivities across the country involve fairs, kite flying, dances, bonfires.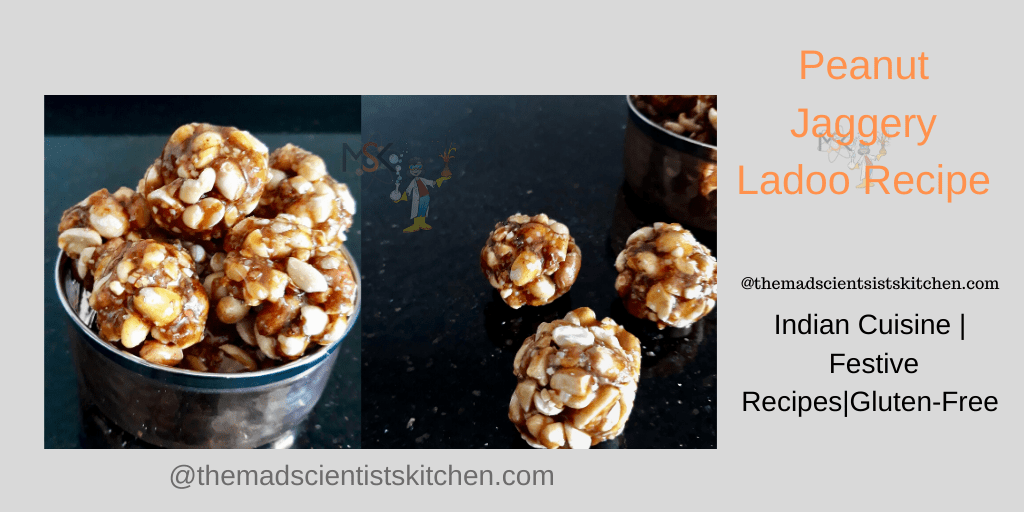 As a child, we lived in Nagpur and Kite flying was a big part of festivities. I never did manage to fly one but that never stopped me from cheering kite fights or even running after the cut kites yelling "Katti" on the top of my voice.
The string was called manja and used to be coated with powdered glass. Naturally it a cut your hands hence I helped with Chakri Ganesh, our landlord's son showed me to manage it.
I knew Ganesh would appreciate the kite I managed to snag from the terrace. Unfortunately, there were all the kids in the Galli waiting for me to turn up with it. I remember racing back to the flat running up the stairs, with it and grateful for the locked gates that kept the horde out.
Amma gave me a slap for running over the stairs, not for running after kites or playing "boy" games. Even now I am scared to run up and down the stairs!!
As a newly married bride, I was gifted a black sari. In India black, as a colour is not considered auspicious. (even now some of my aunts will criticise me wearing black ) but on Sankranti, you wear black clothes the most plausible reason seems that black absorbs heat and in winter it is needed by the body. There was beautiful jewellery made from tilgul the sugar-coated balls made by my sisters-in-law and their aunt.  Now we get made commercially but you need to place an order.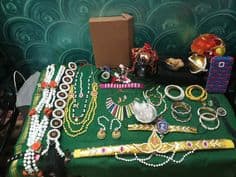 Socialisation is common in this time you will find scores of ladies bedecked in beautiful saris visiting one another for Haldi -Kumkum.
The ceremony involves married ladies exchanging the Turmeric and Vermilion, along with small gifts that are useful in households. There are grams, berries, sugarcane to exchanged depending upon the region you live in.
These are some ways we celebrate the festival of Sankranti in Goa, Maharashtra and Karnataka. How do you celebrate? Please do leave a comment. 
This year we are redoing our place and most of my stuff is not with me in this beautiful place we are living in. So making anything is a project however to making singadana ke laddoos are simple enough.
These ladoos are similar to the peanut chikki but one of my friends wanted me to make these peanut jaggery balls (as she calls them) for her.
What you need to make Peanut  Jaggery Ladoos
Peanuts: also called groundnuts these need to be roasted I prefer to buy the regular ones and roast them at home. If you are buying them roasted please check they should be unsalted.
Jaggery: the unrefined sugar is used to sweeten and bind the nuts.
Cardamon: is used as a flavouring.
Steps to make Peanut Jaggery Ladoos
Roast the peanuts on low flame cool and peel them.

Melt the jaggery to softball stage add the peanuts and mix well.

Cool slightly then make small balls.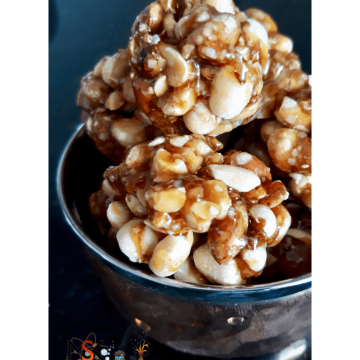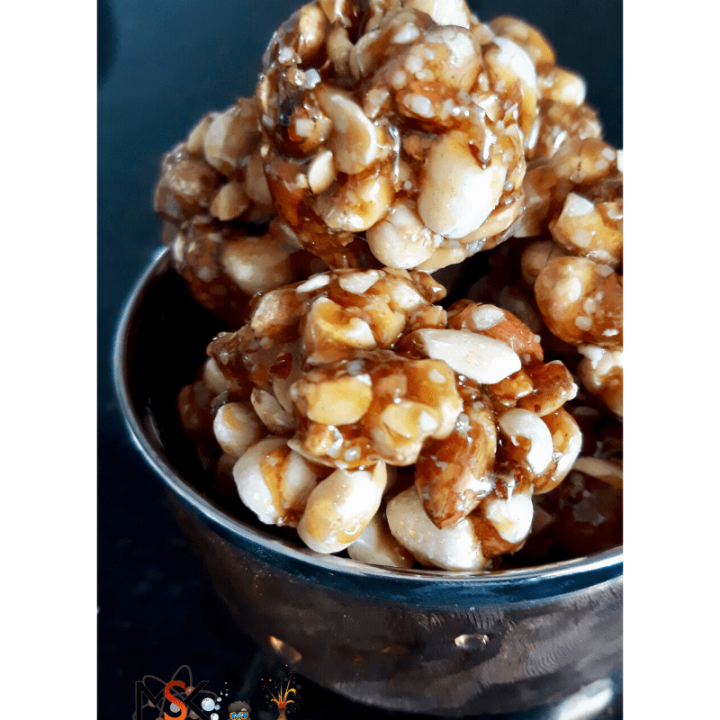 Equipment
Kadhai/wok

Spoons and Ladles

Airtight Container
Ingredients
2 

cups 

peanuts

200 

grams 

jaggery

grated

1 

tsp 

cardamom powder

2 

tbsp 

water
Instructions
In a thick kadhai/wok roast the peanuts on low flame till they start to darken and you get a nice aroma.

Remove to a plate and let the peanuts cool.

Add the water in the heavy-bottomed kadhai/wok add the jaggery and let it stand for some time. The jaggery will dissolve.

Remove the skin by gently rubbing them. I used a tea towel and rubbed. This is an optional step.

Now place the jaggery on low flame and stir let it simmer for a few minutes.

Once the jaggery syrup thickens ( a drop of the syrup added to a bowl of water should form a softball).add the peanuts and cardamom. Mix well.

Remove from the flame and allow the mixture to cool till you can handle it.

Apply a little oil or ghee to your hands (this prevents burning) and make small balls.

Store in an air-tight container but finish them in 2 weeks.
Notes
Your test for the jaggery syrup being done is adding a drop of the syrup in a bowl of water. The syrup should form a soft ball.
The other food that we have enjoyed for Sankranti:
Your Shopping List for Sankranti:

Disclaimer: We are a participant in the Amazon Services LLC Associates Program, an affiliate advertising program designed to provide a means for us to earn fees by linking to Amazon.in and affiliated sites. When you click and buy through this site, it helps us earn to keep this site running.
Pin for Later: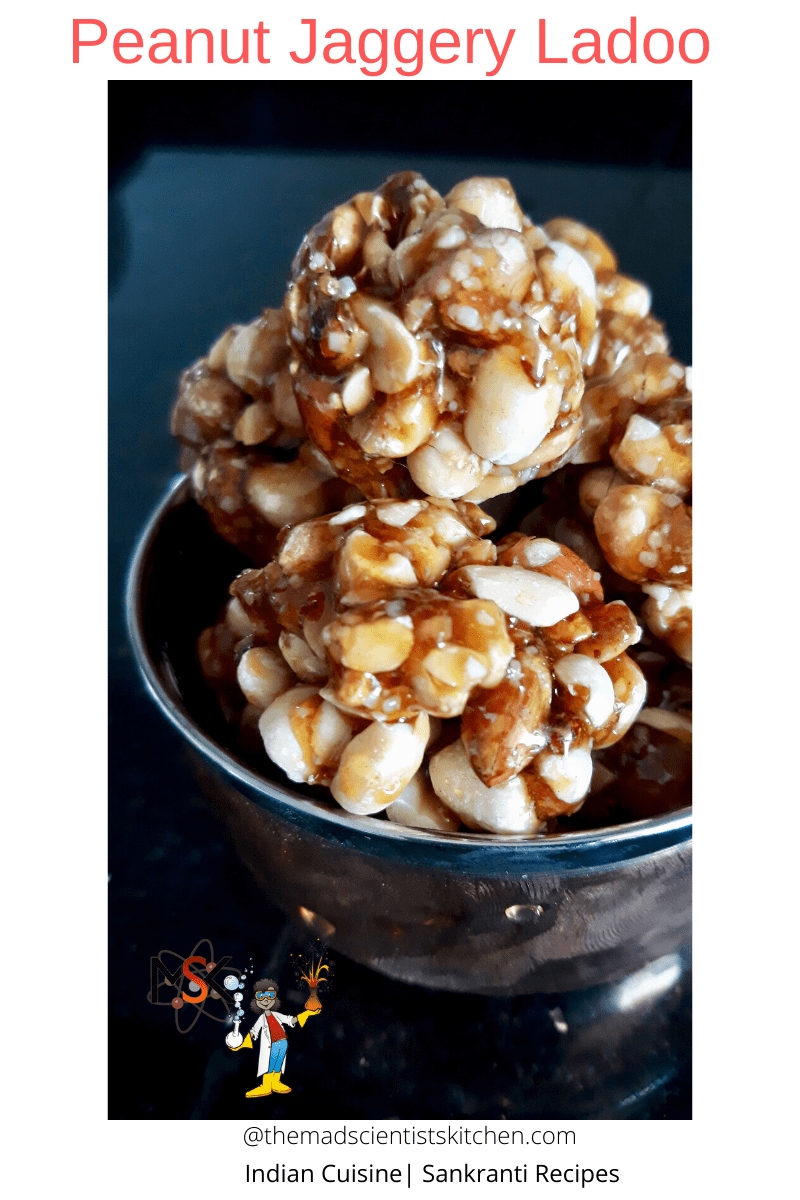 Reader Interactions