Masala Bhath| Spiced rice with Gherkins|Masala Bhat
During my second pregnancy, Masale Bhat was what I craved!!
I wanted to eat the strangest possible things   "
adki" i.e. betel nut powder
 that my Papa makes (mind you I could barely stand the stuff before and used to wonder how my siblings could stuff themselves with it) to masala bath I wanted
it all.
I still remember stuffing myself with this delicious bath at a party and then because my friend insisted on drinking a lot of buttermilk, just to prevent heartburn as she put it.  Wow, that was bliss!!
The effects of these cravings can be seen even now, for my younger one loved this rice preparation while the older one said it was strange, yes strange! Her choice of words left me feeling that I should make this rice more often.
In Goa, most of the veggies are imported from Belgaum… Please, Goans do not get your hackles up I agree we have
veggies that are grown in Goa but the choice is quite limited, especially for vegetarians. Tell me how can you eat tamdi bhaji, dhavi bhaji and mulo day in and out? So where was I…  ah yes veggies from Belgaum…
The gherkins or tandli, tondli or tondikai that we get are generally all ripe and red inside.  So I have stopped buying them. The local lady vendors sometimes have the local gherkins. These are easily distinguishable as the local ones are light green and the Belgaum ones are dark green.
 How do I miss buying the light green ones then especially as they are nice and tender which you can just chomp on as you are chopping the veggies.
After ages, have made this strange bhat called Masale Bhath. Here I have used just gherkins but you can use peas, cauliflower or brinjals.
I have copied it straight from the Futura Cooker cook book.
The method of cooking is different as there is no whistling in the kitchen with the Futura cooker plus cooking is faster. You can make this in ordinary cooker and remove it after 2 whistles also use   1 ½ cup of water for every cup of rice. Allow the pressure to fall naturally.
Masala Bhath| Spiced rice with Gherkins|Masala Bhat
Serves 8
Pressure cooking time 3 minutes
Ingredients:
½ cup Copra, grated i.e. dry coconut
9 cloves
3 stick (each 2 ½ cm) cinnamon
1tbsp sesame seeds/til
5 tablespoon coriander seeds
4 teaspoon cumin seeds/jeera
½ cup vegetable oil
1 teaspoon mustard seeds
1 sprig curry leaves
¼ teaspoon asafetida/hing
5 green chillies slit
200 grams gherkins cut into quarters
3 cups basmati rice washed and left to
drain for ½ hr
5 teaspoon salt
¼ cup cashew nuts
3 ½ cups water
½ cup coconut grated (fresh)
2 tablespoon coriander leaves chopped
Method:
 In a pan, roast together copra, cloves, cinnamon, sesame, coriander and cumin seeds till copra is golden brown.
Grind roasted ingredients into a powder.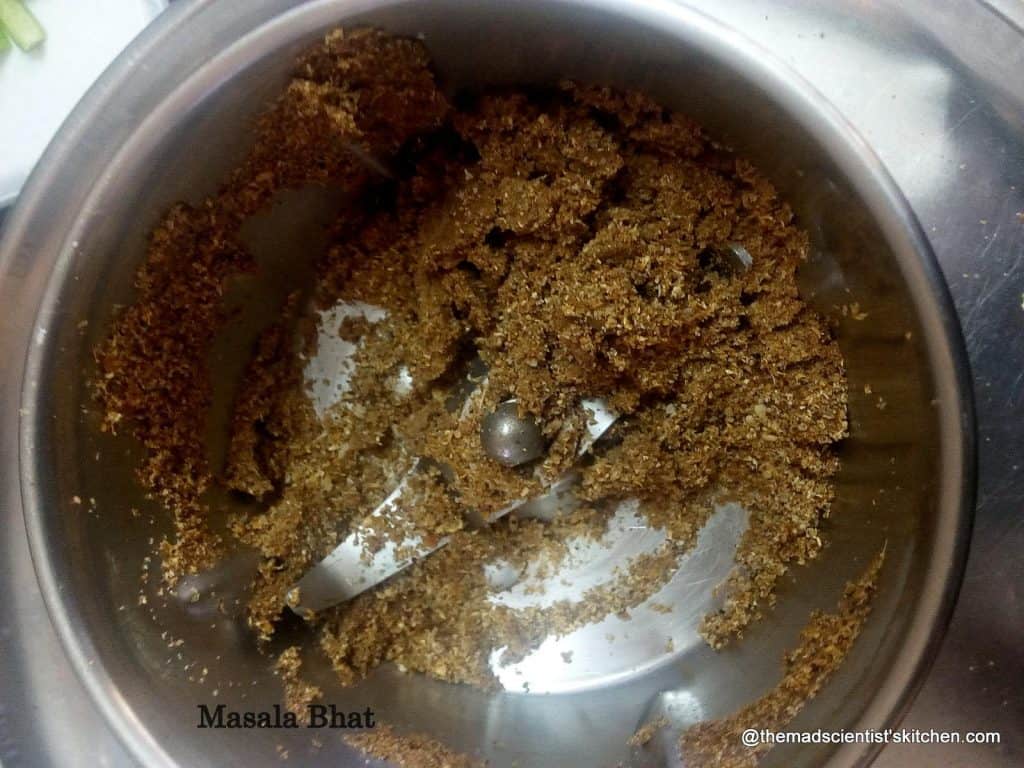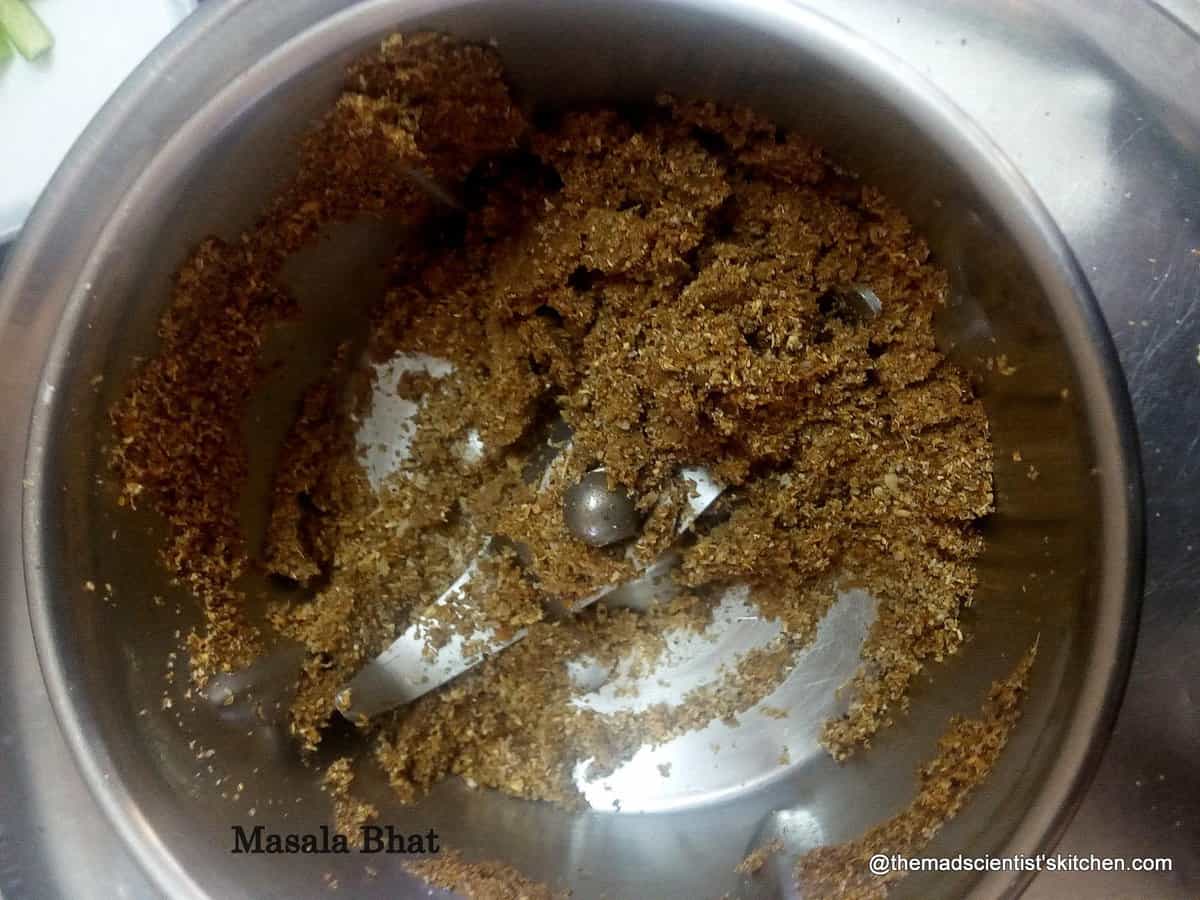 Heat oil in a cooker for about 3 minutes. Add mustard seeds. When crackling, add curry leaves, asafetida and chillies. Stir for a few seconds. Add gherkins. Stir-fry for about 3 minutes. Add rice. Stir-fry for about 3 minutes. Add powdered spices, salt, cashew nuts and water. Stir.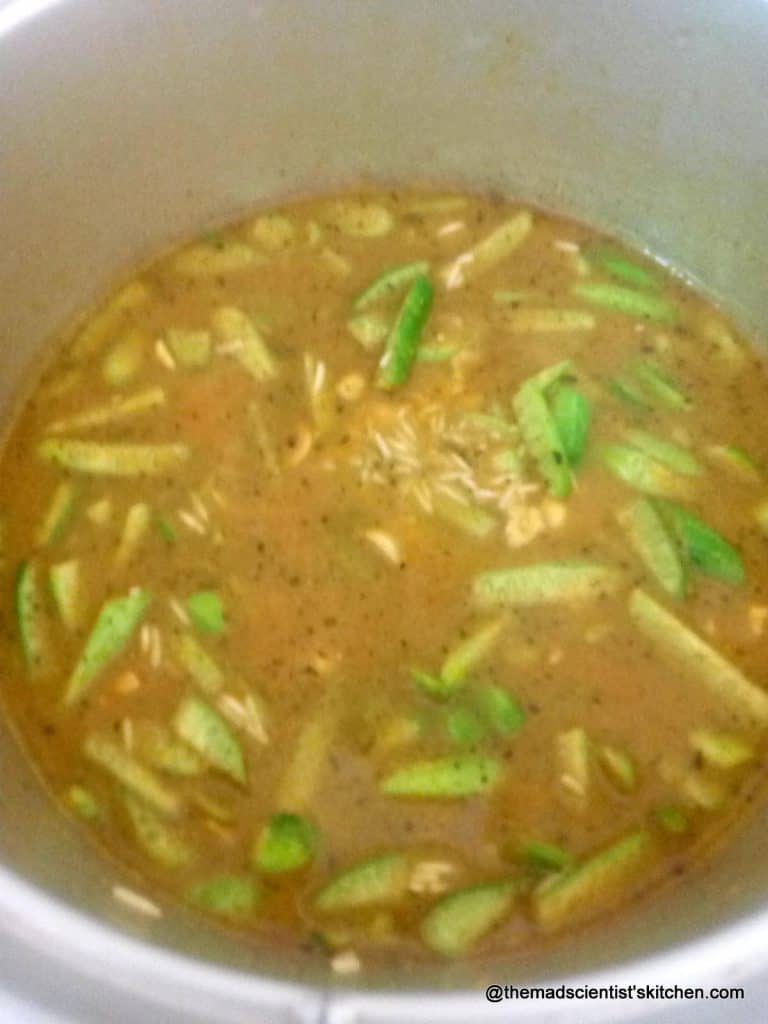 Close cooker. Bring to full pressure on high heat. Reduce heat and cook for 3 minutes.
Remove cooker from heat. Allow it to cool naturally for 5 minutes. Press fingertip control lightly to remove pressure. Open cooker.
Serve hot garnished with coconut and coriander. I love mine with a lot of curds.
P.S. The pictures are by kid no 2. her biiiiig complaint is I do not post her pictures and so I have used only what she has clicked where she has removed the gherkins. I ma sorry but i do not want to disappoint her.
Reader Interactions