Bruschetta Recipe Using Rusk
When you have too many tomatoes, make bruschetta! A delicious and colourful appetizer for the summer.
Another Italian classic that can be made at home easily for parties, brunches and great even as a snack.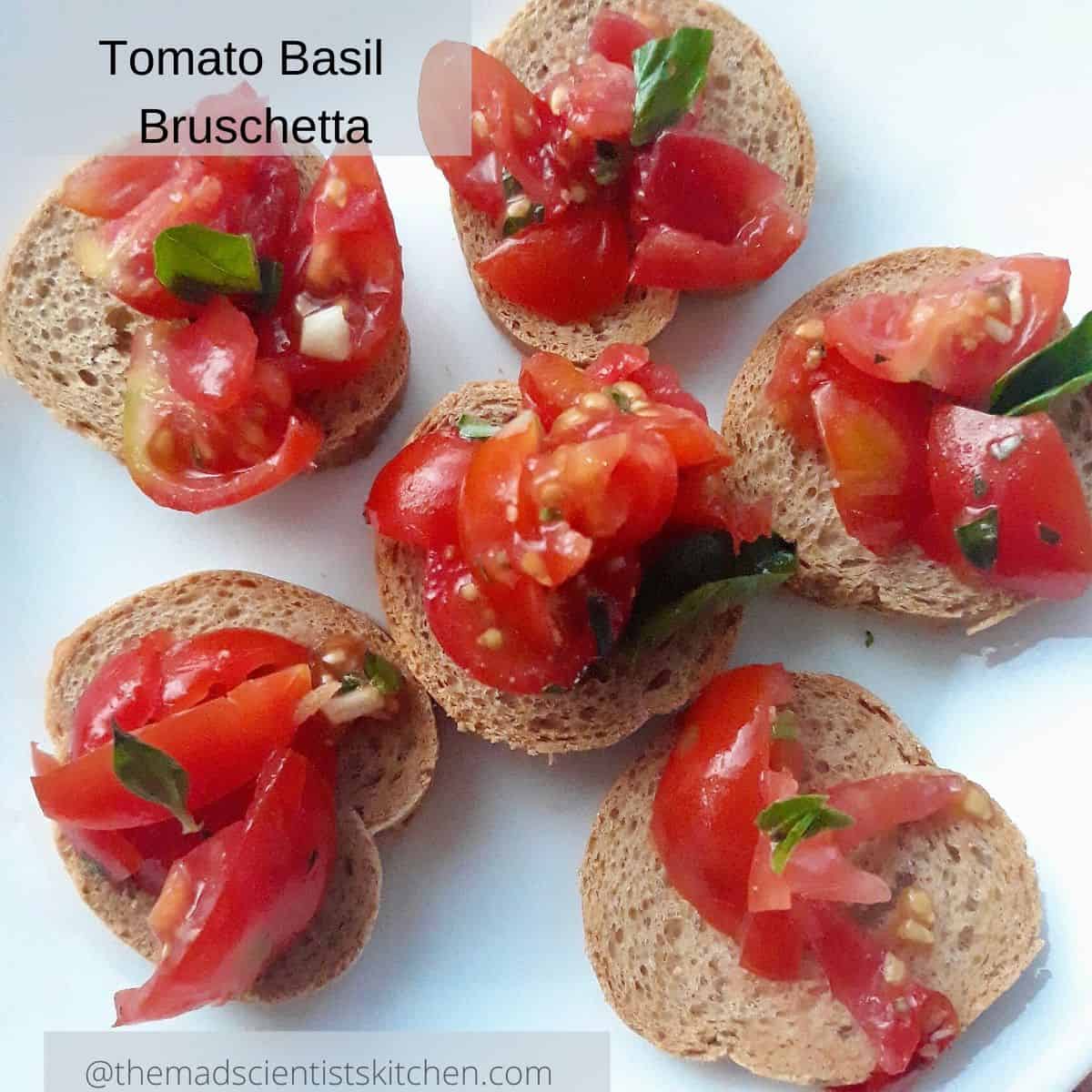 Bruschetta has to be eaten fresh. Believe me, you will not like a soggy appetiser. Fresh and juicy tomatoes along with vinegar, fresh basil and garlic topped on crisp toasted bread. It is such a simple recipe that even kids can make it themselves. 
If like me you have questions about the Classic Italian Bruschetta the read on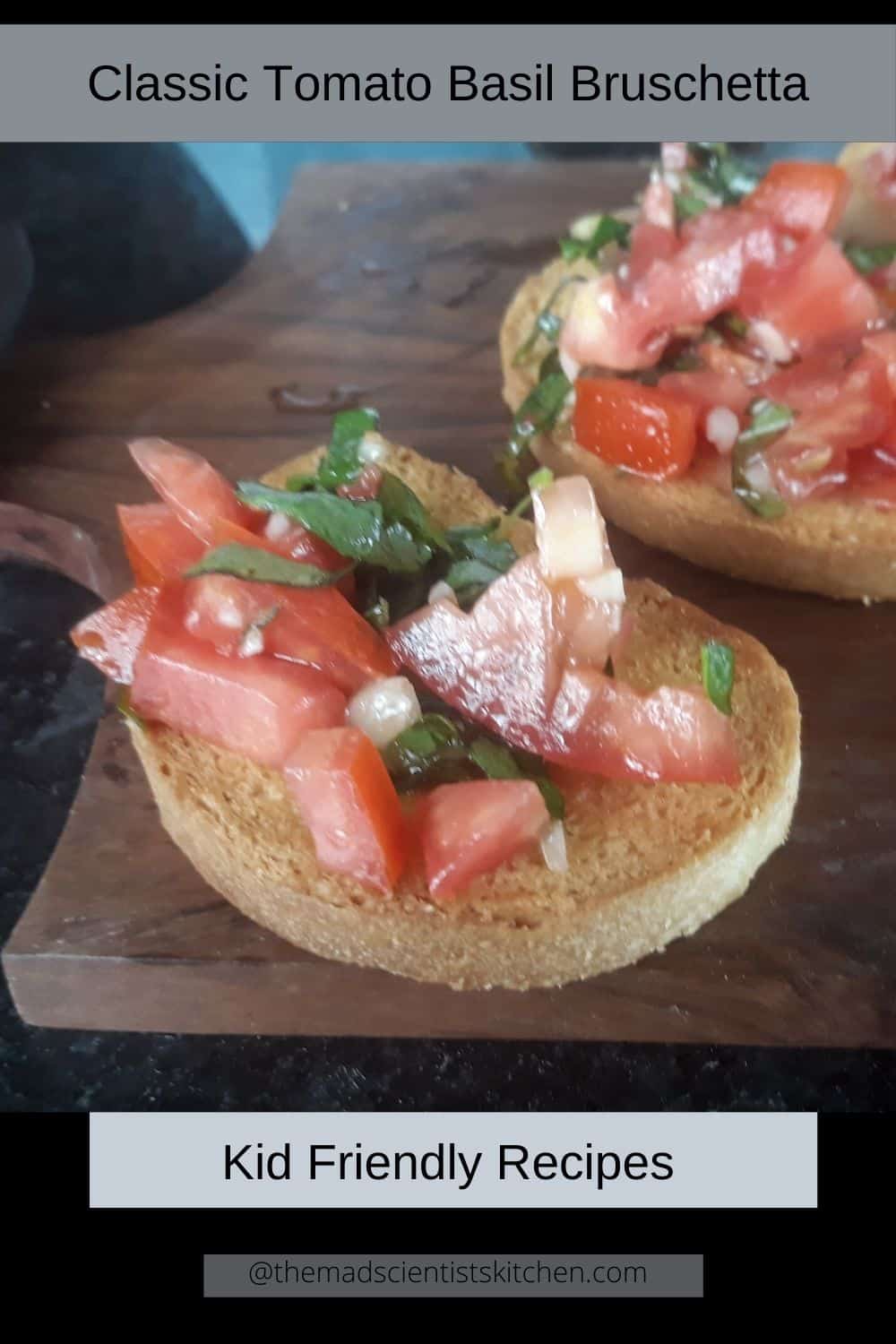 Contents:
Bruschetta has humble beginnings; it was made to salvage bread from going stale.
Now Bruschetta is an Italian starter and a part of the antipastos menu. To make bruschetta bread is toasted/ grilled crisp, then rubbed with garlic and topped with olive oil and salt.  
Of course, there are variations; the other toppings maybe tomatoes, beans, vegetables or meats. If you are in Tuscany in November you can expect to be served fettunta, the bread is served without toppings to taste the first oil.
One word AWESOME! All the ingredients you have used complement each other and you can taste them.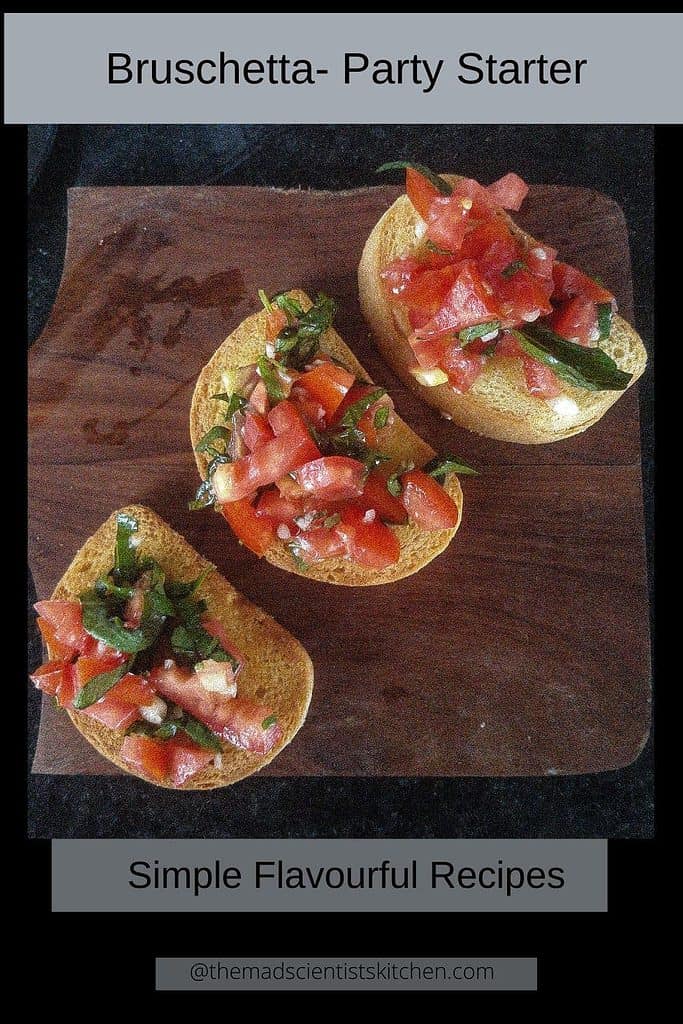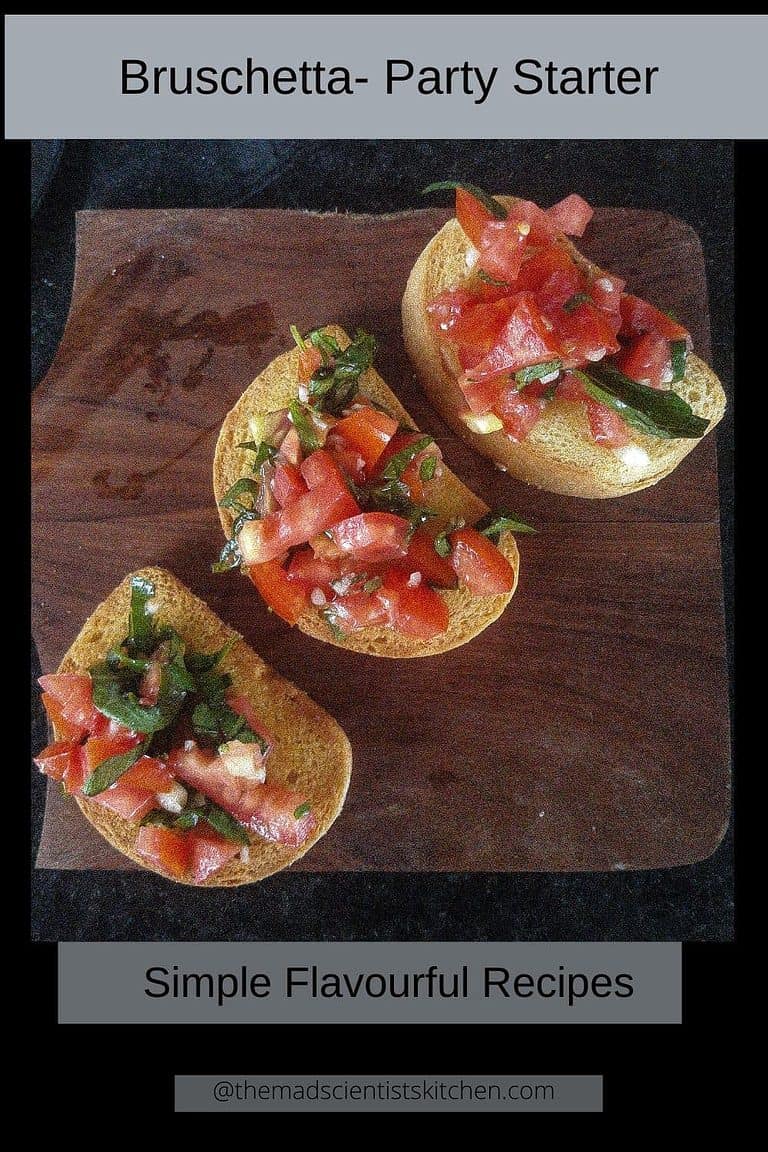 There is a difference in the breads used to make Bruschetta and Crostini.
Bruschetta is made by toasting rustic Italian or sourdough bread slices, wide and full slices. To make Crostini a finer bread something like a baguette is sliced and toasted.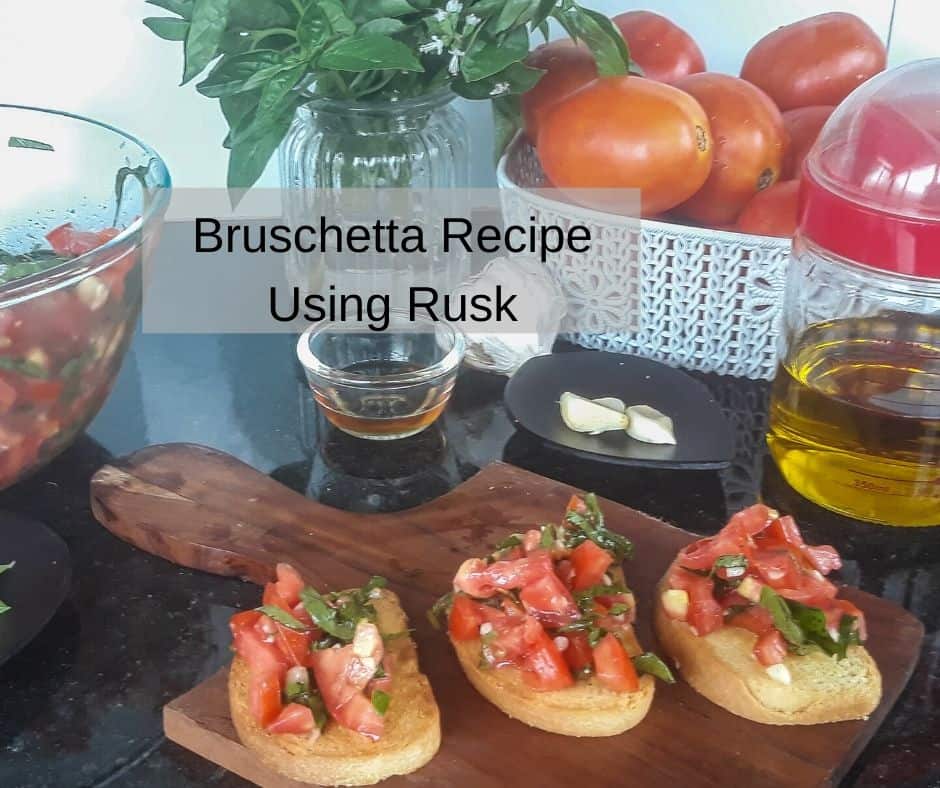 I chose to use a packet of toast to make my classic bruschetta. But, go ahead and use any bread you like. The other options are french bread, regular sliced bread, and crackers, sourdough bread. Rustic bread is better for a bruschetta.
Bruschetta is an open sandwich so hold it in your hand and eat.
Why not make masala papad with a bruschetta. 😀 Next time I get basil I definitely will try this.
The tomato topping tastes better fresh. It can stay okay for 1-2 days in an air-tight container in the fridge. 
Now let us see how to make Bruschetta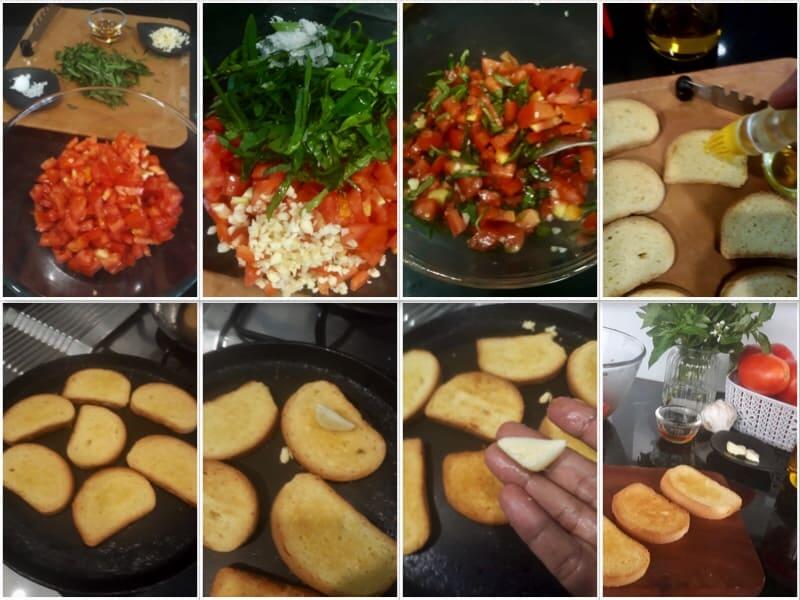 Extra Virgin Olive Oil: I generally use EVO but other oils are okay too. If you do not mind dairy try a herb flavoured butter.
Garlic: Fresh garlic minced. Chopping will not give you the same intense flavour. Also, 2 more cloves for rubbing on the bread.
Tomatoes: I have used cherry tomatoes here but you can use regular tomatoes or Roma tomatoes. In my corner of the world, tomatoes are divided as tomatoes and cherry tomatoes I have tried both.
Vinegar: Use Balsamic vinegar all the flavours blend well with balsamic vinegar. If you cannot source it, make it, here is the link to my homemade balsamic vinegar. For an authentic bruschetta, this is a necessary ingredient.
Salt: I use regular salt.
Fresh Basil: Along with balsamic vinegar basil is a necessary ingredient. 
Bread:  While french bread, rustic sourdough bread is recommended I have made it using bakery toasted crisp toasts. You can also use regular bread since sliced bread is easily available, only toast it crisp.
Optional ingredients: Black pepper, Parmesan cheese, chilli flakes I have not used any of these it but have seen recipes using these. Try it, you may like it. 
Making bruschetta, fresh is simple. Here is what you can do and let the kids take over once the basics are done. Younger kids are more willing to try veggies and newer foods if they have "made" the food all are eating.
I bought a packet of toast/rusk from the bakery. You can use a tawa/skillet, oven or a toaster and toast the bread you are planning to use. I prefer to use the skillet, easier to wash and yes lesser gadgets in my crowded kitchen. 
Apply a little EVO oil and warm the rusk(in my case) and rub a clove of garlic. I used 3 cloves of garlic for the entire batch of 500 grams of toast.
I have today added the garlic finely minced without sauteing. but you can also saute the garlic in a small pan till the garlic turns light golden brown. Let it cool.
Meanwhile, chop the tomatoes and basil. Transfer to a bowl to mix.
Add the garlic, oil, balsamic vinegar, salt and pepper, parmesan if using. Toss well.
Now let your kid arrange it on the toasted bread and serve. A bit messy but in the long run you will thank yourself for doing this.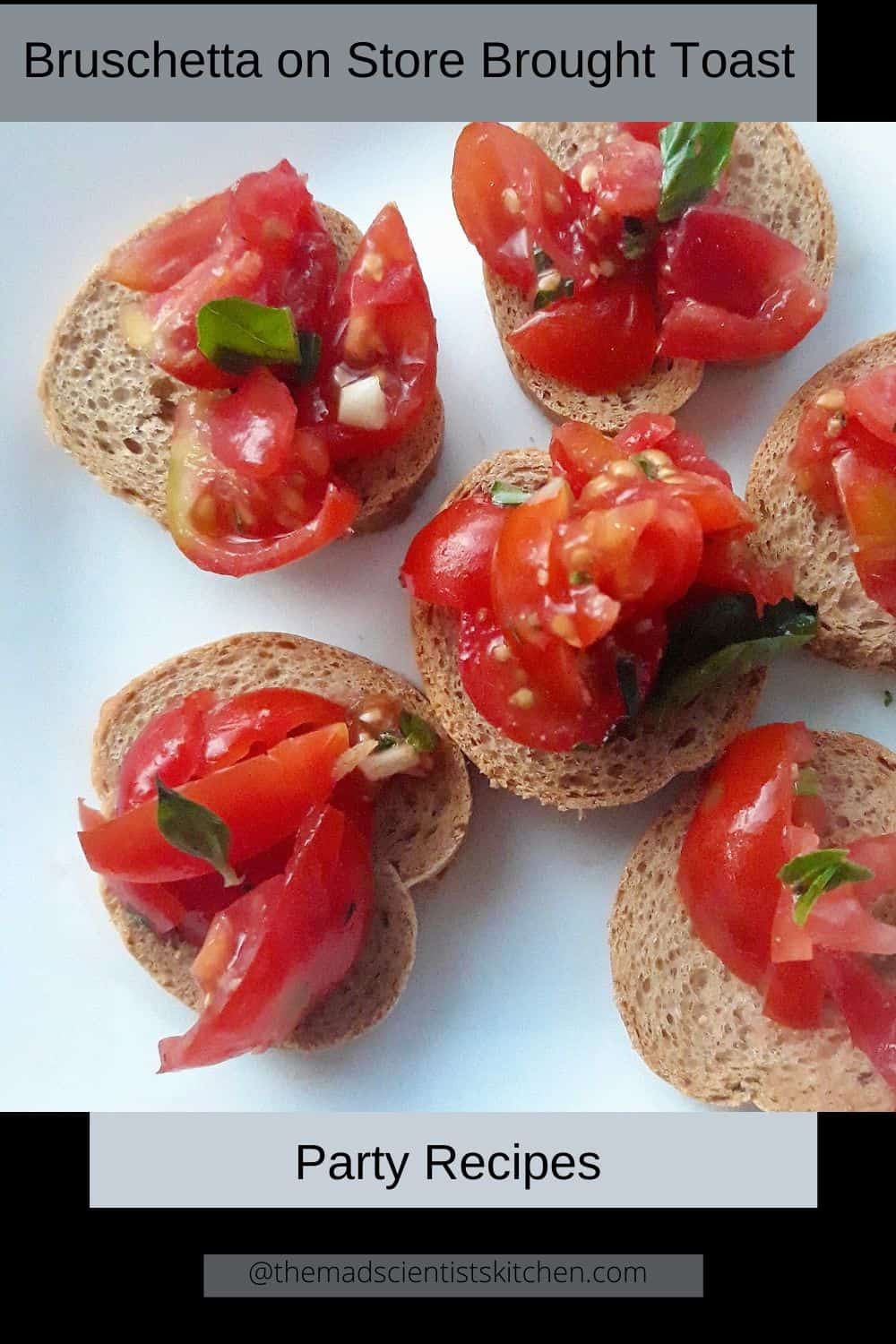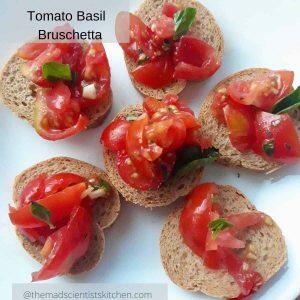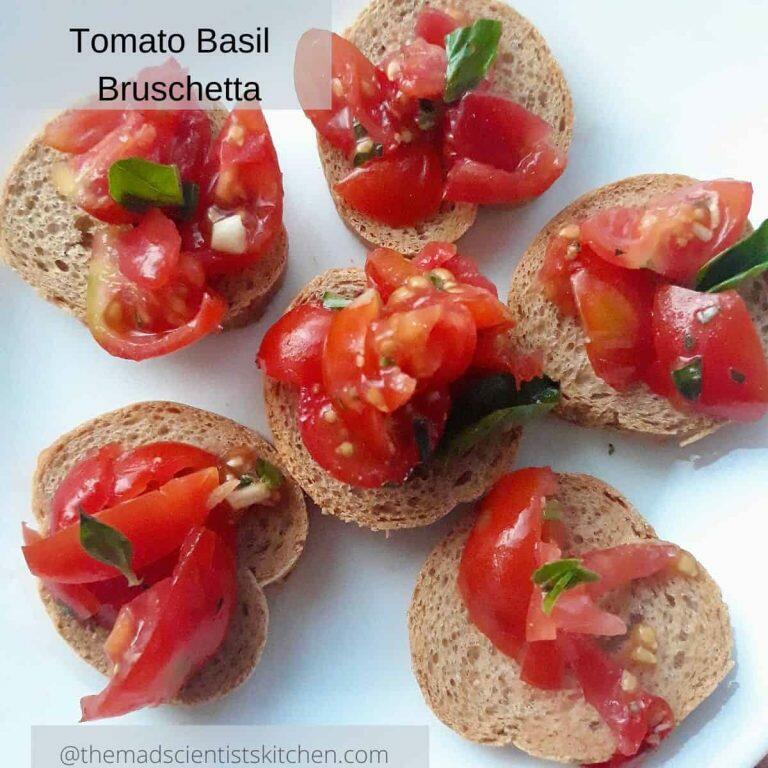 Bruschetta Recipe Using Rusk
Take a shortcut for your next Summer Party appetizer use bakery brought toast or Rusk! A simple and colourful snack that easy for kids to put together.
Print
Pin
Rate
Equipment
Non-stick tava/skillet

Oven

Knife

Chopping Board

Bowl for mixing
Ingredients
For The Tomato Bruschetta
4

tablespoon

extra-virgin olive oil

2

cloves

garlic

minced

200

g

tomatoes

sliced

¼

cup

basil

thinly sliced

2

tablespoon

balsamic vinegar

1

teaspoon

salt

⅛

teaspoon

red chilli flakes
FOR THE BREAD
500

grams

rusk

extra-virgin olive oil

for brushing

3

cloves

garlic
Instructions
If you are like me planning to use the skillet then heat it.
Brush oil on both sides of the rusk and warm it up
If you plan to use the oven to toast bread
Preheat the oven to 200C| 400°.

Brush the sliced bread with oil on both sides.

Arrange them on a baking tray and toast till you get a nice golden colour. After about 10 minutes flip it over and toast on the other side.

Whatever method you use immediately rub the garlic cloves on the toast.
Getting the Topping Ready:
In a small pan heat the 4 tablespoon olive oil. Saute the garlic till the garlic turns light golden brown. Set aside to cool. You can also use the garlic without sauteing

Meanwhile, chop the tomatoes and basil. Transfer to a bowl to mix.

Add the garlic, oil, balsamic vinegar, salt and pepper, parmesan if using. Toss well.

Top it on the toasted bread and serve.
 Use fresh ingredients. There are times I picked up the ingredients and postponed making the bruschetta and it did not taste as good. In Goa, I will prefer to buy my ingredients on the same day.
 For a party toast the bread and keep in an air-tight container. The tomatoes and basil can be chopped and kept aside in the fridge. Toss and serve immediately.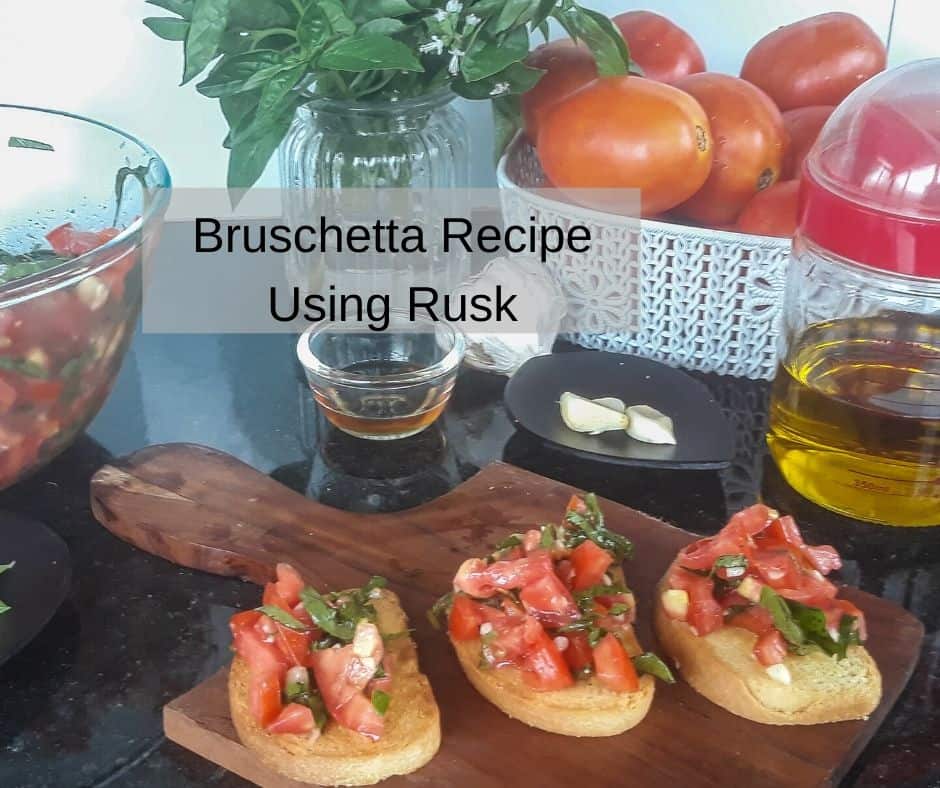 Serve Bruschetta as a starter then serve this delicious Italian food to go with it.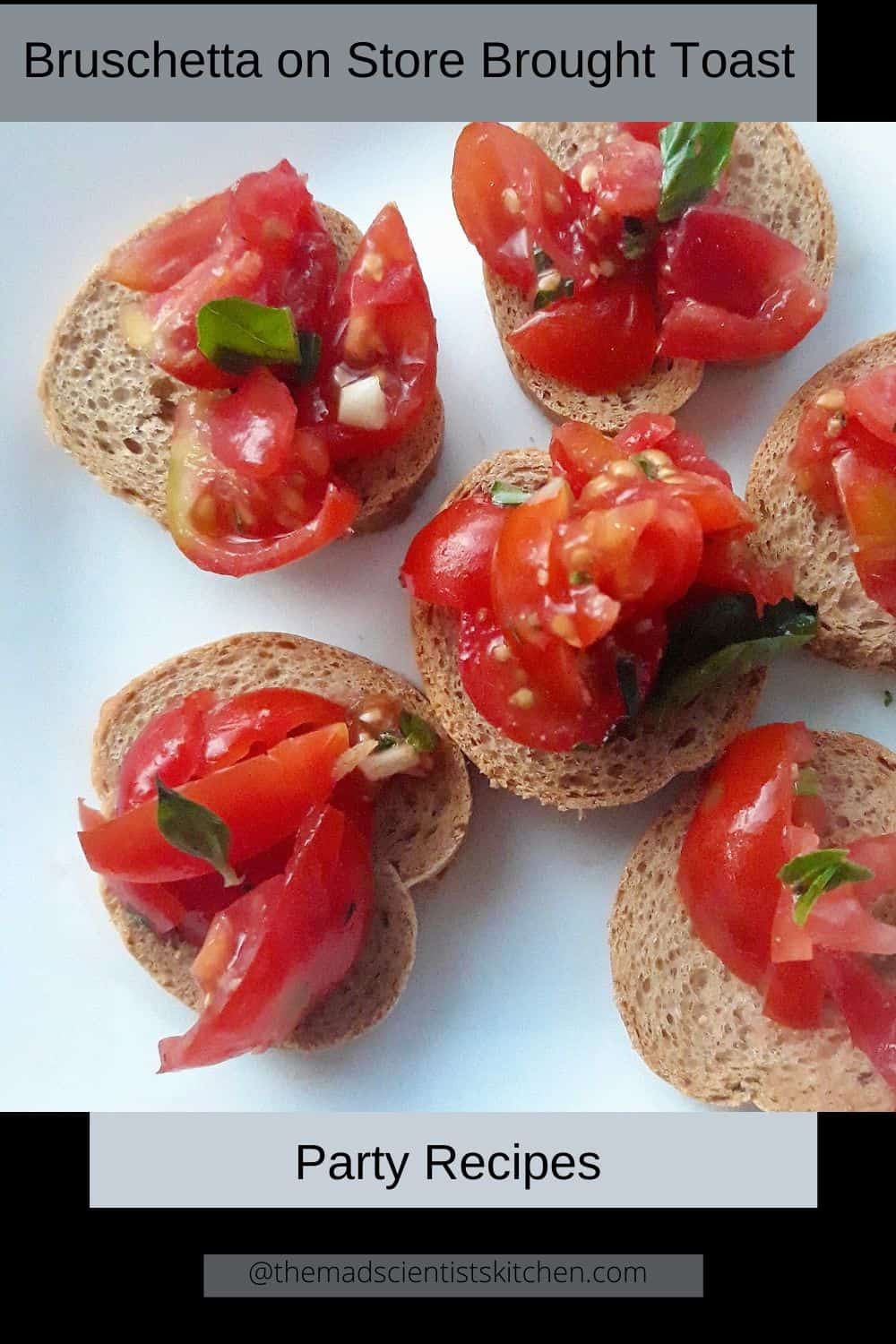 Reader Interactions